IT Staff Augmentation: Features, Loses, and Traps for Your Business Today and Beyond
As global digitization is snowballing, businesses are finding themselves in a sticky situation of acute talent shortage. A recent study by McKinsey reveals that 87% of HR executives are either experiencing talent gaps or expect the same in the near future. Business areas that experience skills gaps include web and software development, data analytics, and R&D. Fortunately third-party hiring models, such as IT staff augmentation may come to the rescue.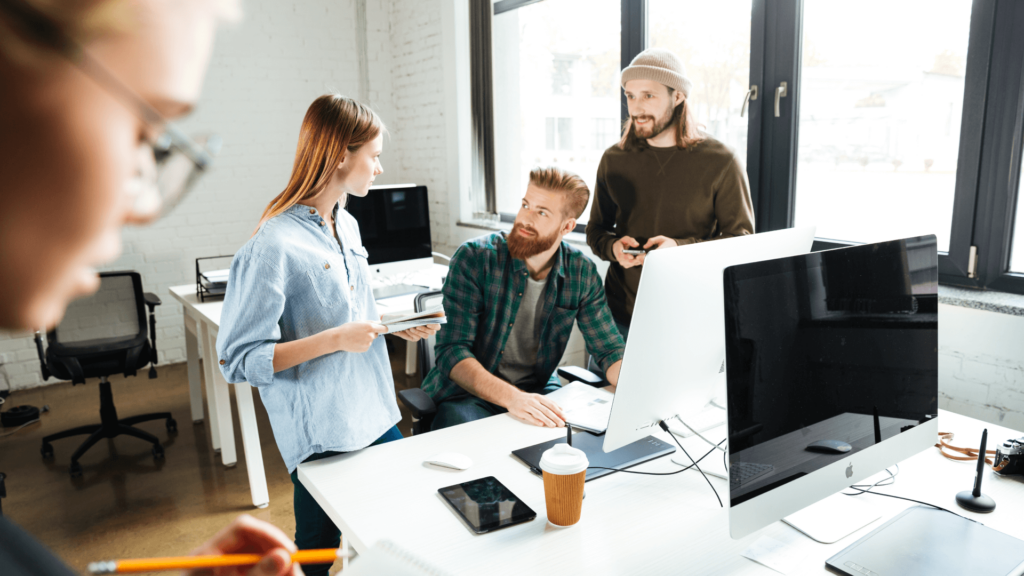 But like other contractor services, this business model comes with its pros and cons that can work against the resilience of your organization. Here is an in-depth guide to IT staff augmentation meaning, its key features, kickbacks, as well as alternative options. Keep reading to learn more.
What is Staff Augmentation?
Reputable online sources define staff augmentation as an outsourcing strategy that utilizes third-party personnel to provide staff on a time & materials contract basis. In practice, the temporary workers fulfill various IT roles as an extension of a company's in-house team.
Staff augmentation resources can be deployed in three types of projects, including skill-based, commodity, and highly skilled. IT-driven companies often engage augmented staff for highly skilled projects, such as infrastructure maintenance, software development, web, and mobile app design, product prototyping, or even research and development.
Key Features of Staff Augmentation and How it Works Against Your Business Resilience
IT staff augmentation can help companies meet business objectives amid acute talent shortages locally. It is a great way of engaging high-level experts on a contract basis, depending on the product requirements or financial position of your organization. Here are the prevalent characteristics of staff augmentation:
On-demand Service Model
The simplest IT staff augmentation definition says that it is an on-demand service model that allows one to plug in and off extra resources whenever there is a need. In other words, you only utilize the remote team when you need it to ramp up services.
Remote Working
The augmented staff works remotely as an extension of your in-house IT department. This allows them to charge flexible hourly rates because they don't incur the expenses of fulfilling roles in traditional workplace settings, such as commuting. These professionals have experience with online communication and video-conferencing tools for seamless project management collaboration.
An Abundance of IT Resources
When you research ​​the resource and staff augmentation meaning on the internet, you'll realize one thing stands out with this model— it helps businesses expand their capacity with offshore IT resources. The approach is characterized by an abundance of these resources to help developers scale their output on the need. Whether it's acquiring new technology or hiring expert talents, staff augmentation vendors are always leapfrogging.
Contract-based
In this model, companies reach out to outsourcing vendors who find business-ready developers with infrastructural capacity to work on software projects remotely. The agreement is between the firm and the vendor. The developers enjoy greater flexibility as they get assigned to other projects once yours is complete. For this reason, businesses usually don't have greater control over the development process with this model.
Cost-effective
Businesses that augment their staff do so because it's cost-effective in terms of software development expenses. A typical security staff augmentation project will most likely not include infrastructure expenditures, payroll costs, software licensing expenses, or legal & administrative costs. The purpose of this talent engagement model is to economize the whole software development process.
When Businesses Use Staff Augmentation Services
Now that you understand what are staff augmentation trends and key features, when should you choose this hiring model as a business strategy? Well, you'll find an all-around IT staff augmentation model beneficial in terms of cost savings and improved uptime in the following use cases:
When You Want to Meet Short-notice Project Deadlines
The current software market demands businesses and service providers to respond swiftly to demand and shifting trends. Technical staff augmentation engagement model can be ideal if you want an extra hand to build faster and release products to the market rapidly. This model allows businesses to hire qualified candidates from large talent pools spread across the globe within short notice.
If You Want a Bridge for Hire
One of the ways of circumventing traditional hiring bottlenecks is by recruiting permanent employees for long-term engagement, especially if you have a fully-fledged IT department or R&D center. Since it takes longer to hire permanent employees, you might want to contract a third-party firm to help you meet the current short-term software development demand.
When Reinforcing Your In-house Team
Business needs evolve in tandem with innovation. It reaches a point when your internal human capital and resources may not be sufficient for building and launching new products. In that case, you would want to augment the staff with an external team of experts that is up-to-date with the latest web development tools and technologies. Moreover, outsourcing partners usually have in-house resources to complement swift project delivery.
If You Want to Hire Candidates with Specific Skills
IT staff augmentation can be useful when you want to hire candidates with proficiency in a specific tech stack. The software development cooperation model focuses on recruiting candidates that are otherwise hard to find in local job markets, such as data scientists and business analysts.
When Expanding
Another use case for a typical staff augmentation project is expansion. This cooperation model allows businesses to scale their production capacity without the need of hiring new full-time employees.
Non-obvious Staff Augmentation Traps for Your Business Now and Beyond
Just like any other organizational model for software development projects, technical staff augmentation comes with its fair share of pros and cons. For example, clients may not have greater control over their projects. But that is just one hindrance. Here are the other staff augmentation kickbacks:
Not Ideal for All Projects
Companies usually engage in software projects that embody their deep culture, core values, and beliefs. Such projects may not be ideal for staff augmentation given that they require deep institutional knowledge and a high level of product context. If the business is forced to contract a staff augmentation partner, it might find itself wrapped up in unnecessary lengthy ramp-up times that translate to wastage.
Increased Dependence on a Third-party Firm
IT staff augmentation is efficient when reinforcing your in-house team to meet sudden market demand or drive product innovation as per the current trends. However, overreliance on this flexibility can prove costly in the long haul, especially when it comes to long-term business goals. For example, the strategy can add more risks to your sustainability plan by introducing a third party who might not share the same vision as you.
A Challenging Solution for Long-term Projects
Businesses can also experience a setback with a typical staff augmentation model when working on a long-term project that requires the availability of technical skills on an ongoing basis. Unlike talents in other engagement models, an augmented staff isn't entitled to employer benefits, such as allowances or team-building activities that can help improve their retention rate. They may turn over when you need them the most or before the project ends.
Limited Accessibility to Remote Developers
Contract-based staff augmentation typically entails working with remote talents, usually from countries with moderate standards of living. While this approach helps you save time, it limits project control and access to developers by extension. The staff may not be motivated to work wholeheartedly as your in-house team that is always glued together for real-time consulting. Moreover, it may be hard to evaluate actual performance in this setting.
Cultural Backgrounds
The cultural background of an employee influences how they perform at work or collaborate with colleagues. It also influences how you manage them and their availability during business days. For example, a talent that comes from a country with numerous public holidays may not be available on some weekdays. A country's history might also influence an employee's mindset in a way that doesn't complement your organization's beliefs, culture, and vision.
The "Quality on Budget" Promise Might Not Be True
Cheap is expensive isn't just a saying, it's a fact. Staff augmentation resources may be relatively affordable, but at a steep price when it comes to dealing with quality defects in the end software product. Talents that work under this engagement model usually charge hourly rates. They may end up focusing on the hours logged in to make more money instead of giving it their all to your project.
Other Models of Cooperation for Your Business Needs
If you research "what does staff augmentation mean" you'll automatically know whether this engagement model is right for your business needs. If it doesn't, you can still explore other alternatives that circumvent the traditional hiring bottlenecks, such as:
Traditional Outsourcing
Traditional outsourcing entails partnering with a third-party firm to offer IT-enabled services, such as software development and infrastructure management. Businesses can outsource a full project in small parts to the firm. The main risk of this engagement model is that the partner might end up outsourcing the project to another party who isn't part of the project, simply because they don't have time for yours.
Read more about the difference between staff augmentation and outsourcing.
Managed Services
Managed services is a cooperation model that helps companies to offload general IT tasks to third-party experts regularly. The agreement is that the third party will manage these services on behalf of the client to cut costs, free internal employees from mundane tasks, and enhance service quality.
Here is a comprehensive article on the difference between staff augmentation and managed services.
Freelance Engagement
Freelancers can come in handy when you want to build a software project in small iterations over a long duration. In that case, you can always outsource smaller parts to freelance developers who exhibit greater flexibility in handling one-time tasks. However, taking the freelance approach might mean sacrificing quality over affordability since a majority of talents in this market don't deliver as they promise.
Dedicated Teams
Dedicated teams is an engagement model that involves recruiting talents to work exclusively on your project. The team works independently in a remote location, or as an extension of your current IT department. Dedicated teams include expert talents recruited from diverse job markets all over the world.


IT Staff Augmentation vs. Outsourcing a Dedicated Team: How to Choose the Right Model for Your Business?
IT staff augmentation and dedicated teams engagement models are gaining popularity in the industry for businesses that want to embrace full digital innovation. However, these hiring models are unique and their features, pros, and cons determine whether they are ideal for you. For example, in organizational structure, a dedicated team usually works from a common branded office space, allowing them to create tight bonds. On the other hand, the working atmosphere for augmented staff is highly siloed.
Also, dedicated teams often identify themselves with the project because they'll likely be engaged for a long duration. Augmented staff on the other hand don't identify with the client or the vendor. The agreement is that they complete the project and jump onto another one. In some cases, they may be at the service of multiple vendors at the same time, affecting their availability.
This is just one comparison of how IT staff augmentation and dedicated team engagement models work. Here are the pros and cons of each, to help you determine the right model that meets your business objectives.
Hiring Model
Pros
Cons
IT Staff Augmentation
Greater flexibility when scaling

Can help businesses maneuver peaks and valleys in market demand

Can be utilized as a trial run for potential full-time employment

Cost-saving in terms of software development costs

Competent augmented staff can offer quality on a slim budget

Not ideal for long-term projects that require skills on an ongoing basis

Higher talent attrition rates

Marred with language barrier and miscommunication

Cultural differences may hinder engagement

Greater business sustainability risks due to overreliance on third parties

Mainly focuses on hiring software developers

Dedicated Teams
Better talent engagement for swift turnaround

Long-term commitment for quality consistency

Value-matched candidates that share the same brand ideals

Employer benefits to increase talent satisfaction and lower attrition rates

Access to global IT talent pools for swift recruitment

Can hire any IT talent, whether QA expert, full-stack developer or business analyst

Can be more costly than the time & material engagement model

Team management can be time-consuming
How Newxel Can Boost Your Next Project — We Assemble Top-notch Development Teams
Newxel is an industry leader in assembling dedicated teams for software development across all industries, including healthcare, IT, gaming, blockchain, media, and entertainment. Unlike technical staff augmentation, we build dedicated teams around HR-friendly policies to ensure they are highly engaged and motivated for a long-term commitment. We hire talents with a 94% retention rate!
Our hiring experts can help you set up a top-notch development team within 3 to 5 weeks to complement time-bound projects that require a swift kickstart. Even better, our global hiring capacity means we can find any talent that is critical to your software project and onboard them to your team in a seamless process.
Newxel clients can also choose other engagement models, such as distributed teams or global R&D centers. Distributed teams are ideal if you want to hire several teams to build your project simultaneously. Similarly, a global R&D center will help you conduct research while building at the same time to reduce the time to market of your software products.
Wrapping It Up
IT staff augmentation might be ideal for some use cases, and can help you save time and resources. However, for long-term projects, other engagement models, such as dedicated teams stack up better than traditional outsourcing.
…
Contact us today to hire a dedicated team from Ukraine or any other country of your choice.
…
FAQ
What does staff augmentation mean in software development?

Staff augmentation is an IT outsourcing model that focuses on fulfilling short-term software development objectives by providing temporary workers.
What are the prevalent types of staff augmentation in the IT industry?

Technical staff augmentation can be categorized into three types, depending on the underlying business objectives: Offshore augmentation; Nearshore augmentation; In-country augmentation
Why Is staff augmentation so popular?

Staff augmentation resources are minimal from the business end, hence help save software development costs. For example, the client might not be required to pay software licensing fees.