Cybersecurity Staff Augmentation for Your Business Needs
When your team is swamped, preventing cybersecurity incidents is often overlooked. But leaving your company's entire infrastructure vulnerable to attacks isn't an option. Like the different types of IT staff augmentation, cybersecurity staff augmentation allows you to fill that gap in your security strategy.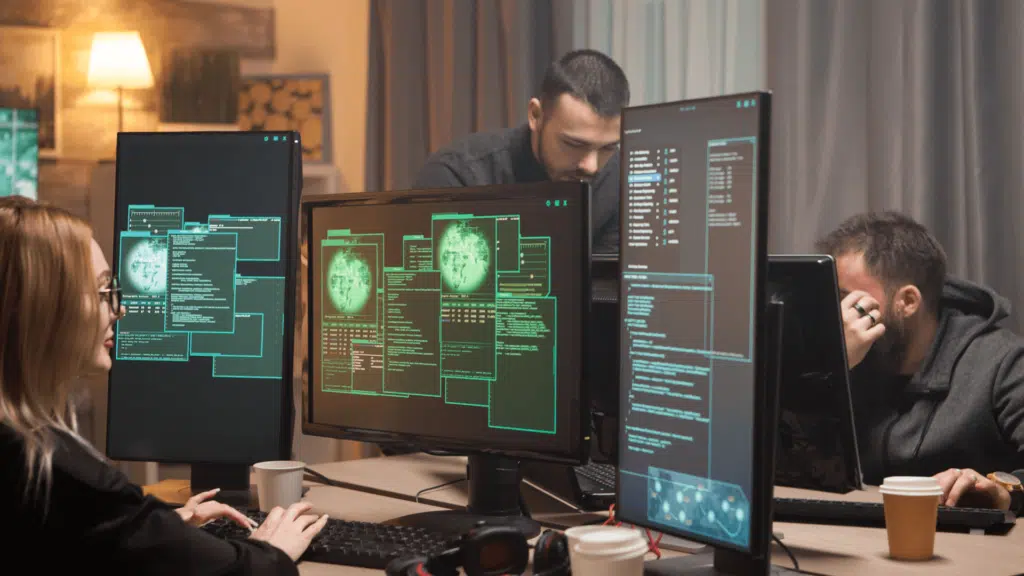 What is Cybersecurity Staff Augmentation?
So what is what is staff augmentation? Cybersecurity staff augmentation involves partnering with an agency that provides security experts and advisors on demand. Most companies have an in-house team, but tasks related to their core business typically take center stage. This model presents an affordable solution to patch the gaps.
You can utilize IT staff augmentation services to customize your team and meet your business needs without hiring a new permanent employee. Cybersecurity staff augmentation also speeds up the implementation of new systems. It takes the pressure off your in-house employees with more hands on deck, especially when you need certain skill sets your team doesn't have.
Enhance your cybersecurity with augmented staff. Book a call now
Who Needs to Expand Cybersecurity Staff?
Expanding cybersecurity staff works well for implementing new tools and protocols. Organizations can temporarily hire reinforcements to improve their team's capabilities during the project. Whatever the organization's size, there is a place for staff extension in its cybersecurity strategy. Here's how:
Start-ups, small and mid-sized businesses
Small to medium companies don't have the budget to hire cybersecurity specialists full-time. Start-ups too need affordable help improving security. To some, cybersecurity isn't even a priority. However, as Verizon's recent Data Breach Investigations Report states, 46% of all cyber breaches impact businesses with fewer than 1,000 employees. Such businesses can access cybersecurity experts to implement resilient measures.
Corporate giants
Large enterprises tend to have the budget and human resources to manage their security. However, that doesn't mean they don't need extra help. By leveraging staff extension, the CISO remains in charge of the direction policies take, while benefiting from a fresh outlook brought in by hired professionals.
Tech Stack and Skills Cybersecurity Staff Might Have
In terms of technology stack and skills, cybersecurity staff are equipped to uncover, neutralize and eliminate difficult existing and potential threats. Typical components of the security stack they work with include:
Perimeter security solutions
Endpoint Protection
Information Security,
Authentication Protocols,
Backup and Disaster Recovery,
Monitoring tools
As cybersecurity is a multi-layered discipline, you can expect the skill set of professionals you hire to include:
Coding
Networking and System Administration
Understanding Operating Systems and Virtual Machines
Network Security Control
Cloud Security
Blockchain Security
The Internet of Things (IoT)
Artificial Intelligence (AI)
What are the Roles of an Augmented Cybersecurity Staff?
Companies can engage augmented staff across multiple roles. The most common roles to hire for include:
Virtual CISO
A chief information security officer (CISO) manages the development and implementation of information security programs e.g. risk assessments, compliance certifications, penetration testing, and cybersecurity tool selection.
Analysts
Analysts are charged with gathering, organizing, and interpreting data for different tasks.
Auditors
Auditors find policy infractions, potential compliance issues, and vulnerabilities in your security framework. Depending on the job at hand, auditors are interchangeable with analysts.
Technical Writers
Technical writers translate that information into reports, network diagrams, policy, and manuals. The work they do as it makes it possible to maintain working policies and systems.
White Hat Hackers
White hackers help secure your system through penetration testing, ensuring vulnerabilities are addressed before a malicious actor takes advantage of it.

Benefits and Challenges of Cybersecurity Staff Augmentation
With staff augmentation for cyber security, you can delegate specialized tasks that take time away from your core business. Your team can share the workload to meet project deadlines and rely on specific skills they do not have. Another perk of this model is the flexibility in terms of how to scale an engineering team on demand. You can add new members when needed and trim your team to its original size once the workload returns to normal. Not to mention, you can save on costs related to benefits and taxes that don't apply to external staff.
However, that is not to say augmentation does not come with its own challenges. The model has limitations like
You need to allow for time to get the temporary staff in sync with your team.
It works best for short-term and medium-term projects where you are guaranteed the personnel will be available to you.
If the work involves training and development of external staff, you will not reap the benefits of that investment outside the duration of your project.
Newxel's Experience with IT and Cyber Security Staff Augmentation
At Newxel, we help clients with different needs connect with external cybersecurity experts that aid their internal efforts. In 2016, we collaborated with Hideez for their R&D Center. In 4 weeks, we recruited a team of 10 qualified software engineers. They worked under the direct management of Hideez CTO, contributing to the successful implementation of innovative cybersecurity solutions and developing a unique security system.
In the past, we have helped companies hire for roles like
 Information System Security Manager (ISSM),
 Information System Security Officer (ISSO),
 Information Security Manager (ISM),
Risk Management Expert,
 Network Security Engineer
 Policy and Process Developer
 Active Directory and DNS Engineer
 Exchange and Mobility Engineer
 System Administrator
Get in touch with our team to learn how to hire talents for cybersecurity services.
Conclusion
Meeting your staffing requirements for cybersecurity can be tricky, especially when you are not looking to hire full-time personnel. No matter the size of your company and budget, you can safeguard your infrastructure and data by hiring supporting staff for any technology stack. Get in touch with us today to learn how you can adopt the staff augmentation model and leverage its benefits.

FAQ
How does cybersecurity staff augmentation work?

In cybersecurity, this hiring model allows you to make use of external staff to meet your cybersecurity needs. You can connect with qualified experts to hire on a temporary basis through a staffing company.
How is cybersecurity staff augmentation different from outsourcing and managed services?

Unlike outsourcing and managed services, staff augmentation in cybersecurity allows you to retain control over your cyber security policy and incident response.
Why do I need to increase my cybersecurity staff?

Increasing your cyber staff helps you complete your security-related projects faster. It eases the workload for your employees, allowing them to get more done. It helps keep your security robust and exposes hidden vulnerabilities.
How to start increasing cybersecurity staff?

Expand your team by hiring through IT security staff augmentation. It allows you to access expert help while looking for permanent employees. Alternatively, you can use this model as a trial for experts you need on your team in the long term.
Contact Us