Managed Services vs. IT Staff Augmentation: Which to Choose For Your Project?
Gone are the days when hiring tech talents was pretty simple — you post an ad, and tens of applicants would stream into your email inbox. Today, businesses of all sizes, whether startups or global conglomerates, are fiercely competing to recruit skilled developers through staff augmentation and managed services. In fact, a recent McKinsey & Company survey reveals that 44% of established organizations anticipate a significant talent gap in the next half a decade.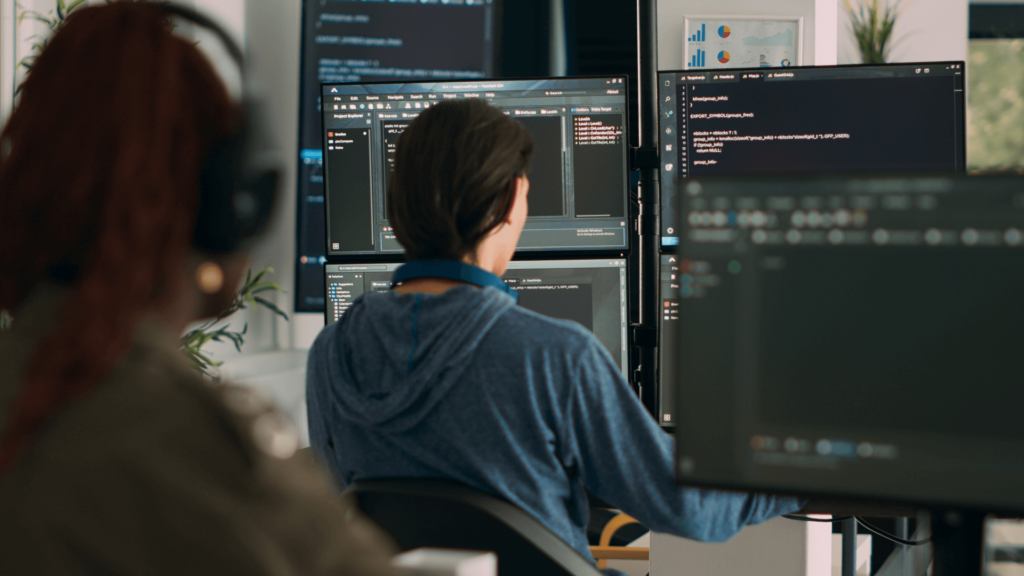 And this is not to mention the challenges emanating from macro environment factors, making it harder to retain in-house employees. For instance, rising inflation and geopolitical tensions have taken a toll on the global economy, forcing companies to lay off staff in a bid to cut costs. When this happens, the remaining employees are forced to work longer hours to cover for the laid-off staff. This means more overtime expenses and increased cases of burnout.
To avoid these challenges and implement ongoing software development, businesses must renovate their approach to hiring. For many companies, IT outsourcing through staff augmentation or managed services offers a viable solution. But how do these models stack up against each other, and what is the difference between staff augmentation and managed services? Here is an in-depth guide into staff augmentation vs managed services to help you choose the right model that suits your business goals. Keep reading to learn more.
What is IT Staff Augmentation?
As known as remote outstaffing, this model entails hiring skilled outside personnel on a temporary basis to augment the capacity of your in-house developers. People who work under this model are recruited by contractors who provide full-cycle services to ensure the remote staff performs as your in-house team. The service provider selects the team based on individual skills, experience, and expertise required to implement the specific task or project at hand.
Types of Staff Augmentation
Now that you understand the staff augmentation definition, here are three prevalent types of this model:
Commodity: this is a traditional staff augmentation model that focuses on hiring regular employees instead of tech specialists. Companies often choose this model when there the urgency of filling certain positions, such as retail or factory laborer, supersedes that of honing skills.
Skill-based: in this model, companies hire remote candidates with general business skills, such as data entry, copywriting, or typing. In most cases, a talent's level of experience doesn't factor in that much, as they will be trained after onboarding.
Skilled: as the name suggests, this type of staff augmentation is often used when there is a need to hire professional job candidates with a particular skill set to fill vacant roles in IT projects. While soft skills are important when hiring any candidate, technical skills are more critical in this model.
Pros of Staff Augmentation
There are various advantages of hiring tech talent through the staff augmentation model, including:
Experienced staff augmentation partners, such as Newxel, have a global hiring capacity, which allows them to hire specific candidates that you may need in any location. In other words, the model empowers you to hire from the global tech talent pool of over 26.9 million developers!
Greater Hiring Efficiency
The whole staff augmentation model revolves around meeting specific needs and objectives set by the client. This enhances hiring efficiency by pairing clients with value-matched and vetted professionals to save time and resources that would otherwise be wasted in traditional recruitment.
The model allows organizations to scale or downscale their output without significant overhead costs or interruption of business routines. This promotes greater flexibility to respond to market demand swiftly and control payroll expenses during off-peak hours.
In staff augmentation, the client retains full control of the team and has direct access to them. Even better, the team can be managed by an internal project manager to ensure the project is executed in line with the agreed technical requirements, quality standards, and business vision.
Staff augmentation can save you money as you only pay billable working hours, unlike in in-house cooperation, where you might need to supplement regular salaries with benefits. Moreover, you don't have to worry about the service provider's overhead costs as this is often covered with a relatively affordable monthly fee. Here is a tip: stay on top of the latest staff augmentation trends to discover more cost-saving opportunities.
Cons of Staff Augmentation
Although staff augmentation helps businesses overcome traditional hiring bottlenecks, the model also comes with various cons:
You'll need management resources
Your company will need extensive management skills and resources to oversee the augmented staff efficiently and achieve desired business outcomes. For instance, you'll need to provide online collaboration software and performance tracking tools, as well as facilitate any other technology required to implement the project.
The model entails recruiting tech professionals from offshore countries that may share different cultural beliefs and practices from where you come from. The barrier can result in communication and integration challenges due to disparate work styles, team dynamics, or values, affecting cooperation in the long haul.

What is a Managed Services Model?
As the name suggests, a managed services model is an outsourcing approach where a company delegates the responsibility of managing and fulling certain IT services to an external provider. At the start of the engagement, both companies sign binding agreements stipulating the parameters and specifications of the service, as well as agreed-upon deliverables.
Types of Managed Services
There is a range of managed services depending on the needs of an organization. They include:
IT infrastructure management: the service provider manages and maintains various components of your IT infrastructure, including servers, data centers, and networks. The services rendered may include troubleshooting, monitoring, or capacity planning to ensure optimal performance and efficiency at all times.
Security services: this service covers various paradigms of cybersecurity, such as regular security audits, firewall management, threat monitoring, incident response, and intrusion detection.
Application management: the service provider covers the administration, maintenance, and support of your business app by executing several tasks on an ongoing basis, such as updating software and fixing bugs.
Help desk and user support: the service provider offers desk-level customer support to help the client company address end-user concerns swiftly and resolve technical issues as they arise. It is prevalent in companies dealing with consumer-facing digital solutions.
IT consulting and strategy: this service involves ongoing consultation on planning, systems upgrade, and technology strategy to ensure an organization's IT infrastructure aligns with its business objectives.
Pros of Managed Services
Switching from staff augmentation to managed services or implementing it over the latter comes with a ton of business benefits:
Managed IT service providers have the technical expertise, resources, and manpower to complete tasks within schedule. Moreover, the company you're partnering with assumes the day-to-day management of IT functions, saving you from mundane supervision roles. In the long haul, the investment pays back in saved time and money.
Your go-to partner for managed services will sign a service level agreement (SLA) defining the scope and duration of each service that they'll cover. This approach assures you of a guaranteed result because the service provider will go above and beyond to fulfill the SLA in order to get compensated.
Focus on Core Business Operations
Working with the managed services model allows you to delegate technical tasks to an experienced partner, freeing your in-house employees to focus on consumer-facing business operations. This gives you an opportunity to improve user experience and network with like-minded industry professionals.
Harness Opportunities for Growth
The managed services model exposes your organization to new technologies, innovations, and trends, allowing you to identify and seize new growth opportunities. And with guaranteed results and reliable uptime of your digital product, you can expand its reach to new markets and grow your startup to unprecedented heights.
Cons of Managed Services
While the managed services model can help you save time and focus more on core business operations, like any hiring solution, it comes with its share of pros and cons as well. Here are the drawbacks:
Overreliance on managed IT services might affect the autonomy of your organization, and its success will hinge on whether the third party is forthcoming. This is not to mention that normal business routines will always be interrupted every time the service provider runs into technical problems. In the long haul, you end up losing control of the vital functions that matter to your company.
Relatively Expensive Than Staff Augmentation
When you compare IT managed services vs staff augmentation, the latter option tends to be more expensive. This is because management partners assume all the project's risks, a benefit that comes at a steep engagement price.
Outsourcing the Wrong Process
Not every business process of your company is ideal for managed IT services. For instance, an IT role that requires an in-depth understanding of an organization's culture and unique propositions, such as strategic leadership or business analysis, may not be suitable for outsourcing.
Differences Between Staff Augmentation and Managed Services
Managed capacity vs staff augmentation both offer effective solutions for addressing hiring challenges in the tech industry. However, there is a key difference between managed services and staff augmentation when it comes to the process of engagement, pricing, and division of responsibility.
Here is a comparison of the staff augmentation vs managed services model to break down the distinction:
IT Staff Augmentation vs. Managed Services: Which to Choose for Your Business and Why
Now that you understand the difference between staff augmentation and managed services, which model should you choose for your business? Here are ideal cases when you should use either option:
Staff Augmentation: Choose staff augmentation when you have highly flexible projects that can be implemented in short sprints but require close supervision. The augmented staff will bring invaluable expertise and skills to work exclusively alongside your in-house team and execute the tasks faster. This approach allows control of every aspect of the project, including costs and resources.
Managed Services: Managed services is a go-to option when you want to cut operational costs as much as needed. Service providers offer a predictable pricing model and save you the expenses of hiring and training new employees. Moreover, they can easily scale resources, infrastructure, or support levels to complement the prevailing market needs.
Which Outsourcing Model Can Newxel Offer You?
Newxel is a full-service company that can help you harness the limitless potential of staff augmentation through dedicated or distributed teams. We have highly motivated and experienced recruiters to help you decide on the right corporation model or viable locations for hiring value-matched IT professionals. Even better, we can create a business-ready team that compliments your project requirements and goals in 3 to 5 weeks.
Contact us to get started with IT staff augmentation services.
Conclusion
In the current landscape where hiring skilled tech talents is increasingly getting difficult, managed service vs staff augmentation provides a great resource for business continuity. If you can leverage the models effectively, factoring in the pros and cons of each, you'll likely enhance your organization's agility and steer it to new heights. Use this guide as a reference point, and don't hesitate to reach out to our experts to hire talents under the IT staff augmentation model.
Frequently Asked Questions (FAQs)
What are the Advantages of Staff Augmentation Over Managed Services?

Staff augmentation gives you direct access to developers, allowing you to steer project outcomes and desired quality standards. Moreover, the augmented staff is paid based on time spent on your project.
When Should I Hire IT staff Augmentation Services?

When you want to access global talent pools and hire skilled experts to augment the capacity of your in-house employees. Staff augmentation guarantees you a qualified candidate for the job and revolves around custom project needs and requirements.
Can AI Cover the Staff Layoffs and Replace Developers?

Not entirely, given that software development is a process that demands a creative and problem-solving mindset that transcends automated code generation. In other words, human developers are still vital if you're going to build a consumer-facing digital product that addresses real-world challenges.
When Should I Consider Managed IT Services Over Staff Augmentation?

In managed services model vs staff augmentation comparison, the former is a better option when you want to relinquish full control and supervision of specific IT services. The vendor assumes the overall management responsibility, freeing you to focus on other productive functions.
Contact Us