How to Build Distributed Teams: 7 Expert Tips for CTOs and CEOs
Did you know that 25% of tech professionals would agree to a pay cut if your job offer involves working remotely? That is just one perk of engaging a remote software development team. The experience even gets more beneficial and resourceful if you start a distributed team to work on a long-term project or fulfill daily business tasks.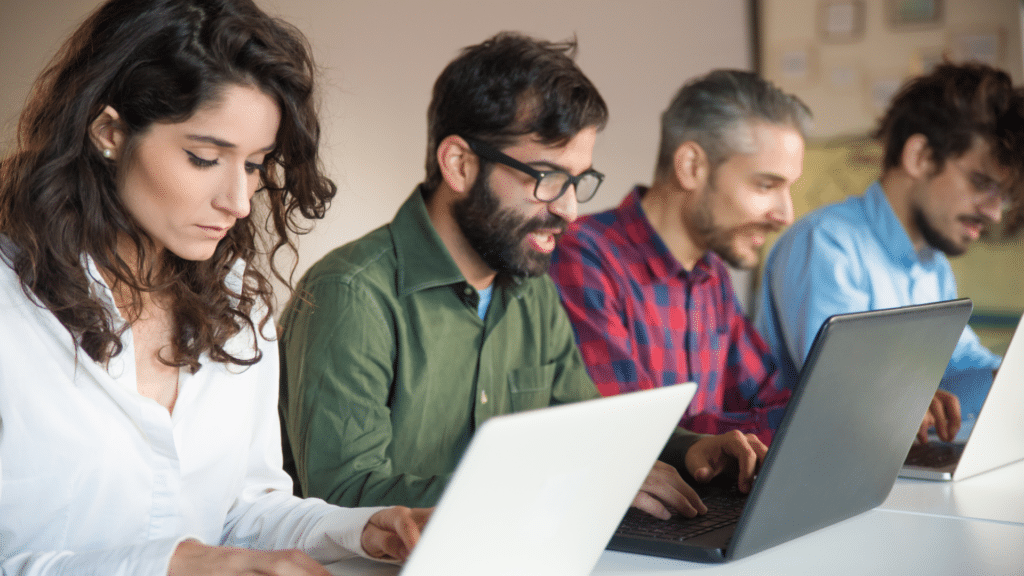 In this article, Newxel experts take a deep dive into the ins and outs of working with a distributed team model — challenges, benefits, best practices, and why the model stacks up better to other cooperation models like dedicated teams. Keep reading to learn more and stay updated.
What Are Distributed Teams?
As the name suggests, distributed team members are scattered away from each other's physical location and can work remotely from any part of the world. The working location can be at home, in the office, coffee shop, or any other place the developer deems fit.
Compared to other engagement models, such as dedicated teams, distributed teams have no central headquarters location for defining workflow processes, meaning their structure is less hierarchical. Moreover, the success of a distributed team largely hinges on the discipline of the entire organization — the underlying company is simply a collection of resources deployed to fulfill a common objective.
Companies that usually work with this engagement model often have a few employees in the management model collaborating with a distributed team from a headquarters location. This might include CEOs, CTOs, project managers, and other heads of departments.
Why Building a Distributed Team is Beneficial for Your Business
Businesses of all sizes, from startups to tech giants, are building distributed teams to further their current and future goals — but for what reason? Whether a fully or partially distributed software development team, implementing this cooperation model in your company comes with various business benefits, especially if you know how to manage offshore developers. They include:
Access to Bigger Talent Pools
Building a distributed team allows you to hire any developer of your choice, thanks to the bigger global talent pools. Unlike traditional hiring methods, the distributed team engagement model expands your recruitment horizons to any global location — the talent can be next door or continents apart. In other words, you'll be hiring among 26.8 million active software developers with mixed skills all over the world, as opposed to a handful or a few hundred in your local area.
High Retention Rate and Developer Satisfaction
A recent study by PIG found that 82% of employees experience generally reduced levels of stress if their organizations allow them to telecommute. This form of collaboration is flexible and convenient — your developers will hardly be absent. Moreover, it encourages digital mobility, a trend that enhances processes, employee satisfaction, and productivity.
The Cost-saving Side
Employers who want to minimize the costs of managing in-house employees often resort to remote models like distributed teams. With this approach, a typical IT-driven company can save up to $10,000 annually per employee in rent expenses.
Diversity
Another advantage of this model is that you work with developers from diverse cultures, religions, races, and nationalities. Having a diversified workforce behind your brand comes with various benefits in return. For instance, recent studies reveal that diverse teams have more than a 30% chance to outperform their on-site, non-diversified colleagues.
On top of that, a diversified team by your side will likely reduce employee turnover, drive innovation, enhance language skills, and, most importantly, build your organization's reputation in the global arena.
A Wider Reach
Finally, you can create a distributed team to increase the time-effectiveness of your organization. By setting up employees to work from different time zones, you can build a 24-hour business model to cater to new markets. That means having marketing, support, or product development departments working around the clock to meet your scaling goals and vision.
…
Contact us to get started with a top-tier distributed development team.
…
Challenges in Working with Distributed Teams
Although your organization is set to benefit in many ways if you set up a remote distributed team, this model is plagued with various challenges that can hinder it from being successful. They include:
No In-person Interactions
In a recent survey by Nira, 27% of remote employees noted that the biggest challenge they face is communication, followed by missing out on social opportunities, loneliness, and isolation. On the other hand, on-site employees who often engage in casual talks during coffee breaks or morning and evening chats hardly experience these challenges.
Distractions While Working Remotely
Developers who work remotely can enjoy doing so from any location, whether a home office, makeshift backyard study area, or even a coffee shop. Depending on where the talent is working from, prevalent distractions are inevitable, whether it's from family members or work-life balance issues. Regular distractions will likely lead to procrastination or diminished output.
Conflicting Time Zones
As the name suggests, distributed teams are spread across different locations with varying time zone, a factor that can affect collaboration. For instance, your regular business hours might not coincide with the teams.
Diminished Trust
Although expert findings and anecdotal accounts demonstrate that distributed teams can be more productive than teams in other engagement models, project managers still find it hard to trust developers blindly. For instance, you can't supervise the team closely as you do with your in-house on-site employees. Moreover, not all remote employees love the idea of using tracking tools to monitor whether they are working due to privacy concerns.
Building Distributed Teams: 7 CTO's and CEO's Tips from Newxel
Now that you understand the benefits and drawbacks of this engagement model, it will help if you know how to build a distributed team from scratch and ensure that it serves your business goals and needs. Here are some expert tips for CTOs and CEOs in IT-driven companies.
Hire the Right People
You need to hire the right people if you're going to build a strong distributed team and manage it effectively. Remember, the potential of the whole team relies on the dedication and personality of all members. With that in mind, it will help if you recruit team members with relevant experience in working remotely and who have a proven track record of dedication and accountability.
Leverage Face-to-Face Video Tools for Onboarding
Video-conferencing tools for onboarding and training remote talents allow you to put a face to the name of the candidate. This will enable you to interact with the candidate closely, read their mood, ask questions, and even observe their body language to determine whether their traits are exactly as listed in the resume. Moreover, such tools will help you hold successful interactive meetings with the team in the future.
Acquire the Right Tools to Get the Job Done
The collaboration necessity cuts across all engagement models, whether in-house or remotely distributed teams. Moreover, the Harvard Business Review estimates that 87% of remote employees feel more connected if they have various collaboration tools at their disposal to leverage. That said, leverage technology to your advantage and set up your team with cloud-based tools that allow them to collaborate in real time from different locations.
Communication is Key
If there is one thing that distributed teams thrive on is constant communication. Developing a habit of communicating regularly ensures that all team members are well-aware and updated about the project's expectations to minimize friction. Moreover, you'll create a positive working atmosphere when everyone is always on the same page. However, while setting up communication lines, don't forget to keep them often for everyone, with clear rules of engagement.
Define Roles and Responsibilities Clearly
Although remote development teams can work on pretty much any project, they will deliver more tangible results when everyone clearly understands their roles and responsibilities. At the same time, you'll likely experience better performance and productivity if there are clear rules and regulations to guide the team because this approach makes everyone accountable for their deliverables.
Look Beyond the Technical Skills
Projects can only be successful if people come together and work ambitiously towards a common objective. Developers who work well with teams often demonstrate certain personality traits and skills, such as empathy, self-motivation, invalidation, mindfulness, and communication. Besides technical skills, search for developers who possess these attributes, and you'll have an easy time managing distributed teams.
Build a Company Work Culture that Fosters Togetherness
It's true that employees from diverse backgrounds might experience challenges while collaborating, but not if they share and believe in a common company culture that brings them together. Inculcate this culture from the first day of onboarding and help your team realize the benefits of working with diversified people. However, it will help if you ensure that your company culture doesn't conflict with core national, religious, or cultural beliefs.
…
Get in touch with Newxel experts to hire top talents in any part of the world.
…
How to Support, Retain, and Manage Distributed Teams
Attaining success with a remote distributed team entails knowing how to support, retain, and manage them. Here are some tips to help you get started:
Let Your Team Create a Social Contract
Humans are built differently and may require clear guidance to co-exist peacefully and pull together towards a common goal. The same applies to a distributed team, especially if you're going to have to order and get things done. Make your team draft a social contract outlining how they need to conduct themselves, communicate, make decisions, and, essentially, work together. This saves you unnecessary anger bursts or information hoarding by team members, a habit that can brew a toxic working environment.
Make Virtual Interactions Engaging
Communication should be two-way, whether in-person or virtual. Always create time for every participant to contribute or raise their concerns when holding virtual meetings. This can help you address issues relating to working conditions before they get out of hand and members start leaving one after the other. Even better, you can create a dedicated virtual space for meaningful off-work social interactions. The work grapevine will be positive in this space and can help beat boredom or isolation.
Reward and Appreciate
There is no better way of recognizing your distributed team members than rewarding and appreciating them whenever they do impressive work. Everyone in a company craves acknowledgment, which reassures them that their effort didn't go to waste. Even if your team is thousands of miles away, don't shy from sending those appreciation notes or mailing gifts like plaques once in a while to make them feel special and valued.
Create Incentive Structures
Remote developers are like any other employees, only that they aren't working from an on-site location. The point is incentives can help retain them due to enhanced experience. For instance, as you plan to build a distributed team, you can also think about various incentives that complement excellent services rendered, such as time off, varied working schedules, and organizational support for personal and professional development.
Define and Follow the Rules
Lastly, it will help if you don't just sound like a leader but act like one. Be a servant leader who clearly defines the rules of collaboration and walks the talk by starting to follow them. It is these rules that will define the framework for solving issues, such as conflict among team members. With clear rules, you also won't need to micromanage team members since expected practices will be self-explanatory.
Newxel's Experience: How a Project Can Gain with Building Distributed Teams vs. Other Types of Development Teams
Newxel is a full-service company that recruits distributed teams for organizations across all industries. Our success with distributed team management has made Newxel a trusted industry partner for years, with over 100 happy clients. From our experience, a project can gain more with distributed teams than with other types of development teams in the following ways:
Ability to Recruit Any Tech Stack
The biggest advantage of this model when hiring is that you can recruit any candidate that is important to your project, whether it's agile software development with remote teams or systems engineering. Unlike other software development team models, distributed teams don't confine you to one global job market.
Cost-saving Opportunities
Your organization won't need to worry about renting and branding an offshore office space if you decide to set up a remote distributed team because the members are based in different locations across the world.
Better Talent Retention Rate
By building a distributed team, you allow talents to work from wherever they are comfortable. This enhances their experience right from onboarding because they don't have to be in a particular geographical location to attend the first meeting, boosting the talent's retention rate. However, achieving a better retention rate will take other efforts as well, such as fostering HR-friendly policies.
…
Build a distributed team from scratch with Newxel.
…
Wrapping It Up
With more organizations discovering the benefits of distributed teams for software development, along with the growing need to embrace full digitization, the future of work is clear. Newxel experts forecast that companies embracing change and adopting the engagement model early and consistently will be in a better position to leapfrog the competition. Contact us today to build a distributed team.
Frequently Asked Questions (FAQs)
Remote vs. Distributed teams: what type you'll benefit more from?

It is possible to have a successful experience with both remote and distributed teams, provided you manage them properly and keep the members together during collaboration. However, a distributed team will likely save you more engagement costs in terms of office rent, given that everyone works from wherever they want. Moreover, distributed teams are more flexible than augmented remote extensions.
Is creating distributed teams profitable for startups?

Yes, building a distributed team can be profitable for startups. Gartner notes that 75% of startups that engage distributed team models for various business functions will increase revenue 25% faster than the competition in 2023. On top of that, this model allows you to hire a candidate that matches your needs, goals, and expectations so that your investment in human capital yields a positive ROI.
How to manage a distributed team?

You can start a distributed team and manage it effectively by setting clear guidelines, expectations, rules, and regulations. Doing so, together with regular meetings, ensures that the working atmosphere is conducive and supportive since everyone understands their roles and responsibilities. Also, set measurable goals and reward every achieved milestone.
What are the business risks of working with distributed teams?

Building a distributed team can expose your business to various risks, including diminished trust, transparency, and cohesion, something that can fuel a toxic working environment in the long haul. Moreover, distributed teams expand the surfaces for cyberattacks or other security risks, jeopardizing your sensitive business information.
Contact Us