Distributed Team Management: Tips, Mistakes, Best Practices
The revolutionary work setup of virtual collaboration continues to take shape across all industries. In fact, recent trends reveal that 25% of global teams are working under a 100% virtual model, with team members spread across multiple time zones. In other words, a workstation doesn't have to be necessarily a single office location in 2023 — you can extend it to a collocated or distributed team.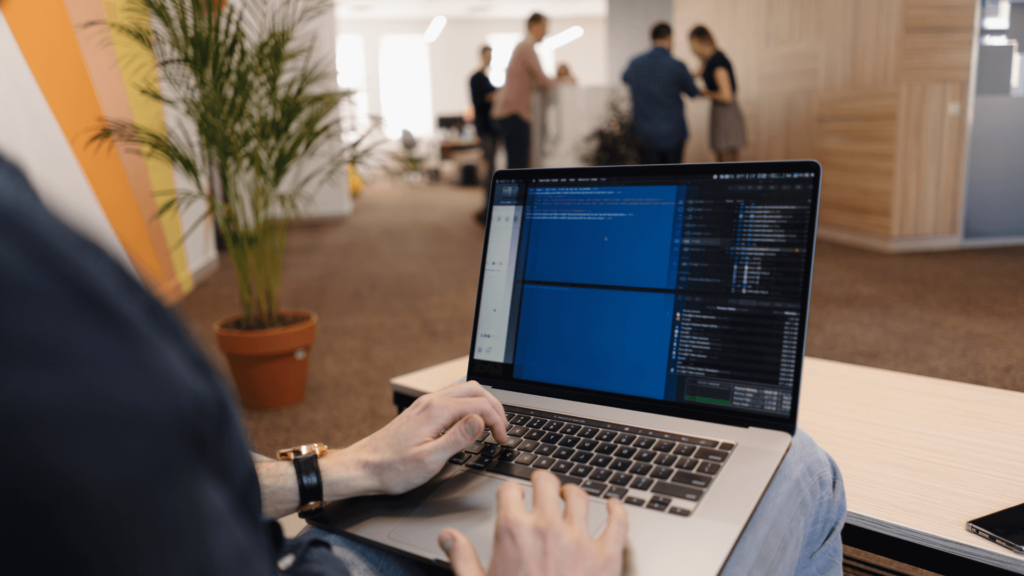 While this collaboration model has many benefits, setting up and managing distributed teams can be pretty challenging for CTOs. Whether it's social inclusion, cultural differences, or lack of trust, finding yourself between a rock and a hard place is easy.
So, how do you do it? What does it take to manage distributed teams effectively for heightened productivity and impressive results? In this article, Newxel shares its experience, tips, and best practices for managing remote distributed teams. Keep reading to learn more.
What is Distributed Team Management?
Distributed team management is a proactive process that entails implementing various tools and strategies to oversee a remote team of individuals, often working from multiple global locations. The typically distributed team comprises employees with various skills and capabilities working towards a common goal or project.
Typically, members of a distributed workforce can include freelancers, contractors, or even full-time employees, depending on the hiring needs of your business. To effectively oversee such a team and ensure seamless communication, project managers often leverage tools and guidelines and communicate expectations beforehand to have everyone on the same page.
The Challenges of Managing Distributed Teams and the Most Expensive Mistakes You Can Avoid
As noted earlier, managing distributed development teams can be pretty daunting initially, especially if approached incorrectly. Moreover, it's crucial that you are aware of these challenges before setting up your team so that you can avoid costly mistakes in the future. That said, here are the challenges to expect and how to overcome them:
The Time Zone Difference
Distributed team members often work from diverse geolocations, all with different time zones. This can make it difficult to set productive meetings or follow up on work schedules. The biggest downside is that mistakes may arise, such as scheduling meetings at the wrong time or rushing over meetings because some people are either joining too early or too late.
Fortunately, you can play this challenge to the benefit of your business by setting up team members to work in shifts. This means clearer schedules and, most importantly, 24/7 business operations to serve your customers where they are.
Collaboration
Another big challenge of managing a distributed team is collaboration. Typically, tracking the progress of tasks in real-time can be difficult, making it challenging for team members to proceed at a fast pace and meet deadlines. In addition, poor collaboration strategies mean that you'll also find it hard to set the standard for the team.
Typically, remote teams look up to you in almost everything. You can avoid this challenge and its costly mistakes by inculcating a culture of collaboration right from the onset during onboarding. In other words, don't just make it a checkmark; collaboration should be a habit.

Communication
Companies also face the challenge of communication when it comes to dealing with a distributed workforce. For instance, the fact that primary communication lines are digital means a high chance of misunderstanding or distorted information dissemination. Also, this can make employees feel socially disconnected and slow down decision-making processes.
You can avoid this by setting up dedicated communication channels for employees to engage in small talk amongst themselves. You can also invest in video-conferencing tools so that you can leverage the cues of face-to-face communication, such as direct eye contact and facial expressions, to pass messages effectively.
Technology Issues
New ways of work engagement mean new tools and technologies. While most candidates understand what is distributed development and are often ready to try new technologies, their initial experience might be horrible if they don't know how to use the tools effectively. This can take a toll on various aspects of the project, such as productivity and efficiency.
The best way to avoid expensive mistakes associated with technology issues is by using the right tools and resources in the first place. Moreover, you should have a training session during onboarding to ensure everyone understands how the technologies at their disposal work.
Trust and Accountability
Leading a distributed team requires a high level of trust and accountability across the board, especially if the engagement model is going to be successful in the long haul. And if there is no trust, managers often call or text remote employees all the time to make follow-ups on updates. While this can work, it likely puts your team under unwarranted stress and inevitably culminates in a toxic work environment.
To foster trust and accountability, embrace a hybrid management style of delegation and micromanagement. However, the latter should only be in play if necessary, especially in time-sensitive microtasks.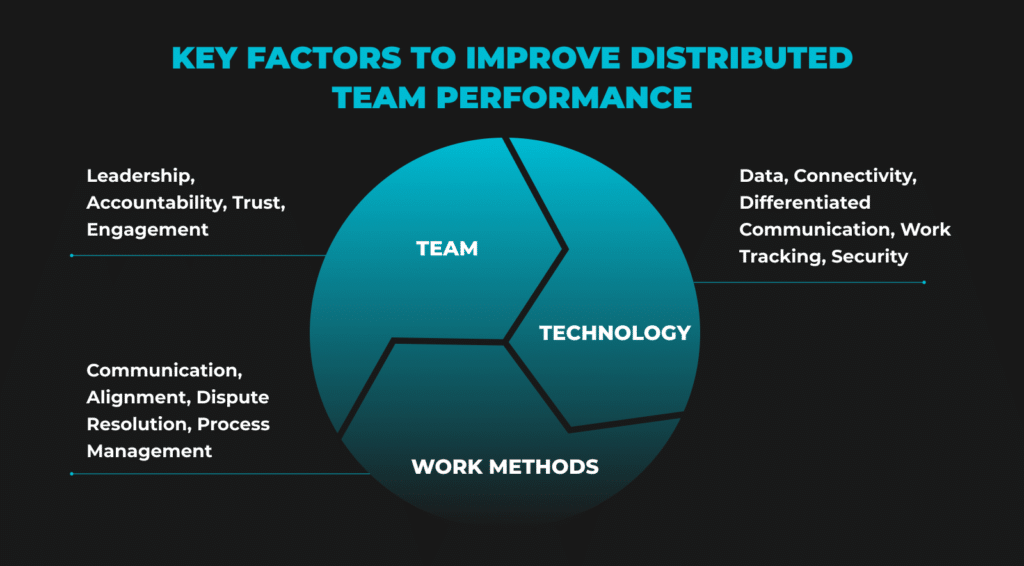 How to Manage a Distributed Team: Top Tips
Now that you understand what is distributed team management, what are the tips and best practices for success in this engagement model? Remember, working from home can be a solution to many business pain points, such as high in-office operating costs and limited hiring capacity, but only if you get it right.
With that in mind, here are expert tips for managing distributed teams effectively, regardless of which part of the world you hire from:
Begin by Hiring the Right People
It will help if you know how to build a distributed team from scratch, which starts with hiring the right people is the first step towards building a successful distributed team. For instance, hiring a person with proficient soft skills, such as teamwork, understanding, innovative mindset, and self-motivation, will make collaboration easy, even if they are working from home. Most importantly, you should connect with the candidates at a personal level to gauge whether they are an excellent match for your company.
Set Up an Effective Onboarding Plan
Recent findings reveal that an elaborate and efficient onboarding plan can enhance employee retention by up to 82%. On top of all best practices for structured onboarding, organize face-to-face meetups between new candidates and key stakeholders in your organization. This will evoke a sense of belonging among new employees and facilitate a smooth transition built on trust.
Have Structured Regular Meetings
Hold regular meetings to share task status or discuss challenges your team might face. The frequency of these meetings shouldn't be disruptive — daily or weekly can do. Most importantly, it will help if every meeting has a clear agenda, whether it's discussing progress, planning for the work ahead, or setting new goals.
Your Team Requires Greater Autonomy
One of the biggest perks of working from any global location is flexibility, and you don't want to take that away from your team in the guise of micromanagement. In other words, checking up on individuals too often or forcing them to work under a tight schedule can be slightly overbearing.
That said, it will help if you run the group autonomously by allowing everyone to handle tasks the way they prefer, provided they achieve the desired results. Even better, giving them an opportunity to use multiple devices fosters greater digital mobility, and a consistent experience, translating to flexibility.
Celebrate and Share Success
One of the best practices for managing distributed teams is celebrating and sharing success. Create a culture of recognition and appreciation to boost the morale of your team members. Even small wins, such as meeting weekly deadlines without failure, should be celebrated and rewarded as this demonstrates unwavering employee commitment.
On top of that, you can offer additional incentives to your team, such as an allowance for creating a home office space. You can also provide online courses to those who want to learn new skills or pay for wellness programs to promote a healthy work-life balance.

Tools to Manage Distributed Teams Remotely and Effectively
Knowing how to manage a distributed team remotely and effectively extends to choosing the root tools. For example, all organizations should consider tools under these categories for distributed teams working agile projects:
Communication
You can attain asynchronous communication among your team by employing a range of tools, including instant messaging platforms and video-conferencing software. For instance, tools like Microsoft Teams or Slack can help the group share real-time messages and access notifications to make them more productive. In addition, tools like Google Hangouts or Zoom can facilitate face-to-face calls for greater synergies.
Productivity Management
Productivity management tools can help project managers schedule tasks, monitor productive hours, and track progress to determine which roles are overwhelmed. However, it's important to consider tools that don't invade your team's privacy. Alternatively, you talk to the employees first to find out if they are comfortable with you tracking their computer activity during business hours.
Mind Mapping
It's essential to set up a remote work atmosphere that is as efficient and supportive as the traditional office setting. Mind mapping tools can help you achieve this by providing an interface for brainstorming ideas. This is accompanied by visual flowcharts to reinforce focus during meetings. Prevalent options with instant sharing functionalities include Coggle and MindMesiter.
Payroll Management
Another aspect of managing a distributed team effectively, yet often overlooked, is payroll. Like their office counterparts, remote employees expect you to pay them the right amount based on billable hours and on time. Popular tools that can help you stay on top of payroll include Gusto and QuickBooks.
How to Assess the Effectiveness of Distributed Team Management
Assessing the effectiveness of your management style when it comes to distributed teams can help you optimize performance, lower turnover rate, and identify training needs. But where do you start? Consider these metrics when working with distributed development team services:
Communication
Providing real-time communication tools to your distributed team is one piece of the puzzle. The other one is whether they'll establish a culture of open, clear, and transparent communication. Check messaging platforms to find out how often your team engages each other and the types of messages they exchange.
Collaboration
Collaboration can be challenging to foster in distributed teams. In fact, it's harder to keep it going without seeming to be too overbearing. That said, you can evaluate the number of documents shared, contributions made by team members, or the number of collaborative sessions to determine if you're having success with your strategy.
Engagement
A highly engaged workforce is an indicator that you likely know how to manage distributed teams effectively. You can assess your employees' engagement and commitment by conducting in-house surveys to gauge job satisfaction levels or motivation. Also, look at the retention rate — if it's high, then your employees are well-engaged.
Productivity
In the long run, the success of any business team, remote employees notwithstanding, is gauged by its productivity. It's important to check the number of completed tasks over time and whether all deadlines are met. You can also monitor the progress of the overall project to establish if you're steering the team in the right direction.
Newxel's Support in Managing Distributed Teams
Newxel is a full-service partner that will hire and facilitate seamless distributed team management to ensure you get the most out of your remote employees. This includes a range of turnkey services that free you from management bottlenecks, such as IT support, administration, and finance & legal support. This ensures that you focus on establishing a productive connection with your team as we handle the backend office routine.
On top of that, we know how to build highly effective AI team or any other development teams that meet your intricate business needs right from the onset. This means hiring candidates that are 100% match with your requirements and needs, thanks to our global recruitment capacity that allows us to hire any tech stack from any location.

Conclusion
Organizations can achieve a lot with effective distributed teams management, including accelerated time to market, access to global talent pools and expertise, as well as a competitive edge. It all depends on the ability of the project manager to lead and get things done autonomously. In that case, employ the tips and best practices highlighted in this guide to get started.
Frequently Asked Questions (FAQs)
How long does it take to hire a distributed team?

Hiring a distributed team through full-service companies like Newxel can take anywhere between 3 to 5 weeks.
How to manage distributed teams effectively?

You can manage distributed teams effectively by setting up the right collaboration tools, communicating expectations clearly, and establishing regular check-ins to build trust. For instance, you can meet face-to-face (via video call) once a week or twice, depending on project needs.
What makes a good leader for distributed teams?

An ideal manager of a distributed team should demonstrate strong communication skills, emotional intelligence, empathy, flexibility, cultural awareness, and a results-driven mindset.
Contact Us