The Top 5 Criteria of a Tech Startup VCs Will Invest in
In this article, we'll explain how venture capital can take your startup to a new level and how you can make sure you'll be the one granted VC investment. Out of thousands of other promising startups.
If you've ever watched Shark Tank, you know that pitching a fresh idea to an investor could be complicated. An own project is like a baby — you'll never present it in a bad light. Everyone understands it. And so people initially assume you're overestimating its value.
But what's even more complicated is to prove your existing startup has the potential to make a growth leap in the future and is not going to be beaten by a random competitor. Raising capital from VCs at the growth stage is not a matter of luck, though. All it takes is scrupulous preparation and knowing what criteria VC investors usually pay attention to. Let's get you all set for a big win.
Why do startups need venture capital investment?
Unlike angel investors who expect returns over long periods of time, VC capital firms are working with high-risk, high-return deals. The target of VCs is, usually, an established startup that has to be scaled to achieve quick growth. In other words, your startup makes big promises in terms of exponential growth, and VCs make a big investment to make it happen. Now, what are the risks, and do you really need to make a VC commitment?
There are two ways a company can choose to win public recognition. The first one is growing as a bootstrapped business and the second — by drawing investments. Each of these can be a winning strategy, depending on what your goals are. Shortly, companies that are ready to embrace low-risk yet slow pace of growth go with the first one. Those that need to scale fast, won't move ahead without investors.
5 criteria of a startup team that gets venture capital
In most cases, a venture capital investment company is ready to invest a big sum of money into a startup that can bloom overnight. But there are very few of such. Plus, there seems to be a recent trend for startups raising larger rounds and, thus, VCs investing more money into fewer companies. So you can imagine how picky VCs are.
But nothing is impossible. If you know the chemistry behind funding, your company can be the lucky one. We've compiled the top 5 list of criteria that VCs consider crucial when analyzing startup opportunities.
Startups that know their niche from A to Z
Stay on top of trends that dominate your target niche. Let's say, you're building an AI product. Many startups assume that taking a path of VR, AI, machine learning, and other buzzy directions is alone a guarantee of immediate success. In most cases, they are wrong.
The situation is quite the opposite: While these niches are still a mystery to many, startups need to go the extra mile to prove their product deserves VC funding. As an example, TechCrunch recommends AI businesses to prove mastery over big data — the key indicator of AI potentially succeeding. You may have your own proof of value, but make sure you use specific examples or numerical indicators when pitching projects that belong to innovative directions.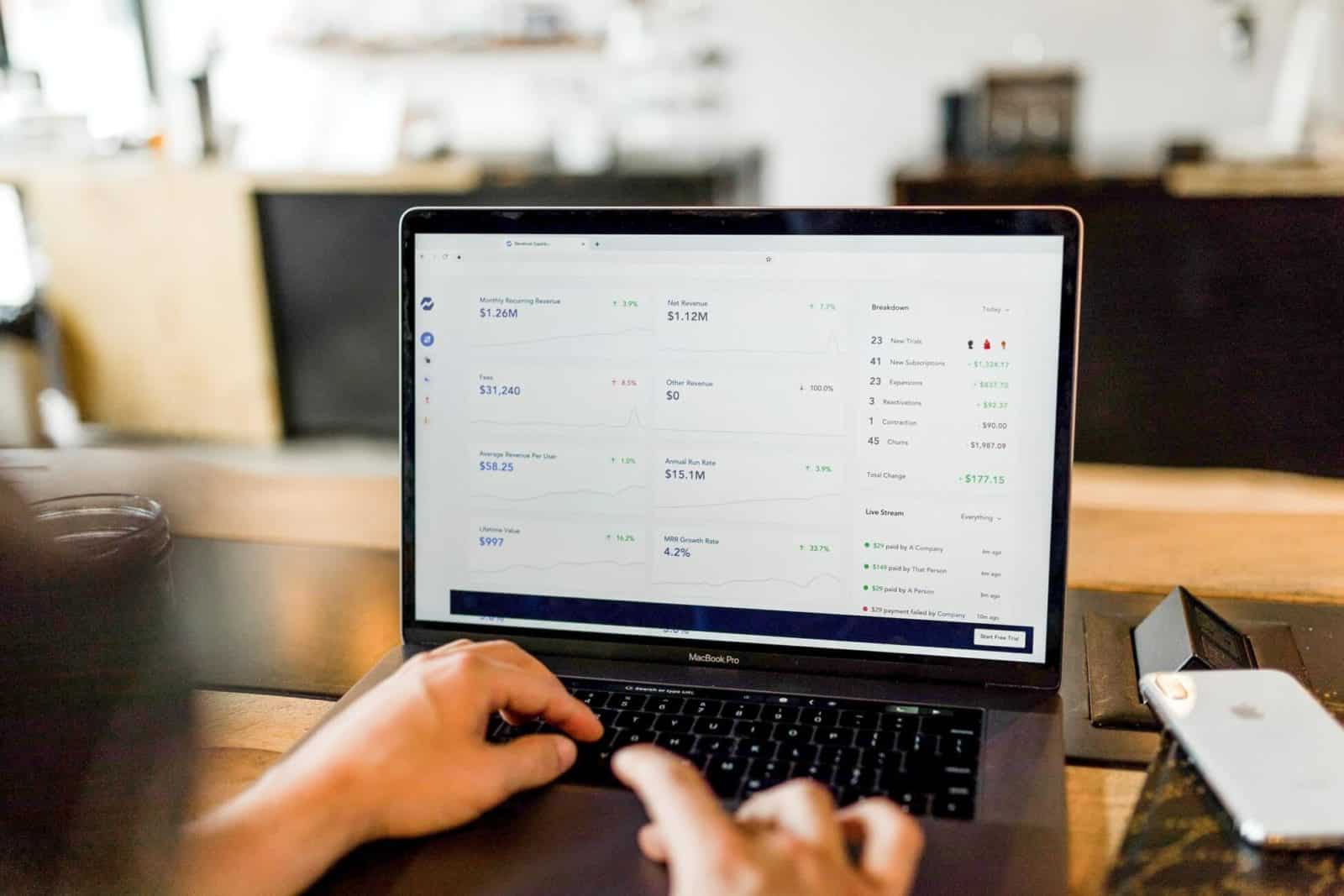 Startups built by a top-rated development team
It really does matter who stands behind a tech startup. The quality of programming varies across the world — hugely. For instance, the cost of development in Eastern European matches the cost of development in India. Yet the code quality is much lower in the latter. This is why VCs are very careful about where the development team is coming from.
If you're only analyzing the options of a home base for your development team, we recommend looking into the growth of VC value and investments across countries. Ukraine is the perfect example here. With the world's most affordable, top-rated developers, it continues reaping more and more VC deals every year. Below you can check an industry snapshot from the research on VC growth by Ukrainian Venture Capital & Private Equity Association. It shows a substantial boost in 2018, and the numbers are, apparently, going up in 2019.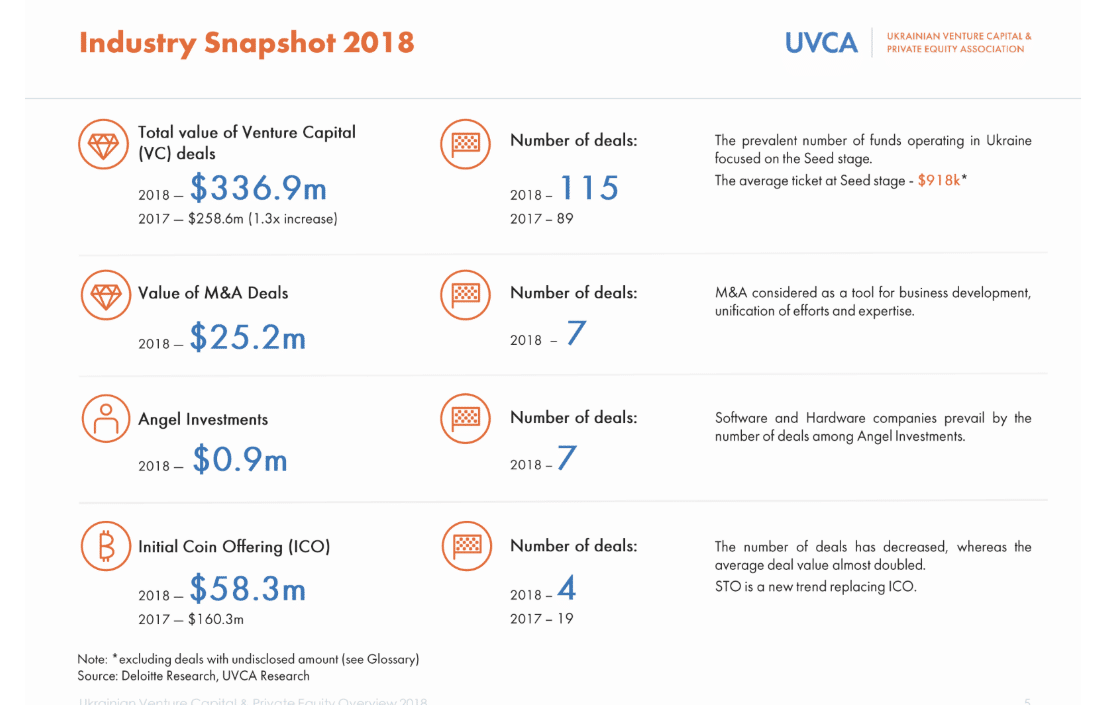 source: UVCA research
This can be a strong indicator the country is a perfect spot for setting up own development team. It's trusted, has a good VC growth potential, and guarantees value for the money.
Startups with perfect pitch profiles
How do venture capital firms in the U.S. and other parts of the world decide they're ready to give you the money? They check whether you're ready to take it. Demonstrate you take the funding opportunity seriously. Spend a lot of time on your presentation — this is definitely going to make an impression. Check out the key elements of a perfect pitch strategy:
Elevator pitch. Prepare a concise, logical, and well-structured description of your startup. What does it solve? What achievements you already have? Have you participated in Series A rounds before? Make sure a person who hears the pitch instantly knows what "whys" and "hows" your startup deals with.
Pitch profile. This is the spot where your elevator pitch will be taken. Ideally, create an appealing online profile with all the information related to the funding round. This will give VCs a much better experience than scrolling through endless PDFs or emails.
Pitch deck. Prepare a detailed pitch deck that has a business plan explaining how exactly you want to scale the startup. Make it as easy to read as possible — with visuals, bullet points, and content structure.
Pitch meeting. If you have a meeting with a VC, prepare answers to the questions they are most likely to ask. Depending on the type of product, have a person who is involved with it must attend the meeting. For instance, if you're selling software that's all about design, ask a product designer to go to a meeting together with the founding team.
Startups that use the latest development methodologies
If we're talking about tech startups, having an agile development team versus DevOps is definitely an advantage. Due to its high adaptability and space for iterations, Agile is really the new black. This is just an example — you can showcase a buzzy design principle or another popular methodology. It all depends on what your startup is about. The key point is proving you deserve startup funding because you're innovative and ready to pick up new things fast.
Startups that take valuation seriously
Well, if you step into a VC's shoes, you'll instantly know it's all about money. Therefore, no pitch deck makes any sense if you don't include startup valuation into it. Valuation refers to the cost of a company before investment — the so-called pre-money. This means if your startup costs $20 million and a VC invests $10 million, the post-money will equal $30 million, of which 25% is the VC ROI.
The average valuation of Series B rounds startups in 2019 equals $32 million, says FunDz. But it will totally depend on the perspectives you embrace — for fast-growing startups, the valuation can be lower.
Make sure you have an estimate of your startup valuation before entering a venture round. You can calculate it based on the following factors:
Actual annual/monthly revenue the company makes.
Valuation of similar businesses.
Size of a target market.
The economic situation in the target region, and more.
A startup stage is pretty vibrant — especially when it comes to technology companies. To compete for your spot under the sun and find investors, you need to know one thing perfectly. As simple as it sounds, this thing is your own company. To "sell" your pitch, you should be able to describe what the company does, what it has already achieved, and how you plan to scale in the future. Every small detail matters. With a strong offshore team of developers, a well-crafted pitch deck, and a lucrative venture capital valuation, you have all the chances to succeed.
RELATED POSTS
The Benefits of Working with Dedicated Team Instead of Classic Outsourcing or In-House Team
6 Reasons for Israeli Companies to Choose Ukrainian Development Teams or R&D centers
Cost of Hiring a Development Team: Israel vs. UkraineContact Us