Consider Main Reasons to Choose Extended Development Team Over Other Models
It's no secret that software development is a complex process that involves a lot of thinking, analyzing, and planning. While it may seem simple to an established, overstaffed enterprise, some aspects of the project development process, skills, and expertise might not be available within your company's existing team. In fact, nine in every ten managers have expressed a rising skill gap amidst today's digital transformation.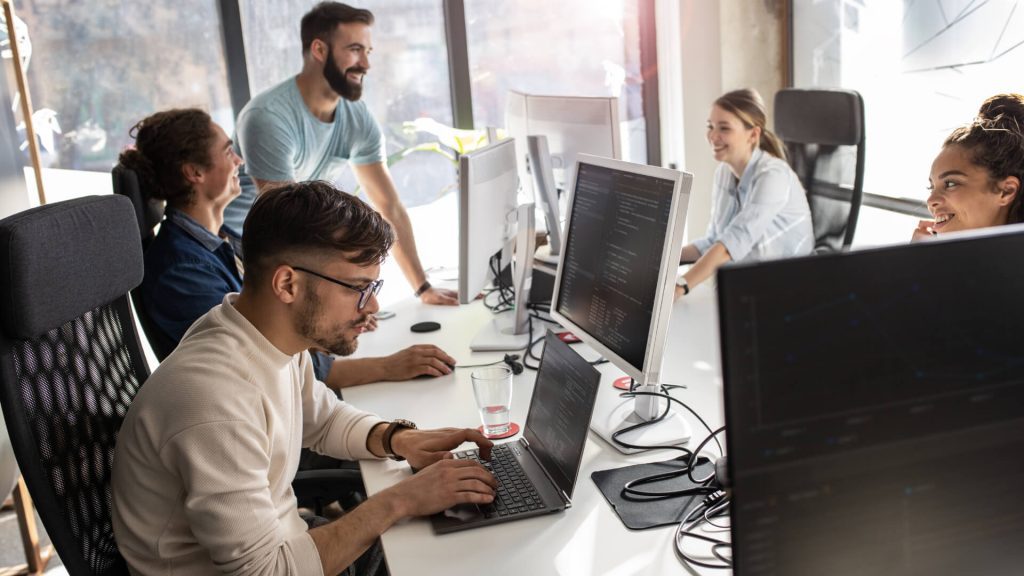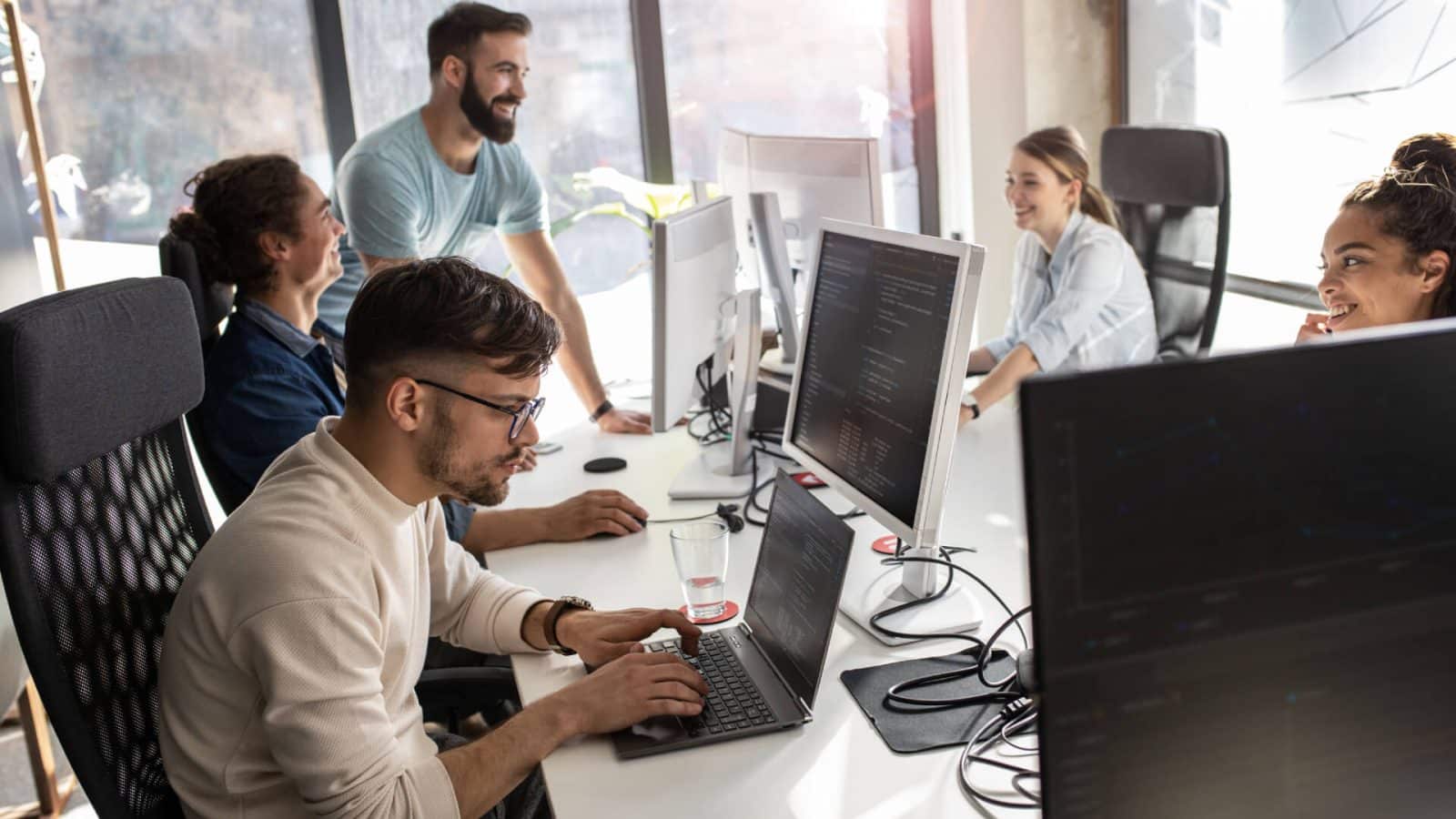 Many companies have already found a way around this with outsourcing, but that's not always the best solution when you have already invested so much in an in-house squad. That's where an extended development team comes in. This can fill in the gap by providing unwavering attention to your project, a high level of expert support to your existing team, and being available whenever you need them.
In this blog post, we explain why you should choose an extended software development team to get your project done if you are planning to develop a new software product or update an existing one. Keep reading!
The Extended Development Team Explained
In its simplest definition, an extended development team is a group of tech experts hired to work on a project (especially a long-term project) alongside an already existing in-house team. Sometimes it can be replaced with a staff augmentation definition.  In most cases, these experts are sourced from other countries and augmented with the in-house staff with a common goal of working together on the client's project.
With that in mind, when is an extended software development team the best choice?
When dealing with a new type of project — an extended team model can come to the rescue when working on a completely new project your in-house team is inadequately prepared for. This way, the extended team can bring a new set of skills and help to work on the new project.
When the project needs a specialist — extending the development team with a fresh pool of talent allows businesses to tap into national and international cost-effective expertise in no time.
When working on a temporary project — deploying a temporary project comes with many perks such as less time and resources. An extended team can get temporary projects done fast and more efficiently as your in-house team handles the more demanding projects.
When your company is working on a budget — outsourcing an entire project can sometimes be the least cost-effective option on the table, compared to having an extended team augmented with your existing team. Outsourcing means finding new developers, drafting new contracts, and finding legal representation with new companies — all of which can be done faster with an extended team. In fact, an extended development team can cut costs by 30-60%.
Extended Development Teams Model or Traditional Outsourcing
Extended development teams are a refined version of traditional outsourcing. Extended teams are designed to create a mutual interaction between the in-house and remote workers toward a common goal. In contrast, the traditional outsourcing model passes the entire project to a new third-party firm.
Under the extended development team model, developers become a literal extension of the in-house team, and the project is shared between them. Unlike traditional outsourcing, extended development teams leave the project's management to the core team and collaborate with other in-house developers to create long-term relationships.
Traditional outsourcing is best suited for short, middle-term, and long-term tasks without interference from the client company. The contract can be terminated once the job is done.
On the other hand, an extended team model is best applicable where the company plans to improve the product's quality without replacing the entire team. It's more suitable for long-term projects, where the relationship between the parties needs to be maintained for future collaboration.
Extended Team Model Advantages
The extended team model is known for its cost-effectiveness and expert developers. This model eliminates several overhead costs, like the need to purchase equipment, rental space, tech support, and other costs that arise as a result of in-house recruitment.
Apart from being cost-effective, there are other advantages of an extended development team:
Access to an International Talent Pool
Extended team models provide direct access to international talent at a fair cost. Companies are not just limited to local developers. Instead, they meet a variety of skills from diverse backgrounds.
Mutual Responsibility
The extended team model enhances collaboration based on teamwork and a general direction toward a common goal. Both remote or relocated developers and in-house teams work together with the aim of completing the same project. This creates shared responsibility between the two parties, promoting a strong working connection.
High Scalability
The extended team model enables a business to rapidly scale its operations through the proper use of resources. It also promotes the development of a high-quality product. Businesses only pay for those who deliver, unlike in-house recruitment, where they have to pay their employees whether they perform or not.
Defined Priorities and Commitment to the Project
Unlike some outsourcing models, the extended team model provides access to labor on a full-time basis. Extended teams are part of the in-house team, which means that their sole focus is on your company's project. This maintains high standards and ensures that the end result is a high-quality product.
Promotes Transparent, Long-Lasting Relationships
Another big advantage of an extended team model is the transparency that comes with it. Extended teams and in-house teams can communicate without barriers. There's no intermediary, which further promotes trust and constant communication.
Keeping Up With Deadlines
Introducing a group of highly skilled people to an existing team makes it easier to handle various projects faster and more efficiently. With a motivated team working on a single project simultaneously, companies are able to beat deadlines.
More Control Over Project Management Activities
With an outsourcing model, you might be forced to hire a different project manager to monitor the remote team. But that is not the case with the extended team model, where company managers can easily communicate and assign tasks to the extended team as part of their own one.
Flexibility of Experts
Outsourced teams are usually pre-fixed. This means little flexibility when it comes to choosing the number of professionals needed for your project. However, the extended team model allows you to deploy the desired number of people that suits your budget.
Managers are Involved in the Hiring Process
The extended team model allows for management teams in person, from the selection process, to project management. Managers get to participate in the hiring process and vet the selected team based on the company's goals and interests to match their specific needs. The core team is included in each process.
If you are torn between an extended team and the outsourcing model, these benefits should help guide you to the right decision. All in all, the extended team model eliminates recruitment hassles and gives businesses flexible management of the team.
Extended Tech Development Teams
An extended engineering team enables companies to remain competitive and more efficient in their operations. But despite all the extended team benefits, not all situations fit the model.
Here are a few scenarios where this model would not be the best choice:
Short-term project: earlier, we mentioned that extended teams are best suited for long-term projects. That's because cooperation between the established team and the extended one would be necessary for future needs.
Traditional outsourcing is best suited for a more project-based approach with short-term deadlines. Here the two parties can easily part ways after the contract when the product is ready. Keep in mind that your dedicated extended development team can always come back for more long-term projects.
Complete lack of technical expertise: this is a common problem in companies of all natures. While an extended engineering team can help fill in the gap, it would be nearly impossible to fully integrate an in-house team that lacks the skill with an extended team. If such skills are missing in your company, the best approach would be staff augmentation. This way, the company can quickly acquire the skills it needs.
When you don't want control over the project: lastly, companies that don't want to take control over every aspect of a project can get in touch with a traditional outsourcing company and hand over all the management activities to the outsourced team.
It's always good to carry out some research and find out your project's needs and best-suited model.
Hiring Process of Dedicated Extended Development Teams
Hiring dedicated extended teams is a slow but steady process. The first thing you need to do is to understand your project. This means grasping what your requirements are, what you want it to do, and how it should be done. Finding a team based on your requirements will make the process much easier in the long run, and will be the key component in answering the question of, for instance, how to build a successful mobile app development team.
Next, you need to start looking for a team that can help you get started with your development. You should know how many people will be required for this project so that you can start looking for the right team.
With this general idea, take the following steps to find an extended development team for your needs:
Contact the Desired Provider
There are many outsourcing, outstaffing, and staff augmentation companies today. With a little research, select the best candidate and reach out to them. Define your company's skill needs, tech requirements, budget, goals, and other relevant information.
Create a Custom Proposal
Once your desired provider understands your needs, they will generate a custom proposal entailing the new team's availability, duration of the partnership, expected salaries, and the cost of service.
Schedule a Meeting
The meeting is probably the most essential stage of the hiring process. Here, the provider outlines the nature of your relationship, legal aspects, duration of the project, costs, and other necessities. By the end of the meeting, parties form new partnerships and sign new agreements (provided they come to an agreement).
Actual Recruitment
At this stage, the parent company selects the best tech support for your company and orients them on what they'll be working on. You can do a follow-up evaluation to assess the new team's capabilities.
Integrating the New Team With the In-House Team
Here, the new team becomes part of your in-house team. Onboarding may take a few hours, days, or weeks depending on how smooth the integration process is. The new team meets the project managers and other team members and familiarizes with the company's cultures and values, passing through the developer onboarding checklist that almost every company uses.
Consider Newxel Your Trusted Partner
Are you looking for an extended team for your project? Newxel is a world-leading outstaffing company guiding its partners to some of the world's best-extended software development talent, providing a team as a service, and establishing global R&Ds.
At Newxel, we enable our clients to build dedicated development teams. We carefully select our software engineers all over the globe to offer the best service for our clients. Additionally, our company enables clients to open fully-equipped R&D centers and focus on their core competencies while we care for all IT infrastructure solutions and services integration, recruitment, legal, and HR support.
Ready to see how it works? Get in touch with us today!
Final Thoughts
Extended team models make it easier to tap into wider tech talents at a cost-effective price. With your number-one partner at Newxel, you can be sure to get all the assistance you need to bring your project to life. We offer a full-service package including highly skilled tech support, finance management, account and legal support, and so much more.
Get in touch for more information about how we can help you!
FAQ
What does extended team mean?

It refers to an additional team that supplements your in-house team. An extended team model is larger than the norm, with a greater diversity of skills, more varied backgrounds and experiences, more varied viewpoints and thought patterns and more varied ways of working.
Outsourcing or extended teams?

The decision to outsource work or build a remote team largely depends on the company's needs. Outsourced teams often have less structure and flexibility, which can make them more difficult to manage, but they can also be a great way to onboard new expertise and bring a diverse group of people together in one team. Extended teams are also a great way to onboard new employees and offer new skills, expertise, and flexibility to the already existing in-house teams.
Contact Us