Dedicated Team vs. Fixed Price vs. Time and Materials: Comparative Business Guide for 2023
A recent study by Deloitte reveals nearly 70% of organizations partner with outsourcing companies for software development projects to save money and access global-rated talents. Other managed services that a development company can offer include cloud migration, legacy infrastructure optimization, infrastructure management, or any other IT-related role.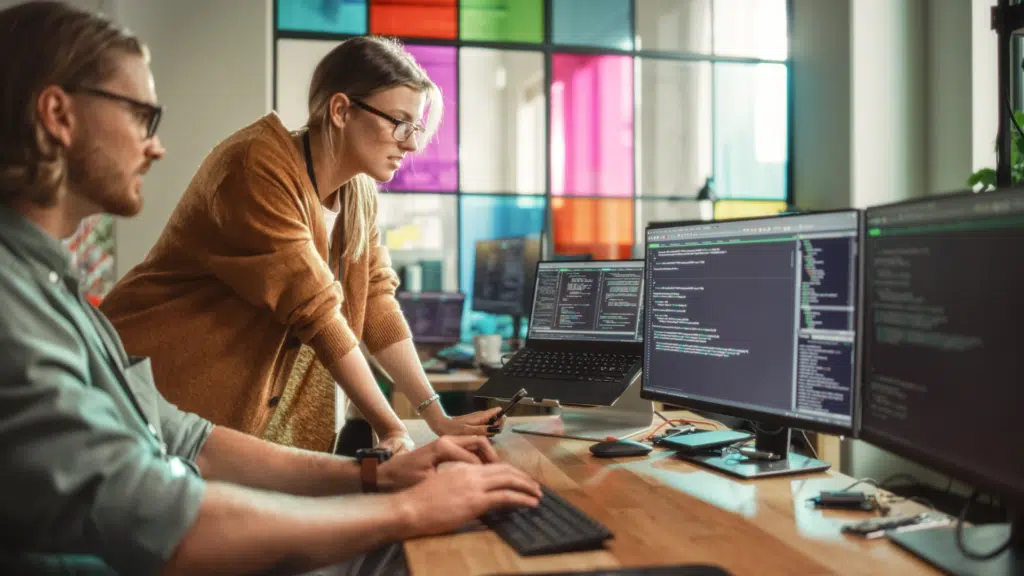 The first concern that lingers in your mind when deciding whether to partner with remote developers is the pricing model that's ideal for your project. In this guide, we highlight the pros and cons of fixed price contracts vs time and material vs dedicated team model. We also list various tips to help you pick a suitable approach. Delve deeper to learn more.
Fixed Price Contract: Brief Overview
When comparing T&M vs fixed price, the latter engagement model involves a predefined development budget with the exact deadline on when the project should be complete. The client and the contractor approve all the details about the project, including tools, technology, and workflow before the work begins. The contractor then assumes all the development risks, given the agreement remains unchanged until all the work is done.
A typical fixed-price contract for a short-term project comes with an accurate estimate of the scope of work. The estimate is arrived at after a careful analysis of the business requirements, as well as technical tasks by both parties.
That said, here are the advantages and disadvantages of this cooperation model:
Pros
Stringent deadlines for faster time to market
Better goal clarity as all expectations are specified beforehand
Greater accountability anchored in contract obligations
High predictability for better planning
Overall costs don't go beyond your budget
Cons
Poor communication might result in shoddy projects
High rigidity, with no scope of flexibility
Hidden costs when introducing new concepts or requirements amid the project
Might require umpteen face-to-face meetings
When Should You Choose the Fixed Price Contract Model?
Are you contemplating on choosing time and materials versus fixed price? The fixed price contract option is suitable when working on short-term projects with a clear vision and predefined goals. You might also want to pick it when testing out a new service provider before getting into long-term business with them.
Time and Material Model: Brief Overview
When comparing time and materials contract vs. fixed price, the former is considered more flexible as it allows you to base your budget on ongoing labor costs. What this means is that you get to pay for the actual time and effort spent on implementing the software development project.
A good example of a time and material engagement model is when an organization partners with a third party to offer development services at hourly, daily, or monthly rates. But just like any other approach to IT outsourcing, be it time and materials vs fixed price, this model has its benefits and drawbacks too, including:
Pros
Greater flexibility when compared to other remote cooperation models
Clear definition of the project's priorities for faster development
Better cost control and flexibility
Active involvement, giving the client full control
Expectations are met because clients pay after seeing the work
Cons
The payment for services can recur with additional services, making it unpredictable
It's difficult to make decisions during the development process
Relatively expensive, depending on the scope of the project
It required undivided attention from your end
The time frames for completing the whole project are a bit blurry
When You'll Gain With Time and Material
Businesses can benefit from T&M  when their project involves a relatively high degree of uncertainty, in terms of skills and resources. It can also be beneficial when there is a need to measure the results of the previous workload before optimizing the project to operate and adapt within the foregoing market requirements.
Dedicated Team Model: Brief Overview
A dedicated team is a well-thought engagement model in IT outsourcing that combines the techniques of both fixed price model vs time and material. With this approach, you inherit the benefits of both through a long term remote team of developers handpicked by relevant professionals.
Team members under this cooperation can work autonomously or as an extension of your in-house team from a remote branded workspace. Depending on the team size, you can manage the project yourself or hire a project manager to get the work done.
With this approach, the service provider finds job candidates and interviews them on behalf of clients to determine whether they match specific project requirements. The budget involves an administration fee plus the salaries of the team.
However, a dedicated project team has its pros and limitations as well, including:
Pros
High predictability and transparency as you pay for what you see
Ideal for complex projects that require continuity over a long time
Clients can adjust anything pertaining to the project along the way
A high level of professionalism is involved
Gives the client full control of the project
You can hire any tech stack role from any part of the world
Cons
The model might not be ideal for short or part-time projects
The team selection process can be relatively long, depending on your service provider or the availability of the talents in question
Instructions might be missed in case of poor communication, affecting implementation
Time zone differences can hinder effective collaboration
When to Choose a Dedicated Team Model
You can select this cooperation if you're dealing with a long-term, time-consuming project that requires undivided attention from the developers. It is also ideal when you want to take the driver's seat and oversee the development process from the start to the end. Moreover, it is an excellent match when you want to know the development costs beforehand, or benefit from ongoing services.
…
Do you want to build a results-driven dedicated team?
…
Comparison of Software Development Engagement Models: Risks, Costs, Efficiency
Now that you understand how firm fixed price vs. time and materials vs. dedicated team models work, how do they stack up against each other? All these models are entirely different and come with varying costs, risks, as well as efficiency.
Time and Material vs. Fixed Price
In terms of costs, it's worth noting your budget can add up pretty quickly, whether you choose time and material or fixed price pricing model. For instance, the costs of engaging through the time and material model are on a sliding scale. The more business requirements you set, the higher the cost in both T&M vs fixed price. For instance, the fixed price model comes with a hidden price tag if you are going to make project changes along the way.
Risk-wise, the contractor is responsible for overseeing the project to completion under fixed price, with minimal input from the client. The fixed contract defines everything — your job is to just wait for the results. In time and material, there are fewer risks involved because you're directly in control of the task and you can predict what to expect. Time and material is relatively efficient when it comes to quality control. The developer-client communication channels are always open, helping you steer the project in the direction you want and predict an accurate outcome. Fixed price on the other hand is inefficient for complex projects because you can't foresee all aspects of every development stage upfront.
Dedicated Team vs. Time and Materials
The dedicated team approach is arguably the most affordable way of hiring expert developers to work on internal projects or boost output when scalability is a challenge. Time and materials is cost-friendly for smaller jobs because you pay for the exact amount of work output on an hourly or daily basis.
The risks involved in dedicated team vs time and material cooperation models are typical. For instance, your business goals will be in jeopardy if you end up in the hands of a bad contractor. The average outcome to expect in either model comes as a package with the service provider. It's also worth noting that all the other risks involved in the development are typically in your hands, given that both models give you greater flexibility and control.
Fixed Price vs. Dedicated Team
The basis of both fixed price and dedicated team models is enabling the client to control the actual risks of the project. In fixed price, you get to sign the contract beforehand detailing the amount of money to be spent, the level of effort to be put into different development phases, as well as the instructions to be followed. In dedicated teams, you also control the risks because you decide the number of talents to be hired and the level of their expertise.
When you compare dedicated teams and time & materials in terms of costs, both models can be relatively affordable. For instance, clients pay upfront costs at fixed price, making sure the budget is fixed unless critical changes are going to be made in the future. In dedicated teams, you can also save costs because the service company takes a custom approach to your projects by hiring talents that are within your budget.
Fixed price is relatively efficient for smaller software development projects, such as testing, prototyping, debugging, or even maintenance. Similarly, the dedicated team model is efficient because you can hire talents for long-term engagement, ensuring quality consistency throughout the development pipeline.
Key Differences Between Fixed Price and Time and Material and Dedicated Team Model
Time and material vs fixed price vs dedicated teams differ in many ways, from the agreement, tasks workflow, and responsibility, to various talent perks after a long-term engagement, such as pay raise. Here is the difference between fixed price and time and material, as well as dedicated teams.
| | | | |
| --- | --- | --- | --- |
| | Fixed Price  | Time and Material  | Dedicated Teams  |
| Size of the project | Usually small to medium | Can be medium to large | Large |
| Business requirements  | Fixed and pre-defined | Dynamic | Evolve with innovation |
| Development Process  | Waterfall | Agile | A combination of both agile and waterfall |
| Client Control  | Zero to little | Significant | Full |
| Flexibility  | Fixed | Fixed | Flexible |
5 Tips on How to Choose the Suitable Engagement Model for Your Project
The kind of experience that you are going to have in fixed-price projects vs time and materials, or dedicated teams depends on whether the model is right for your business. Here are some of the factors to consider before getting started with any model.
Project Type
The type of tasks at hand will definitely influence the suitable engagement model. For instance, a simple debugging project will require a different engagement model from a full-scope service, such as building a whole system architecture from scratch. Whichever option you choose, just ensure that it meets your needs and will get the work finished with minimal friction.
Level of Management
Do you want to take an active or passive role in the project? Or, would you want to hire a dedicated project manager with vast industry experience to enhance quality consistency? Determine the management level that is ideal for your project and select a model that allows that type of cooperation. For instance, fixed price might even include direct contact with the team.
Deadlines
Whether short-term or long-term, a visionary project should have predefined objectives that must be met within certain deadlines. Among the reasons why you're exploring time and materials contract vs fixed price is to save time when building to launch software products faster. In that case, you would want to pick a deadline-driven engagement model that allows you to split the work into milestones for easier tracking.
Budget
In terms of budget, you'll only get what you can afford. Different engagement models come with varying billing models, some of which are flexible, while others are fixed. While figuring out what works for your case, don't forget to consider the overall expenses to be incurred, as well as the current business resources, and whether they can sustain the project.
Flexibility
There are various perspectives to take into account when assessing flexibility in software development. For example, does your internal team have a clear vision of the end product? What are the other requirements that you would want to implement during the development process? Do you have the capacity to get the job done?  Answering these questions will help you gauge the kind of flexibility that your project needs; hence the ideal engagement model.
…
Hire IT experts in any part of the world with Newxel's dedicated team services. 
…
What to Keep in Mind to Avoid Bootstrapping While Building the Workflow with Different Engagement Models
While IT outsourcing services, whether fixed price bid vs time and material bid or dedicated teams can help you save costs, that notion is only true depending on the level of effort that you put into the engagement model. Here is what to remember when cooperating with various models to avoid bootstrapping.
Time and Material
The time and material engagement give you greater control of the development process. Take advantage of this and create a schedule for participation, especially if you're going to understand what's happening and keep costs within your budget. Your contractor will split the project into milestones and give a report after every achievement. Ensure that you're part of this process and the project will steer in the right direction.
Dedicated Team
You would want to take advantage of the service perks that come with dedicated teams, especially if you are going to avoid bootstrapping while building a consistent workflow with the model. Leverage complimentary services offered by third-party companies, such as analytics, quality assurance, or even local project management to save costs, as well as mitigate the risks of juggling different types of contracts for the same project.
Fixed Price
When it comes to fixed-price services, don't forget to highlight your business objectives, as well as logic clearly. The last thing that you want is to start afresh or seek another vendor to rectify a mistake, simply because the primary goals were misunderstood. To be safe, always hold at least one in-person meeting for in-depth guidance.
How Newxel Can Help You Choose the Best Model for Your Business
Newxel is a full-service development company that hires talents for all-around IT services across multiple industries. As an innovative and client-centric company, we take a custom approach to every project at hand.
Our experts will review all the intricate needs of your project, from the scope of work, materials needed, talent availability, and duration, to business goals, and help you pick the right engagement model. Moreover, we offer other services as well, such as IT, administration, HR, finance, and legal support to help you settle and get started as soon as possible.
…
Do you want to hire a dedicated team in 3 to 5 weeks? 
…
Conclusion
Getting started with T&M, fixed price, or dedicated teams can be pretty daunting at first, but not with this guide within your reach. It starts by understanding what is the difference between fixed price and T&M projects, or dedicated teams, and discerning whether any of them matches your business goals. Alternatively, you can talk to us, and our experts will suggest the best approach.
Frequently Asked Questions (FAQs)
What is the difference between fixed price and T&M?

The main difference between time and material and fixed price is the pricing model. With the time and material, you get to pay the development company in question for the work done, often hourly or daily. On the other hand, the fixed price model involves a predefined budget for a given scope of work. 
Is fixed price the most gainful staff augmentation pricing model?

When you compare fixed price versus time and material or dedicated teams, you'll realize that it isn't the most gainful staff augmentation pricing model. The fact that the model isn't flexible doesn't make it ideal for modern businesses with dynamic consumer-facing needs. 
What are the advantages and disadvantages of time and material contracts for startups?

Consider these advantages and disadvantages before making a choice on time and materials vs fixed price. Starting employing the time and material engagement model might experience various advantages and disadvantages, including: Advantages: Greater control over the project; Greater quality control; Flexible budget management; Easier and faster to get started | Disadvantages: You take the risks; A bad contractor doesn't guarantee quality; The costs can go overboard pretty quickly; Skipping the planning and design stage might be a mistake.
Contact Us