Newxel stands with Ukraine
Dear partners, clients and friends,
On February 24, the Russian Federation launched a full-scale military invasion of Ukraine. The world condemned this unprecedented aggression and responded with severe sanctions against Russia and called for support for Ukraine. We hereby confirm that Newxel and its team have never had any clients or business in Russia and Newxel neither conducts, nor plans to conduct any business in Russia.
Newxel has strong Ukrainian roots, two offices in Kyiv, and more than 270 employees from Ukraine. We support the Armed Forces of Ukraine, our people, and believe in our victory!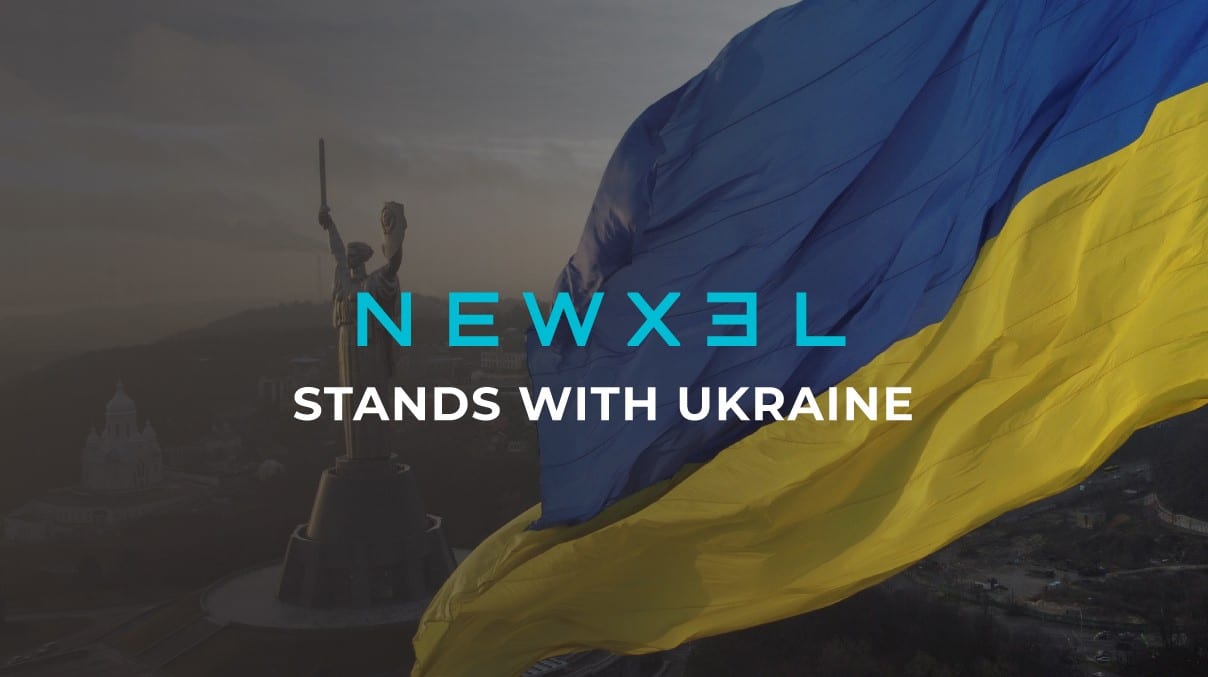 We continue to work and deliver services to our customers. Our team is in safety distributed around Ukraine or abroad and does its best to perform. We deepen our cooperation with clients, open new positions at our offices, pay taxes, contribute to Ukrainian economy recovery and support the Ukrainian Armed Forces.
How do we support our employees in Ukraine?
Our main priority is to ensure that all members of Newxel community are in safety.
Newxel team provides financial support, transportation and assistance with accommodation to help Ukrainian colleagues and their families.
We assist Newxel team members and their families with relocation to the western regions of Ukraine or neighboring countries.
We provide employees with all necessary equipment and facilities required for remote work anywhere.
Some of our employees joined the Armed Forces of Ukraine and the centers of territorial defense. We support every Newxeler, save their positions and jobs and continue with payments. We are proud of you, your decision and admire your courage!
How do we support Ukraine?
We are extensively donating and providing logistical assistance. Our developers have joined the IT ARMY of Ukraine. Our Recruitment, Sales and Marketing Departments have joined the information war to elucidate and counter hostile propaganda.
As people around the world watch the war escalate in real-time, many of our customers and Newxel`s friends are left wondering how they can help. You can donate to support Ukraine.
How do we support our cooperation with clients?
We are grateful to all our clients for staying with us, #standwithUkraine and deepening our cooperation. We are opening new positions and launching new projects. Account managers have daily and weekly meetings with partners to keep everybody updated on our business status and overall situation in Ukraine.
Newxel is doing everything possible to keep every client's team member safe and assist with any issues they are facing. If our client wants to have an offline office, we will open it. Thanks to our talents, we have a high safety margin to keep sustainable partnerships with all our clients.
The situation is highly dynamic, and we are monitoring it daily. We are committed to maintaining continuous operations and preventing any disruptions to client services, – comments Andriy Bezruchko, Newxel CEO. – We are monitoring and updating on situation and actions planned and taken in Newxel on the regularly basis.
Stay strong,
Glory to Ukraine!