Where and How to Hire Offshore Developers in 2021
The United States and other western powers are recognized as world leaders in the technology sector. However, the bulk of US-based businesses face a severe hurdle in the shape of developer scarcity. And similarly, western European countries are struggling to establish a domestic talent pool while keeping development costs down.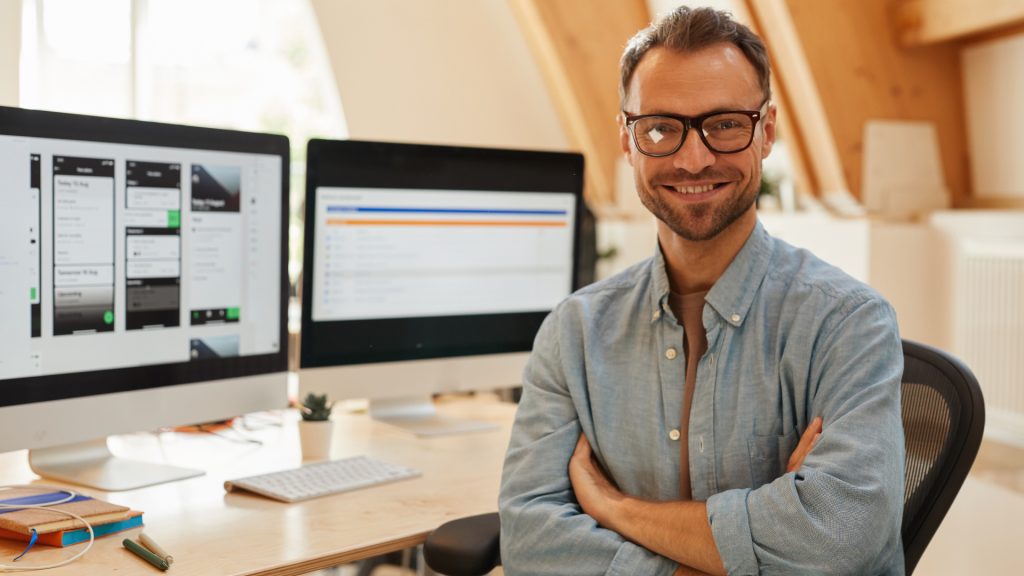 This is where offshore software developers step in. Today, the offshore software development paradigm is gaining traction more than ever. Indeed, the worldwide IT outsourcing market is expected to reach $425.19 billion in value by 2026.
To keep up with the talent gap, most US and Western companies are turning to IT staff augmentation and other outsourcing models. Thanks to technology, modern companies have a plethora of cutting-edge project management and communication solutions that make collaboration with offshore developers in Ukraine, Poland, and other Eastern European countries a breeze.
While these countries have a vast tech talent pool, due diligence is still needed to ensure you hire offshore developers rapidly without sacrificing quality. To simplify the process for you, we have prepared a guide on how to properly recruit, hire, and manage an offshore development staff. It discusses the best outsourcing/outstaffing countries and how to select the best offshore development partners.
Why are Offshore Developers the Best Way to Develop Your Software?
This strategy enables you to access expert talent and recruit senior-level developers beyond your local borders. This gives you a competitive edge, and in some cases, you might even get the same talent quality as the world's largest technology giants such as Facebook or Microsoft at a fraction of the local cost. Let's take a closer look:
Have Access to More Talent
Quality developers are hard to come by in the US and Western Europe because the giants in the tech industry have already hired the best programmers, who enjoy huge salaries, great bonuses, and job security.
Fortunately, through offshore development, your company, whether small or large, can engage a highly qualified developer who is eager to join your firm.
One of the major IT talent hubs with an outstanding reputation is Eastern Europe. All in all, it boasts 1.3 million developers, and countries like Poland and Ukraine each have more than 200 000 developers.
Saves Cost
Start-up costs are a substantial barrier, as 38% of businesses fail due to a lack of funds. But if companies engage offshore development teams, they are unlikely to suffer a similar outcome.
This is because offshoring eliminates the time and effort needed in managing overhead expenditures like salary, office rent, holidays, insurance remunerations. With an offshoring partner, services such as recruitment, a branded office space, legal & finance services, IT support & own IT infrastructure integration, HR & accounting office management & procurement, and global meetings maintenance will all be covered.
And the best part, countries like Ukraine, Argentina, Poland, and India have lower costs of living compared to the US and Western Europe. Most importantly, you will also be getting access to affordable professional talent that can help you fill skills gaps inside your organization or when you require expertise for a specific project.
Software development rates in Ukraine, and in general, Eastern Europe, are usually lower, in part because the cost of living is lower. As a result, developers there do not charge as much as developers in the United States, Germany, or France.
Saves Time and Raises Productivity
Offshore software development is the ideal solution for businesses looking to rapidly expand their existing technology workforce in another country. Additionally, it helps you rapidly establish how to set up a remote distributed team.
Hiring an offshore development team saves time, money, and increases efficiency. Having a specialized offshore application development team will eliminate most of the cumbersome processes such as finding the organization's offices and workspace, purchase of equipment, and office administration. Furthermore, an offshore partner can also help you with account management, remote support, HR support: onboarding candidates, feedbacks, and one-to-one meetings, among others.
Everything else is taken care of, so you can focus solely on the growth of your business.
Where to Find Offshore Development Team: 4 Best Destinations
For managers looking to recruit remote developers, choosing the correct outsourcing/outstaffing location is critical.
Numerous offshore locations offer a mature market with modern infrastructure, accomplished IT enterprises, and a friendly legal situation. Currently, some of the countries taking the lead in rendering offshore developments are Ukraine, Poland, Argentina, and India. However, aside from obvious benefits like a good price-quality ratio and a large skill pool, every location has its unique advantages and disadvantages.
Argentina
Argentina provides free education for everyone. The government is implementing initiatives to integrate computer education into all school curricula. According to statistics, 70% of university students mix studies and jobs, and finding competent employees in any profession is pretty straightforward.
Argentina's outsourcing/outstaffing firms have expertise in DevOps, software and offshore mobile development, and cloud computing. Because of the small time-zone difference, Argentina is a popular destination for US projects. Hourly rates for offshore developers in these nations range from $30 to $55 depending on experience.
India
Although literacy is poor in this region, there is a rising emphasis on math-related disciplines, which aids in the development of technology.
India is regarded as one of the top IT outsourcing countries for native and hybrid app development initiatives. And today, Indian software developers have some of the best positions in giant tech companies such as Microsoft, Google, and other leading organizations. They are also aggressively integrating machine learning, artificial intelligence, geographic information systems, and blockchain technology.
With over 5 million software developers accessible, India offers custom offshore software development for between $20 and $30 per hour.
Thus hiring tech talent in India is cheap and this is the major benefit they offer.
Poland
Poland's IT education is highly demanded, drawing students from around Europe. At present, the country boasts more than 250,000 developers.
Poland excels in maintaining rigorous quality assurance and usability standards. PHP is said to be the most widely used programming language in this country, while Java and .NET are also popular. Client reviews indicate that software engineers there have a strong work ethic and little cultural variances with the US and Europe. So, now you know where to find outsourced PHP developer, for instance.
Ukraine
In Europe, Ukraine is the leading exporter of IT services as hundreds of Fortune 500 firms hire Ukrainian offshore developers. There are 110 software R&D centers in the country, created by worldwide firms including IBM, Microsoft, Skype, Apple, Oracle, Boeing, Siemens, Magento, Samsung Electronics, etc.
Ukrainian software and information technology companies prefer to follow global trends and prioritize science-based technical breakthroughs. If you hire an AI development team in Ukraine, you gain access to experts who are passionate about Big Data & Artificial Intelligence, mobile development, etc.
Another distinctive feature of this country is the predominance of Senior developers over Middle and Junior software specialists.
Ukraine is internationally recognized as the top destination for bespoke offshore software development. The offshore developers there are commercially savvy and fluent in multiple programming languages. They earn between $25 and $40 per hour, reliant on their experience and the project's complexity.
Newxel is a dynamic team of experts determined to help you find the best offshore software developers in Ukraine. We are committed to innovation, competence, and holistic transparency. And we can help you figure out what is offshore development center is with all of the benefits the model has to offer.

How to Hire the Best Offshore Software Developers?
We've created a hiring checklist to make your job easier. This checklist can help business owners identify and hire the right software developers regret-free.
Check Out Their Track Record
Check the vendor's and developers' he offers track records by looking at their rankings on websites like Clutch or LinkedIn. You may even ask past clients if they would suggest that partner.
Ask for the Company's Workflow
You can try to understand their software development services, how they deal with clients, or how they manage resources. You can also inquire about their flexibility, that is, whether they can raise resource numbers mid-project. The company's workflow may not always meet your needs, so, find out before hiring the team.
Reject the Low-cost Quotes
Instead of cheap bids, focus on cost-effective prices. If you choose low prices, you may end up paying a lot more after the project since you would most likely rework the poorly written codes.
Find out If the Team Agrees to Everything
Make sure that your potential outstaffing partner can literally meet all of your needs. Confirm if they have properly analyzed your requirements thoroughly and if they have all the appropriate resources and skills needed. Building offshore development centers is different for every client. Therefore, every situation should be handled differently.
Consider Corporate Cultural Differences
Consider the corporate cultural distinctions between your company and the offshore vendor. Accept those differences if you are certain they will not impede your collaboration.
How Can We Help in Finding Offshore Developers?
In 2018, Newxel entered an offshore partnership with Anodot from Israel for over 2 years with a team of 9 programmers constantly replenished with new team players. The aim was to find web programmers for hire that will work autonomously and achieve incredible results. In 2020, the Anodot team in Ukraine grew by 43% — a tremendous growth especially given the challenging period of the pandemic.
The guys are working with Anodot projects, showing excellent results.
Newxel has also worked with Rage Quit Games, a high-tech software company specializing in mobile game development, for whom we provided offshore mobile development staff augmentation. 
The company wanted to hire first a goal-driven and ambitious local team leader, ready to handpick developers and autonomously steer the R&D processes.
Our team hired developers whose skillsets matched the client's technology stack. Newxel set up a comfortable office for the team, empowering every programmer with high-performance hardware, and for over a year, we have been supporting the client's R&D.
So, do you want to hire an offshore programmer? We know the question of how to find offshore software developers may not yield an easy answer. But we can take care of everything.
You can find the best team of offshore developers from Ukraine with Newxel and hire a vetted dev team in a few days. Let us eliminate most of the cumbersome processes such as finding the organization's offices and workspace, purchase of equipment, and office administration for you. We can also help you with account management, remote support, HR support: onboarding candidates, feedbacks, and one-to-one meetings, among others.
Final Thoughts
Over time, the decision to hire offshore development teams will help the organizations remain profitable and competitive.  Contact us today for a detailed guide to get a top-notch team for your project.Contact Us