Best Countries to Outsource Software Development
The demand for IT products is surging, but finding local talent remains a problem. According to a recent survey, 91% of HR professionals say they struggle to fill coding, data, and UX roles. Layoffs within the tech industry amid global uncertainties have widened the talent gap even further. In the United States alone, an alarming 151,054 tech workers have already been laid off in mass job cuts in 2023.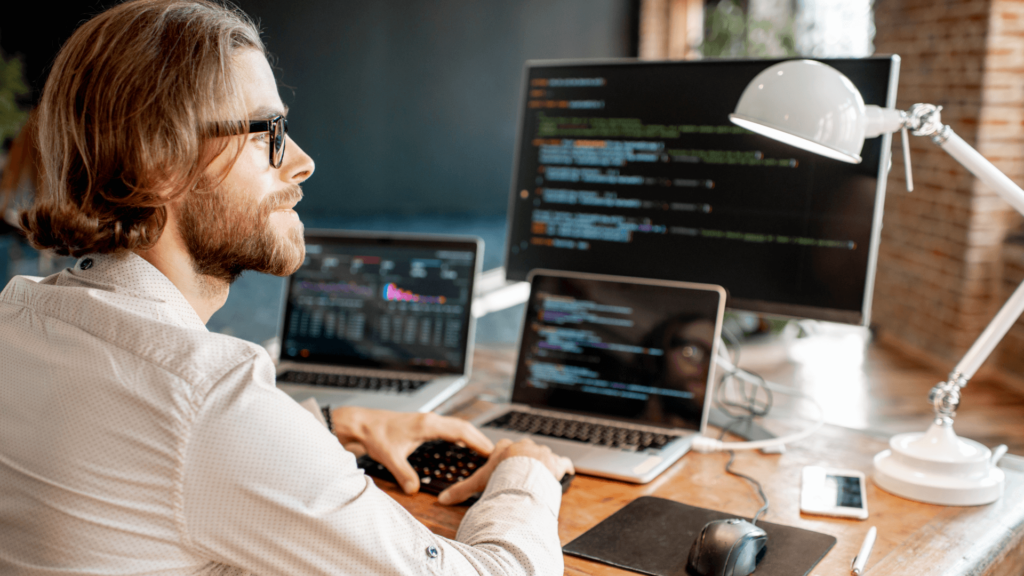 The ongoing military crisis between Russia and Ukraine is also not helping. The war is affecting Ukraine, a crucial IT hub, and causing uncertainty for companies that rely on its services.
To address these issues, businesses are turning to offshore software development, a trend that is projected to generate $937.67 billion in global revenue by 2027. By hiring developers from other countries, organizations can access skilled professionals, bridging talent scarcity and fostering growth.
In this article, we will explore the concept of using offshore developers, as well as some of the best countries to outsource software development. Read on.
Why Should You Consider Outsourcing Software Development Projects?
Software outsourcing can offer numerous advantages. Some of the top ones are:
Cost-effectiveness: Outsourcing software projects can save you money compared to maintaining an in-house team. The system eliminates the need for expensive infrastructure, equipment, or employee benefits.
Access to top-notch expertise: Outsourcing provides access to a global talent pool of professionals. With expertise from the top countries in the software industry, businesses can deliver high-quality solutions that give them an edge.
Bringing in in-domain knowledge: It doesn't matter if you're developing game software, e-commerce products, or healthcare apps; outsourcing partners can offer industry-specific knowledge, best practices, and insights.
High-value IT products: Highly functional, user-friendly, and scalable IT products can be built more effectively by an offshore team that isn't burdened by office politics or drama. Such a team not only meets current market demands but also ensures future readiness.
Risk mitigation: Outsourcing software projects enables businesses to share and distribute risks with their outsourcing partners. These partners have established processes and quality control measures to mitigate potential risks, ensuring the final product is of high quality and meets industry standards.
Flexible and scalable: With this business model, companies can easily scale down team requirements during a drop in workload, avoiding layoffs and associated costs. Conversely, during periods of rapid growth, outsourcing allows for quick and efficient scaling up of project resources.
Faster product growth/turnaround time: By leveraging the expertise and resources of top offshore software development countries, work cycles are streamlined. This results in a quicker time-to-market and a competitive advantage in the industry.
To harness these benefits and more, consider Newxel as your partner. We know the top countries in the software industry and can help you choose the right destination and raise a team to drive efficiency, innovation, and success in your projects.

How To Choose a Country for Offshore Software Development in 2023 and Beyond?
Recently, Hired's CEO, Josh Brenner, highlighted that despite the ongoing tech talent shortage, there had been a significant surge in demand for software engineers, making candidates receive more than double the number of interview requests compared to 2020.
This heightened demand emphasizes the crucial role offshore outsourcing will play in the foreseeable future. But how can you tell the best countries for outsourcing software development?
The following tips may help:
Clearly define your requirements: Have a clear understanding of what you are looking for in an offshore team, including specific skills, tech stack, experience, and project requirements. Your preferred offshore destination partner should be able to deliver a team that meets these requirements.
Take time zones into account: Consider the time zone differences between your location and the outsourcing destination. Ensure there is an overlap in working hours for effective communication and collaboration. Of course, if the time difference is not an issue, then you can consider any geographical location.
Address cultural differences: Recognize and understand cultural differences that may impact communication and work dynamics. If you're not sure, go with a country that has a culture similar to yours.
Assess English proficiency: Evaluate the English language skills of the outsourcing destination to ensure effective communication and comprehension. Clear and effective communication is crucial for successful collaboration.
Align business values: Find an outsourcing destination or partner that shares similar business values and principles with your organization. This alignment helps build a strong partnership and ensures a shared vision for project success.
Still not sure where to hire offshore developers? Newxel experts can help point you in the right direction.
Offshore Software Development by Region
When it comes to software creation, various countries around the world offer compelling opportunities. Let's see how these locations stack up:
Asia Offshore Software Development Countries
Asia stands out as a powerhouse in offshore software development, with India leading the way. India has more than 6 million skilled IT professionals and offers cost-effective solutions, making it a go-to destination for quality software development services.
Europe Offshore Software Development Countries
Europe presents enticing opportunities as well, with Ukraine being one of the top software outsourcing countries in that region. Ukraine boasts about 300,000 highly skilled software developers and competitive pricing. Its focus on technical education and the growing IT sector are good reasons to consider software development in Eastern Europe.
Latin America Offshore Software Development Countries
Latin America has also emerged as a challenger in software development. Mexico, with its close proximity to the United States and flourishing IT industry, is one of the best overseas software development countries in the region. As of 2021, the country had 700,000 tech specialists.
List of Top Offshore Software Development Countries
If you're looking to leverage offshore software outsourcing for your next project, here are some of the best countries for offshore software development in 2023 and their rates.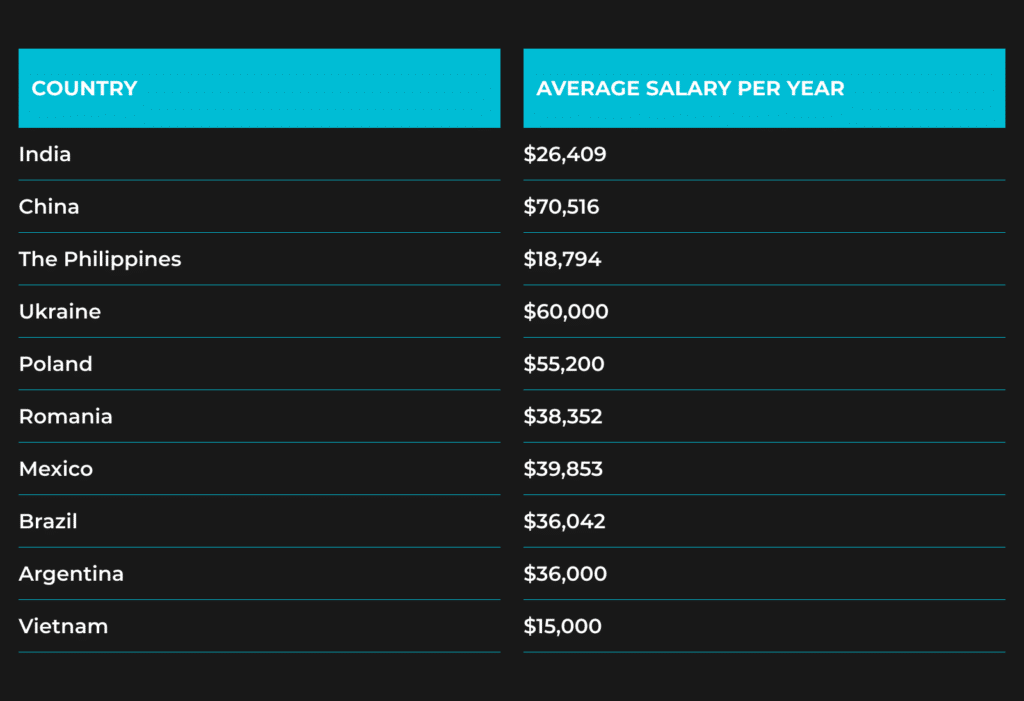 To put these figures in perspective, the average annual salary for a software engineer in the United States is $167,500. In the United Kingdom, it is $97,448.
*Source – Levels.fyi
Best Offshore Software Development Countries in Terms of Cost and Value
Not all countries offer the same level of quality and affordability when it comes to building software. These best offshore software development countries strike the right balance between cost and value:
India: Known as the "outsourcing hub of the world," India remains one of the top software countries in the world. It boasts a vast pool of highly skilled professionals and cost-effective services. Indian developers excel in technologies like PHP, JavaScript, Python, and C/C++.
Ukraine: Despite the ongoing war in the region, Ukraine remains one of the best countries for software development. This Eastern Europe country is a popular location for Western businesses looking for high-quality development services. Ukrainian engineers are known for their competence in Java, JavaScript, C#, Python, and mobile programming languages such as Ruby, Go, Kotlin, and Swift. This is where to go to enjoy offshore mobile app development benefits.
Vietnam: Vietnam has emerged as a growing software development industry. As one of the best countries to outsource web development in 2023, it offers competitive pricing and a rapidly expanding tech talent pool. Vietnam's growing population of developers specializes in PHP, Vue, Ruby, Angular, Swift,  and React Native.
How to Choose The Best Software Development Vendor for Your Project?
While offshore outsourcing has numerous advantages, selecting the perfect offshore partner for your project can be difficult. Here are some pointers to help you make an educated choice.
Assess your project requirements: Clearly define your project's needs, functionality, and technology stack. This will help create a job description and evaluate potential partners effectively.
Perform in-depth research: Use reliable sources like tech blogs and forums. Read reviews from businesses that worked with the companies you're considering. Gauge client satisfaction and overall performance.
Evaluate communication: Assess language proficiency, communication channels, and responsiveness. Is there a dedicated project manager that will facilitate communication between you and the remote team?
Consider time zone differences: Analyze time zone disparities and their impact on work. If you cannot work around time zone differences, then you may want to consider other work models.
Analyze intellectual property and safety policies: Protecting your intellectual property and sensitive information is paramount. Understand the company's policies on confidentiality and rights. Choose a partner with stringent security measures.
How Newxel Can Help You Choose a Country for Offshore Software Development and Hire a Remote Team There
When it comes to setting up and supporting an offshore development center or team, Newxel is your perfect match.
With over 6 years of experience in building global teams, we possess the expertise to assist you in choosing a country to outsource software development. Our extensive network of top-tier tech talent worldwide enables us to identify the ideal destination based on your specific requirements and budget.
In just five weeks or less, we can have your team up and running. Throughout the selection process, our expert team considers factors such as skillsets, cost-effectiveness, and cultural compatibility to ensure a seamless fit.
Trust Newxel to simplify the search process and ensure you find the perfect offshore software development destination and remote team for your business.
Schedule a call to get started.
Conclusion
In the coming years, offshore software development is expected to continue as a cost-effective and value-driven solution for projects.
Whether you value India's expertise, Ukraine's exceptional services, or Vietnam's thriving industry, hopefully, this software development country ranking guide has provided the insights you need to make an informed decision. For a seamless experience, trust Newxel to help you set up your development team.
FAQ
What is the Difference Between Offshoring and Outsourcing Software Development?

Offshoring involves establishing an offshore development center in a different country, where a dedicated team takes charge of software application development. On the other hand, outsourcing refers to hiring skilled people to handle software development tasks.
How to Choose the Best Country to Outsource Software Development?

When deciding on a country for software development outsourcing, several crucial factors come into play. These include cost considerations, the expertise and capabilities of the workforce, potential language barriers, and the impact of time zone differences. Each of these aspects carries significance and should be carefully evaluated to make an informed decision regarding the outsourcing destination.
Is Software Development Outsourcing a Good Idea in Terms of Cutting Costs?

Yes. Outsourcing software development can lead to significant cost reductions. It's crucial, however, to ensure that cost-saving efforts don't compromise the quality of the product.
Contact Us