What is Offshore Development Center (ODC): All Benefits and Possible Risks
To keep up with the constantly increasing global IT talent shortage, most companies including large giant tech businesses like Google are turning to outsourcing and outstaffing.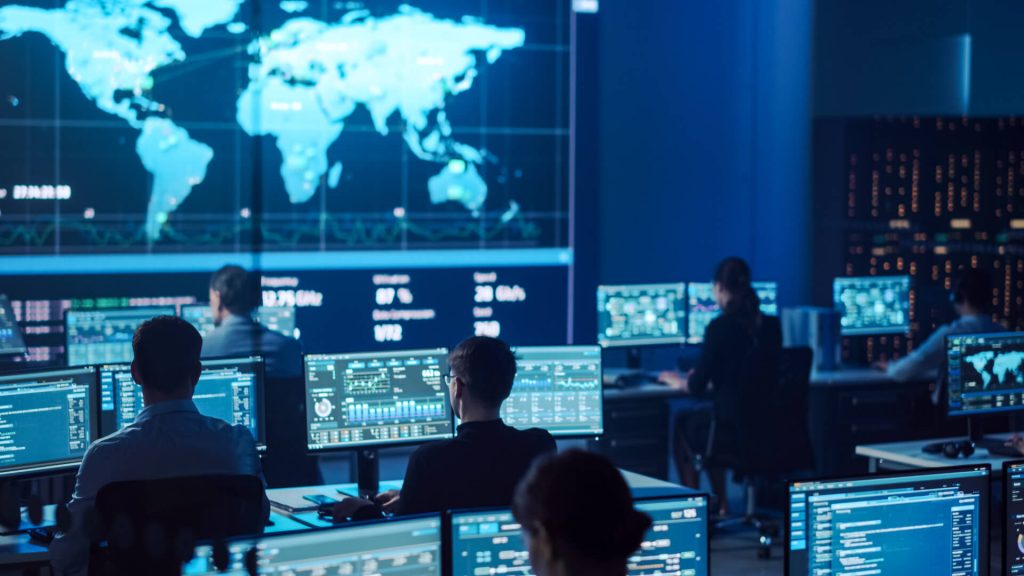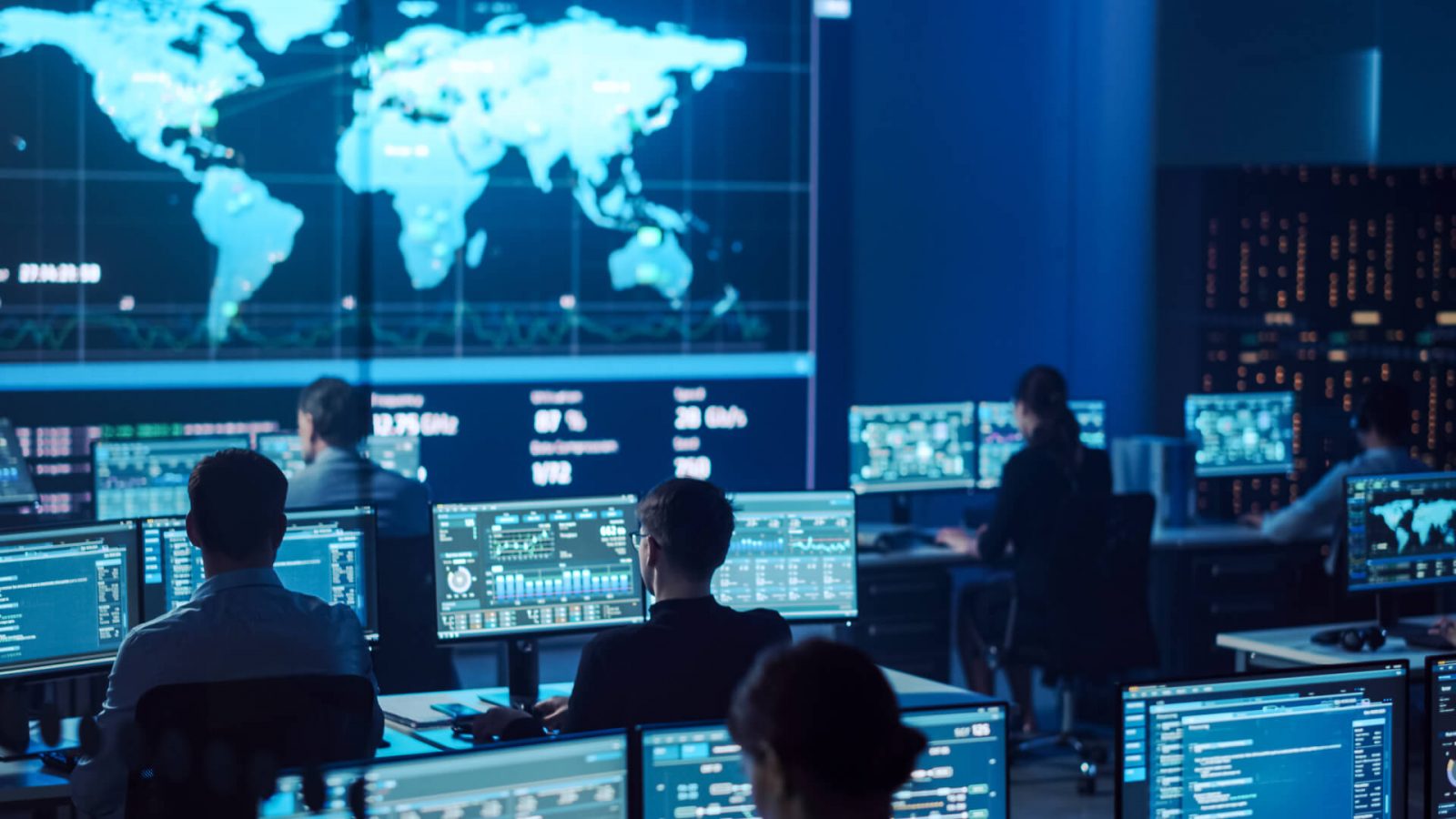 According to Statista data, the worldwide outsourcing industry reached 92.5 billion U.S. dollars in 2019, with Offshore Development Center (ODC) services accounting for a significant portion of that total.
It was also discovered that over 80% of the world's top 500 organizations choose to use the ODC framework for the development of software and other technical procedures.
This article takes a holistic look at what is Offshore Development Center, how you can use it for your projects, and all the important information you should know:
What an offshore software development center means
The advantages of an offshore development center
The different types of an offshore development center
What to look for when choosing an offshore development center
The basics of setting up an ODC.
You will also know how to hire an offshore developer to work on your projects.
What is an Offshore Development Center? (Also Known as ODC)
An offshore development center means a software development services location that is not based in your country.
Often referred to as an ODC, it is basically a remote office for your organization. Companies looking to take advantage of international talents at lower costs set up an offshore development center meaning that they establish an office that provides a development team with the necessary office infrastructure and personnel, including administrative and support workers, to see the development process of their products through to completion.
An ODC does not only help you cut costs, but it can also give you access to a larger workforce which gives your business more flexibility.
For example, establishing an offshore development center in Ukraine or Poland will mean less operational cost than running the same center in the US or the UK. You can check out Ukraine outsourcing rates to see how much you stand to save when you outsource to the Eastern European country.
Who Needs an Offshore Development Center?
Technology companies of different types can benefit from offshore software development centers, depending on their needs.
Companies in this category include:
Software companies
IT service companies
Ecommerce companies
Telecoms
Cloud services
Fintech companies
Data providers
IoT
And lots more.
It is common for organizations that develop a certain type of revolutionary technology to need engineers with specific experience. For example, world-famous startups Ring, People.ai, Grammarly, and ThredUP depend on Ukrainian software professionals because they couldn't find what they needed elsewhere.
A specialized offshore development center is also an appealing option for well-established technology companies. The world has become so connected that any business that is not making use of this fact is really missing out!
Top Offshore Development Center Benefits
While many business owners love the idea of offshoring their projects, they are still learning about what offshore development centers can offer.
Here are a few offshore development center benefits you should know about.
A Skilled and Diverse Talent Pool
One of the upsides to establishing an offshore development center is that you will have access to an employee pool that you may not have had access to otherwise. Besides, hiring a developer in the US will take you about 35 days on average whereas finding a developer in Ukraine or Poland can take half the time.
Efficiency and Reliability
Offshore Development Centers reduce development time and therefore increase efficiency. This is because you have access to a wider pool of experts and an established infrastructure, moreso when you have the right partner. This will make things fast and efficient.
ODCs are an excellent solution for a developer who wishes to build high-quality products for their local market.
Offshore Development Centers tend to be located in areas with great developed technology infrastructure and they deliver high-quality products at a competitive price.
Established Infrastructure
Developing an IT application can take months/years and is a costly endeavor. This is why the established infrastructure and personnel of the offshoring development center make it the perfect solution for companies that are looking to outsource development projects but lack expertise in global project delivery.
Cheaper Development Costs
Did you know that by taking your development offshore, you can save up to 40% on your development costs?
An offshore development center (ODC) is a great way to reduce costs and ensure consistent quality delivery. Not only that, you make sure your project remains on track and deliverable within budget with better control and expectations management.
Allows You to Concentrate on Your Primary Business
If your company is not entirely focused on information technology, managing your own IT department will incur significant operating costs when it becomes a wholly independent division.
The fact that you can outsource these difficult IT tasks to an offshore development center will eliminate many problems and allow you to devote more time and effort to working on the core tasks that grow your business.
How to Set up an Offshore Development Center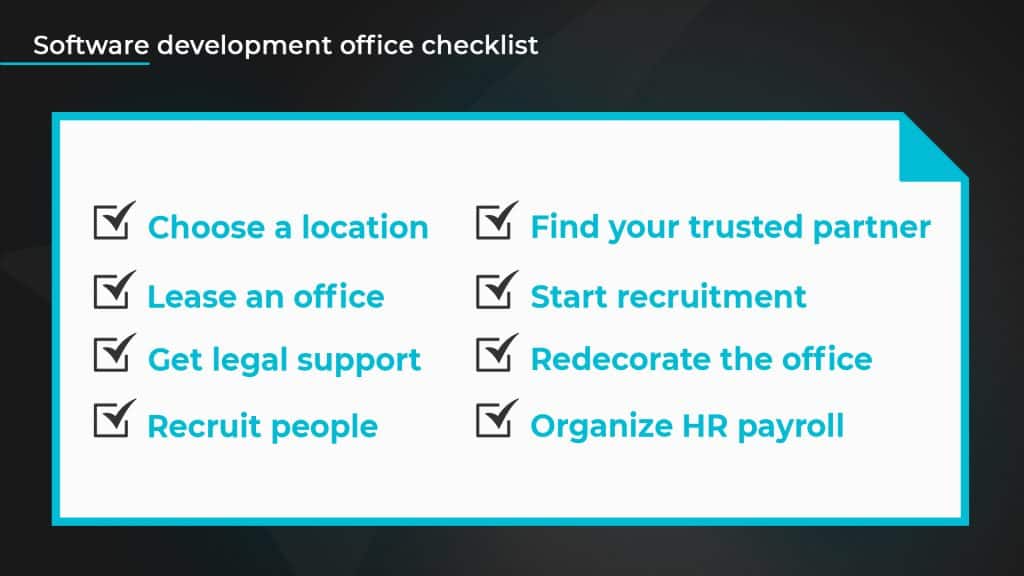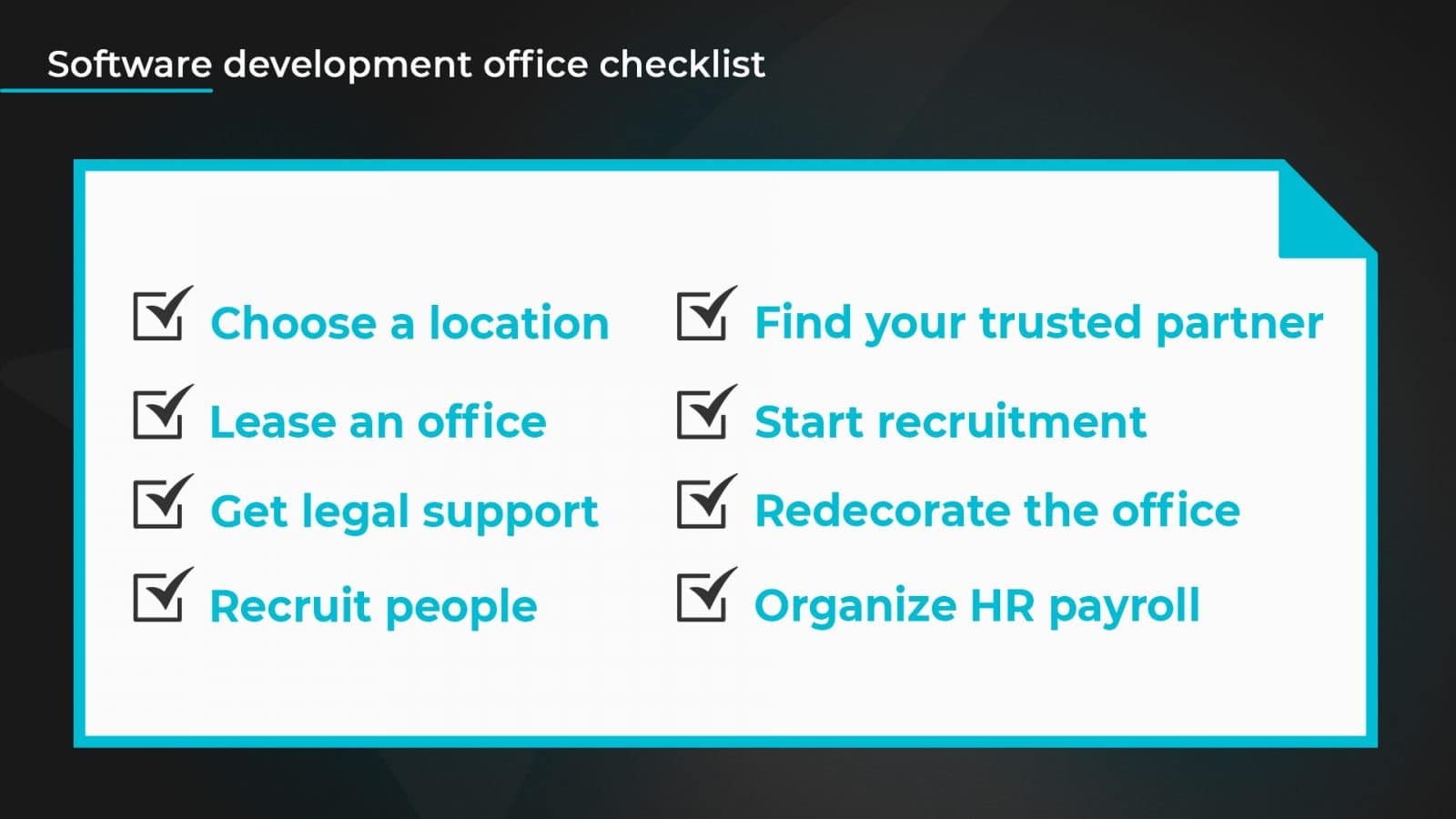 The infographic above is an offshore development center checklist that you can use when setting up your project.
Choose a Location
Choosing the location for your offshore development center could very well be the most important decision when it comes to how to set up an offshore software development center.
Eastern Europe and Asia are two popular locations that draw IT firms for economic reasons. Nonetheless, when it comes to choosing a location for your ODC, or when you are looking at IT staff augmentation services, Ukraine and Poland are fast establishing themselves as prominent offshore development destinations. Moreover, they are among the best countries for outsourcing your development needs. 
Find a Trusted Partner
Finding a trustworthy partner is another important step in setting up an offshore development center. You need someone who understands your business, knows the local laws and conditions, and can direct you in finding a talented team that delivers exceptional quality.
The following infographic will show you what you need to know when choosing a partner for your ODC.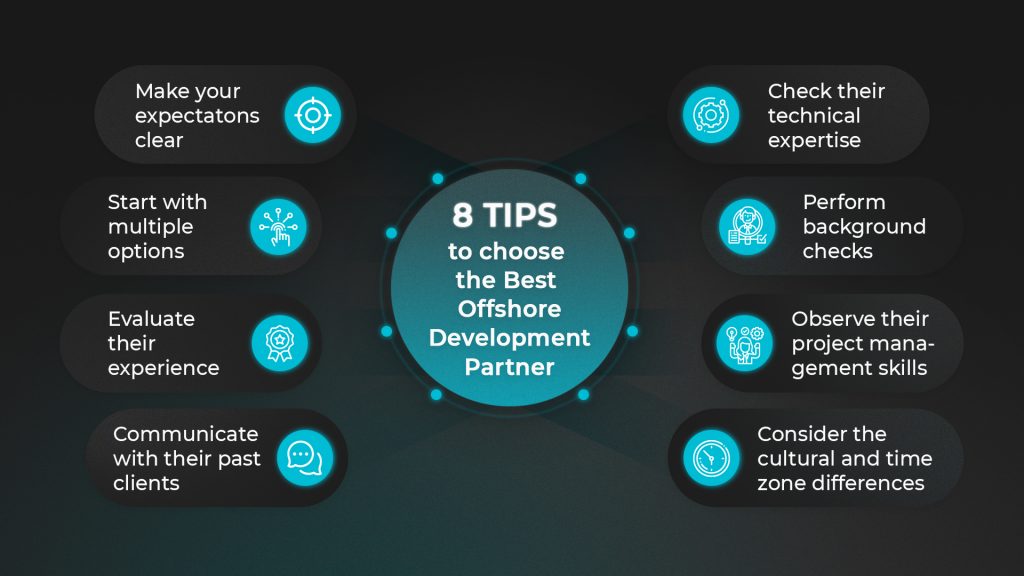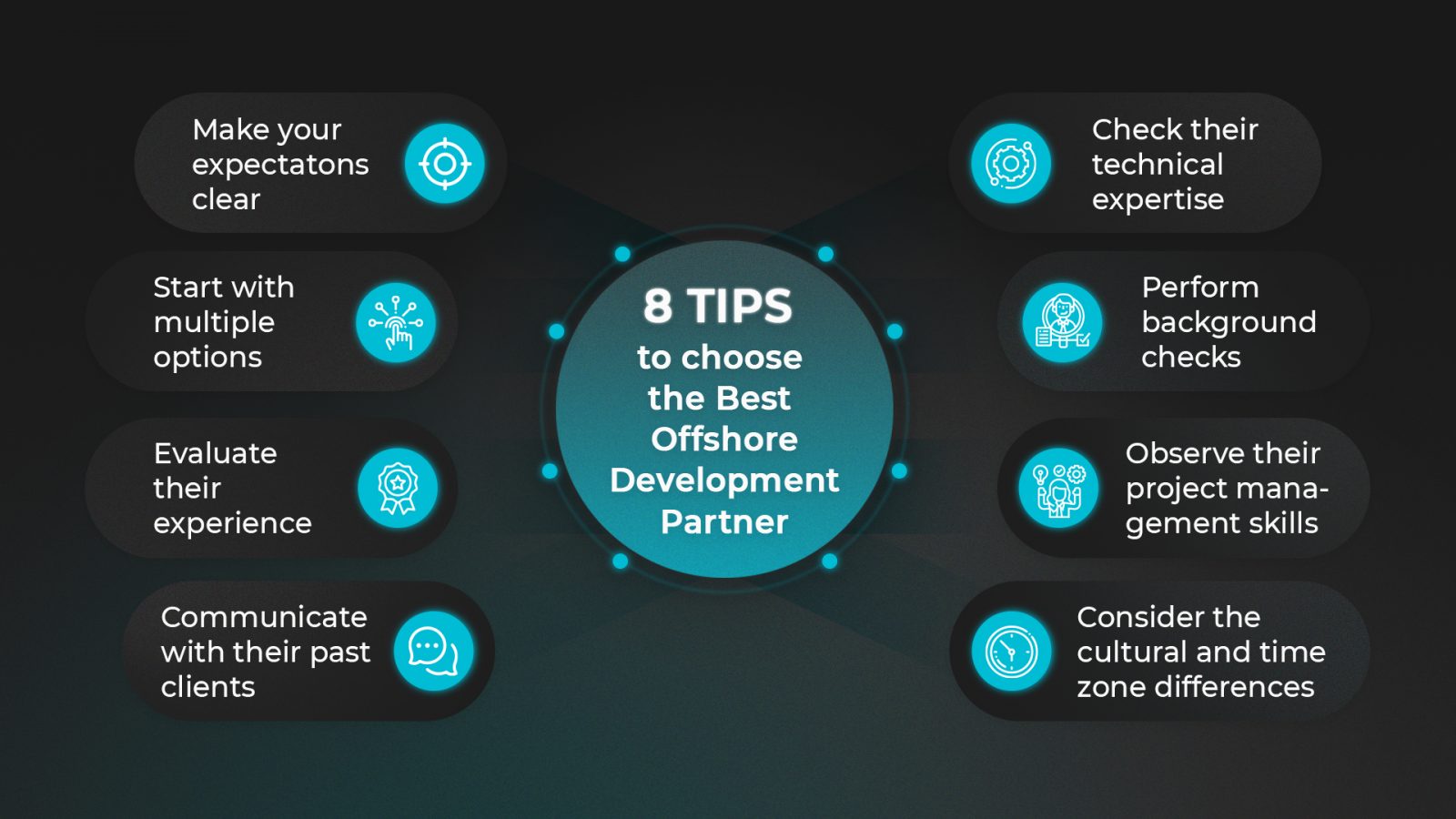 Start Recruitment
Your recruitment and selection process is one of the most crucial parts of a successful agreement. A large share of your success depends on the people you choose to work with, which is why it's essential to build a good working relationship with your partners that will last for years to come.
Working with a local partner, you can find and hire highly qualified specialists.
Find an Office
An offshore development office with a team of software engineers should have access to the resources and utilities you need so that you can scale your business properly. Remember, the perfect tech office is a workspace where you can be productive, your developers will be motivated, and clients that you visit on a regular basis will feel comfortable discussing anything with you.
Get Legal Support
We all know that having legal support for your offshore development center is an absolute necessity. The right local lawyers will ensure that you obtain the finest deal possible.
Make Procurements
Another important step in setting up an offshore software development center is to equip it.
It does not end with just providing enough computers to go around. You need to provide a lot more for your new employees to work effectively. This includes furniture, appliances, and even personal items that you tend to forget about when setting up your new office.
Recruit People
The most vital part of the entire process is hiring people who are interested in your company and vision. The last thing you want is to open an office in a country where the department of programmers is low-quality.
Recruiting is a tricky process, especially in an offshore environment. It is not easy to find the right fit. You should try to find established talents who have a good history and good recommendations. Then once you've found the right fit, you can use that recruiting system as a template to get more of the kind of people you need for your project.
Organize HR Payroll
Accounting and HR payroll are critical components of operational management for your new offshore development center's success.
Your ODC will need an accountant to process invoices. Regulations require the payroll accounts and company's books to be separated, so a specialist will be needed for that. In addition, someone will be needed to monitor your employees' performance and prepare reports from time to time. All these elements, however, will be provided by your offshore partner.
Getting a development team to work on your offshore project is not easy. But we can help! At Newxel we have one goal: Help companies set up an offshore development center. We do this by providing them with the best resources.
If you are considering setting up an offshore development center, you are on the right page. Request more information here on how Newxel can help you get started.
Offshore Development Center Model And Risks You Should Know of
Many startups are realizing the importance of offshore development centers in their growth strategy. However, there are certain risks that you should consider before you make the decision.
Organizational structure challenge
Companies have different organizational structures. Whether it's matrix, functional, or project-based, an organization has to have a proper structure. Unfortunately, what works in your home country may not work where you are establishing your ODC. This can affect everything from the productivity of workers to the security of your data, the control over operations, and even the quality of services being provided.
You have to decide which form of organizational structure is appropriate for your center. This will help your ODC to improve productivity, increase synergy, and enhance harmony in order to develop their product or service.
Communication is the cornerstone to any healthy project and can make all the difference for your offshore team's success.
For example, it is important that you are able to reach your offshore team easily. Unfortunately, time differences can make this difficult. If you want to speak to someone on your offshore team, the key is to select a time that is convenient for all parties involved – not too early, and not too late. When it is 9 am in some parts of the US, it is 3 pm in Poland. This is a good time to call.
Data privacy and security risk
In the context of, for instance, offshore mobile app development, data privacy and security are some of the risks most companies need to be aware of.
Verify whether the offshore vendor offers strong security measures when you are conducting your research. Select a vendor that has robust policies and a team dedicated to enforcing them.
Also, be sure to sign nondisclosure agreements and offshore development center security protocols before sealing the partnership. As a result, your organization's data is protected from security breaches and privacy violations.
Offshore software development is a complex process and should not be undertaken without fully understanding the legal risks involved.
Just as if you're establishing a department of your company in another country, you'll need to examine the legal environment and see if the country's business rules are conducive for your business. If you don't want to deal with this, you can simply engage your vendor to do the job on your behalf.
Consider Newxel Your Trusted Partner to Set up an Ideal Offshore Development Center
Are you ready to start your offshore development center? Newxel is your trusted partner.
We are an international one-stop-shop that connects companies all over the world with outstanding software developers by assisting them in establishing development teams and R&D offices in Europe.
With Newxel's flexible and transparent collaboration approach, you can quickly hire the necessary software experts and establish a powerful offshore-based dedicated development team in Europe.
Since our establishment in 2016, we have successfully helped dozens of enterprises and startups scale and set up highly productive development centers and teams.
These enterprises cut across many industries including
Fintech
Information Technology
Ecommerce
Cyber Security
Computer Software
Gaming
Hospitality
Retail
And much more.
Here are a few examples:
Game Development Studio for Rage Quit Games
Newxel was tasked with hiring a team of Unity programmers for a high-tech mobile game development company known for its 3D RPG games.
The brief later advanced into establishing a research & development center in Ukraine so as to hire and retain the best game developers. After the client struggled to get developers from Poland, Newxel quickly accessed the Ukrainian market and hired experts with the skills that matched what the client wanted.
We also provided a pleasant workplace for the team, as well as high-performance gear for each programmer and much more
Development Team for Enterprise Technology & Service Company
Enterprise Technology & Service Company, the biggest company in the world for document and data management already had an office in Ukraine. But they wanted to scale up and knew they would find the best talent pool.
The client was initially interested in only the legal support Newxel can offer, but they later bought into the idea of a global delivery model that will cover all issues including recruitment of developers, setting up and equipping the office space, and providing administration and support. Today, we have succeeded in building a profitable partnership with the client.
As you can see, Newxel is the specialist when it comes to establishing, managing, and improving on various stages of the offshore software development process. Take advantage of our years of experience and expertise in dozens of successful projects to create the offshore development center that meets the needs of your projects.
Get started today by requesting more information.
Final Thoughts
Offshoring or establishing an offshore development center is a really good choice for many companies. Rather than using an in-house employee setup or a home-based developer, businesses can offshore their work to other countries. In fact, this can be an extension to the in-house team.
For many enterprises in the US, Europe, and the UK, establishing an offshore software development center in Ukraine or Poland is a win-win. The countries have a really friendly legislature and atmosphere for foreign startups. Plus, you get to scale your business at less the cost of doing so in your home country.
The key, however, is to work with a partner that has the experience and expertise to make your project a success. This is where Newxel can help.
Get in touch today to discuss your idea and see how Newxel can help in making it a reality with the right team.
Frequently Asked Questions (FAQ)
What are the benefits of an offshore development center?

There are numerous benefits. For example, moving your work to another country allows your company to access top-tier talents that may not be available locally. An offshore development center may also offer companies a way to get around economic challenges such as high taxes, excessive regulations, and rising labor costs.
Is there a demand for offshore development centers?

Due to the obvious cost-effectiveness and wide range of technical specialists available, demand for offshore software development centers continues to grow. This is especially true as studies show that the global market size of IT outsourcing is expected to hit $410.2 billion by 2027, a large chunk of which will definitely go to IT services and offshore development.
What is the difference between outsourcing and ODC?

ODC is not the same as outsourcing. ODC provides services and is situated in another country, whereas outsourcing delivers certain specific services or products from a third party firm. In the case of outsourcing, geographical location is not always a crucial element.
Contact Us