How to Build a Highly Effective Artificial Intelligence Team for Your Business Needs
The adoption rate of AI-driven technologies is at an all-time high, with Gartner estimating a 270% increase in the last few years. What's more, Deloitte reveals that 50% of organizations that are yet to implement Artificial Intelligence (AI) plan to do so in 2023. For high-achieving organizations, hiring an artificial intelligence team is a heuristic approach to solving prevalent business problems, such as fraud, data analysis, customer satisfaction, and demand forecasting, among others.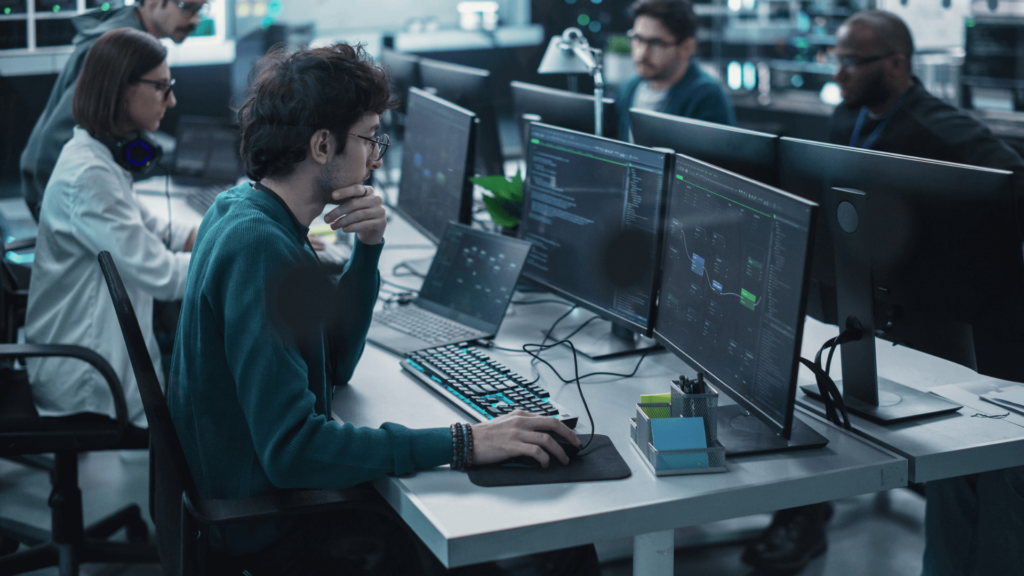 However, while the capabilities of artificial intelligence have matured significantly, 54% of business leaders still face an acute talent shortage as a hindrance to full-swing adoption. In order to stay ahead, C-level executives need to take a creative and pragmatic approach toward AI talent hiring. Depending on your business needs, you can build a team of AI experts remotely or hire talents as part of your in-house workforce.
But how do you build a successful AI development team from the ground up amid heightened talent scarcity and fierce hiring competition? This article takes an in-depth look into building an AI team, the roles involved in a typical project, and the costs associated with setting up in-house and dedicated team models. Keep reading to learn more.
When to Build an AI Development Team
The emergence of AI technology has given rise to applications that have a profound impact on modern business operations. For companies that have a clear comprehension of their AI needs and have set specific goals that require expertise in this domain, building an AI team can be beneficial in many ways. Here are some specific scenarios when this approach could be advantageous:
If you have an existing AI integration
Building an artificial intelligence team can help augment your current AI integration with expanded capabilities. You can recruit domain-specific experts to develop new AI models, optimize existing ones, and ensure smooth integration with core business workflows and systems.
When developing AI-driven products
If your organization has plans to build and deploy AI-enabled products or services, such as chatbots, computer vision apps, or virtual assistants, setting up an AI team is crucial. A highly skilled expert in this domain can implement a full-cycle development process, including data integration, model training, and ongoing maintenance. However, you might want to consider distributed teams if you want the developers to work around the clock and reduce the time to market of your AI solutions. You'll gain an upper edge with this approach, especially if you know how to manage distributed teams.
When automating processes
Another instance when recruiting a team of artificial intelligence developers makes business sense is when implementing automation. Talents with a combined technical skillset can design and implement advanced AI algorithms and systems to significantly reduce human effort and streamline processes.
When enhancing AI scalability and innovation
An artificial intelligence team can lend valuable help when your organizations want to implement AI innovation and scalability initiatives. Depending on the unique needs of your company, the new team can focus on global research and development or create and experiment with new AI techniques to keep the organization at the forefront of this disruptive technology.
If you want to implement data-driven decision making
A recent study by Forbes reveals that 43% of business leaders rely on data to make daily decisions. AI developers can help you extract meaningful insights from substantial amounts of data for prudent decision-making. They have the technical know-how to implement predictive analytics or machine learning techniques to highlight patterns and associations between data sets.

Key Roles in an AI Project Team
A typical AI project team should be diverse to enable your organization to come up with all-around solutions to its challenges — from the largest to the toughest. It will help if members of your artificial intelligence development team come from different professional backgrounds and life experiences to approach problems from new perspectives and find long-lasting solutions. That said, here are the key roles to have in mind:
Executive and strategists — problem owners
Top stakeholders in the company, such as strategists and C-level executives, will determine the business areas that need AI integration. They will also weigh new opportunities against risks to give the technical team the green light to proceed with the project.
Business analyst
A business analyst is in charge of understanding and explaining the business requirements to their technical colleagues. Besides ensuring that all AI projects align with the overarching goals and objectives of your organization, the business analyst will also track KPIs to gauge the overall success of the project.
Project manager
A dedicated project manager will allocate resources, manage project risks, and coordinate with other team members to oversee the overall success of the entire project. It's also the project manager's work to ensure that all deliverables are met within deadlines.
Data scientist
Data scientists are instrumental when building a big team of AI developers. Their experience is handy when defining the project's data requirements and evaluating whether machine learning models can alleviate business pain points. Data scientists are also responsible for cleaning, transforming, and integrating data.
Data engineer
Data engineers will design and maintain the data infrastructure needed to fulfill the AI project during development and post-deployment. These experts can also implement data pipelines for setting up data warehouses and data marts or optimize your storage for scalability.
Machine learning engineer
A machine learning engineer will help you create ML models and algorithms and implement them into production systems. Other responsibilities for ML engineers include testing, deploying, and optimizing models to ensure they are efficient, secure, scalable, and manageable.
UX designer
UX designers are important in the team as they will design the user interface of the AI application to make it as intuitive and accessible as possible. They'll also collect feedback from customers and other team members to optimize UX as much as needed.
Software developers
Software developers possess a wealth of experience in coding, systems engineering, and architecture designing. Their role in the team is to develop and implement the software components of the AI system. They can also handle integration and deployment of databases, APIs, and user interfaces.
How to Build a Highly Effective AI Team
AI is on a mission to penetrate every industry — from eCommerce and healthcare to manufacturing, gambling, and hospitality. Therefore, if you're not implementing this technology, your competitor is likely doing so and will claim all the customers. Here is how to build your AI team from scratch to have the upper edge:
Define the requirements of the AI project
Creating a successful team for AI development starts with a clear definition of the project's scope and goals. That means establishing trackable objectives, timeframes, and deliverables. Understanding the requirements will also help you determine the necessary skills or level of expertise required to complete the project.
Identify key roles and responsibilities
The next step involves identifying key roles needed for end-to-end AI solution development and their respective responsibilities. It will also help if you define the level of skills, experience, or qualifications that you expect each role to possess. After that, create a detailed job description highlighting all this information.
Advertise job positions to recruit top-rated talents
Post your job description and offer on freelance sites or other professional platforms, such as LinkedIn, to invite prospective candidates to apply for the advertised roles. Alternatively, you can partner with an outstaffing agency to recruit remote candidates for the positions. Whichever option you choose, ensure that the recruitment process is rigorous to evaluate the candidates' technical skills, soft skills, and brand fit.
Implement best practices of team management
Hiring the best value-matched AI developers doesn't guarantee automatic success for your project. How you engage and interact with the developers matters, if you want them to match your expectations. For instance, to collaborate effectively, you need to foster streamlined communication right from onboarding. This will help you set up and coordinate meetings effectively, get status updates regularly, and create feedback loops across the team.
At the same time, it is also advisable to inculcate a strong team culture from the onset. This means creating a working environment that promotes boundless creativity, innovation, and collaboration. Most importantly, establish a culture of self-initiative, transparency, respect, and open communication. You can always read resources on how to manage a remote development team to get the most out of your developers.
Provide resources and ongoing support
It's important to have the necessary tools for managing an offshore team, as well as the technologies and resources required to fulfill respective roles effectively. This includes hardware, software, collaboration platforms, training data, and any other essential resources. On top of that, provide upskilling courses and resources to help your remote developers learn new skills and trends.

In-house or Dedicated AI Team: What is Better for Your Business?
Now that you understand a typical AI team structure and how to build one, which collaboration model should you choose between in-house and dedicated? Well, for many companies, making a choice between these two models is no less than a challenge. It all boils down to the unique needs of your organization and the underlying business culture. Nonetheless, let's explore both sides to determine which is the best fit.
Dedicated teams
The dedicated team model involves engaging an external service provider to recruit AI developers with specific expertise and experience that matches your project's needs. The model is ideal if you know how to manage offshore development team and want to leverage on-demand AI expertise, saving the costs of retaining full-time employees. It also exposes your organization to broader industry expertise, given that remote AI developers work with companies from all over the globe. And on top of that, dedicated team service providers offer turnkey services to free clients from the back office routine.
In-house teams
An in-house team will give you an upper hand with quality and brand messaging consistency as they are deeply rooted in your business culture and comprehends all its needs and goals. This model is also geared for long-term commitment and can oversee advanced AI projects to maturity or implement multiple projects over time.
Overall, hiring a dedicated team of AI developers might be beneficial in the long haul if you want to optimize development costs and stay updated on global trends and innovations. That's what defines a high-potential organization, especially in the age where streamlining efficiency, flexibility, and overhead expenses are key.
Costs of building an in-house AI development team
The estimated salary for a full-time AI developer is about $126,357 per year if you hire in the United States. However, the true cost of hiring in-house AI development teams goes beyond the salary expenses. Regardless of the type of qualifications or level of expertise in a candidate, you'll need to consider a range of expenses associated with full-time employment, including:
Hiring expenses: hiring can be very complex and expensive, especially when doing it in-house. On top of referral fees or commissions to ad agencies, you'll need to meet the expenses of conducting in-person interviews, screening candidates, and issuing relevant business training during induction.
Taxes and government benefits: depending on your jurisdiction, you'll be required to file payroll taxes, as well as related government benefits of retaining full-time employees. This can include deductions for health insurance, retirement plans, or social security contributions.
Administrative costs: the overhead costs of retaining in-house employees include recurrent expenses on utilities, insurance, office rent, legal services, and general administrative support.
Motivation and retention: full-time employees require regular incentives and motivation to enhance their satisfaction and reduce turnover. This can include performance-based rewards, restricted stock units and stock options, bonuses, or even professional upskilling allowances.
Costs of building a dedicated AI development team
The cost of building a dedicated team for AI development is relatively affordable compared to retaining in-house developers. Even better, you can save more by hiring talents from developing countries in Eastern Europe. For instance, experienced artificial intelligence engineers with 5-star ratings from Ukraine charge as low as $60,000 — $70,000 per year, thanks to the country's moderate standard of living.
Also, if you partner with a full-service company, such as Newxel, you will pay a monthly fee to cover all administrative costs — from HR and finance to legal support and infrastructure maintenance. Moreover, the monthly fee covers the costs of managing your remote team, including retaining, benefits, and insurance, among other competitive compensation packages.  That said, outstaffing agencies are different, and other companies may offer a limited range of turnkey services and varying vendor fee structures.
How Can Newxel Help if You Need an AI Development Team?
Newxel is a full-service partner that can help you recruit top-rated artificial intelligence developers from any part of the world. With a global recruitment capacity, we can find, vet, and assemble value-matched developers within 3 to 5 weeks, helping you implement AI-driven solutions and technologies faster for a competitive edge. We also offer alternative engagement models to dedicated teams, including global R&D centers and distributed development teams to suit your unique business needs.

Conclusion
Undeniably, artificial intelligence holds great potential to solve most business pain points that hinder your company from scaling to unprecedented heights. Even so, like any other development technology, AI has its share of challenges and roadblocks as well, especially when it comes to hiring. It's our hope that the shared information teaches you how to build an AI team from scratch. Leverage the guide to circumvent these bottlenecks and build a highly effective AI team that will redefine digital transformation in your organization.
Frequently Asked Questions (FAQs)
Is it possible to develop a business without an AI development team?

Yes. AI implementation is not a requirement for running a successful business. However, adopting artificial intelligence is critical if you want to build training models for your business system architecture, automate processes like marketing, and implement data-driven decision-making.
Is it profitable to hire a remote AI team?

Building your AI team remotely can be profitable in the long haul as this engagement model has numerous business benefits, such as relatively affordable hiring costs, greater flexibility, and access to top-rated global talents.
What is the structure of an AI development team?

A typical team structure for AI development includes business executives and strategists, a project manager, data scientists, data engineers, software engineers, UX designers, and machine learning developers.
How to upskill AI development team?

Many AI developers, whether remote or full-time, expect their employers to offer upskilling opportunities during collaboration. Besides offering continuous learning opportunities, you can facilitate the team to attend global training workshops and seminars, hackathons, conferences, and regular cross-functional collaborations.
Contact Us