Global Delivery Model in Software Development: Benefits, Differences and Reasons to Choose
Since its advent, the global delivery model hasn't had difficulties gaining traction. It has revolutionized the IT landscape, with many companies eager to adopt it. Software development outsourcing is one of the key factors driving its popularity, allowing technology firms to partner with developers from across the globe.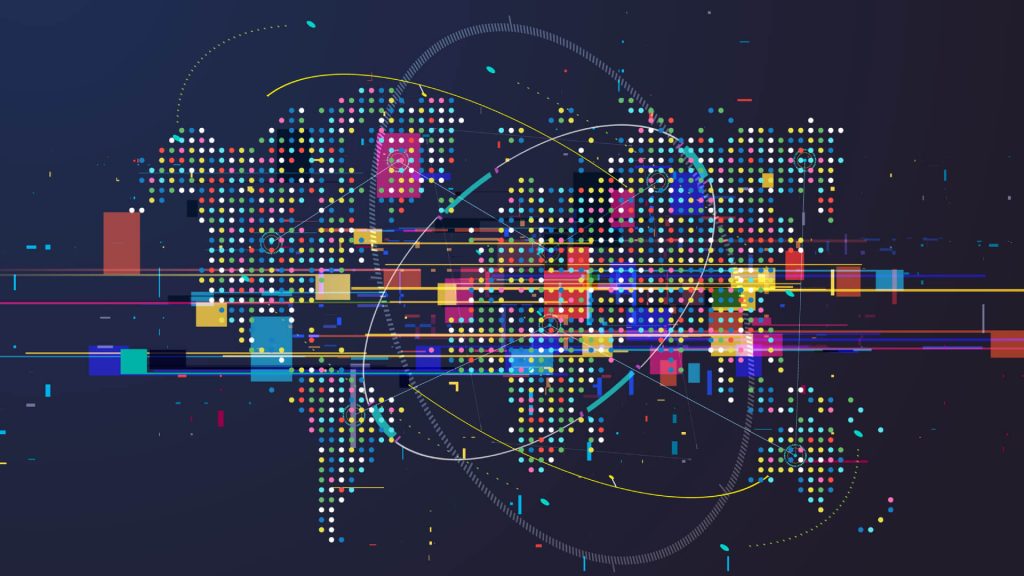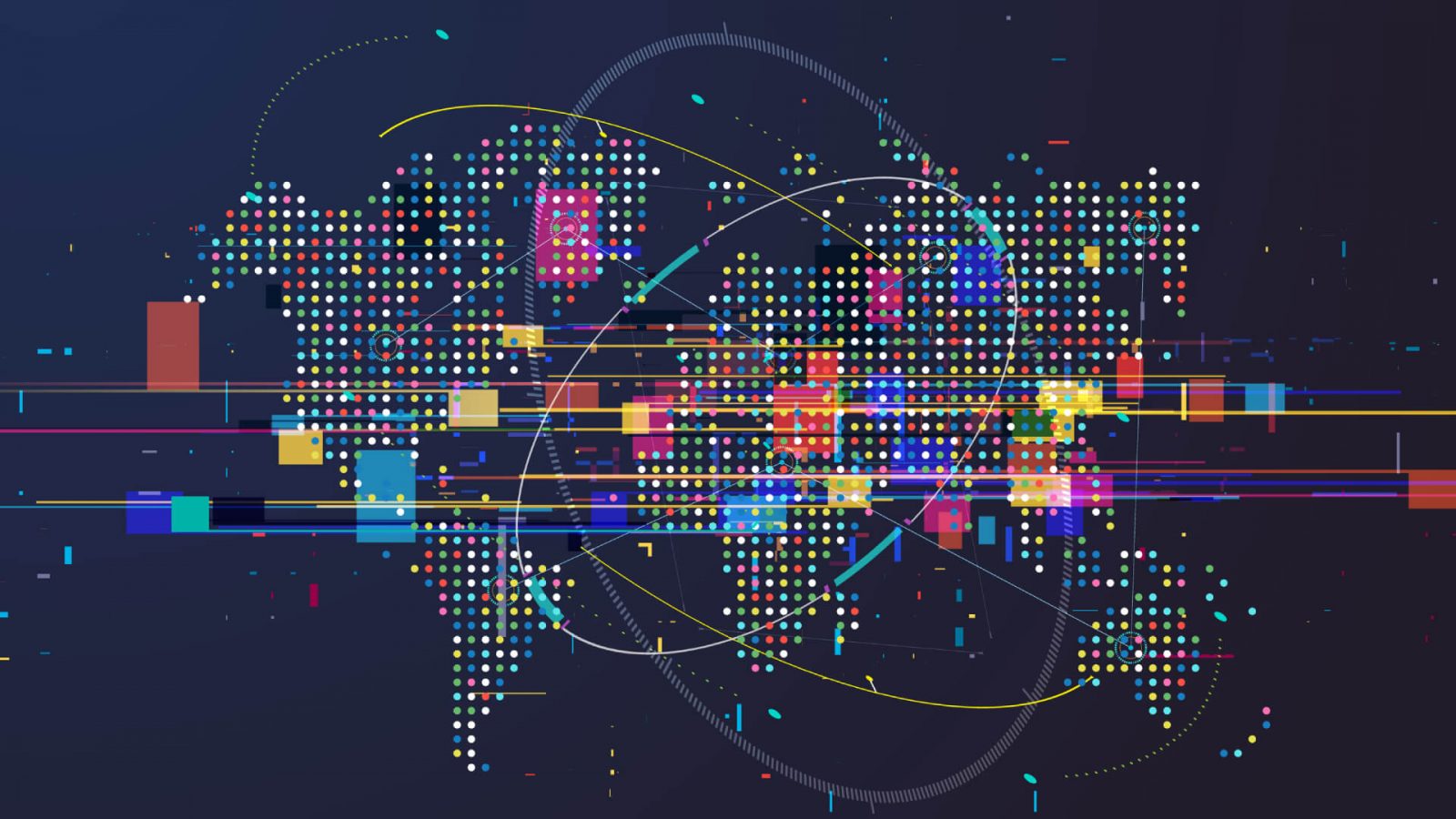 This article focuses on the different types of global IT delivery models, digging deeper into their benefits, challenges, and why Newxel is your company's best-suited global delivery partner.
Global Delivery Model Meaning Explained
So, what is a global delivery model?
This innovative collaboration strategy for software development and other IT projects leverages resources from various parts of the world. Coding and other development processes are no longer confined in-house but happen at remote sites.
Types of Global Delivery Model (GDM)
These four types of GDM veer off the traditional waterfall model, taking on a more agile approach. They include:
Here, tech professionals work on the software development project at the client's site. Direct communication is one of the notable perks of this model. The client can also monitor development processes easily and efficiently manage the tech specialists.
However, the client must provide the resources and infrastructure the developers need. For instance, they are obliged to provide fully furnished office spaces equipped with the latest technologies, which escalates overhead costs.
Also referred to as nearshore, this global delivery model allows clients to have applications developed remotely but within the country. Moreover, considering they enjoy time zone and cultural compatibility, the chances of achieving fruitful collaborations are high.
Nevertheless, you may have a limited talent pool since you are sourcing talent locally. As a result, you might experience constraints in the development process or end up with a subpar application.
This software development global delivery model involves outsourcing IT tasks to international destinations. The client will source tech talents overseas and assign them a project. Even though they might work with the in-house team, they handle most of the development processes.
The offshore option is one of the most sought-after delivery models, driving the global IT outsourcing/outstaffing market size to an impressive $92.5 bn. For starters, it presents enterprises with an extended development team who possess comprehensive tech knowledge to code overly complex applications. In addition, since you have access to a broader pool of professionals, you can easily find those with your preferred competencies and skillset.
Another significant benefit of this model is you will not provide infrastructure and essential technologies, lowering your overhead costs. Besides, by relieving your team of the coding tasks, they can concentrate on other mission-critical duties that boost business longevity.
However, this model risks dealing with time zone and cultural differences. Decreased control over the project's progress is another challenge you may face if you and your partner do not duly take care of properly built communication.
The hybrid model mostly merges onsite and offshore delivery models. It is ideal for businesses that want to take advantage of the highly qualified specialists and the person-to-person communication synonymous with offshoring and onsite models, respectively.
How the GDM Model Works
The global service delivery model works so that companies go beyond localities, hiring global talents to undertake software development.
Suppose you go for the hybrid option: In that case, you must allocate each team their unique duties.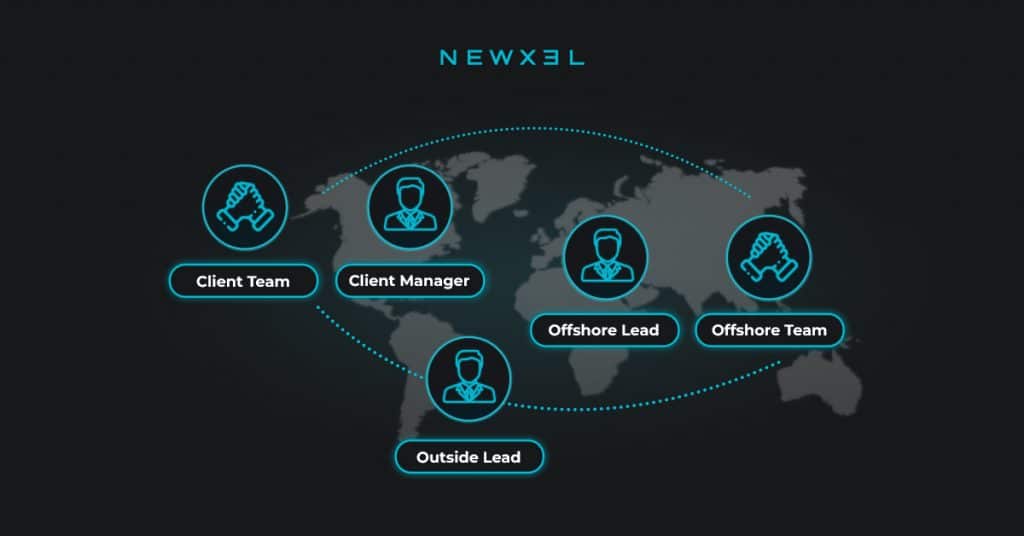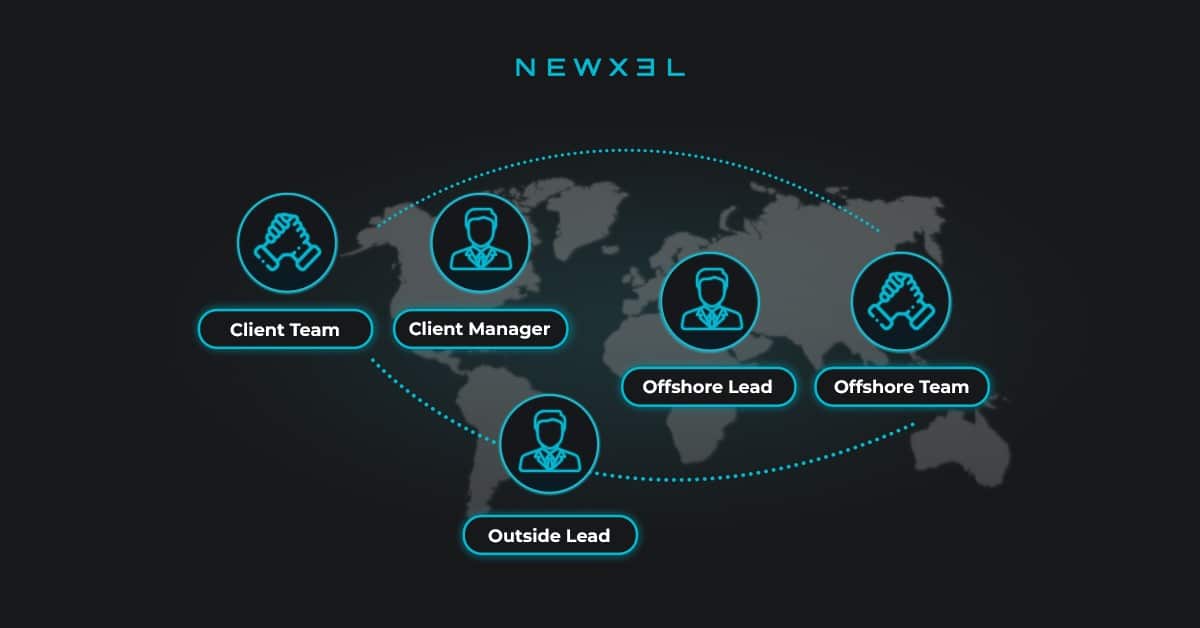 For instance, the onsite team will be responsible for gathering client requirements and creating a general project outline. They will also be tasked with delivering information about the project's progress and other customer interactions.
On the other hand, the offshore team will work on the project's technicality, including designing, implementation, and testing.
If you have a nearshore team, they could be your project managers, helping you monitor progress and ensure deadlines are met.
Benefits of the Global Delivery Model
Advantages of the global delivery model include:
According to Statista, the global IT spending on enterprise software is soaring high, predicted to reach $755 billion in 2023. With more and more companies trying to establish brand authority in a competitive business environment, the importance of a faster time-to-market cannot be over-emphasized.
GDM allows multiple teams to work on IT projects, giving the clients the first-mover advantage. Launching products before competitors dominate the market increases profitability and ensures you never have to play catch up.
Software development can be complex, and when it overwhelms a coder, you can expect performance drops or substandard products.
Under GDM, entrepreneurs can scale software development according to their needs. In addition, it leaves room for a company's changing priorities, allowing them to expand or downsize the teams according to the current workload.
Glassdoor reports that a developer's salary in the United States is $106,944, inclusive of additional pay. And this is only for one developer! These figures will definitely go off the roof if you need a team of developers, business analysts, database specialists, and quality assurance engineers.
GDM offers a cost-effective option as it significantly reduces hiring costs. Hiring in Poland or Ukraine, for instance, allows you to enjoy software development services for $4,600 a month, with no overhead costs.
Round-the-Clock Software Development 
Working with onsite and remote IT professionals, especially offshore developers, lets you take advantage of the different time zones. That way, you can rest assured of round-the-clock development, ensuring a faster time-to-market.
GDM strategically positions companies to access cutting-edge tech infrastructure that facilitates the development of robust applications. With such sophisticated technologies, the team can easily take advantage of automated build, unit testing, integrated development environments, code management, and many more.
At Newxel, facilitating the development of innovative applications is our forte. As a company that sets up dedicated and distributed development teams, as well as establishes global R&D centers, we help you find top-ranking tech specialists, providing them with the latest technologies, advanced infrastructure, and comfortable workspaces to make the project a success.
Global Delivery Model Challenges
Even with the perks named above, you can expect some challenges with the global delivery model. They include:
Communication issues that result from time–zone differences and language barriers are not unheard of. Unfortunately, this may cause misunderstandings in the development processes and slow the product's launch.
Encouraging consistent communication is the first step to alleviating this challenge. And since 95% of workers prefer business communication tools to in-person meetings, incorporating modern technologies will help streamline communications between teams.
Product Quality Inconsistencies
Lack of direct project monitoring, communication challenges, and mismatched workflows might result in inferior-quality products. To avoid this, ensuring developers capture project requirements is vital. You can also repeatedly communicate your expectations and hire quality assurance specialists to prevent instances where a mediocre product negatively impacts brand perception.
According to Korn Ferry, we will likely have 85 million unfilled positions due to talent scarcity, which will see the world lose approximately $8.5 trillion. Furthermore, Manpower Group recently released a report stating that 75% of companies do not have enough workforce and are experiencing difficulties hiring workers.
And this shortage is ailing the software development community.
According to Global Newswire, the software developer shortage is crippling the IT industry, and finding your best-suited offshore tech professionals can be grueling. Luckily, Newxel has a solution.
Consider Newxel Your Global Delivery Partner
Newxel is a company well-versed in global delivery services. Our vast experience in offshoring allows us access to a network of top-tier talents — specialists that guarantee the success of even the most complex projects.
As a professional offshoring partner, we strictly adhere to global delivery model best practices. The team we round up possesses the exceptional skills to deliver robust applications. They also provide solid solutions to unprecedented development hiccups, promptly delivering high-level products that get you ahead of competitors.
During the initial consultations, we are keen on understanding your project requirements. We will ask about your preferred skill sets, goals, and expectations as well as educate you on the services we offer, explaining the offshore software development center meaning, and any other information that piques your interest.
Our outstanding team will then conduct an extensive market assessment, presenting information on the availability of prospective candidates, their salary and benefits expectations, and more. Once we come to an agreement, we will discuss the legal aspects and commence the partnership.
Team up with Newxel, your reliable offshoring solutions partner.
Contact us today.
FAQ
What is global delivery model?

This business strategy allows entrepreneurs to take advantage of global resources in their quest for intelligent IT solutions.
What are the benefits of global delivery model?

Some GDM perks include access to a pool of top-notch tech professionals, high-quality products, scalability, 24/7 resource availability, and reduced investment costs.
What are the global delivery model challenges?

Challenges you can expect from the software development global delivery model include product quality inconsistencies, communication barriers, cultural differences, and trouble finding ideal candidates for the project. However, Newxel fills this gap, providing you with innovative talents. We also use collaborative tools to ensure streamlined workflows and seamless communication.