Dedicated Development Team vs. Offshore R&D Center Models: Commons, Differences, Use Cases
In 2021, outsourcing or outstaffing are no longer buzzwords. They have become reliable and widespread operating models that, by 2027, are predicted to reach over $936 billion in market value.
Business owners who consider expanding tech teams by hiring talents abroad can be confused by different ways to manage programmers in another country — outstaffing, outsourcing, nearshoring, offshore development center model, etc.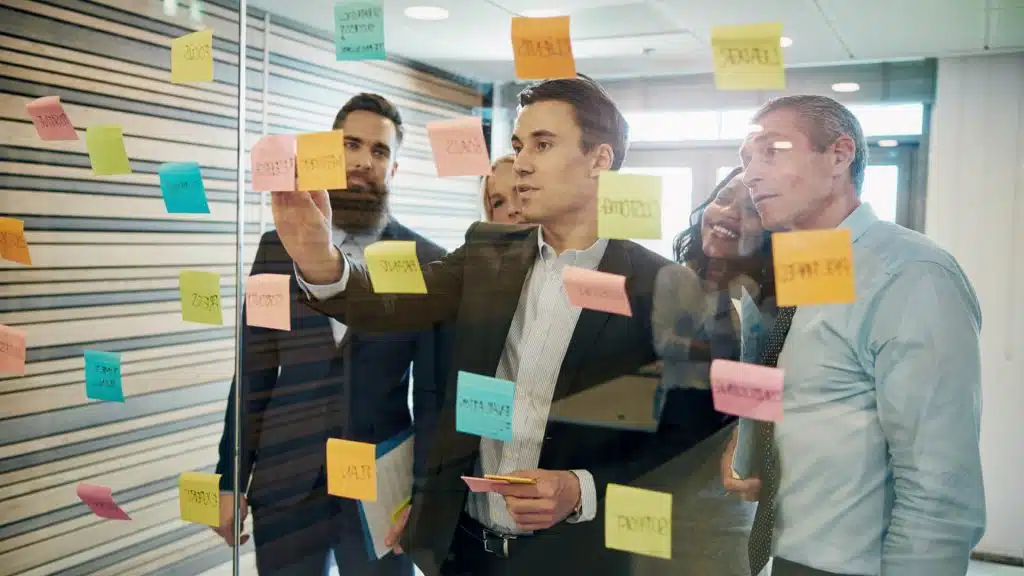 In this post, we will explain the difference between building dedicated teams and opening an offshore R&D center and share real-life case studies to help C-levels figure out which one will be the most appropriate.
What is a Dedicated Team?
Building dedicated teams means partnering with a vendor to hire from two to a few dozen tech professionals who will be entirely focused on your projects. This approach is more reliable compared to traditional outsourcing where developers handle multiple projects simultaneously. But do not confuse colocated teams vs distributed teams.
Hiring dedicated developers offshore allows leaders to scale their company with proficient specialists they cannot recruit at the motherland. These programmers will fully rely on a vendor's infrastructure, which in its turn frees the company from lots of headaches and concerns related to the workplace, equipment, team administrating, financial issues, and many more.
What is an R&D Center?
A research and development (R&D) center abroad is a continuation of the company and its global presence. The main reason business owners commit to offshore expansion is cost-cutting and access to the talent pool.
According to Indeed, a US-based programmer makes $108,000 per year. On the other hand, you can hire a Ukrainian developer for $36,000/yr.
R&D vs. Dedicated Development Team: Differences
Before we dive into the benefits and drawbacks of setting up an offshore R&D, as well as hiring dedicated teams, let's examine the differences between both operating models.
Offshore R&D
Dedicated team
Software offshore team size
20-100+ professionals
2-30 professionals
Workplace
At the vendor's location, in separate space to keep privacy.
In a separate office space in any country's location, set up jointly by the main team and the R&D vendor.
Project duration
Medium (from 9-12 months to a few years)
Long — an offshore R&D is a long-term organization that might operate for decades.
Involvement
Full-time involvement in a chosen project
Full-time involvement in all processes the main team handles.
Benefits

Flexibility
Scalability
Commitment
Support from the vendor
Access to new markets and audiences
Cost reduction when setting up an office abroad
Full transparency in operational expenses
Benefits of Hiring a Dedicated Team
At Newxel, we recommend implementing dedicated team management (DTM) if the main office needs to hire talent for a long-term project with flexible scope and dynamic requirements. Here are the key benefits of hiring dedicated talent abroad.
Full focus on the project. As the name suggests, dedicated teams are "dedicated" or committed to one project at a time. This hiring model allows business managers to connect with talent on a deeper level and make sure tech professionals are fully immersed in the project's requirements, best practices, and brand values.
A smart way to fight talent shortage. Hiring a dedicated team abroad helps business owners tap into larger software developer pools. Expanding the reach of talent acquisition is a way for SMEs and startup managers to cut hiring costs and not lose in terms of efficiency to large-scale competitors.
On-demand scalability and flexibility. Since the vendor is responsible for talent acquisition, business owners don't have to start large-scale campaigns whenever more qualified coders or testers are needed. Instead, adjusting the requirements of the service-level agreement is all it takes to expand a dedicated team.
Drawbacks of Hiring a Dedicated Team
On the other hand, for short-term projects, hiring a dedicated team is not feasible — outsourcing is a better fit. To have a clear understanding of whether DTM is the right strategy for your project, examine the drawbacks of hiring dedicated talent:
It calls for organizational changes. When hiring dedicated teams, business owners need to figure out ways to integrate remote professionals into in-house processes and tweak processes. For example, team leaders need to create a functional communication strategy that doesn't inconvenience the rest of the organization.
High reliance on the vendor. If business owners decide to welcome a dedicated team, they should find a reliable vendor, skilled at recruiting top-tier talent. Otherwise, you risk having to sustain a subpar team of developers who lag behind the main team.
Lower flexibility compared to short-term hiring models. A long-lasting project is a prerequisite for a dedicated team — if there's no consistent stream of tasks and workflows, there's no point in putting in the effort to onboard developers. That's why, compared to working with freelancers, managing dedicated teams demands commitment.
Benefits of Establishing an Offshore R&D
Starting a research and development center abroad makes sense if you want to expand the team on a larger scale, hiring over 30 professionals. For global companies eager to scale, opening an R&D in an affordable market is a chance to gain a competitive edge and beat other large-scale competitors to the market.
Here are the key benefits of establishing an offshore R&D:
Cost-cutting. By relocating software development processes to a country with skilled talents, business owners cut expenses associated with salary, taxes, and team management. Ukraine, for one, has more than affordable engineer salaries — the local tax system is business-friendly, and setting up an office is considerably cheaper compared to the EU or US.
Market expansion. Opening an R&D is an opportunity for business owners to establish a presence abroad. Uninterrupted contact with the local customer base gives SME managers a well of market insights. Once explored, they will facilitate the expansion in the region.
No hidden fees. While traditional outsourcing often leaves business owners wondering how the fees they are paying vendors are distributed within the team, setting up and managing an R&D abroad gives SME and enterprise-level managers full control over expenses and promotes operational transparency.

Drawbacks of Running an Offshore R&D Center
Opening a research and development center abroad is a responsible decision — before going all-in, business owners should know the pitfalls they risk facing along the way. Let's zoom in on the drawbacks of launching an R&D abroad.
Finding a reliable partner. Perhaps this is almost the most important part of offshoring because everything in the future will depend on your partner. A good vendor can solve all the possible difficulties that you would definitely have if you did everything yourself. Legislative subtleties, financial nuances, the mentality of specialists and their requests, real estate search, and legal issues — this is only a small part of the questions that the vendor closes for you and which you absolutely do not need to delve into.
Highly dependent on location. Before opening an R&D, business owners should thoroughly research both the country and the city they choose to set up the office. Keep in mind that some locations are less strategically attractive than others — local talent or office rent can be more expensive, infrastructure might not be as robust, or there could be fewer suitable spaces for large-scale teams. Thus, an R&D founder should run data-driven location scouting before choosing a destination market.
Communication and performance monitoring. Setting up an R&D abroad makes it harder for business owners to streamline operations between the headquarters and the offshore office. There are several ways to avoid bottlenecks — you can either review processes and shift towards remote workflows or assign independent projects to the R&D, limiting the need for communication with the main team. Top-tier R&D vendors usually facilitate the integration of remote teams by supporting the client with around-the-clock assistance.
Hiring a Dedicated Team: Use Case Examples
At Newxel, we helped connect companies with skilled developers, helping business owners turn ambitious ideas into reality.
Dedicated Team Use Case: Building a Team For a Process Automation Business
Newxel helped assemble and manage a team of seven developers who work remotely but are fully integrated with the main office. Our team took charge of candidate selection and onboarding and supports the main office in team management.
Newxel financial experts take care of taxes and payroll, while talent managers ensure high talent retention by setting up regular feedback sessions with dedicated developers and mitigating their concerns.
We wrote a case study describing the decision-making and the process behind building a dedicated team for the client — check it out.
Setting up an Offshore R&D: Use Cases
If opening an office in your home country is too expensive, creating an R&D team abroad is a sensible strategy. Here is a typical use case that describes the decision-making behind opening a research and development center abroad.
Offshore R&D Case: R&D Center For Celeno
Our team set up an R&D center for an Israeli company that offers advanced Wi-Fi chipsets, edge software, and cloud technology. The client was so fascinated by the professionalism and dedication of the guys in Ukraine that he decided to expand the already existing team and rebuild it into a full-fledged R&D center.
We opened a separate branded office for the team with their own relaxation and work areas and hired the required number of developers and QA specialists.
Throughout the process, Newxel supports the client by maintaining the overall service regarding procurement, managing talent, tax support, accounting and administering benefits, etc.
Find out more on how we built an R&D for Celeno.
Conclusion
Both dedicated teams and offshore R&Ds are efficient and cost-reducing operating models. However, as you are choosing between the two, it's important to consider project requirements and ambitions.
Generally, a dedicated team is a fit for a one-time long-term project while R&D is a better move for teams eager to permanently expand their teams and establish a presence abroad.
Whether you want to build a dedicated team or set up an offshore research and development office, it's crucial to hire a reliable vendor. At Newxel, we help our clients choose the right hiring model that fits their vision and needs. Find out how the company approaches building dedicated teams and setting up R&D centers abroad and choose the right expansion strategy!Contact Us