Part 5: Grow Your Development Team Offshore
Shortly after building your software engineering team abroad, you may realize that you want to expand it. At some point, it makes sense to open an offshore R&D center that will function as your representative office.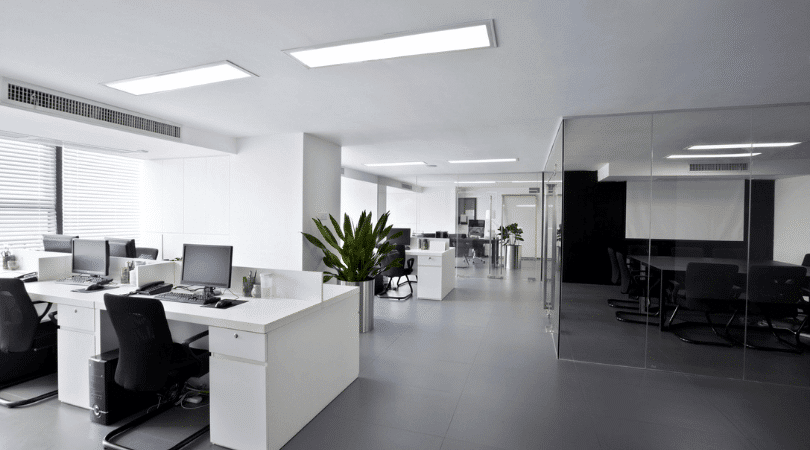 But before you expand your team, you need to make sure that you have properly integrated it into your existing processes. So let's see.
Where To Start
Experience shows that communicating with an offshore team is not all that different from communicating with your in-house or onshore team. It really isn't much different from integrating a new co-worker at the office either and can be much easier than one might think. All you need is a good communication plan right at the start that you stick to throughout the project.
Workflow and Communication
First of all, you will have to introduce the company, and in some cases, the staff to your new offshore team. They have to understand how your business works, who is responsible for what, and what your goals and ambitions are. The next step is to set tasks and deadlines. Finally, when the project is over, do not forget to give overall feedback to the offshore team.
Your offshore development team should understand how your business works, who is responsible for what, and what your goals and ambitions are
How Exactly Do You Organize the Development Process?
First of all, you set a very clear goal and define the ways to reach it.
Choose the methodology – Agile, Waterfall, or RAD – and let the team members know about the activities and the rules of the process.
Define an efficient way to assign daily tasks to offshore team members, such as Jira, SharePoint (TFS), or any other task manager.
Know the agenda for tomorrow. Always make sure you know what your team will be working on the next day. They must have adequately clear instructions to carry out the project.
Prioritize tasks given to the team members.
Set a plan for daily updates and put one team member in charge of all that. This will help you understand the productivity level and possible issues. Use collaboration tools such as Slack, Jira to store and track daily results.
Efficient Communication is the Key to a Great Result. Here Are Some Tips:
Set up one method of daily communication. Use email or chats like Slack, Skype Groups, Microsoft Team or Workplace by Facebook (for questions in need of immediate attention) rather than phone.
Be precise in your emails. Use images rather than long text descriptions and bullet points to make the structure of your email clearer.
Long emails are inefficient and time-consuming, but still, it is better to over-communicate than to leave something out. Keep in mind that what seems obvious to you and your in-house team, maybe not so clear to the offshore team.
Use video conferences for group meetings. You can also record them and send to team members that were absent. It is especially useful when working with an offshore team in different time zones.
Require weekly reports. They must contain an overview of the achievements over the week, a next week's plan, eventually milestones, and issues.
Both sides of the project need to have emergency contact information.
Try not to use heavy documents in communication. With modern Cloud technology, there is barely any need to send attached documents at all.
Grow Your Offshore Development Team
When we are convinced of the correct team integration, let's plunge into the process of expanding it and creating your own R&D center. So, how do you proceed?
More companies and startups in tech-intensive sectors are establishing and growing their global R&D offices in foreign countries such as Ukraine. It is an excellent strategy for businesses, given impressive benefits such as:
Reduced

onshore software development

costs;

Safeguarding valuable company assets;

Entry into new global markets;

Development of a dedicated tech department.
If you want to open or grow your offshore development team, you need to understand everything that comes with this approach. Here are things to consider while you set up and grow R&D centers in Ukraine.
Team Size
It is advisable to open an offshore development center if your company needs to expand its workforce to 40 developers and more. Also, if the business needs frequent technological support and tech-product development, having and growing an offshore R&D facility is necessary.
However, for example, a mobile app development offshore team's ideal size will also depend on a business's history in international management. Companies that already have R&D centers in other countries tend to have a smoother ride when creating larger new offshore development teams.
As far as finding new talent and growing an offshore R&D facility goes, outstaffing remains an excellent strategy. This approach makes it quite easy to find the right talent. The offshore partner covers all additional recruitment processes. Below is an image with details on outstaffing roles for each party.
How Outstaffing Works: Roles & Responsibility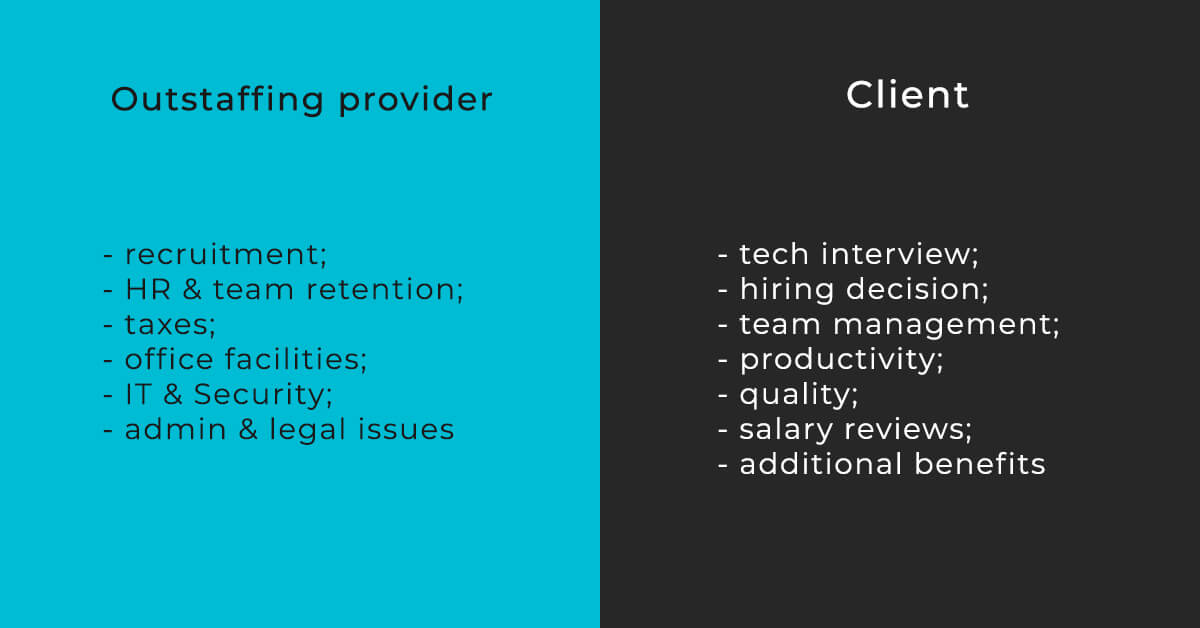 How is the hiring process done? In this article, we highlight all steps & tips to hire developers offshore. For the best results, the hiring and onboarding processes have to be organized early. This way, it becomes easier for the offshore vendor to bring in the right talent swiftly.
Location of the Development Office
You can establish an offshore development team or grow an R&D center anywhere. When working with an offshore partner, they'll create a list of recommendations based on the number of required experts from a region and salaries. Other things to be considered are rental costs.
As seen in the first article and picture, the 5 biggest IT hubs in Ukraine are Kyiv, Lviv, Kharkiv, Dnipro, and Odesa. It helps to note that the most lucrative location, considering the number of software developers and a variety of tech skills, is Kyiv, the capital.
C ++, Unity3D, .Net, Python, Java, JavaScript, PHP, and ASP.Net, stand out among other programming languages, frameworks, and platforms. So now, if you need, you know where to find talented PHP developers, for instance. 
Facilities at the R&D Office
Since the offshore facility makes a part of your global network, it helps to promote awareness, company culture, and loyalty among candidates. Feel free to use your company name when working with an offshore development team.
Your offshore partner should also allow for office corporate branding design. When done right, office interior branding makes remote employees feel like they are a part of larger brand identity and company mission.
Required equipment, kitchen staff, relax zones, and admin staff is also provided by your offshore outstaffing vendor.
Employer Branding
Employer branding is essential when growing offshore R&D centers. It makes life in the destination country much more straightforward in various ways. For instance, with employer branding, the hiring process can be sped up, filling vacancies quickly.
Offshore R&D Team Structure and Leader
An offshore-based R&D office is essentially an extension of your company and will closely connect with your R&D structuring. However, the newly expanded development team will need to work independently to some degree. So, ensure you lay down a structure for the development team well in advance to avoid any hiccups once things are in place. Define roles and responsibilities, titles, working styles, etc.
A successful offshore R&D site is greatly dependent on the site manager you pick. A good leader should be locally sourced, with good ties with the local tech community. He/ she should also have a good understanding and be committed to the research center's plan.
Legal Issues, Payroll & Accounting When You Hire Developers in Ukraine
Ukraine offers a favorable climate for opening R&D centers in terms of legislation. Still, setting up an office in Ukraine will involve legalities that you may not be aware of as a foreigner. There'll be monies you will pay as income tax, and you must organize your payroll in line with labor regulations. You will also need to do accounting for your offshore center in Ukraine.
The best thing is to work with a local expert, in this case, your offshore partner. The offshore vendor will cover all legal, finance, and organizational matters. Instead of following up on these details, you can contact your Ukraine-based partner.
Managing the R&D Team in Ukraine
Your company's senior management will need to be directly involved in the site's governing initially. Close monitoring is essential as most of the groundwork will determine how the center works will happen here. Without a good foundation, the R&D center might not provide the expected benefits.
Of course, the new center should be given some degree of freedom to form its own name. However, it should always keep close times with the company's home R&D department. The managers integrate the new site's research plan to the bigger company strategy/ goal. The management and degree of involvement may keep changing as the new center and the home office cooperate.
Business Trips After You Hire Software Engineers in Ukraine
You'll need to think about how you will go about organizing business trips for both you and your R&D team in Ukraine. A company with a Research and Development center in Ukraine will need to send representatives during the site's establishment and regularly after that. So, ensure you budget and plan for that.
Once the offshore development team is in place, you'll also need to organize trips for the new employees to visit the company. And, it will require you to make travel arrangements such as getting business visas (for a company in the US). These business trips are important in:
Onboarding new employees to the company culture;
Boosting collaboration and communication;
Strengthening connections between the offshore and home employees;
Training the offshore development team on the company's objectives and corporate values.
What Top Companies Have Established Successful R&D centers in Ukraine?
Establishing an R&D center offshore is a good idea, especially if you consider the numerous companies that have done it successfully. And, it makes sense to build a research and development office in Ukraine. The market offers skilled software developers, high English proficiency, low rates, and time zone conveniences. Among the top companies with R&D offices in Ukraine include:
Google;
Oracle;
Boeing;
Microsoft;
Samsung;
Ericsson;
Netcracker.
Final Words
You should definitely open a development office in Europe, particularly Ukraine, to build your global R&D network. The market is conducive and also tested with big brands already running R&D centers in the country. If you need help setting up a small development team or growing your team into a fully functioning R&D center, contact us today.Contact Us