IT Outsourcing in Ukraine: Country Overview, Risks, and Opportunities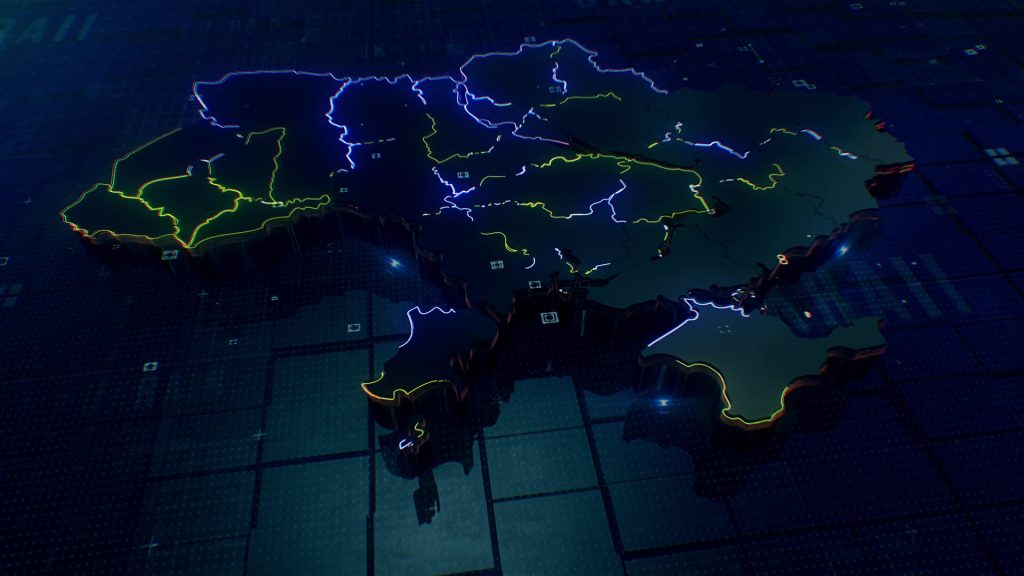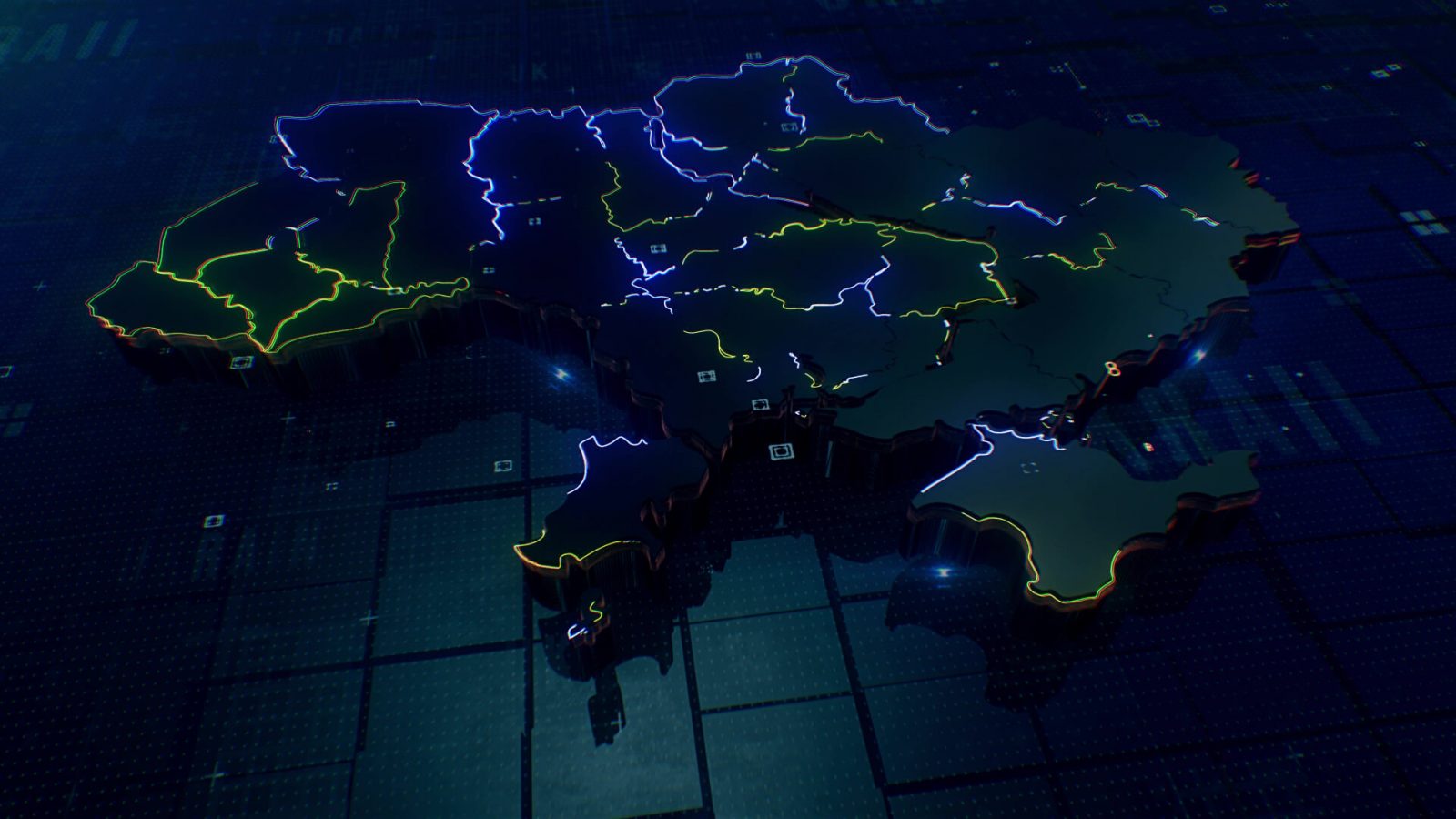 Today, a lot of globally recognized companies are outsourcing their IT needs to software development companies in Ukraine. At present, tech giants like Magento, Google, and Huawei already have their own  offshore R&D centers in Ukraine. According to IT Ukraine Association, the country's  IT exports exceeded $5 billion in 2020 alone, showing a 20.44% increment from the previous year: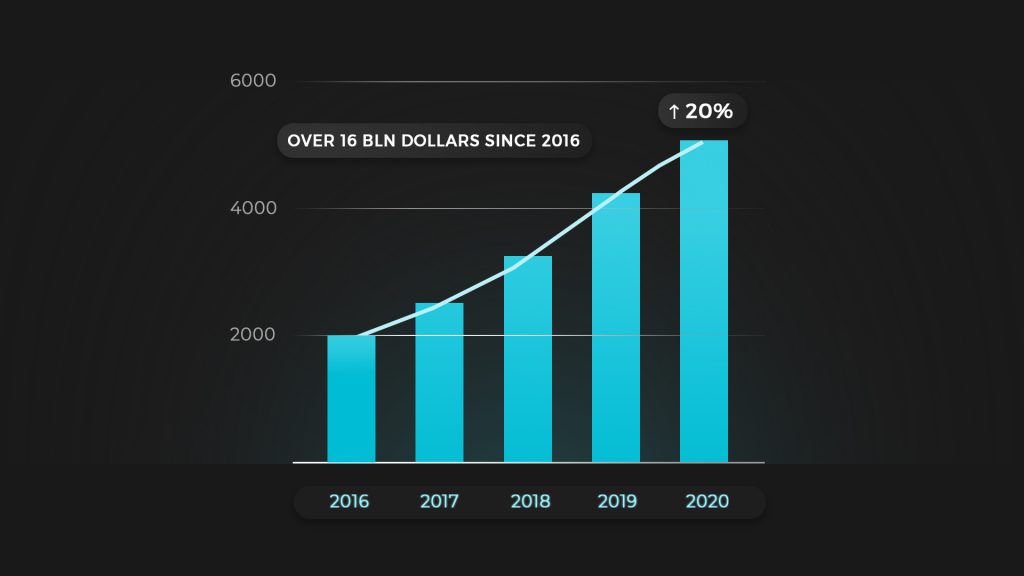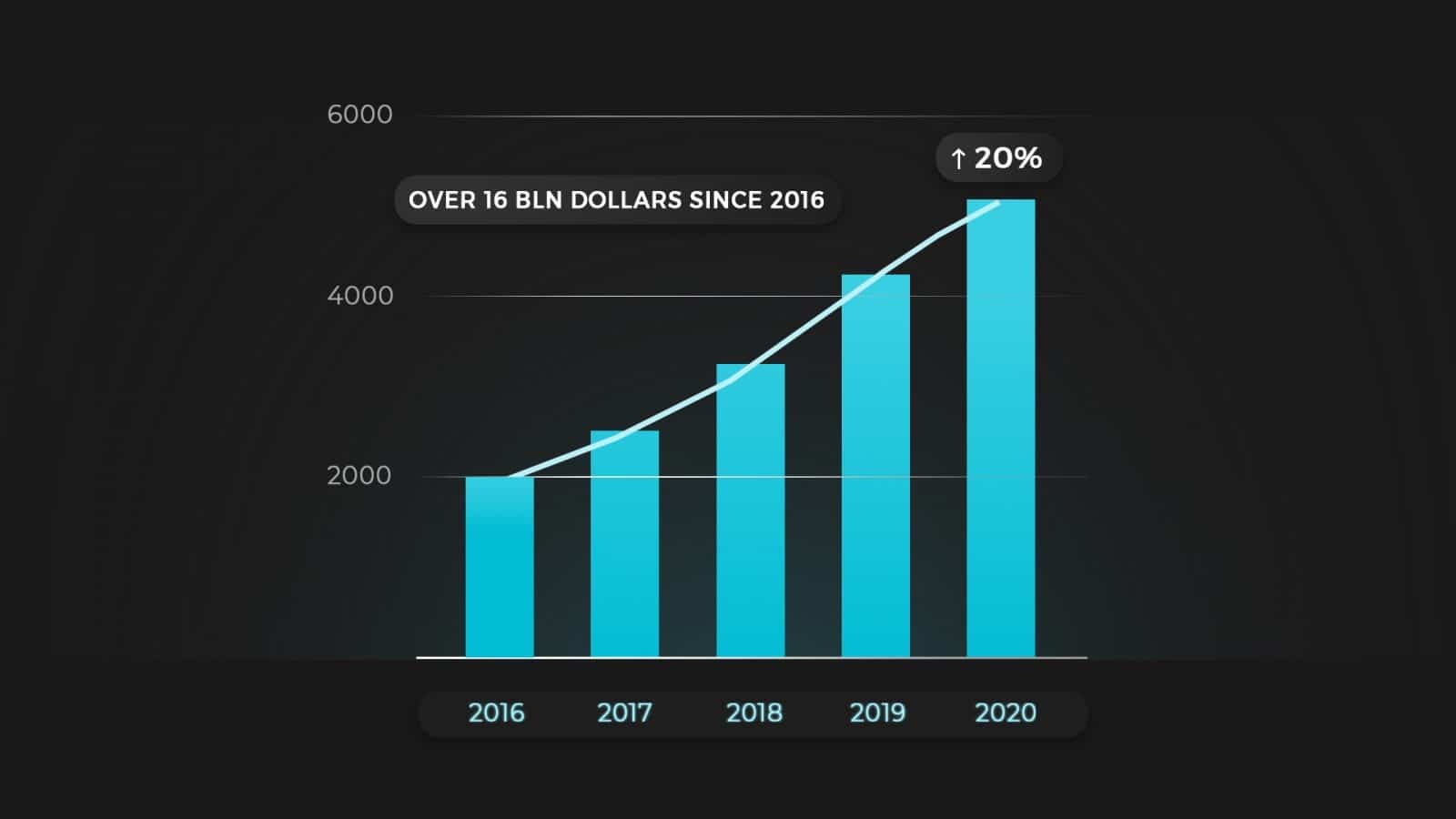 Ukraine software outsourcing is providing a wide range of market solutions for different countries around the world. The industry is quite diverse — with Ukrainian developers teams ranging from small development firms to large-scale teams of expert engineers. Most of them use state-of-the-art tech tools and have many years of experience in the field. And what's more, the country is jam-packed with a supportive community that offers expert tech solutions!
In this article, we are going to take a closer look at why globally, businesses are outsourcing their IT needs to Ukraine, as well as discuss the opportunities and risks of selecting the country as your IT service partner.
Main Facts and Numbers About Ukraine's IT Outsourcing Industry 
Given the global changes brought by COVID-19, the  Ukrainian IT industry has the potential to help businesses cope with the shortage of software engineers and new challenges caused by the pandemic:
"Despite a difficult year, IT exports have increased significantly. For long-term growth in exports, it is necessary to focus on the development of human capital. It should be addressed both through education (training of new professionals) and through favorable immigration policies (to attract foreigners)", — Igor Samohodskyy, head of the ICT sector BRDO.
Here are few facts about IT in Ukraine:
Ukraine is among the top 30 IT outsourcing destinations, according to  Gartner.
According to the National Bank of Ukraine,  IT exports increased by $843 million, more than 20% in 2020
Big companies like Microsoft, eBay, Apple Inc, Skype, etc are enjoying the benefits of IT outsourcing to the country
The country boasts of having more than 212 000 IT professionals, making it a major tech talent pool. More than  60% are employed by Ukrainian IT outsourcing companies.
The Software R&D and IT Service market in Ukraine, and other countries like Poland and Romania, grows 4-5 times faster than other countries worldwide, and their major customers are the EU and the US.
Ukraine was named UK's Offshoring Destination Of The Year by  GSA
In 2021,  spending on IT services is expected to reach around $1.2 trillion globally. The growth rate is 9.8% higher than the previous year, and this could be a result of the economic impact of the pandemic.
According to  Ukraine Invest, nearly one hundred Fortune 500 companies that once outsourced to Israel or India, are now opting for Ukrainian IT services. The report further states that more than 4000 tech companies and more than 1,500 Software Development Centers are based in Ukraine. Most countries will continue choosing Ukraine IT outsourcing because the country's tax conditions are not stringent for the startups. A lot of these companies have set up their departments in major tech cities such as Kyiv, Dnipro, and Lviv: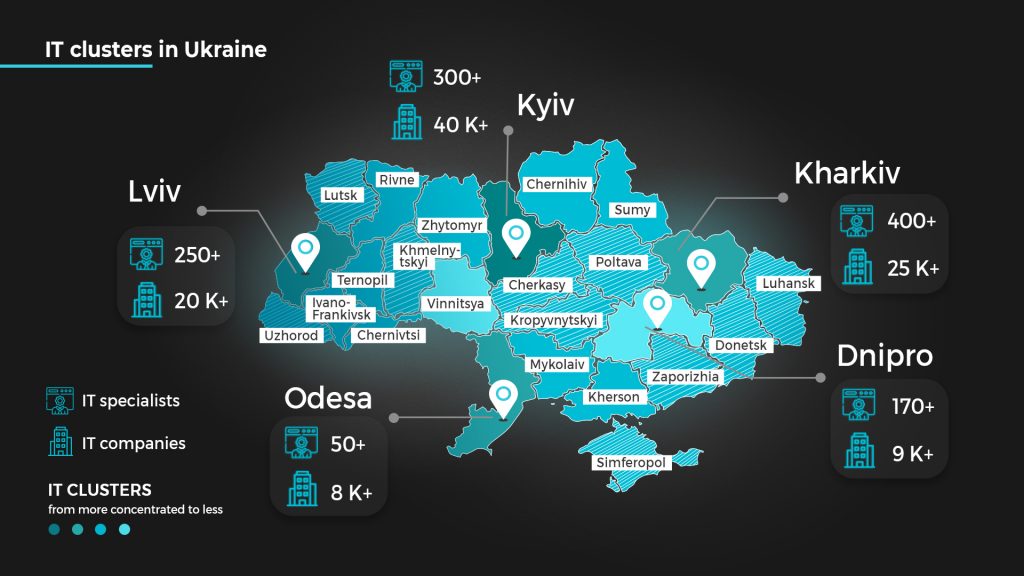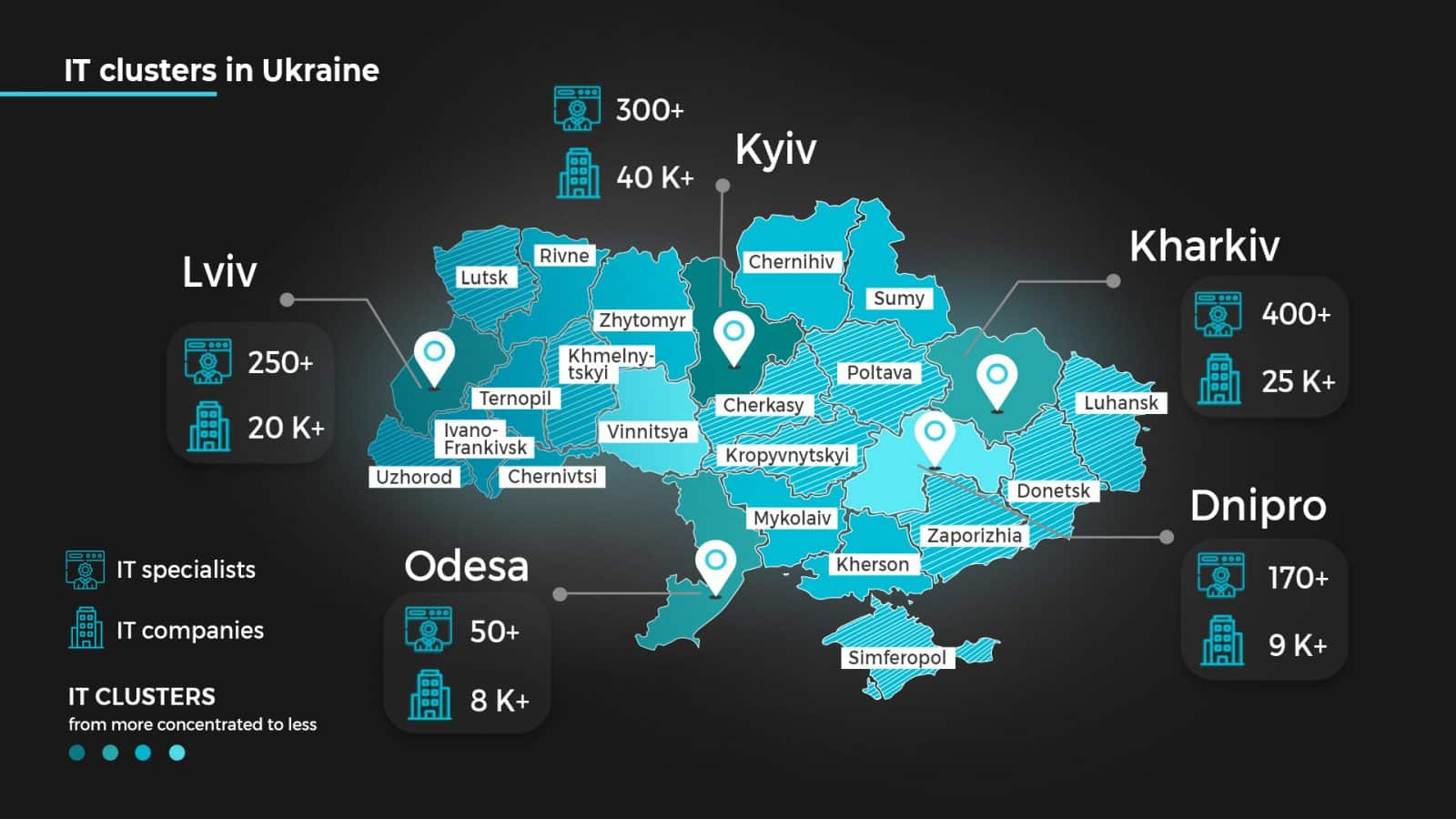 Regardless of the general economic downturn, startups in the country managed to attract a huge number of investments, nearly $571 million. It houses more than 2,000 startups, and the most well-known among them are Grammarly, Preply, Ajax, GitLab, and DepositPhotos.
5 Reasons Why IT Outsourcing in Ukraine is a Great Idea
IT outsourcing to Ukraine has been gaining so much momentum in the last decade. The country has proven to be a great IT leader, receiving project tasks from the US and Europe. It continues to hold its position in the Global Services Location Index  Top 25. But why is software outsourcing very popular among foreign tech product companies?
Let's check out the main reasons why the country has emerged as a great place for IT outsourcing.
The country has a large number of certified IT experts — The high quality of technical education in Ukraine has produced some of the best IT professionals in Eastern Europe.
Common Western values and culture — Ukrainians have the same values as their fellow Europeans — hard-working, good business approach, open-mindedness, and integrity.
No need for a visa — Ukraine offers visa-free regimes to US, EU, and Canadian citizens.
Reasonable operational costs — Income taxes in Ukraine are quite lower, and this means the hourly rate can be lower too.
Geographic position — It takes just 3 hours by plane to get to any city from Europe.
What You Need to Know Before You Embark on Ukrainian IT Outsourcing
Developing a tech business through outsourcing requires you to have all the knowledge you can get beforehand. It's not always a walk in the park, and you may feel stressed out when faced with a challenge during the outsourcing process. In this section, we will discuss what you should know before outsourcing IT to Ukraine. Let's take a closer look.
Legal requirements
Every IT outsourcing provider in Ukraine operates under the general legislative field. This means there aren't any sector-specific regulations for the IT industry. Quite a number of their IT professionals work with companies operating under the private entrepreneurship model. The contractor will have legal agreements with the private entrepreneurs, offering NSA, NDA, IP rights transfer, data protection, etc. Your contract with the outsourcing company should include the following:
Data protection regulations
Warranties
NDA
Sanctions and losses recovery
Service agreement
Pricing and billing
Tax nuances
The Ukrainian government actively supports the IT industry through tax laws. A majority of the services provided by the outsourcing company to its client are not to be subjected to Ukrainian VAT, because they do not consider it to be a part of Ukraine territory.
Also, software development services here enjoy a special incentive — they are spared from VAT, well at least until 1 January 2023. When it comes to currency control,  75% of foreign currency income should be converted into a Ukrainian one. And if the firm's transactions are under Transfer Pricing (TP) control, the company should offer a TP report and submit TP documentation when tax authorities request it. An IT company can be registered as a unified taxpayer if its annual income does not go above $865,000. Depending on the VAT regime, a unified taxpayer can pay the tax at a rate of either 2% or 4%.
Recruitment process
When you decide to recruit, make sure your company stands out so that you draw the attention of the best software developers in Ukraine. To make it work, you could write personal emails, spell out your requirements thoroughly or organize a video call. Most workers use email, Skype, or LinkedIn to get in touch with potential employers.
Cultural characteristics
The practice of Ukrainian IT companies shows their high regard for values. The managers pay close attention to their team members' work ethics and form a corporate culture that is based on the company's values. In most Ukrainian IT companies, corporate culture is meant to help employees work better. You will find most businesses setting up a good working environment with free breakfast and lunches, workshops, holidays, and other perks. Many IT organizations in Ukraine are big on promoting a healthy lifestyle. Most of them offer gym membership to their workers or even set up a gym at their offices.
Ukraine companies also have training programs for interns. The interns will have an option to work full-time in the company after graduation if they desire to do so. Moreover, the companies are constantly looking for ways to enhance their employees' productivity, so they send their workers to conferences and other professional events to be trained.
Ukraine IT Outsourcing Opportunities
If you are still wondering whether to recruit software developers through IT outsourcing services in Ukraine, you need to consider the following opportunities associated with it:
It Helps to Save Time
Consider this — developing an application for your business might take your software developer an estimated 450 hours, which is more than 18 weeks. But, if you do software outsourcing in Ukraine, you can get 4 or 5 IT experts, who can complete the project in less than four weeks.
The Best Price for High-Quality Service
If you compare with other countries like Poland, Belarus, or the Czech Republic, outsourcing software development to Ukraine is much better because the rates are good, and the country has a larger tech talent pool. On average, the hourly  Ukraine outsourcing rates are $25-$40, three times less than what a software developer in the United Kingdom or the United States earns. But of course, it varies depending on the developer's experience and level of expertise.
Flexibility With Expertise and Access to High-end Technologies
In-house developers won't always fulfill your project requirements. But when you outsource custom software development to Ukraine, you'll get a large tech talent pool to choose the best programmer that suits your project. It gets you to be more flexible, as you can find a good professional in any field for a short-term project without any hassles.
Lower Tax Rates 
All over the world, businesses must pay taxes, whether large or small enterprises. However, if you outsource some of the projects, this may help to reduce tax expenses.
Strong Startup Community
Ukraine's tech environment has also played a major role in the rapid growth of the local startup community. Some of the big companies that have emerged in Ukraine, as a result, include Attendify, PetCube, CleanMyMac, Grammarly, etc.
Global Tech Giants Have Their R&D Centers in Ukraine
Ukraine houses more than 110 R&D Centres, probably because it is one of  the top innovative economies in the world. Most of these tech companies got into Ukraine through the outstaffing model. The companies include Magento, Siemens, Microsoft, Wargaming, IBM, Boeing, Apple, Samsung Electronics, Ericsson, Skype, and Oracle. Several of these entered the Ukrainian market through outstaffing models.
Favorable Business Climate
Ukraine's economy continues to improve year by year. In 2020, the growth of the country's GDP was valued at $155.58 billion, and it is expected to reach $262.28 billion by 2026. At the end of 2020, the overall volume of IT service export was valued at $5 billion, nearly 21% growth compared to the previous year.
No Language Barrier Concerns
Schools and colleges in Ukraine teach English. It is estimated that 4 in 5 Ukrainian software developers speak fluent English. This settles all communication concerns because English is regarded as the global language of business.
Diverse Tech Talent
Some of the top IT outsourcing companies on-demand in Ukraine are software development, digital services, and consulting. Local tech companies are working well with IT experts in so many different areas of specialization. Some of the most popular directions include the following:
Cloud
Automated Testing
Angular JS
DevOps
BigData
Embedded
Java
JavaScript
Front-end
.NET
Python
Business Analysis
QA (Manual and Automation)
Embedded
Android and iOS, etc.
Risks of Outsourcing IT Services to Ukraine — What businesses should know
A good IT outsourcing review in Ukraine will show you that the industry has been growing at a steady rate. But this does not make it immune to risks and challenges. Many businesses wonder — Is it safe to outsource to Ukraine? What are the risks associated with it? Let's find out more about this.
Political Risks
Ukraine went through many years of mass protests, Russian invasions, and government change. However, this was all brought to an end, and the current government supports the country's IT industry and has brought in major economic reforms and stability in Eastern Ukraine.
Economic Risks
When the Ukrainian government failed to pay a $3 billion debt to Russia on time, the country was met with a set of legal sanctions that shook its economy. And again the country was not spared by the global economic crisis that hit because of COVID-19. However, Ukraine's IT sector has been showing stable growth with an increase in tax payments to the budgets during the crisis. The country's partnership with the EU, which involves the coordination of the EU digital union, will further contribute to Ukraine's inclusion in the global information technology market.
Lack of Transparency
Like any other country, Ukraine also  battles corruption. However, transparency in the software industry is a crucial requirement for staying on top of the IT outsourcing game.
Consider Newxel Your Trusted Partner 
Outsourcing to Ukraine is not much of a hassle when done by experts in the field. Newxel is an experienced company that can set up and support Software Development Teams or R&D Centers in Ukraine. Working in a highly competitive environment, we have clients from all over the world on our track record. Our areas of expertise include delivering Team as a Service  and establishing R&D centers for web development, mobile app development, eCommerce development, software development, and much more than this. We can help you find a dedicated software development team that can meet your business needs in just a few weeks.
Final Thoughts
IT outsourcing has helped prove the countries' greatness in the global market. It has not only set up higher IT standards globally but has helped facilitate development in many companies.
If you consider IT outsourcing to Ukraine,  get in touch with Newxel to discover the right options for you.
FAQ
Is the quality of the Ukrainian IT workforce good enough?

Ukraine has come out as one of the best IT outsourcing destinations in the world. Think of this — big companies like Grammarly, Uber, Magento, and Jooble have their development teams set up in Ukraine. This should be enough to tell you how great the quality of the Ukrainian workforce is.
What are the benefits of outsourcing to Ukraine?

There are so many benefits that your business can enjoy from outsourcing in Ukraine. These include highly educated and talented workforce; a high score on the Global Services Location Index; the diverse tech skill set that understands various languages and technologies; hub of innovation — it houses many great IT companies; favorable business environment; visa-free entry for most the countries; lower tax rates