Team Leasing in IT: Pluses and Minuses, Alternatives, Challenges
In recent years, there has been an unprecedented increase in the demand for IT engineers and software developers globally.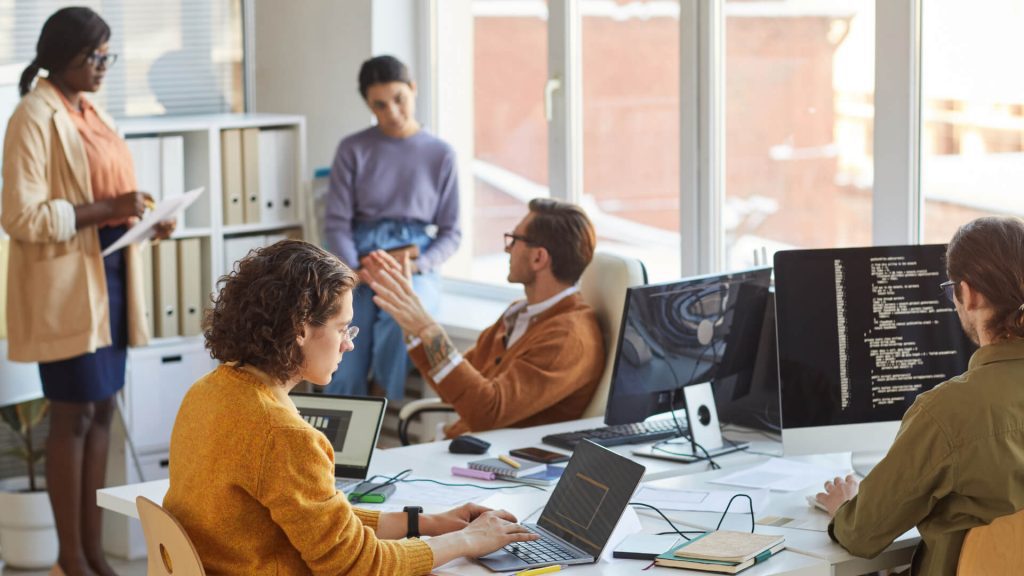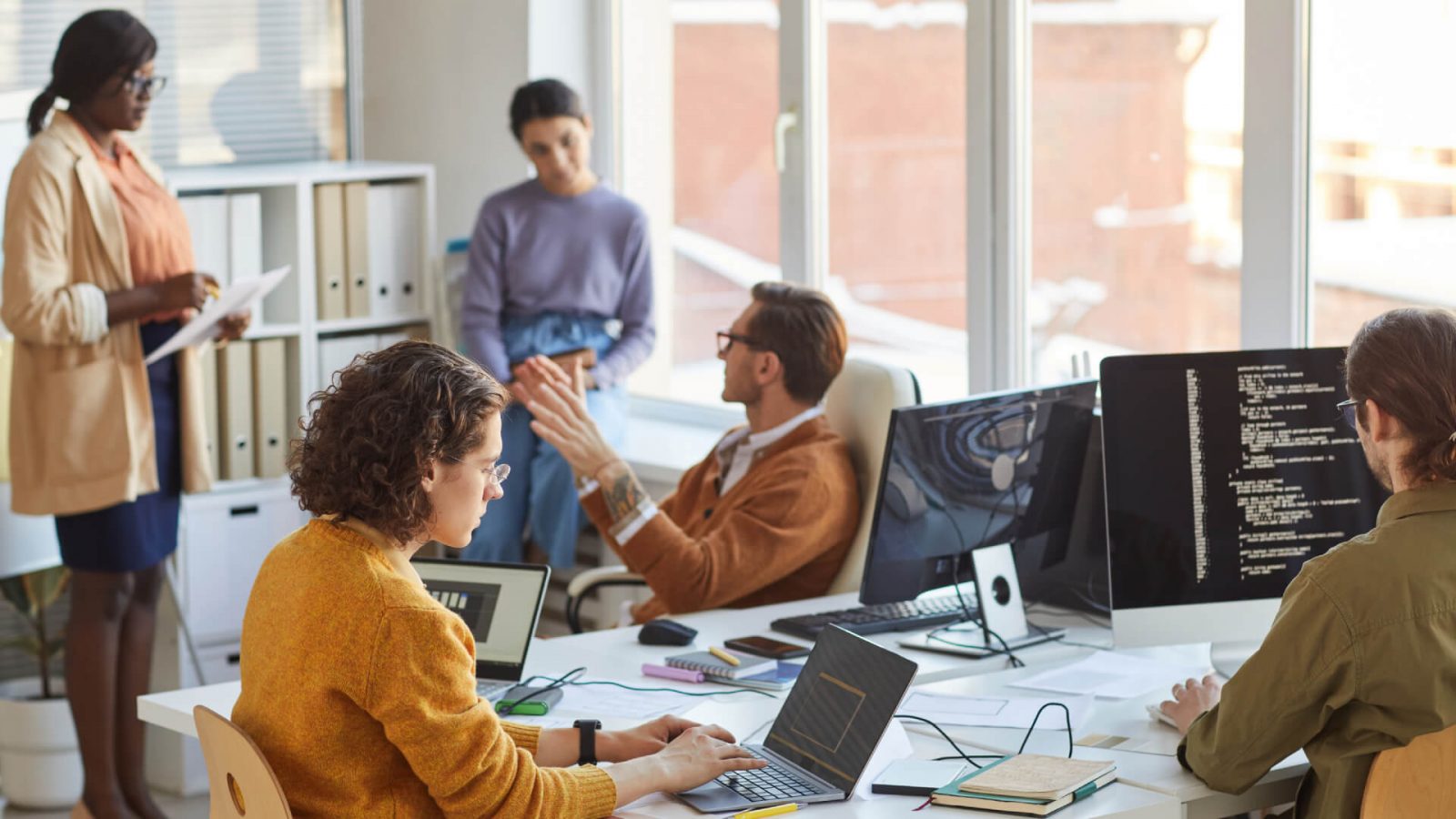 The IT industry is constantly evolving and this has led to a shortage of skilled IT talents to handle the increasing workload. In fact, according to a CNBC News report from 2019, there are almost 1 million unfilled IT positions in the USA alone. This means that enterprises and software development companies are hard-pressed to get the talent they need for their projects.
When you have a software development project at hand, you want a staffing option that is efficient and at the same time, cost-effective. For most organizations, this means team leasing or developers leasing, a staffing practice that allows you to get the IT team you need, quickly, and at a reasonable price.
This article takes a look at what team leasing is and how you can know whether or not it is ideal for your development project.
At the end of the article, you will know
How team leasing works.
The pros and cons of team leasing.
What are the other alternatives to software development leasing?
What is Team Leasing in the IT Industry?
IT team leasing is a staffing strategy that allows companies to rent their team rather than employ them on a permanent basis. It's a great option for companies that need flexible labor for short durations. It's also ideal for those who are working with limited resources and budget constraints.
If you have an IT company and you're looking to add more people, the first option that comes to mind is to find the new IT contractors for hire yourself. And that's fine — hiring in-house certainly has its advantages. However, it could take months for those people to get up to speed. One study revealed that it takes 50% more time to hire people for IT roles than other roles. This delay will affect a lot of things, including project timelines. The alternative is team leasing.
IT team leasing or body leasing in IT (where you need just one tech staff) can be a great way to hire and retain talent quickly, especially when you're growing rapidly.
You identify the positions you need, assemble the necessary skill sets and determine how much of your budget you want to spend.
Software development companies can lease a team or individual employees suited for specific IT roles. The team or employee stays with the leasing company during its contract period. At the end of it, either party can decide whether or not to renew the contract.
Team Leasing Market Share
IT companies are increasingly adopting different staff augmentation strategies to meet up the growing demand for IT workers. This is no surprise seeing that the global IT outsourcing market is expected to grow by more than 7% before 2027. Team leasing has gained popularity in the last few years as an alternative to contracting IT staff and it is expected this sector will be responsible for a good share of the IT outsourcing market growth.
Leasing a software development team is ideal for businesses that:
Already have an IT team and can lead an IT project,
Know the type of specialists they need in their team,
Are looking to save time and cost spent on recruitment,
Need to start work on a development project as soon as possible,
Require people with a particular skill set.
How Does Team Leasing Work?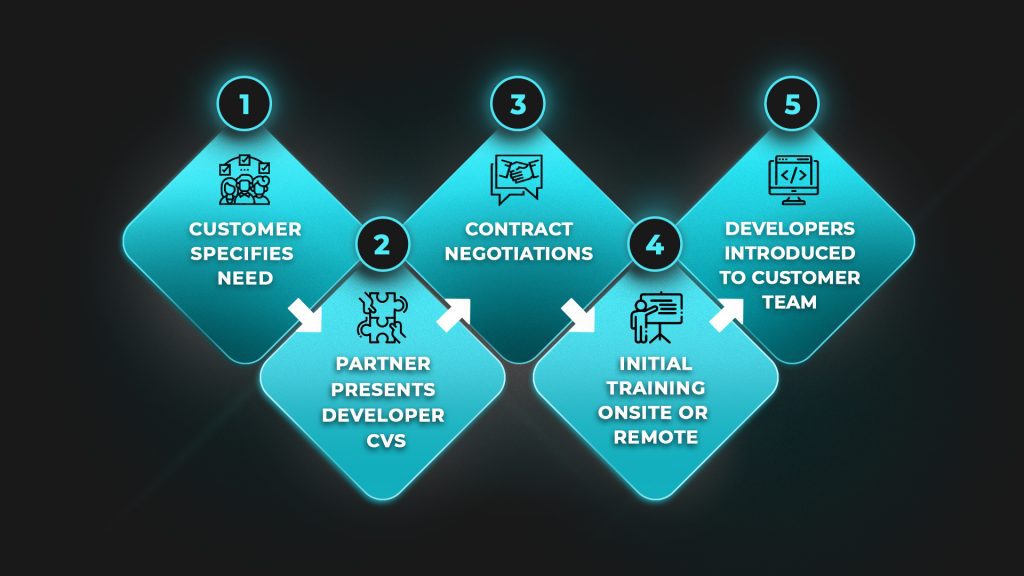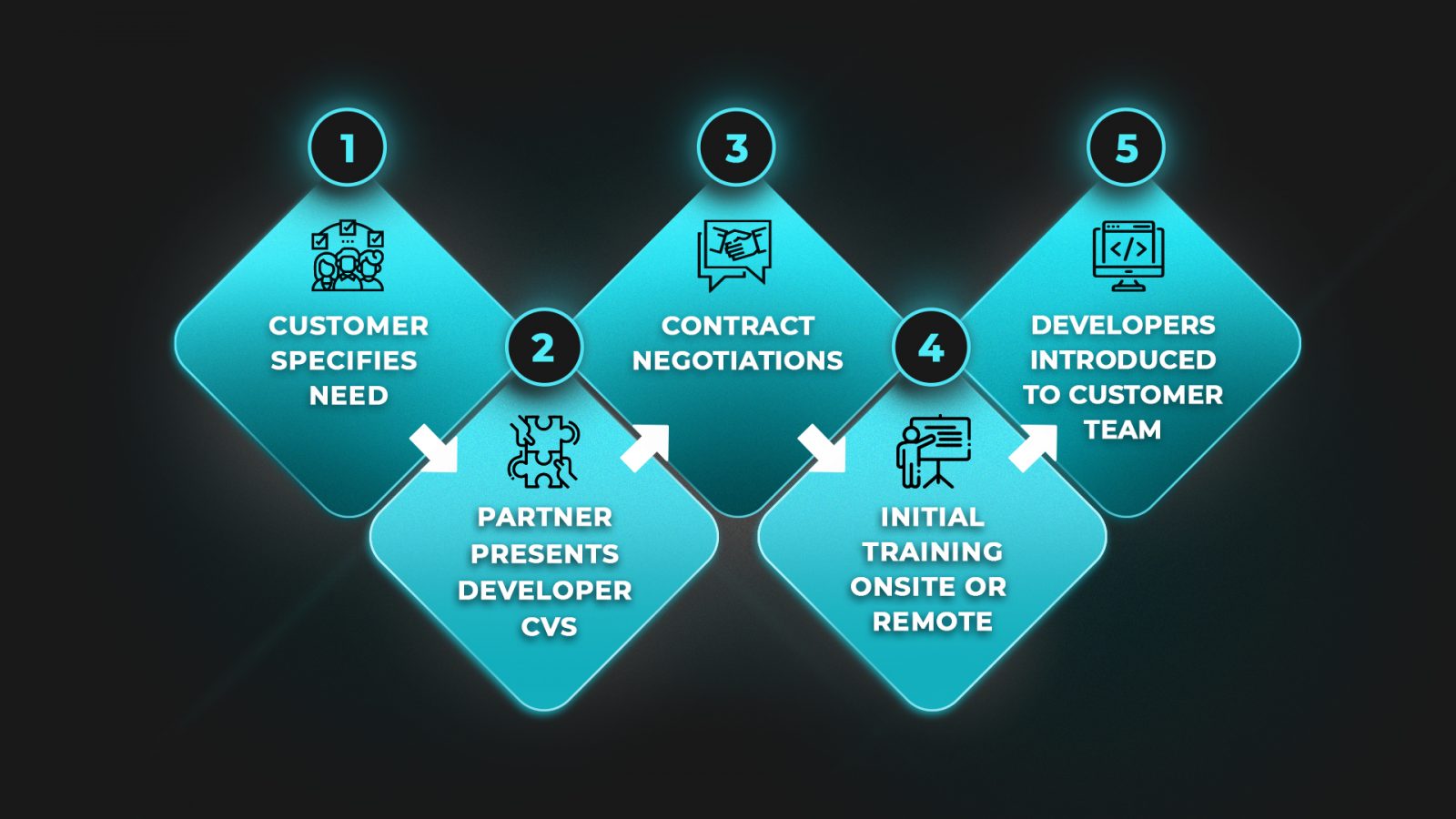 To begin with, you will need to recognize that you need people with appropriate IT skill sets. Research the countries with the largest IT talent pool and assess the labor markets in those countries. Next, select an IT team leasing service provider with the best deal. After signing a contract and receiving the leased employees, you're done.
Leased specialists are only permitted to work with you for a defined period of time before returning to their staffing agency to begin working on another job.
With team leasing, you maintain critical managerial control over the job completed by your staff while the leasing company is responsible for tasks such as payroll, taxes, benefits, and administrative expenses.
It may be difficult to end your relationship with the leasing company though. For the most part, this collaborative system tends to entail a lot of paperwork and negotiation to give you ownership rights of your projects.
What are the Pluses and Minuses of Team Leasing?
Here, we look at employee leasing pros and cons, so that you can make an informed decision for your next project.
Pros of Using Team Leasing
You can avoid a lot of HR and management work as the leasing company handles these details.
Employee health, insurance, and other liabilities are the responsibility of the leasing company so you operate with low risk.
You can run a flexible team and scale up or down as the project needs to evolve.
You save costs on hiring advertisements, background checks, interviewing, and the entire recruitment process.
You retain full control of the project even though you are using third-party employees managed by a leasing company.
You have access to a wide pool of IT experts and so can take on any project no matter what it entails.
Team leasing for software development helps you maintain your project timeframes. The additional team your leasing vendor provides will help you achieve your results faster.
Cons of Using Team Leasing
Leased teams tend to have commitment issues knowing that there is no future with your company.
Leased teams lack loyalty and motivation. They only do the job they are hired for and move on to the next one and are not concerned with the overall goal of the company.
Because you are dependent on third-party employees or IT body leasing services, any disappointment from that end can cause delays to your project.
You get to train external staff that will leave at the end of the project.
What are the Pitfalls When Using Development Team Leasing?
Using a development team leasing model can be a big help for your project. But it comes with challenges you might want to consider.
You Put Your Internal Expertise at Risk
You risk divulging greater insights about your product's development process the longer you work with leased software experts. This means that you may face the risk of how to preserve confidential information such as code, marketing strategies, and all other information about your product's business logic and data. This puts your internal expertise and processes at risk.
Hidden Charges and Buy-out Fees
Using software development team leasing means that in addition to the salary of your temporary IT workers, you must pay a fee to the leasing company. You may also be required to spend on additional training for your employees where necessary. Plus, if you intend to use leased IT staff on a permanent basis, you will have to pay the leasing company a buy-out fee. All these expenses can quickly pile up so that it is no longer cost-effective for your project.
Leaving Your Business Vulnerable 
If you have important intellectual property that needs protecting, leaving it in the hands of a third-party IT leasing team could expose it to risks that could compromise its protection. If proprietary information were leaked, it would seriously affect your business's future success.
Of course, when you look at body leasing vs outsourcing, there are some positives to leasing, especially for the company that is using this model for the first time. But it masks a far more effective strategy. Therefore, before you sign the dotted line on an IT team leasing agreement, you should take the time to explore a few more staffing options, such as setting up an offshore R&D center.
Don't limit your development project to a staffing arrangement that may not work well for you. Get in touch with us at Newxel to discuss your project and find out how a dedicated development team in Ukraine will work for your business needs.


A Better Alternative to Software Development Team Leasing
Leasing a software development team is a great way to start or expand your business. However, it has its disadvantages. Setting up an offshore R&D office can be a better alternative to software team leasing.
Tapping into an international software development team via an R&D center has many advantages over other options, including:
A greater pool of programming talent
Potential for quicker turnaround times
Cost savings (as compared to traditional outsourcing)
It enables you to increase efficiency through specialization
It provides flexibility in hiring as you can pick and choose from a diverse range of skill sets
An R&D center also delivers protected intellectual property rights and staff of devoted software engineers.
With a business process outstaffing partner like Newxel, you don't have to set up an R&D center on your own.
Newxel is an international service provider that connects enterprises across the world with top-notch software engineers by helping them set up development teams and R&D offices in Ukraine.
Our bespoke service means that you can quickly engage the necessary IT expertise and set up an efficient offshore dedicated development team in Ukraine.
For more than 5 years, we have been successfully helping dozens of enterprises establish highly successful development centers in Ukraine and provided them with teams of highly skilled developers.
Here are a few examples:
The Ukraine R&D Center for Skai
Skai, formerly Kenshoo, is a technology platform that delivers self-service applications for marketing solutions. Even though they already had a presence in Ukraine, Skai had plans to scale and contacted us for our expertise.
Rather than outsource, Skai sought a local R&D office with 5 Java and Scala developers. We were able to rent and arrange the office space and the essential equipment in about 6 weeks.
Since then, we've built a second Skai team with additional programmers separated into two groups led by local team leaders. These teams have consistently helped move the enterprise towards its goals.
R&D Center for Hideez
Hideez was looking to open an R&D center in Kyiv that will help expand its development capabilities.
Our partnership started in September 2016. The development team was built in about 4 weeks. Innovative and modern cybersecurity solutions, as well as an individual security system, are some of the projects developed by the team of 10 software engineers employed by Newxel for Hideez.
As you can see, Newxel excels in establishing, managing, and growing the R&D centers for development companies, especially when it concerns software development in Eastern Europe. Leverage our years of industry experience to develop your offshore development center. We can help you to handle everything about your R&D office, from recruiting to legal and compliance to setting up the workspace, to accounting and payroll.
Get started today by requesting more information.
Final Thoughts
These days, when high rates of employee turnover are the norm, leasing for software development can be a cost-effective solution to moving your production process forward. However, a well-equipped offshore R&D office is the better option for IT software development.
The structure, access to skilled talents, and intellectual property rights are all favorable factors in setting up an offshore R&D office as opposed to software development team leasing. This model is unmatched when it comes to measuring performance management vs. talent management. In fact, you get the best of both.
However, at the end of the day, the key is to work with the right partner who can deliver the resources needed to make your project a success.
Get in touch with our experts at Newxel today to discuss your idea and see how Newxel can connect you to the right team in Ukraine.
FAQ
What Is Team Leasing in IT?

IT team leasing or developers leasing is the practice of providing an IT company with access to independent contractors (typically, software developers). This gives the company access to the talents they might not be able to hire full-time — and the flexibility to adjust the level of resources when they need it.
Who is the employer of an IT leased team?

A staffing agency or body leasing provider typically employs leased teams and pays them, manages their benefits, and performs other HR-related activities.
Are leased teams eligible for benefits?

Leased IT teams who are employed by a leasing vendor may be entitled to benefits. Some leasing companies provide health insurance, commuting benefits, bonuses and discounts, and retirement savings schemes.