How to Find Qualified Software Engineers for Israeli Companies
It is no secret that Israel has become a new Silicon Valley, and Tel Aviv, with its numerous progressive startups, is one of the hottest tech hubs in the world. Besides high-tech industries also concentrate in Haifa, Caesarea and Jerusalem – a capital of recent technological establishments.
However, a shortage of IT talent is the primary reason why the Israeli tech sector has faced development issues and put innovation on pause.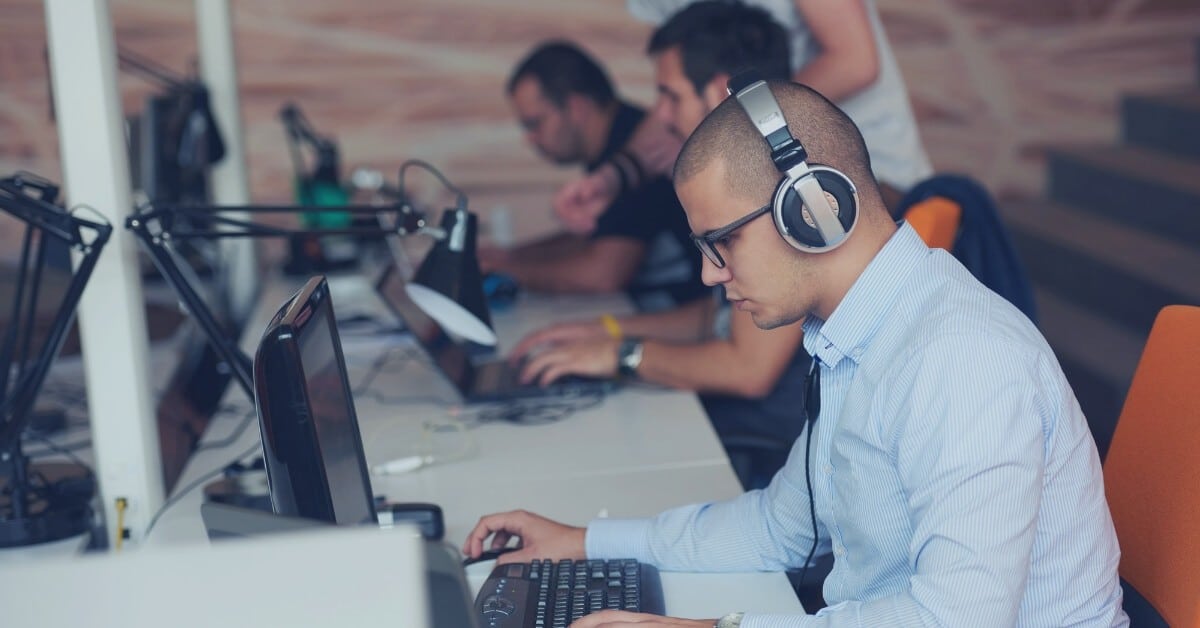 According to the Start-Up Nation Central report: demand for skilled engineers like DevOps, Front-end, and Back-end keep growing significantly. That is to say, in this year the gap of software developers in Israel rise to 15 000. An impressive number, isn't it?
Where to find great software engineers?
Meanwhile, it becomes clear why Israeli hi-tech companies concerns where to find proficient programmers either for an app or web development. As a result, most of the local companies have turned to offshore and keep opening own R&D offices in Ukraine, Poland, Romania, etc. while others still use outsourcing services.
No doubts! Building an offshore R&D Center with a leading development team on a board is a perfect solution to tackle the domestic lack of expertise and cut down on expenses.
An interesting fact: Every fourth Israeli company has established a development center overseas, and Ukraine is one of the most preferable destinations! Let's try to figure out the main reasons for that.
The popular offshoring location recap
According to the Global Sourcing Association, Ukraine has emerged as the top offshoring destination for a lot of international companies. In addition, it is the main competitor to India, the biggest IT outsourcing hub in the world. Several pure facts below explain why Ukraine is an ideal "development haven" for Israeli companies and startups.
1. Access to a vast database of candidates
Currently, the Ukrainian IT industry includes roughly 184,700 software developers who are skilled in a variety of frameworks, tools, and programming languages, such as Java, PHP, JavaScript, Python, Net, C++, Visual Basic, Ruby, etc.
In fact, by 2025 the number of developers in Ukraine is projected to increase by 300 000 and even more.
Indeed! With this pool of talent, Israeli businesses can easily hire the best specialists in line with their unique requirements and specific project tech stack.
2. Highly qualified and educated specialists
Ukraine is a country with engineering-oriented education systems. There are over 200 technical universities with comprehensive curricula preparing students for jobs requiring high-level qualifications.
Moreover, Ukrainian programmers with a strong educational background continue to improve their skills and brush up on their knowledge constantly.
They attend meetups, IT conferences, hackathons, courses in disciplines such as AI, Data Science, IoT, Machine Learning, Computer Science, and more.
3. Nearshore partners
The same time zone makes it more convenient to manage and work with remote staff. Obviously, day-to-day communication, knowledge sharing, and online meetings will be more effective if you can easily synchronize the work schedule.
Direct 3 hours flights from Tel Aviv are available to major cities in Ukraine such as Kyiv, Odesa, Dnipro. In addition, the governments of these two countries signed a non-visa traffic agreement. Hence, visiting your extended team and outstaffing partner would not be a problem.
4. No Language Barriers to Communication
Despite what level of developers are required: Junior, Middle or Senior engineers/architects – most Ukrainian programmers speak English at an intermediate level. This ensures that there are no misunderstandings between you and your team abroad.
Also, 90% of local inhabitants speak Russian fluently. So direct communication and project task delivery with your remote workforce will be easily established.
5. R&D Centers in Ukraine owned by global corporations
In a few words, the experiences of multinational companies are the best example of how businesses can thrive with the help of Ukrainian programmers. For instance, the world's leading companies in software development for mobile platforms (Samsung, Microsoft, Huawei, Siemens, ABBY, etc.) have already had their own offshore R&D Centers in Ukraine. Most engineers work on innovation in software, gaming, telecommunication, and e-commerce. Israeli R&D centers in Ukraine overview:
Gaming: Plarium, Playtika, SBtech
Software: Benish Group, Check Point, YaelGroup, Mellanox Technologies
Web tech: Wix, SimilarWeb
Fintech: Leverate, Payoneer
Audio processing: Waves
Internet: MyHeritage, Imonomy, Verbit
Wireless: Celeno, Ceragon
6. The average salary range is still relatively low
Several years ago developers' salaries were the main attraction for foreign businesses, but not so much now. The average software engineer's salary has been raised; however, it is still lower than offered in other European countries.
Another upside is a simple and low tax system in Ukraine. Moreover, the government strongly supports the IT industry by implementing positive legislative decisions and laws. The prime purpose for this is to increase the quality of Ukrainian IT market and make it more convenient for foreign companies to open own office with R&D team in Ukraine.
As clear proof let's compare the Average Software Developer Pay in Israel and Ukraine.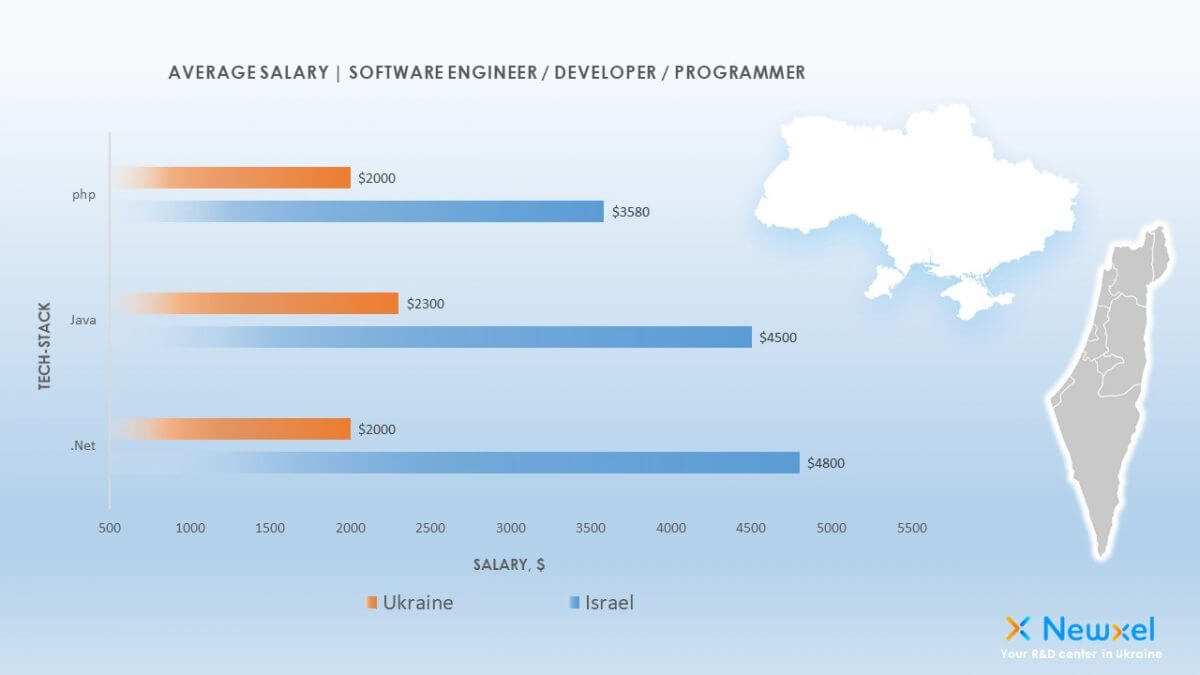 The bar chart above compares salary ranges between mid-level developers skilled in different web languages. It is clear that, for the same price, Israeli businesses can get the best Senior Software Developers from Ukraine.
Dedicated Development Team with Newxel
At Newxel we set up development teams abroad following clients' specific requirements and purposes. What is most important is that our clients manage the remote workforce directly, overcoming challenges, and implementing new software solutions.
Consequently, you get the core team while Newxel takes care of:
Recruitment: searching, interviewing, and hiring the required developers
HR support and team retention
Infrastructure: fully equipped, branded office with office managers and system administrators, access security systems, and other facilities
Dedicated HR/Partnership manager: who will bridge the gap between you and the software development team. Daily coordination and communication are included
Accounting Support: bookkeeping, payroll taxes, reports, and salaries for your full-time remote employees
Administrative Support
Above all, Newxel is clued to clients' interests and specific needs. We know exactly how important to build the right command, share company values, and create an appropriate work environment, especially, when we are talking about innovations.
RELATED POSTS
9 FAQ about growing software development department offshore
How to Manage an Offshore Development TeamContact Us