Angular Developer Salary All Over the World: In-Depth Market Research
Of all the Javascript frameworks available, Angular is one of the most preferred. This is due to the vast global demand for web development — which is projected to grow by 13% between 2020 and 2030. While the increase in need is a good thing, it comes with a significant problem: the shortage of software engineers and consequently increased Angular developer salaries.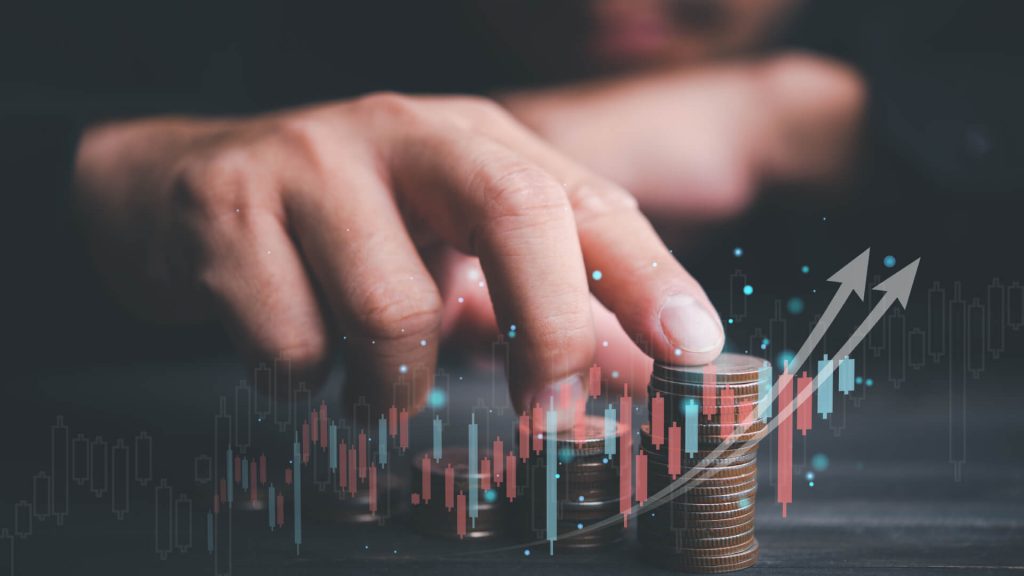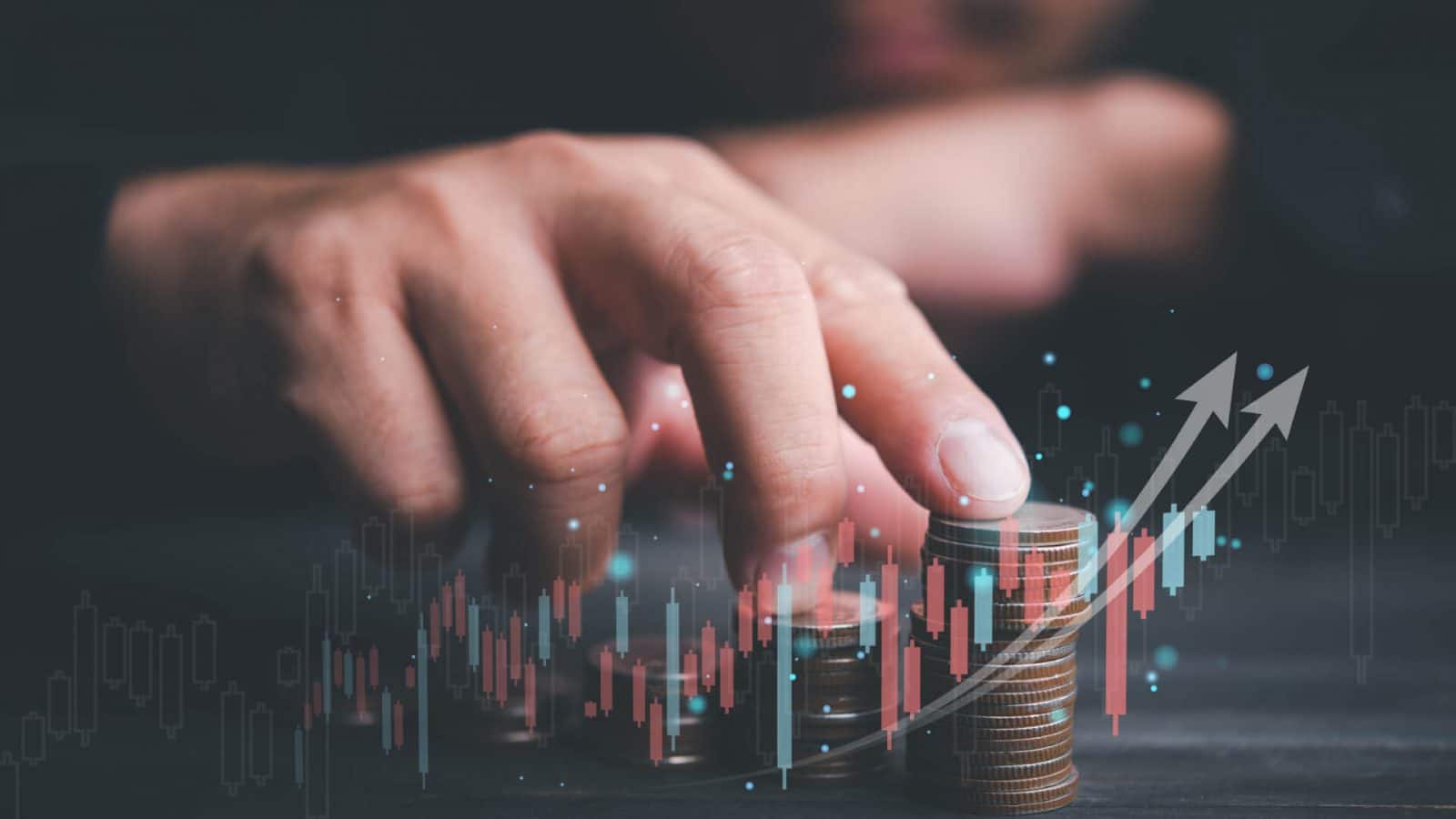 Therefore, to keep up with the developer shortage and mitigate the rising costs, many US and European companies are outstaffing their software development in Eastern Europe and other parts of the world.
However, determining the right Angular UI developer salary can be overwhelming, considering the rates significantly vary by region. According to Ziprecruiter, the Angular developer salary can reach an average of $108,361 per year in the US. But how does it compare with the rest of the world? This article highlights the importance of this top-of-the-range web framework in 2021 and equips the reader with the average Angular developers' salaries across the globe. With this information, you'll be able to hire experts without much hassle and at the right price.
Angular Developer Global Market Trends
The demand for Angular web developers can be seen by the number of companies constantly using the framework. Did you know that companies like Google, Indiegogo, GitHub (forum), Forbes, BMW, Crunchbase, and Deutsche Bank, among many others, use Angular? The Angular framework has diverse capabilities, from building robust web applications to crowdfunding platforms, pages, forums, and marketplaces. And all of these require the expert knowledge of an Angular developer.
According to the recent StackOverflow survey, Angular is the 3rd most popular web framework.
Check out the graph below: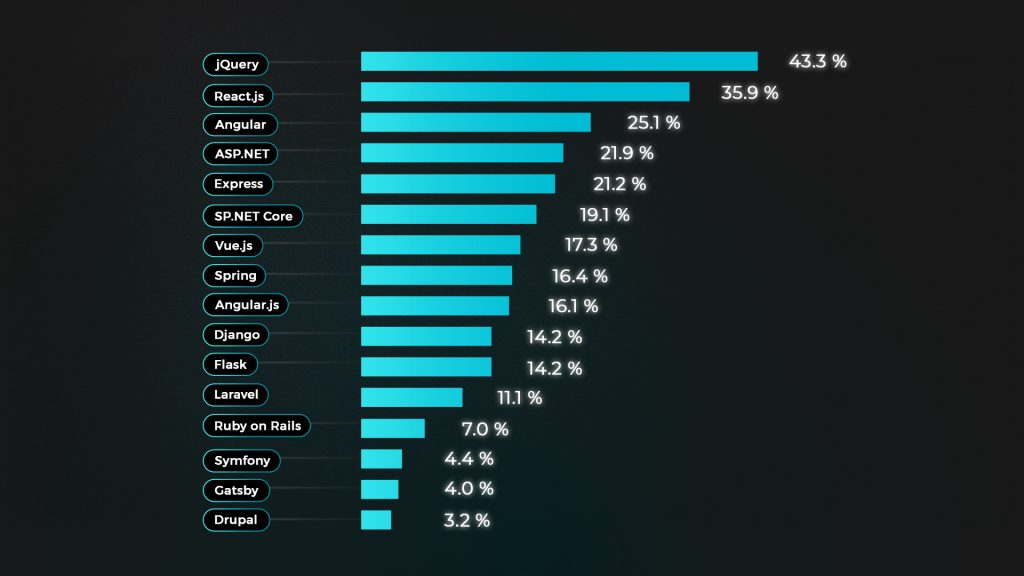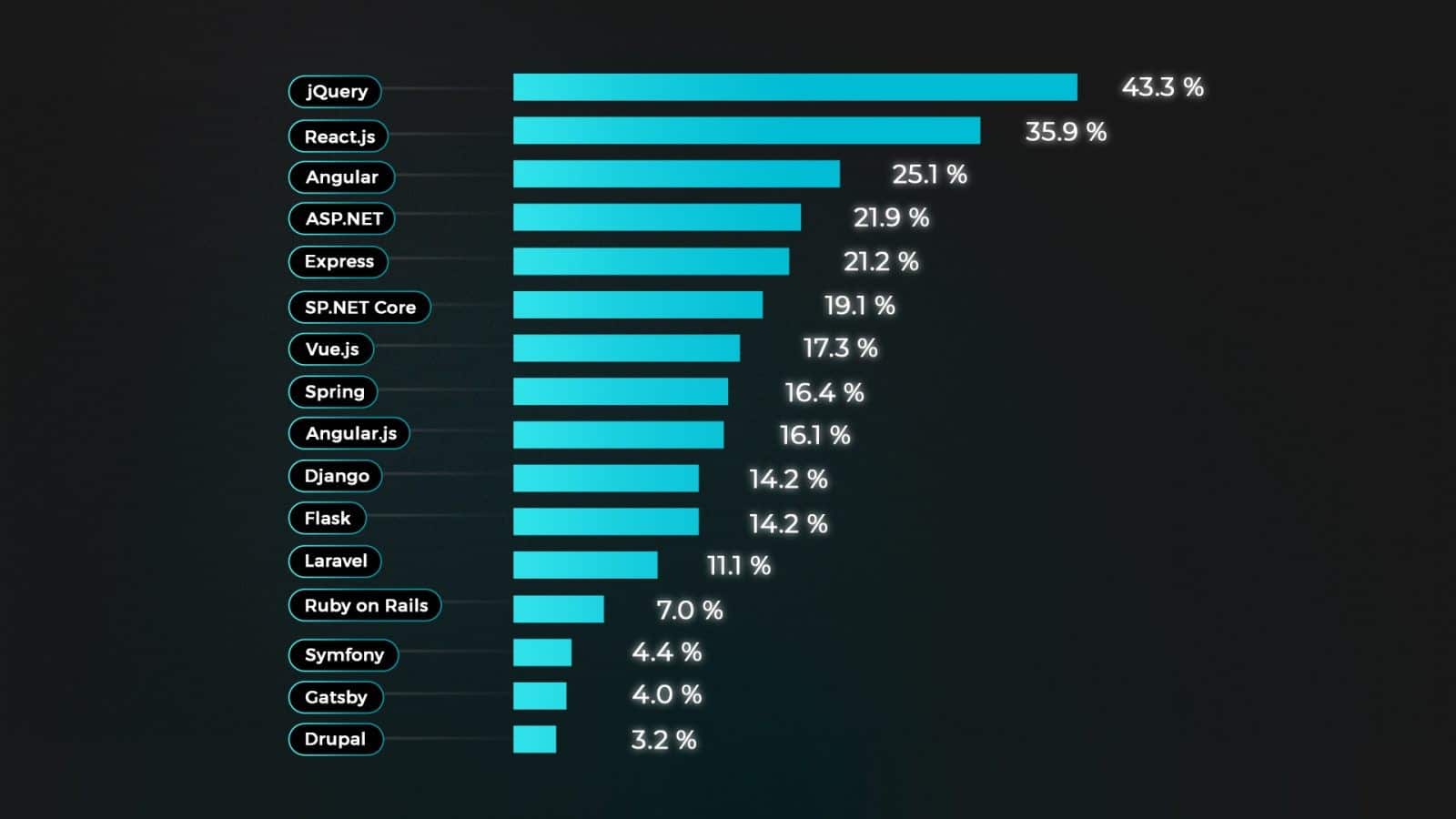 The popularity of the Angular framework continues to grow as new versions of Angular are released. The latest versions support everything, from dependency injection to fast page rendering, navigation, configured tools for testing, stylish UI components, server-side rendering, minimization, deployment, and much more. So before you determine your Angular engineer salary, you need to make sure they are acquainted with all of the above.
Why Angular is Considered One of the Most Popular Web Frameworks
Angular is considered a better option for several reasons compared to frameworks like Vue and React. For starters, Angular can extend the HTML code into the application and interpret the attributes to carry out data binding with just a few clicks. In addition, one can develop single-page applications (SPAs), enterprise-level dynamic web applications & dashboards, cross-platform applications, and progressive web apps (PWAs) with this robust framework.
Angular has made available various new features and improvements that have remarkably increased speed and performance, adding on to the reasons of its popularity, which include:
Ease of use
Coding modularity
The single-page application implementation features
Ease of application testing
Readily available filters
Two-way data binding
Works on the client-side
Immense expert community support
The model view controller architecture
Like any product or service, this popularity means a rise in demand which increases cost. However, a closer look at developer salaries from around the globe shows that you don't necessarily have to break the bank to have Angular experts work on your project.
What can you develop with Angular?
Angular keeps ever-evolving based on requests from Google and the Angular community making it one of the ideal frameworks for businesses and enterprises.
Here's what you can develop using the framework:
Single-page applications (SPAs)
A SPA is a web application that consists of a single HTML page, can load new JSON data from the server, and rewrites the page in response to user actions. You probably use SPA on a daily basis. A few examples of SPA are Paypal, Facebook, Netflix, Gmail, and Twitter.
Enterprise-level dynamic web applications & dashboards
Angular is a great framework for financial tools, interactive dashboards, and admin dashboards. With the help of a dedicated development team from Ukraine, you can create data-driven, automated dashboards and management tools.
PWAs
Progressive Web Apps (PWAs) are web applications that use service workers, manifests, and other web-platform features together with progressive enhancement to give users the best experience with native apps.
They offer a number of advantages to users such as being linkable, installable, progressively enhanced, responsively designed, and secure against any 3rd parties trying to get access to confidential data. Big companies that use PWAs are Forbes, Twitter, Starbucks, The Weather Channel, and many others.
Cross-platform applications
Angular makes it easy to develop cross-platform apps because of the code-sharing feature. Code sharing allows developers to "write once, use everywhere", and this can be done on any web browser, desktop OS, and smartphone. However, cross-platform capabilities are not needed in every project, but somewhere down the line, it could be beneficial to turn your web app into mobile, and Angular provides the right tools to do that.
A closer look at the Angular developer salary
Developers in countries such as the Philippines and India usually get the lowest salaries while the Angular full-stack developer salary in Australia, Northern America, Western Europe, and Israel is among the highest in the world. However, Eastern Europe seems to occupy a sweet spot that strikes a perfect cost-effective balance of Angular 2 developer salary, Angular 4 developer salary, Junior-level, and senior-level salary rates.
Here is a sample of annual salaries by country according to Payscale before going into a detailed region by region overview:
Switzerland – $124,608
Australia – $120,000
Canada – $81,000
Japan – $101,835
US – $94,879
Netherlands – $74,010
UK – $70,892
Germany – $58,391
France – $48,033
Ukraine – $32,700
Angular Developer Salary in North America
The 'land of the free' is among countries with the highest cost of living and consequently high salaries. It has become a standard for the rest of the world. Therefore, we will use the US as a reference point in this salary review. In North America, Angular developers earn an average of $69.6k per year. The US pays a significantly higher amount which is about five times that of Mexico on the lower end. Canada doesn't lie too far behind the US, with a difference of about $28k.
| | | | |
| --- | --- | --- | --- |
| | USA | Canada | Mexico |
| Average | $109k   | $81k  | $19k   |
| Entry-level | $43k  | $57k | $13k   |
| Senior-level | $158k   | $101k   | $24k  |
Angular Developer Salary in South America
According to Glassdoor, the Angular programmer salary estimates show that South America is an affordable destination compared to North America. We have used Brazil and Argentina to represent the region that pays out an average of USD 11k per annum. The lowest paid in North America (Mexico) earns more than the top paid in South America (Brazil). Below is a table for the average, entry-level, and senior Angular developer salary in South America.
| | | |
| --- | --- | --- |
| | Brazil | Argentina |
| Average | $12k  | $10.6k  |
| Entry-level | $4k  | $5.7k  |
| Senior | $18k   | $26.2k  |
Angular Developer Salary in the European Union
The European Union is home to capable, well-paid developers. However, there is a considerable wage gap when comparing countries here. The table below shows that the highest-paid within the region earns about $88k in Germany while the lowest (Italy) makes $46.2k annually. Compared to the US, all Angular developers in the European Union earn considerably less. However, the least paid here earns more than 3x the highest paid in South America.
| | | | | | |
| --- | --- | --- | --- | --- | --- |
| | United Kingdom | Germany | France | Italy | Spain |
| Average | $72k  | $88k | $51.5k | $46.2k | $54k |
| Entry-level | $44k | $59.5k  | $34.3k | $32k | $38k |
| Senior-level | $89k | $104 .8k | $78k | $70.6k | $67k |
| | | | | | |
| --- | --- | --- | --- | --- | --- |
| | Norway | Netherlands | Sweden | Austria | Belgium |
| Average | $87k | $80k | $64.3k | $55.8k | $76k |
| Entry-level | $46,5k | $56k | $39.3k | $32k | $59k |
| Senior-level | $98,2k | $98.8k | $82k | $71.8k | $104 k |
Angular Developer Salary in Eastern Europe
According to statistics, an Angular developer in Kyiv, Ukraine, can charge between $3,000 and $ 4,000 per month, which seems like a jackpot considering the unmatched quality they produce, their excellent English proficiency, and the high availability of capable developers. Compared to other countries in Eastern Europe, Ukraine houses some of the lowest earners due to a lower cost of living, low taxes, and great government support for IT outstaffing.
These countries all earn considerably less than the US and the EU, as expected. Though they are more costly than Brazil and Argentina. They are more reputable and dependable with a more significant ROI. See below the yearly salaries for four countries in Eastern Europe:
| | | | | |
| --- | --- | --- | --- | --- |
| | Ukraine | Poland | Hungary | Czech Republic |
| Average | $41k | $44.5k | $42k | $40k |
| Entry-level | $20k | $29.5k | $27k | $24k |
| Senior-level | $58k | $65.5 | $56k | $52k |
Angular Developer Salary in Eastern Asia
Developers in Eastern Asia earn an average of $47.6k, which is more than Eastern Europe, and South America and lower than the US and the EU. The export of Angular developer talent from here to the United States and European Union is to some extent hampered by time zone differences and language. Within the region, Japan is the highest-earning destination while South Korea is the least.
Looking for the Best Angular Developers? Consider Newxel Your Trusted Partner
Newxel offers you unique solutions customized to meet the specific needs of your business. For example, if you need to establish an R&D center in Ukraine, we will build you a cost effective offshore development team that can work harmoniously with your company.
Case study
As an outstaffing company, we have successfully hired dedicated programmers in Ukraine that have helped many companies worldwide progress with tech solutions. A case to reference is a company that offers chips and software technology that engaged us to hire a development team. As a result, we hired 4 QA specialists and expanded their existing team in two months. Today, the client's dedicated development team from Ukraine has 15 people, including a Site Manager.
We can provide your business with hand-selected remote software developers with the highest expertise. We help them understand your company goals and policies, just as much as your in-house development team would know. Also, your company can select the preferred management approach and tools that work well for your business.
Your team will be ready in no time! So get in touch with us and extend your company.
Final Thoughts
Angular gives developers everything they need to build robust, scalable, and well-performing applications. Because Angular continues to be the developer's favorite, it remains highly in demand and can offer your business a powerful platform in a highly competitive environment. However, due to talent shortages, it is becoming more difficult and expensive to hire Angular developers.
Remote Angular developer salary is strongly determined by the location. Though there are destinations with low wages, the best option always strikes a balance between cost-effectiveness and quality. Developing with Angular in the US is undeniably expensive, yet there are affordable destinations like Ukraine, whose Angular developers do not compromise on quality.
Newxel has an excellent track record of hiring only the best to fill the needs of companies worldwide with top talent that delivers timely quality. Contact us today and find out what kind of team we can set up for you in record time.