Ukrainian Software Developers: 10 Reasons & Benefits to Hire in Ukraine
Over the past few years, Ukraine has made a name for itself as a top outsourcing destination and is even predicted to exceed US$8.4 billion of industry export volume by 2025. But as a savvy specialist, you aren't going to just take hearsay's word for it, right?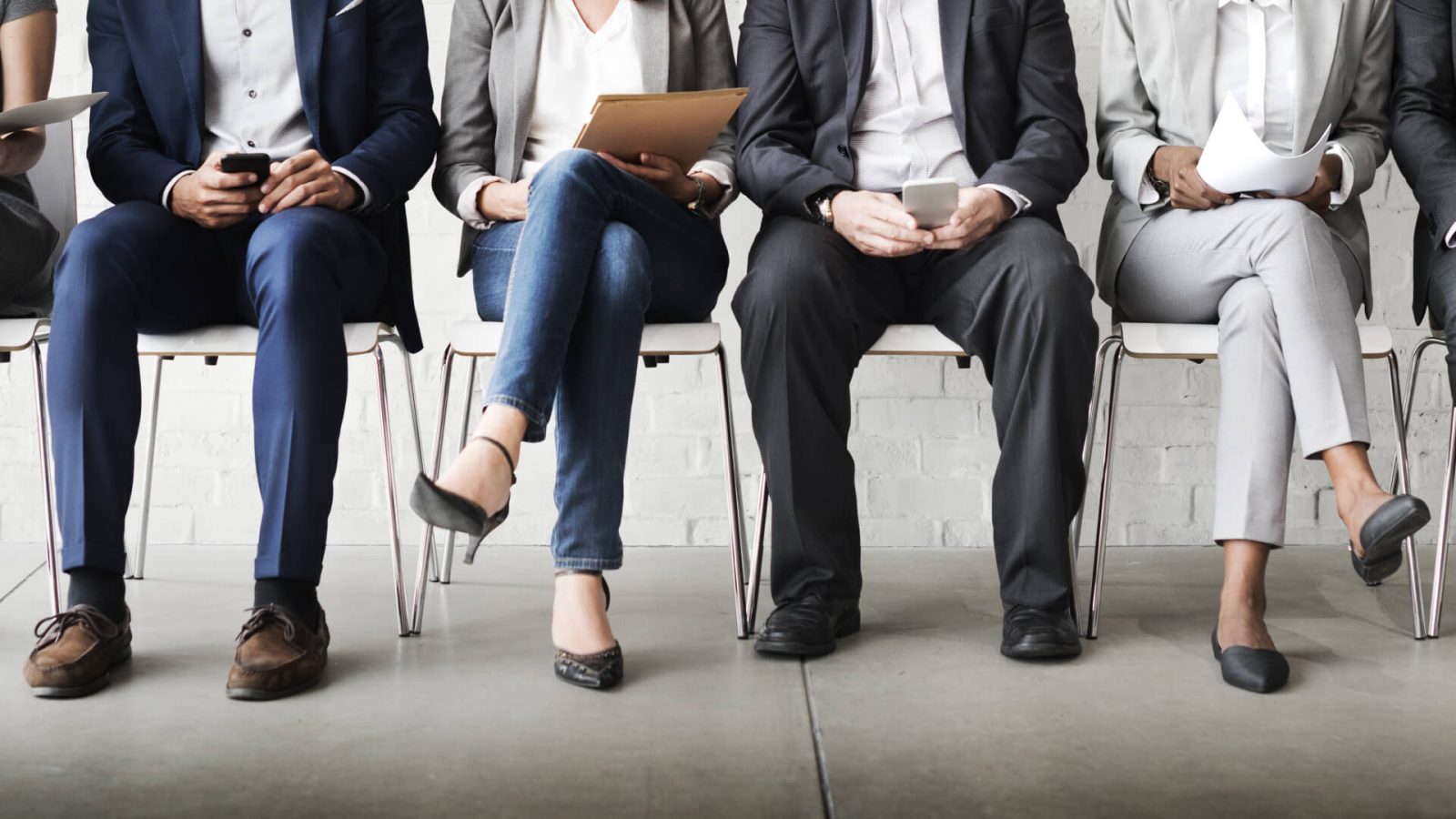 You want to know, exactly, "why Ukraine?" How did the country become among the 5th strongest IT outsourcing/outstaffing destinations globally and recently exceeded $5 billion in IT services exports? Why do giant tech companies like Samsung Electronics, Apple, and Microsoft prefer IT outstaffing in Ukraine?
In this article, we are going to leverage our experience working with the IT outsourcing landscape in Ukraine. Our experts have gained unique expertise and insights into the industry, and in this article, will explore what makes Ukrainian software developers different and the benefits they can bring to your organization. At the same time, to be fair, we are going to reveal the potential challenges you might encounter outsourcing to Ukraine, as well as solutions on how to dodge the common pitfalls.
Current Situation in the Software Development Industry
The Grand View Research valued the global software and services business market share at about $389.86 billion in 2020. This is probably the highest ever market value in the last decade, thanks to the growing adoption of remote-centric business practices during and post-pandemic. The industry's market value is expected to grow at a compound annual growth rate of about 11.3% for the next seven years.
One of the main factors spurring this high growth rate includes the increasing demand for business processes automation across various end-use industries such as transportation, retail, healthcare, and manufacturing. Small businesses are also deploying multiple enterprise software to boost their market position, influence prudent decision-making, enhance profitability, and optimize inventory costs.
For these reasons, businesses are often skeptical when outsourcing IT or software development services. Among their many concerns are the availability of resources, advanced technology, amicable service level agreement, better pricing, and the ability to meet stringent deadlines. At present, the countries ordering the most software development services are Australia, Germany, the USA, UK, Sweden, Singapore, and the Netherlands.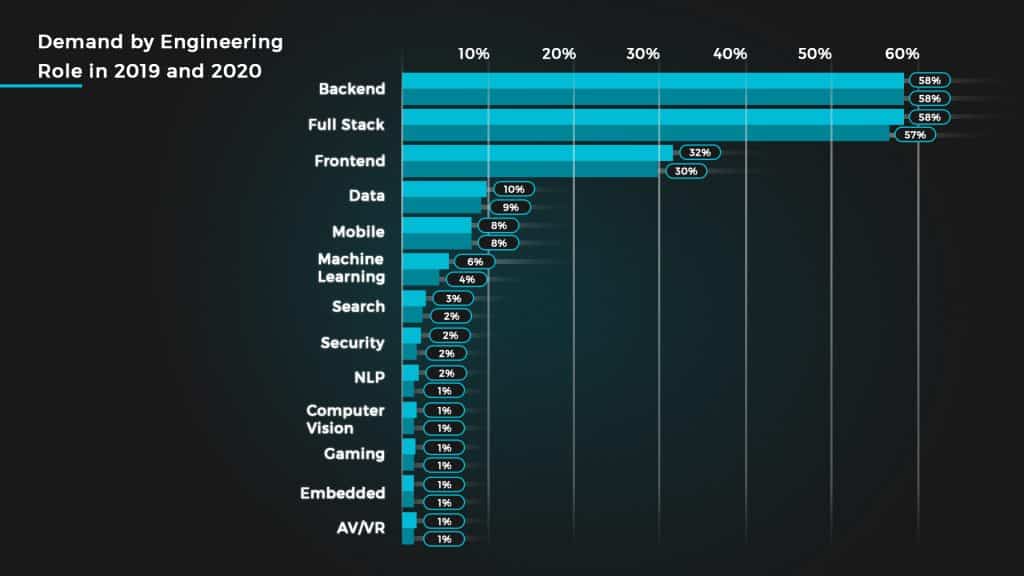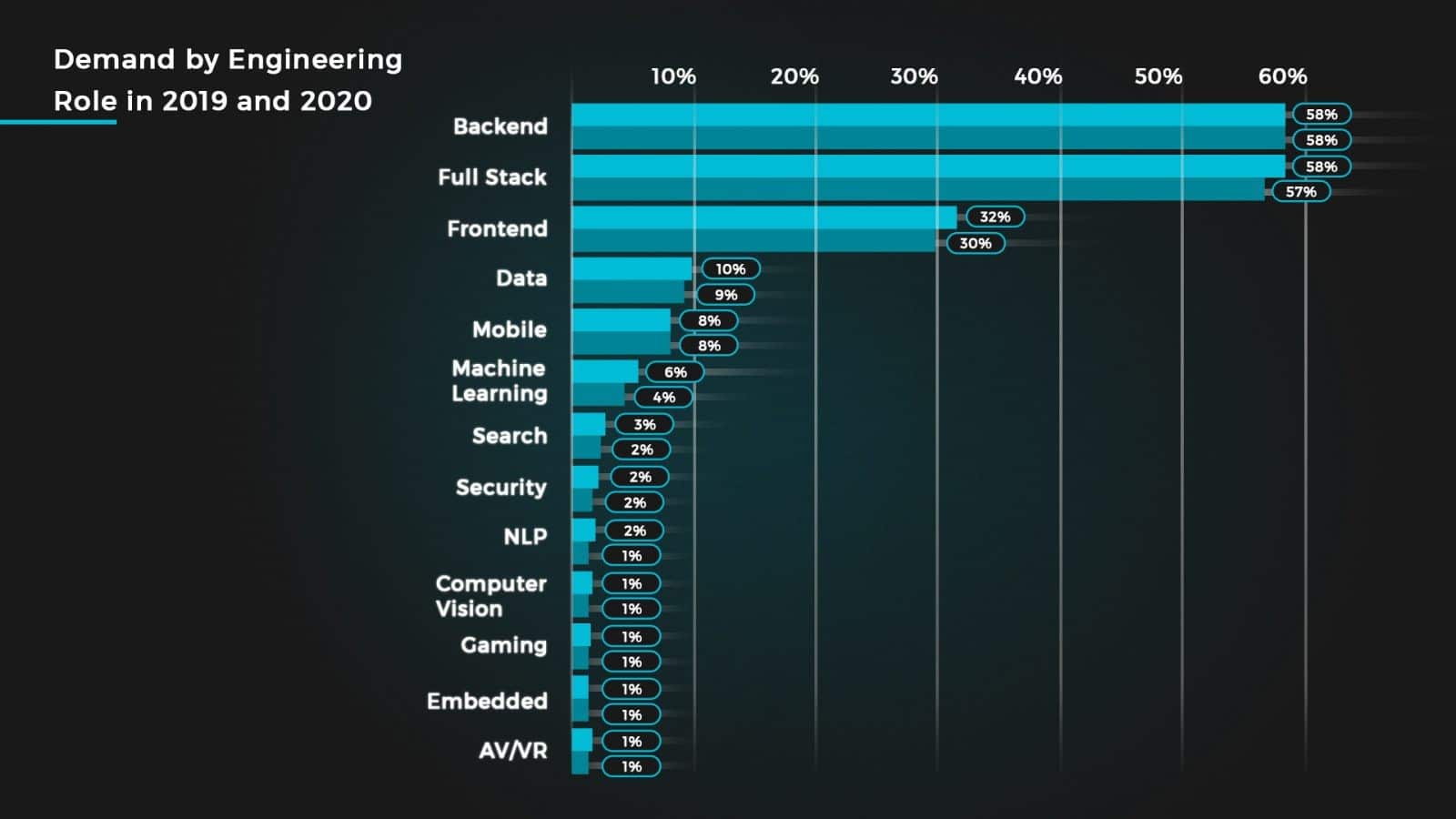 Source: https://fossbytes.com/top-software-engineering-jobs-coding-skills-in-2021/amp/
10 Reasons and Benefits to Hire Software Developers in Ukraine
In Ukraine developers got the recognition as the go-to option for IT outsourcing/outstaffing is growing consistently. In 2020, amid the pandemic, software developers in Ukraine for hire exported 20.4% more of their services, crossing the $5 billion mark for the first time. Traditionally, the industry grows at the rate of about 25% to 30% year over year.
But why? Below we are going to explore the benefits of hiring Ukrainian software developers as opposed to other global destinations for outsourcing.
Get an Excellent Match from a Pool of More Than 200,000 IT Professionals
Ukraine boasts one of the largest talent pools in the world, with more than 200,000 IT specialists. And the best part is that it's not just the quantity but the quality as well. According to recent research, developers in Ukraine score up to 93.17 % in expertise and proficiency. The SkillValue's 2019 report ranks them at position four in the whole of Europe. And globally, in Ukraine app developers rank first in Unity3D game development.
These are just, but a few of the accolades Ukraine has earned for its outstanding IT talent over the years.
Strong Tech Skills and High-Class Education
Due to a consistently growing number of Ukrainian software development companies and a large talent pool, competition is stiff in Ukraine. To keep up, Ukrainian developers have to consistently sharpen their skills.
Such an environment significantly helps Ukraine's IT specialists stay one step ahead. More than 75% of Ukrainian web developers have at least a higher education degree, with 6.3% holding up to two degrees. Even better, 1.5% hold the coveted Sc.D. Degree and, each year, more than 36,000 IT students graduate annually from local and international universities.
Whether you want a guru in IoT, AI, or code languages for programming, you'll never have a hard time finding one in Ukraine. Also, it's worth mentioning that software development in Ukraine is up-to-date with emerging trends and practices. Most Ukrainian app developers spend most of their after-work hours reading professional literature and studying global trends. The IT community is very vibrant in the country.
Many regions offer outsourced IT services, including Latin America and other European countries such as Poland, Czech Republic, and Belarus. However, probably besides Poland, none beats Ukraine when it comes to accessing a larger pool of developers with relatively affordable rates. To put it into better perspective, you'll spend an average hourly rate of about $25 to $50 in the Ukrainian market. If your chosen Ukrainian software company opts for a fixed salary, you'll spend about $1,400 to $3,300 per month.
These are relatively affordable rates, given that you only get premium services. In contrast, you'll have to spend at least  $43-$75 in Poland, and other European countries. And in the US, you will have to spend a whopping $350 – $850 per hour.
Did you know that more than 110 R&D centers of global tech giants including Samsung Electronics, IBM, Oracle, Apple, Wargaming, Microsoft, Skype, Boeing, Siemens, Magento, and Ericsson are in Ukraine? This is due to the amicable reputation Ukrainian software developers have.
Furthermore, some of the best apps and software on the planet, have Ukrainian origins. By now, you probably know one of the founders of WhatsApp is Ukrainian. But there's more, in 2012, Google bought Viewdle, a Ukrainian facial recognition company, in 2015, Snapchat purchased another Ukrainian real-time facial modification app, Looksery, and the same year Oracle bought Maxymiser, a leading provider of cloud-based software for marketers.
The Ukrainian software development industry has fostered strong relationships with global partners over the years and their reputation is proof of the quality they can deliver to your project. Whichever IT company in Ukraine you opt for, you can rest assured you'll manage to achieve your project goals without breaking the bank.
Find Software Developers in Ukraine Who Speak Fluent English
Although 67% of Ukraine's population speak Ukrainian, 85% of software developers in the country are good at written and spoken English. Moreover, a majority of eastern European software development companies, Ukrainian as well, offer free English lessons to their employees to enhance their service delivery which has significantly boosted the IT industry's language proficiency.
English is a widely used language in business practices. Thus, whether you want to find a python developer or  hire front end developers in Ukraine, you can rest assured communication will not be a barrier. And whether you're from Bangkok, the US, England, or Germany, the country has professionals who can communicate in a language that you understand. This enhances seamless collaboration and project updates.
Favorable working environment
Ukraine takes 1st position out of 163 countries in the Good Country Index, Science and Technology Contribution. Over the past few years, the Ukrainian government has been creating a favorable environment for Ukrainian software developers to collaborate with foreign partners.
For instance, all international players that hire software developers in Ukraine don't have to pay VAT. What's more, foreign companies working with software developers in Ukraine can easily file disputes in the Intellectual Property Court to find an amicable solution.
And last but not least, you are permitted to sign an NDA agreement with your partner, especially if your project entails sensitive information. That means no third party can access your project without express permission from you.
One of the challenges that face many companies relying on outsourced IT services is time-zone inconvenience. It's ridiculous to wake up your partners in the middle of the night just to have a meeting with your offshore R&D centre. Similarly, it's inconvenient if your IT team has to wait until midnight before you're available for a meeting. That could even mean spending more on overtime hours because the developers have to avail themselves past regular business hours.
Ukraine is in the Eastern European Time Zone (GMT+3). Even better, the country is one hour ahead of most time zones in the region. This offers great convenience for handling business calls and meetings with European countries. While Ukraine has about 6 hours of time difference with the USA, it's much better than Asian countries like China and India that have 12 hours. Most developers in Ukraine have vast experience working with US companies, thus are well-adapted to the American time schedule.
Flexible Labor Laws and Holidays 
In the US, the average employee spends up to 34.4 hours every week working. In Germany and most European countries, the average working hours per week is about 32.77. Things are a little bit different in Ukraine. Outsourcing IT services from Ukrainian dedicated teams means you'll be partnering with professionals willing to go a little extra — a solid 40 hours a week. In fact, most of them are willing to work up to 60 hours a week, depending on your project needs.
Although you'll pay for any extra hour worked, it's better to partner with professionals willing to go above and beyond outside their comfort as opposed to someone who can't fit you in their "busy" or "off-work" schedule.
Also, you don't need to worry about multiple holidays that might disrupt your project developed by Ukrainians. These professionals observe only 11 universally known holidays. Other IT outsourcing countries such as Bulgaria observe up to 19 paid holidays every year. Furthermore, most Ukrainians are willing to follow the US working calendar and work during their own national holidays.
Ukraine software developers demonstrate strong work ethics just as their counterparts in the US and other parts of the world. You'll work with a team that focuses on your project to ensure timely project delivery and success. And the best part is you get all this without breaking the bank.
The Ukrainian Tech Industry Grows Steadily
As noted earlier, the Ukrainian IT industry has been growing steadily at a rate of 20% to 30% year over year for the past half a decade. In 2020, this growth rate proliferated to more than 40%, the pandemic notwithstanding.
The more an industry grows, the more versatile its products and services get. Today, you can access several offshore IT services you couldn't access in Ukraine five years ago. This includes user-friendly web and mobile app development, R&D services, quality assurance, and testing, and big data analytics.
Some of the startups that are thriving in the ever-growing Ukrainian IT industry include Grammarly, DepositPhotos, Reface, GitLab, PetCube, Jooble, Preply, and Ajax, among many others.
How Can We Help?
At Newxel, we help businesses scale and thrive in a highly competitive IT environment. We can match your organization with a highly qualified Ukraine developer who can handle a range of projects, including AI, ML, and Data Science. Our team knows the right words for describing your project to make sure only the right talents reach out to fill out the position.
But what makes us different from other players? Our team takes you through the onboarding and the professional development process. That means resolving any communication bottlenecks between your in-house IT department and the offshore team.
Over the years, we have managed to help a number of businesses across multiple industries, including Fintech, Automotive, Gaming, Marketing & Advertising, Cybersecurity, and Music & Entertainment.
Final Thoughts
Many Ukrainian software developers for hire are waiting for you to make the first move and engage them about your progress. With nearly all of them speaking English, communication won't be a barrier. Your business also gets to reduce operating costs, thanks to competitive Ukraine outsourcing rates. Most importantly, you have a greater pool to choose from. Whether you want a one-month or full-year contract, there is always a perfect deal waiting for you.
Contact Newxel today to find Ukrainian software developers and change your business outlook.
Frequently Asked Questions (FAQs)
Is Ukraine Good for Software Engineering?

Ukraine is one of the best IT outsourcing countries in the world. Working with a Ukrainian software company means accessing top-notch experts at relatively affordable rates. Moreover, in Ukraine, web developers are trusted by reputable players such as IBM, who outsource web development services.
How Much Does it Cost to Hire Developers in Ukraine?

What should you expect to pay? In

Ukraine outsourcing rates

range from $35 to $60 per hour. However, now that you know how to hire Ukrainian software developers, you can even bargain for more affordable hourly rates.
How Do I Hire a Developer in Ukraine?

How do I find Ukrainian software developers? It's pretty simple. Contact Newxel today to chat your way forward and hire software programmers in Ukraine.
Contact Us