Software Development in the Middle East is Booming: Where to Find Skilled Developers?
To meet the growing demand for highly qualified developers, many software companies in the UAE, Kuwait and Saudi Arabia opt for outsourcing or outstaffing abroad.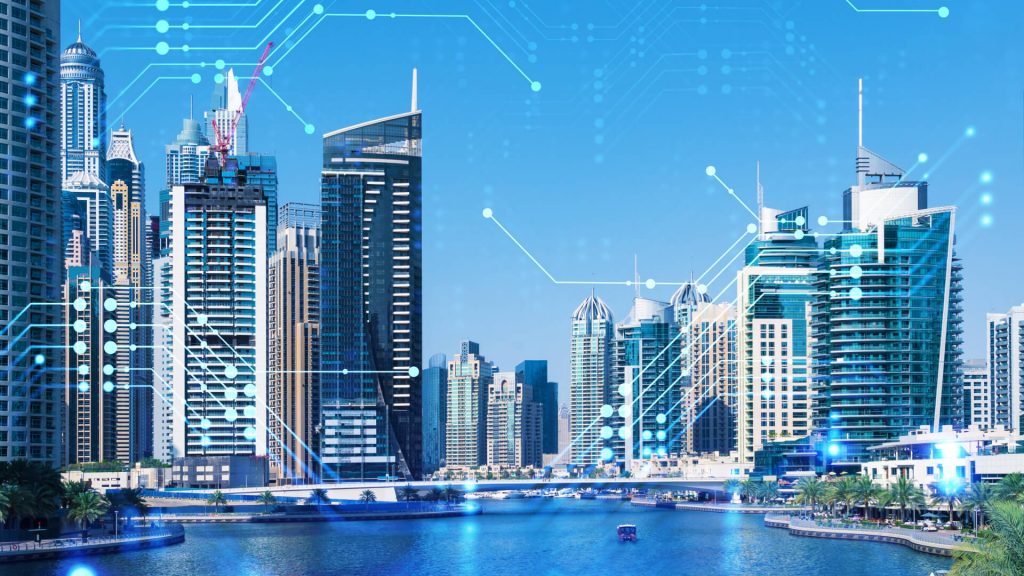 The Rise in the Middle East
Today the IT industry in the Middle East is finally finding its feet again and is on the rise after the crisis caused by COVID-19. Just before the outbreak of the pandemic, the economies of countries such as Qatar, the United Arabic Emirates, Kuwait, and Saudi Arabia were rapidly digitizing. The number and scale of IT companies were growing exponentially, big enterprises were adopting the latest technologies based on artificial intelligence, the Internet of things, big data, and cloud solutions.
In 2020, this process slowed down, but this year, in 2021 the situation in the region has improved and recovery has begun at a much faster pace, especially when compared to Asian countries or Latin America. IT spending has already grown as much as 2.7% compared with the previous year and it is expected to return to pre-pandemic numbers, and continue to grow in the coming years.
Most sectors within the industry are already booming and this is just the beginning. As the need for remote work, as well as, recently launched projects like "Remote Work Visas" and "Smart Dubai 2021", will be the catalyst for software development in the UAE and in the region as a whole.
Due to all these factors, software production here is expected to grow by 14.5% in 2021, and in general, according to Gartner, IT spending in MENA is predicted to be $171 billion in 2021, which is 4.5% more than in 2020.
Government initiatives will contribute to this growth within the ICT market, as they aim to digitalize the region and reduce the economic dependence on oil. Large enterprises in the Middle East have also realized the importance of digital technologies and are striving for modernization.
The IT industry boom is encouraging, but it is also challenging. One of the challenges is the software engineers shortage and the need for a large number of high-class software engineers. This has pushed IT companies to search for new staff in and from countries, where there is a balance between, on the one hand, a good selection of qualified specialists and on the other hand, the average salary is relatively inexpensive and low.
The Golden Mean for the Middle East
When it comes to outsourcing, countries from the middle east are used to looking towards their closest neighbours. IT companies in the prospering UAE or Saudi Arabia, find that when local developers can cost up to $200 per hour, hiring engineers in India, Pakistan, or the Philippines, costs typically lower than $30 per hour.
While this approach has its merits: low labor costs, cultural similarities, and a huge selection of specialists, it also has a significant main drawback. Low cost often means a low quality of work.
Another way is to go to countries with high-end and high-priced developers — namely North America and Western Europe. Specialists in these regions are in good standing and will cost about the same amount as engineers in the UAE or Saudi Arabia.
However, there is also a third way worth considering: the Eastern European region. Where you can find many countries with highly qualified and inexpensive specialists. The average cost of a developer is somewhere in between that of Asia and European countries and one of these countries, in particular, Ukraine, was named the «Best Offshoring Destination of the Year» a couple of years ago.
A Developer salary in Ukraine is less than in Western Europe, at the same time, however, Ukrainian specialists constantly occupy high places in world rankings. Not surprisingly, many organizations from the United States and European countries prefer to outsource and outstaff to Ukraine or, in neighboring countries due to the excellent value for money ratio.
Software Development in Ukraine
Let's have a closer look at Ukraine, a country of great potential, which is increasingly becoming a significant player in the world IT market.
International Recognition
You may not know about Ukraine, but perhaps you're well aware of Ukrainian startups such as Gitlab, Grammarly, Restream, People.ai, Petcube, iBlazr, Jooble, CleanMyMac, Mobalytics, and Looksery. They have all received international recognition and impressive investments. For example, GitLab raised $268 million and now it is used by such organizations as IBM, Alibaba, Sony, and NASA.
The country is ranked up in the top 30 startup ecosystems according to StartupBlink's rating and more than 100 companies from the Fortune 500 list including Google, Samsung, eBay, Siemens, and Huawei have chosen Ukraine to build R&D centers in.
Ukraine constantly ranks high in international ratings. According to the Skillvalue report, in 2019 Ukrainian developers took 5th place in the world ranking and 4th in the European one.
No wonder that when it comes to IT outsourcing, Ukraine is considered one of the best. In 2017, the Global Sourcing Association named Ukraine the «Offshoring Destination of the Year». Main clients who prefer to outsource and outstaff in Ukraine come from the United States and Western Europe and when it comes to outstaffing, Ukrainian companies like Newxel help customers from all over the world to assemble dedicated dev teams consisting of local talents.
The Potential
Last year, statistics of the IT market in Ukraine showed an increase of 20-25%. Despite the global problems caused by the pandemic, software development companies in Ukraine are thriving.
According to various sources, there are now close to 5,000 IT companies in the country with over 213,000 employees engaged in software development. This makes Ukraine the second largest country in terms of the talent pool within Eastern Europe, after Poland.
The Better Regulation Delivery Office study, reveals that last year the volume of IT service exports in Ukraine grew by more than 20% and reached $5.03 billion. Currently, this is the highest exported service in the country with a share of 8.3% and over the last 5 years, it has increased by 157%.
Statistics from the PwC study, indicate the IT industry's market size within Ukraine will reach $8.4B by 2025, with the number of tech specialists reaching 242,000.
Average Developer Salary in Ukraine
Last year, the average salary for Ukrainian software engineers fluctuated between $2,500 – $3,000 per month, which is between $30,000 – $36,000 annually. For comparison, a Dubai programmer's salary is on average $73,832 a year.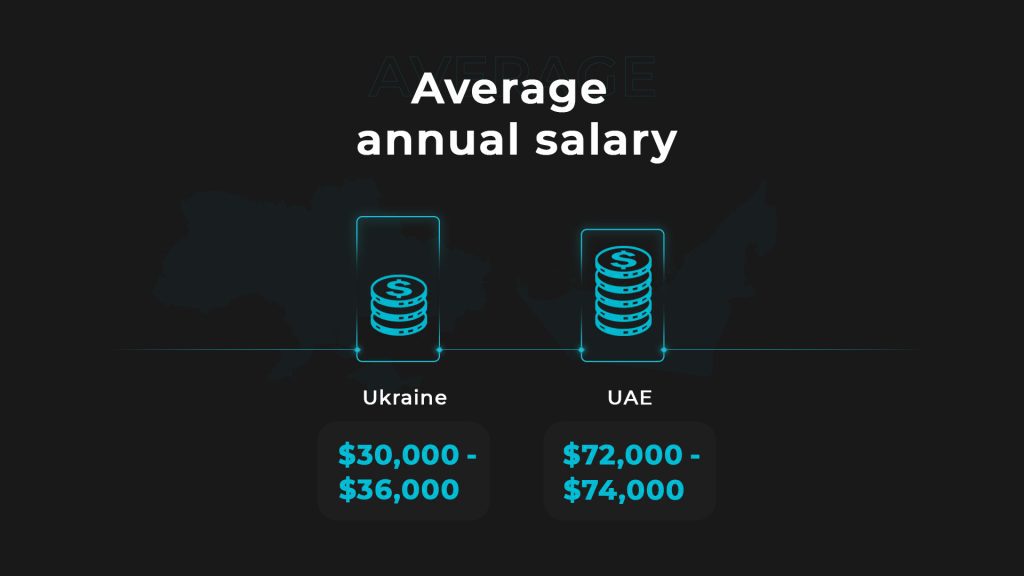 As for an hourly rate, outsourcing companies in Ukraine normally charge anywhere between $25 – $45, whereas in neighboring Poland, and the Czech Republic, developer services cost a little bit more — from $34 to $56.
It is worth considering the salary of programmers may depend not only on experience and competency but also on the specialization and programming language they use. For example, the average Java developer salary in Ukraine is around $4200 per month, whereas Scala specialists earn almost $5000. A front-end developer salary in Ukraine is around $3800 and a back-end engineer will cost $4000.
Outsourcing or Outstaffing?
If you want to attract Ukrainian specialists to work on your project, you can use two models — outsourcing and outstaffing. Both will allow you to increase your company's productivity by attracting skilled, and less expensive employees from outside of your company. But they are fundamentally different.
Benefits of Outstaffing
While in outsourcing employees remain outsiders, hired on a project basis, in outstaffing you build your own dedicated team or R&D center that becomes part of your company, along with sharing your goals and company values. The advantages of this model are as follows:
Direct guidance. Whereas in outsourcing, developers remain part of another company and work under someone else's leadership, here you will directly manage the team — from hiring employees to coordinating their work.
Security. In outsourcing, your product and intellectual property is generally not protected enough. People from other companies have access to your code and have the possibility to steal it. In outstaffing however, such a risk is drastically minimized, since hired employees are an integral part of your company.
Cost predictability. When outsourcing, it is not always possible to predict expenses, outstaffing means that costs are calculated in advance. They include salaries, rental and equipment costs, and provider fees.
You Don't Have to Do It All by Yourself
Assembling a dedicated team or establishing an R&D center is a difficult task even for large companies. Fortunately, you can count on expert help from local providers. In Ukraine, you can trust Newxel, a company that specializes in building and maintaining offshore teams, for foreign clients from countries such as Israel, the USA, Europe, and more.
Taking into account all of your requirements, our specialists will build your Ukrainian dedicated development team from scratch: we'll find highly-skilled software developers in Ukraine, arrange a suitable office and all equipment you need. Another aspect to note is that although they will complete the whole process of recruitment, you will make the final decisions on which candidates you would like to retain.
The provider is also in charge of all HR services, strengthening the team's spirit, introducing company values, increasing motivation, etc. They will also take care of any and all legal issues, all that is related to taxes and documents.
Take advantage of a wealth of IT specialists, who are considered some of the best in the world.
Contact Newxel to build your dedicated team of experienced developers in Ukraine!Contact Us