Outsource Mobile Game Development: How-to Guide
Custom game development is a common practice in the gaming industry, as evidenced by outsourcing. Developing games can be quite costly, but it becomes affordable when a business outsources its gaming project. Besides, outsourcing mobile game development presents various benefits, including a broad range of alternatives.
There are 3 common ways to outsource game dev services. By choosing the right approach, a business ensures that it completes its gaming project effectively. But first things first.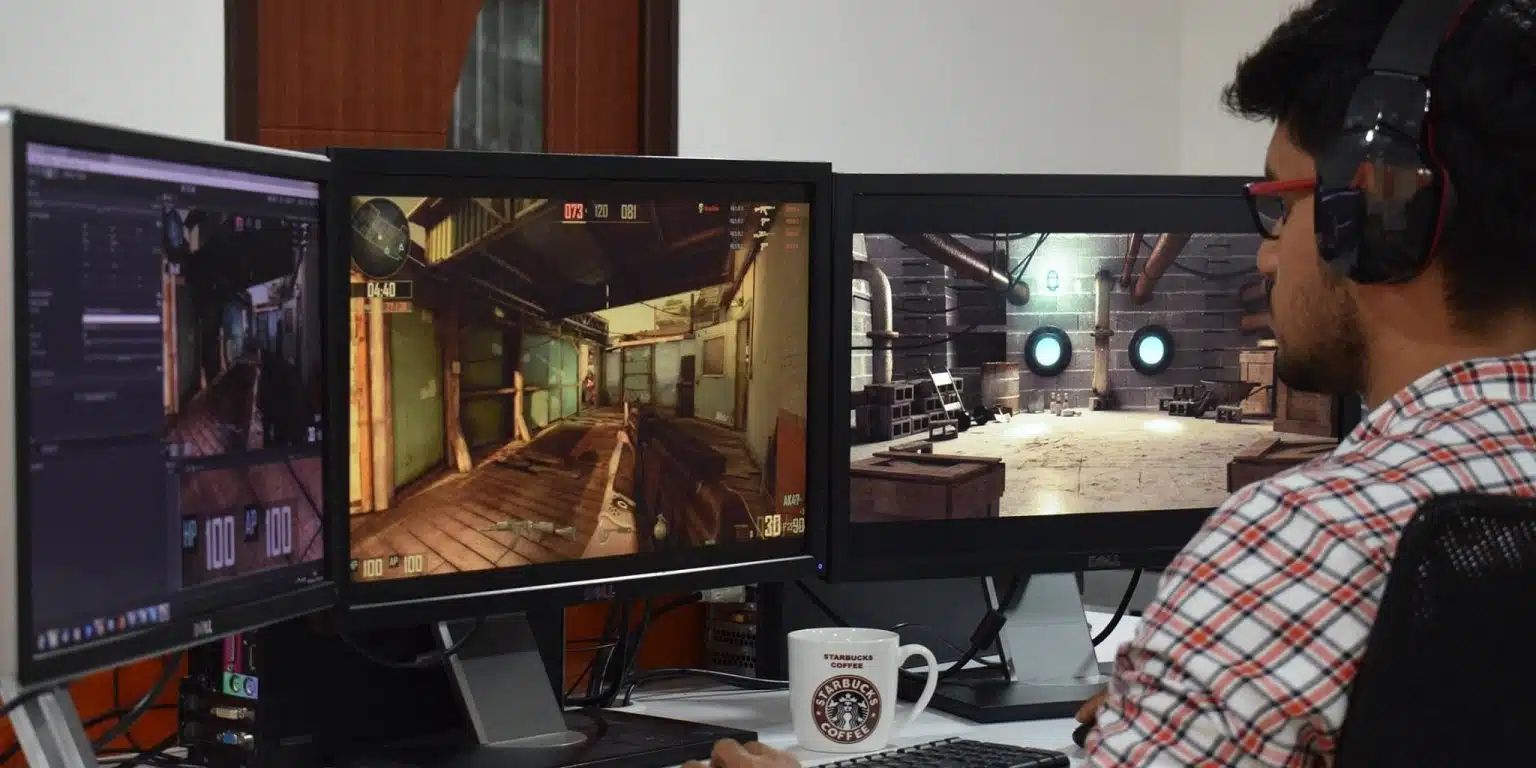 What is Outsourcing in the Development of Mobile Games?
Outsourcing is a system where external contractors like a studio, artists, or expert developers participate in the production cycle. They contribute by providing particular development tasks, including programming, 2D and 3D art, VFX, VR simulation, animation, UX/UI design, QA testing, etc., or even a full cycle development – involving the pre-production, production, and post production stages.
What are the Differences in Outsourcing Processes Between AAA Studios and Publishers?
The differences between AAA studios and publishers' outsourcing processes are usually based on their different responsibilities in the video game industry.
AAA studios mainly develop essential game mechanics, art assets, and programming. The goal of outsourcing for AAA studios is to ease the workload and ensure that only experts handle specialized tasks.
While they may outsource specific tasks like animation, voice acting, or level design to external development teams, AAA studios typically maintain control over the outsourced work, closely monitor progress, and provide briefs, specifications, feedback, and revisions, during the development process.
On the other hand, publishers are tasked with financing and marketing the games AAA studios develop. They often outsource specific parts of project development to external studios, like localization, quality assurance testing, porting to other platforms, or even the entire development, especially if they lack the internal resources or expertise to develop a type of game. The goal of outsourcing for publishers is to reduce development costs and ensure that top-quality games are delivered on time.
So, generally, AAA studios maintain greater control over outsourced work, while publishers rely more on external development teams to deliver finished games.
Benefits of Mobile Game Development Outsourcing
Mobile game dev outsourcing has its benefits and shortcomings. Let's discuss the benefits.
Here are the benefits of outsourcing your game development project:
1. Proficient Team
Professional game development companies have various teams for specialized tasks including designing, coding, testing, pre-production, etc. And when you hire these high-quality companies, you get a proficient and organized team to handle your project cost-effectively.
2. Zero Overhead Costs
The high game development salary, costs of hiring, training, maintaining, and retaining employees associated with managing a team of in-house developers are avoided when you outsource your game development project. So, when you hire an already-assembled team equipped with every necessary tool and technique, you are not responsible for any overhead cost.
3. A Detailed Process
As experts, these companies are knowledgeable in the general development processes, so communication and documentation are seamless. They create a comprehensive process for your project's unique ideas and requirements, then assign a project manager to update you on the progress and answer your questions. They will also organize a convenient communication tool for easy information transfer.
4. Faster Time to Market
Outsourcing companies are experienced and efficient, guaranteeing faster development and quicker completion times. This will help you get your games to market faster and stay ahead of your competitors.
5. Quality Assurance
Outsourcing companies have a dedicated team that ensures the quality assurance of the game after the pre-production and production stage. You can rest assured that you get a secure, reliable, talented team creating top-tier games.

Pitfalls of Mobile Game Development Outsourcing
There are also some potential pitfalls to outsourcing mobile game development if it is not managed correctly, including
1. Communication and Time Zone Challenges
Communication may pose a significant challenge when outsourcing game development, especially if the development team is in a different time zone or speaks a foreign language. Unfortunately, even the slightest miscommunication or delay in receiving feedback can cause delays, misunderstandings, and errors that can impact the quality of the final product.
2. Quality Control Issues
You can experience quality control issues if the outsourcing company employs different development standards, testing methodologies, or quality assurance processes. That is because it can lead to inconsistencies in the quality of the completed project.
3. Security Risks
Outsourcing project development to an external company can increase security risks, including data breaches or hacking attacks.
4. Intellectual Property Challenges
Outsourcing mobile game development can also create intellectual property (IP) risks. The outsourcing company may have access to sensitive data and design documents, which may be misused or shared with unauthorized third parties.
Choose a reputable outsourcing company with a proven track record, clear communication channels like Slack or email, and an established quality assurance process to mitigate these potential pitfalls. Also, create comprehensive contracts and agreements that address intellectual property rights and data protection to reduce the risk of IP theft or data breaches. Use non-disclosure agreements, protect source code, conduct background checks, limit access to sensitive information, define ownership rights, monitor the outsourcing process, and consider using escrow services.
Options for Outsourcing Mobile Game Development
Mobile Game Development Outsourcing Company
Mobile game development outsourcing studio is an outside company that offers professional services. Compared to hiring and maintaining an in-house team, outsourcing your project to a development company or harnessing the TaaS cooperation model is relatively cost-effective. Besides, contracting such a firm for support with your product gives you access to the top-notch technical competence of game engineers, designers, and programmers and frees you from solving the question of how to start a game studio.
Freelance Game Developers
Freelance game developers are self-employed programmers/ coders, not committed to a specific employer. However, some are represented by companies/ agencies that resell their gaming experience and skills to clients. No matter your location, you can find qualified game development freelancers within the budget to assist with your project.
Open Own Game Development Studio Abroad
The third way to outsource game development is to open a studio offshore. This process is known as outstaffing and is an excellent approach to game development. Offshore development center benefits allow you to hire the required engine programmers remotely and manage them. In contrast, an outstaffing partner hires them and supports your remote team during a long-term cooperation cycle.
Working and managing a game development team is hassle-free since the outstaffing partner takes care of all employee needs. These include recruitment, office space, taxes, etc. Before choosing such a vendor for these solutions, evaluate the types of tools they use, their case studies, and other essential considerations.

How Much Does it Cost to Outsource Mobile Game Development?
How much does it cost to outsource mobile game development roles and responsibilities? Depending on location, surveys reveal that mobile game development costs anywhere between $20,000 and $250,000. To calculate the cost, you tally the expenses of the game development team, tools, and software. That said, here is a breakdown of costs based on complexity.
Mini-Games – $3,000 to $20,000
Simple games such as Ping Pong clones will require any amount close to the lower end of this range to make. A never-ending and straightforward game with modest visualization requirements, e.g. Flappy Bird, can also be created with a budget falling on the lower end of this range. However, when developing them from scratch, the price could go up.
Simple 2D Casual Games – $20,000 to $60,000
Many small-budget games will require any cost within this range to develop. It is an affordable price to pay if you want a functional game that can be monetized. Products created with a budget within this range are often quite decent and present a better chance of fostering engagement and going commercial.
Mid-level Mobile Games – $60,000 to $120,000
With a budget within these limits, businesses can quickly improve any existing and renowned games. Products that cost this much offer more content-wise (levels, narrative, characters). Moreover, they have excellent visuals.
Such advancements make these games more replayable and appealing to many users. They also make these games more engaging, gluing users to them over long moments. The budgets for the early version of Angry Birds and Cut the Rope probably fall close to this range's top end.
High-level Mobile Games – $120,000 to $250,000
Experienced professionals with excellent knowledge of technical terms, access to sophisticated resources, and remarkable testing frameworks develop this caliber of games. These products require significant capital and are very detailed. The design is on point thanks to hours spent on design and organization.
Also, given the development process's keenness, these products take anywhere between one and two years to create.
6 Easy Steps to Outsourcing Mobile Game Development and Building Long-Term Cooperation
Game development is a lucrative market, provided you create something new and exciting that customers want to try. In recent years, mobile game development uses outsourcing much more often because it offers affordability and convenience. Ensuring you get a quality app is critical when outsourcing your game design process.Learning more about your prospective offshore development partner is, therefore, paramount. You must also be aware of the following process not to waste your budget and time. Generally, when you are outsourcing app development, you should follow these eight essential steps:
Preliminary Research
Before approaching a potential game development outsourcing partner, you likely know what you want. A description of this idea will help the developer develop a quote for you. While you want your budget's worth, don't just choose the cheapest offer. Compare different offers from potential partners and choose the one that best understands/fits your needs.
Checking the Partner's Infrastructure and Equipment
Make a point of checking your offshore mobile game developer's equipment and infrastructure. A well-established company will have the latest technologies and tools for game development. Their game studio should have tools for designing, developing, and testing. The right equipment and highly-experienced game developers will result in top-quality apps.
Coming Up with a Plan for the Project
Now that you have a team, create a comprehensive plan that includes the project's description, milestones/ stages, and goals. You can hold discussions with your new team to generate new ideas and find ways of achieving your goals. These discussions can also help identify reusable code that the developers may need for speedy development. Frequent calls and video conferencing can also help solve emerging issues.
Drawing up a Contract Detailing All Specifics
A contract between you and the outsourcing partner will ensure everyone keeps their end of the deal. It is exceptionally paramount in protecting you from unbudgeted costs later on. Ensure the document covers everything from the game concept, tools to be used, app testing, deadlines, and data protection. Most importantly, ensure you understand all the technical terms used to know what you are signing.
Collaborative Development
Once all the preliminaries have been covered, game development can begin. This stage is perhaps the most important in the entire process, as it is when your app starts to come alive. Even though the outsourced team will work remotely, it maintains a collaborative relationship with your in-house team. The developers will provide updates upon completion of each stage to keep you abreast with the development process.
Adequate Testing During and After App Development
Testing is a crucial part of game development, not just at the end but at every milestone of the development process. A professional and experienced game development partner will have the skills and infrastructure to conduct adequate testing. Testing helps pinpoint bugs/ issues that need addressing before the app goes into the market. Therefore, going with the right development partner is paramount if your game is to function seamlessly once launched.
How Newxel can help if you decide to outsource your mobile game development
If you're looking to establish an offshore game development team/ studio, Ukraine offers one of Europe's best destinations. It provides a vast pool of skilled game developers, rates are much lower, and most IT specialists possess good English skills. These benefits have attracted top companies to outsource their software development needs in the country. Some well-known development companies that outsource to Ukraine include Silicon Studio, Storm8, Wargaming, Travian Games, among others.
Outsourcing your game development can be budget-friendly, time-saving, and safe. You need to select which type of outsourcing you want and familiarize yourself with the steps discussed here. Are you looking to hire mobile game developers offshore?
With over five years of experience building R&D centers, more than 100 satisfied clients in 11 countries, and a team of 500+ top-notch talents, Newxel offers professional help opening your game studio in Ukraine and eventually growing it into an R&D center.
Also, we assist our clients in hiring talents that are highly skilled in full cycle game development to bring your game ideas to life. The developers we help to recruit can work on any platform and will have knowledge of any specific technologies required for your project to become a success. They will also offer post-launch support.
Get in touch with us for mobile game outsourcing today!
Conclusion
Outsourcing the mobile Game Development process is a cost-effective and time-saving approach to getting your game developed by experts.
However, you should know your project's unique needs, the ideal work model, and how to search and establish relationships with reliable contractors for successful outsourcing. This will ensure that the outsourcing game development experts do their work while you focus on the business part – developing marketing and advertising strategies for the game.
Follow the guide above to find the perfect outsourcing mobile game development company for outsourcing your mobile game development.
FAQ
How does mobile game development work?

Mobile game development involves developing games for mobile devices like smartphones and tablets. The process involves the following steps: creating a game design document, pre-production, production, testing, pre-launch, launch, and post-production. You can employ in-house development or outsource to external teams.
How can AAA game studios find a long-term outsourcing partner?

AAA game studios find long-term outsourcing partners by defining requirements and goals first before researching potential outsourcing companies on platforms like Clutch or LinkedIn. Then they evaluate their expertise and skills and review the work process before drawing up a clear contract for a solid working relationship.
How to choose the best-outsourced game development studio?

To choose the best-outsourced game studio, consider their experience, expertise, and reputation. Then review their portfolio of past projects on a website like Behance and quality control measures. You can also evaluate their communication skills, legal compliance, project management methods, and ability to work within budget and timelines.
What are the outsourcing models for mobile game development?

The outsourcing models for mobile game development are: - The project-based model, where the outsourcing company delivers a completed project within a fixed timeline and budget; - and the dedicated team model, where the outsourcing company provides a team of developers to work on the project under the supervision of the client within a fixed duration.
What to check while choosing to outsource mobile game development?

Before outsourcing mobile game development, check for experience, reputation, past results, adherence to standards, specialized skills, budget, security measures, legal compliance, and flexibility. These core factors will help you find a reliable outsourcing partner for your mobile game development project.
How do I manage the mobile game development outsourcing process effectively?

You can manage outsourcing processes effectively by establishing clear communication channels, defining goals, and setting expectations for quality, budget, and timeline. You should also monitor progress regularly, provide feedback, and promptly address issues to ensure the project stays on track.
Contact Us