Enterprise vs. Regular Software Development: How to choose the right programmer
Creating an application is an excellent move towards business longevity. Congratulations!
However, even with the global population of software developers expected to reach 28.7 million by 2024, finding the right developer is still a challenging task.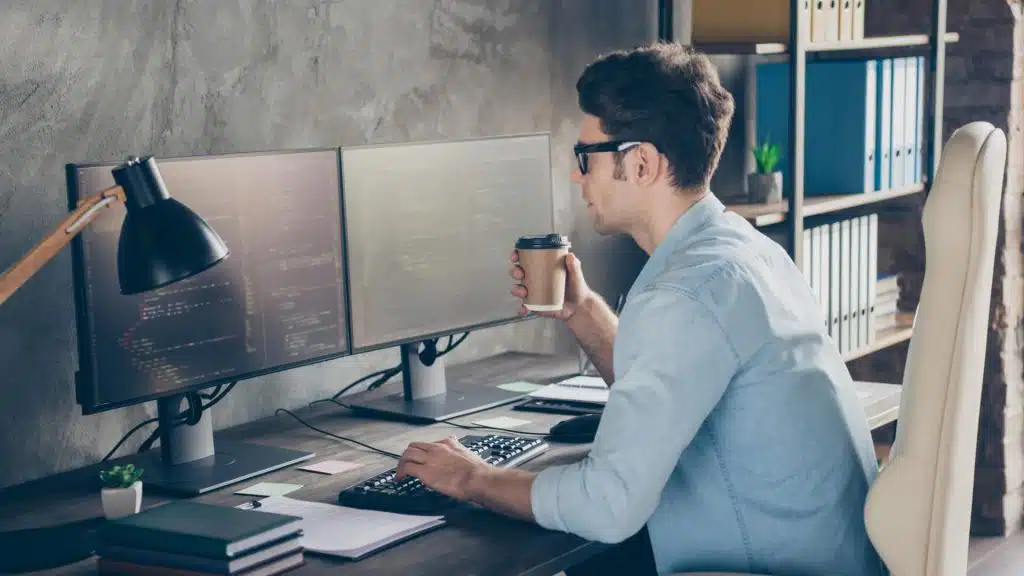 The biggest question is: what is the best way to evaluate software developers in 2021?
Find out the answer to the above question and more in this insightful article. We will compare enterprise and regular software development in-depth, allowing you to see the difference between programmers who code those solutions and hire the best one for your next project.
Enterprise software: what is it?
So, what is enterprise development?
The enterprise software definition is hinged on its name, built for enterprises and not individuals. The software is specifically designed to serve businesses that require robust scalable applications that can reflect the company's specific needs.
Usually, businesses have problems that are unique to them. For instance, the emailing system of an individual user will differ from what a company needs. For companies, data collection, security, data synching, and storage questions come into play. This type of information differs from one business to the other, one of the reasons why custom enterprise software development would be a great idea.
What is regular software development?
Since we have already established what is enterprise software development, let's dig deeper into its counterpart.
Standard or regular software is software built for the end-users and sold directly to them. However, small business owners sometimes try to harness standard software for their business goals. Still, their features are often limited as they are meant for single or individual consumers rather than businesses.
Enterprise Versus Regular Software Development
Both enterprise and regular software development allow you to create applications that help in attaining business goals. In the case of enterprise solutions, they improve the efficiency of processes, while regular apps increase client loyalty, for instance. As a rule, enterprise software developers are specialized in a specific niche while their counterparts are generally jacks of all trades. Considering that they differ in more ways than one, picking the perfect programmer is vital. You need one that can create tailored solutions for your scope of business.
Here are the differences between regular and enterprise software engineering to get a deeper understanding of the issue.
Differences Between Enterprise and Regular Software
As software development continues to evolve, thanks to next-gen technologies, the gap between enterprise and regular software seems to be growing thinner. However, there are still notable differences between the two:
Audience: Enterprise software solutions are created to solve the needs of a large group of users. Most large businesses have a hierarchy, and enterprise software addresses the needs of these groups. On the other hand, regular software targets the needs of single users or smaller groups.
MultiChoice: An enterprise software development company will require a program with multi-choice solutions. Meaning, the software needs to contain multiple options that address, for instance, the needs of the different departments within the company. On the contrary, regular software applications will offer one or just a few options, since they are designed mostly for individuals.
Storage: Unlike standard, enterprise software works with large amounts of sensitive data that must be stored safely to ensure business prosperity. Furthermore, companies use the information for future reference, audits, to measure business success, and many more. Cloud storage is one of the most popular options for enterprise software, thanks to its scalability, security, and collaboration abilities. It is also a cheaper option as compared to storing on servers. This is not the only option though. With the advancements in technology, other viable storage options have emerged that your software developer can advise on which is the best pick.
Additionally, the data conversion process is simpler in regular software than in enterprise systems as, in the latter, data conversion covers broad sets of information.
Development Process: The testing and setting up procedure for enterprise software is complex as compared to that of regular software. The configuration and customization of its features are more technically intense since the developer needs to write code to solve an enterprise-wide problem compared to a departmental or individual consumer problem. In addition, the software needs to have interoperability with other apps of the enterprise and share data seamlessly.
Customization: Every company has its unique way in which it uses software, one of the reasons why customization features are of the utmost importance. With enterprise software, businesses can enjoy more robust personalization options since they need to meet diverse needs, unlike regular software that is made with the needs of one person in mind.
A practical example is when companies need seamless workflows across all their business systems. In this case, a developer can customize an enterprise software to interconnect with, for example, the CRM system, among other tools.
Scalability: From the services they offer to the number of employees hired, every entrepreneur expects their business to grow. As such, they need enterprise software that remains solid as it adapts to the ever-changing needs of the organization.
Unlike standard programs that are built for individuals, enterprise software has the elasticity to handle upgrades and downgrades of resources. Therefore, they are a better fit for businesses.
So, What Are The Differences Between Enterprise & Regular Software Developers?
There is not much difference between an enterprise and a regular software developer. Some of the most common skills a programmer should have include:
Attention to detail
Teamwork and collaboration
Tech and cyber savviness, allowing them to be on top of emerging and evolving technologies as they happen
Excellent organization skills
Time management
However, an enterprise programmer needs to think outside the box. Companies are often in search of tailored solutions that not only ensure a seamless flow of business processes, but they want a system that stands out. Also, since developers are in touch with companies and their departments throughout the development process, impeccable communication and interpretation skills will help them better bring the company's vision to life.
Additionally, unlike regular programmers, enterprise coding experts need to familiarize themselves with how various business systems and other tools work. That way, they can create software that allows for interconnectivity with other existing applications, which is less often required from the developers of regular applications.
Regular or Enterprise Software Developer: Selecting the best fit for your project
When looking for the right programmer for your next project, your goals and objectives should remain top of mind. What do you want to achieve at the end of the project? Do you want software that will facilitate order processing, customer engagement, accounting, database management, and many more?
In this case, the programmer with previous experience with enterprise software is your best suit. The reason being, he knows better how to incorporate multi-features that allow you to perform multiple tasks on a single application.
On the other hand, if you want a highly engaging entertaining app, consider regular software development. The same applies to companies looking to build customer loyalty through their applications. All in all, choosing between regular and enterprise software comes down to the project's idea and goal.
How to Hire Enterprise vs. Regular software developers
Enterprise and regular software developers have different skillsets and experiences meaning that they are not a one-size-fits-all when it comes to who they can work for. Enterprise developers are more suited for large corporations while regular software developers are more suited for small businesses and startups.
Therefore, the hiring process and considerations for these two types of developers also differ. Here is how:
Hiring an enterprise software developer
Skillset: When hiring an enterprise software developer, you are looking for someone with a very specific skill set. The jack of all trades programmer doesn't fit into this role. Therefore you need to define the exact tech stack or niche you need the developer to work on.
Experience: The developer should have no less than three years of experience working in an enterprise and not for a small business or startup.
Cost: Be ready to spend more in the search for the right candidate.
Interview: A thorough interview that assesses if they are a good team player and a test of their abilities is a must.
Time: Filing this position will probably take more time than filing a regular software developer position as you need an individual with more specific experience and talent.
Hiring a regular software developer 
Skillset: Because regular software developers are best suited for small businesses and startups, the broader the candidate's skill set the better. They will need to work on many things as the company cannot profitably have many developers.
Experience: Experience is also important, however, this developer should be experienced in working in environments where they have to handle many different types of tasks.
Cost: relatively cheaper to hire compared to enterprise software developers, but it's not a rule.
Interview: Depending on the working environment, them being a good team player could be just an added bonus. A lone wolf that does it all could fit in this role. However, no developer is hired without testing their abilities.
Time: Filling this position could take a relatively shorter time as it's possible to hire entry-level developers for this position, but everything depends on your project first.
To outstaff your development needs, there are many online platforms where you can hire freelance developers for your project. However, to improve your chances of success, Newxel has got you covered.
As experts in IT staff augmentation, we can help you make an informed decision on which software developer to pick. We have in-depth knowledge of regular and enterprise software development via global delivery model, which is instrumental in evaluating developer skills to see how well they suit your project.
During the initial consultation, we look at your scope of business and the objectives you want to achieve. With the collected information, we offer the best software specialist that will reflect your company's objectives and expectations. We will build a team that possesses the best technical skills for your project's success. Contact us today for more insight and precise quotes and possible development time frames with top enterprise and regular software developers.