What are IT managed services
In the modern digital era, businesses heavily depend on technology for seamless operations. So some companies turn to managed IT services for more effective work. But what is IT managing services, and what are the main benefits of it?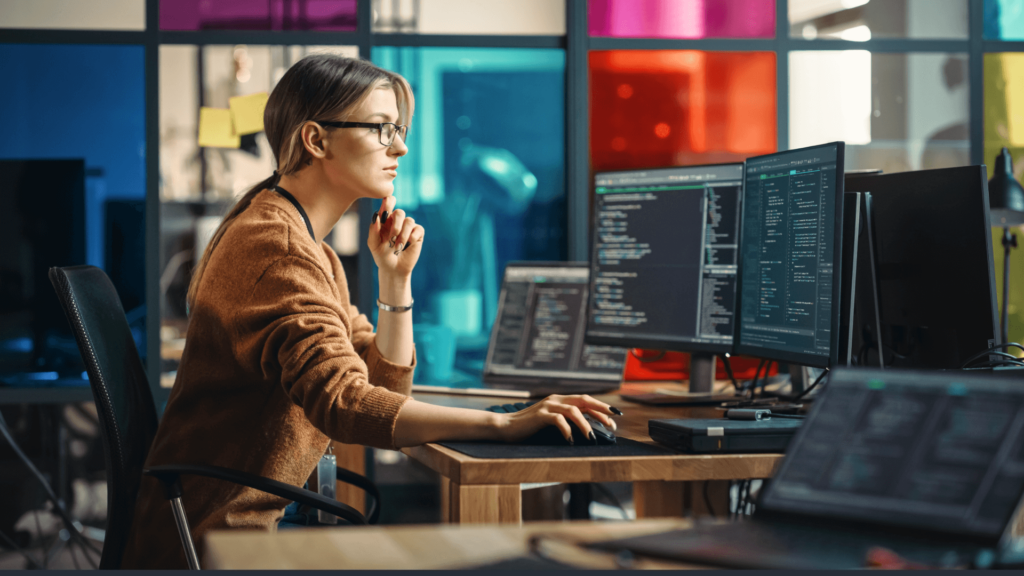 IT managed services are outsourced IT solutions provided by external service providers, known as IT Managed Services Provider (MSPs). They take various managed IT services, such as network monitoring, data backup, cybersecurity, and technical support. By outsourcing these tasks, businesses can focus on their core activities while benefiting from the expertise, resources, and cost savings that IT managed services companies offer.
Benefits of managed IT services
Managed IT services can advantage organizations of all sizes and stages of development.
Main benefits of working with IT managed services provider:
Managed IT services often provide cost savings by supplementing variable cloud expenses or including fixed monthly charges. This removes the need for hiring and training staff.
IT managed services fill the gap for teams that are lacking time, skills, or experience to manage certain functions. This allows teams to focus on innovation and strategic initiatives while experts handle routine tasks.
Managed service providers ensure service availability and reliability, reducing worries about outages. Services are delivered under Service Level Agreements (SLAs), providing clear expectations and timely support.
Expertise and Specialization
IT managed service companies specialize in specific areas, allowing them to deliver high-quality services with deep expertise. Their dedicated focus on a particular service ensures efficient and effective delivery.
Types of IT managed services
Remote IT Infrastructure Monitoring
Managed IT services offer remote management and administration of servers, workstations, and mobile devices. This service ensures constant monitoring, maintenance, and support, providing businesses with a reliable IT infrastructure without the need for an in-house team.
Security Services
IT managed services providers partner with security companies to deliver outsourced cybersecurity solutions, ensuring the protection of IT systems and data.
Cloud Services
Managed IT services extend to cloud services, including infrastructure as a service and cloud management. MSPs specialize in implementing and managing cloud solutions, offering consulting and ongoing support for cloud platforms such as AWS, Google, and Microsoft.
Project-based Managed IT Services
Managed IT service providers offer their expertise and support for specific IT projects like implementing software, upgrading systems, or migrating data. By collaborating with MSPs businesses can access specialized skills and experience to ensure the successful execution of these projects.
Communication Services
Those services provided by managed IT service companies revolve around managing communication systems, including unified communication platforms. They focus on ensuring uninterrupted connectivity and reliable channels for communication within the organization.
Managed Analytics Services
Those services help to assist businesses in gathering, analyzing, and extracting valuable insights from their data. These services enable data-driven decision-making, enhance business performance, and facilitate strategic planning.
IT managed services trends
With the rise in cyberattacks, businesses are prioritizing cybersecurity. Managed cybersecurity services help protect networks, systems, and data from online threats, ensuring the security of sensitive information.
Cloud-based services
IT managed service companies offer cloud-based services that provide scalability and flexibility to businesses. This trend is driven by the need for skillfulness and cost reduction, with hybrid cloud solutions gaining popularity for a customized IT infrastructure.
DevOps
Adopting DevOps, which combines development and operations teams, leads to faster time-to-market, higher-quality software, improved collaboration, and better business outcomes.
Artificial Intelligence (AI) and Automation
AI and automation are transforming managed services by promoting proactive monitoring, automating tasks, and predicting and preventing technical issues.
Data Analytics and Data Engineering
Managed IT services now include data analytics and data engineering to help businesses gather, store, and analyze large volumes of data for insights and operational improvements.
Difference between IT managed services and IT staff augmentation
IT managed services are often compared to it staff augmentation. Their main difference is that IT managed services include the outsourcing of various IT services to an external provider, while IT staff augmentation involves the temporary hiring of IT professionals to support internal teams. Managed services provide comprehensive IT support, while staff augmentation offers temporary resources for specific projects or skill gaps.
Newxel provides services of IT staff augmentation, so if you are interested in cooperation – you can contact us for more information.
FAQ
What are IT managed services, and why should businesses consider them?

IT managed services are outsourced IT solutions provided by external service providers, known as IT Managed Services Provider (MSPs). Businesses should consider managed services for expertise, resources, cost savings, and the ability to focus on core functions while leaving IT management to specialists.
What are the key benefits of partnering with an IT managed services provider?

The main benefits of working with an IT managed services provider include: cost savings, skills gaps, reliability, expertise, and specialization.
What types of IT managed services are available?

IT managed services include those spheres: Remote IT Infrastructure Monitoring, Security Services, Cloud Services, Project-based Managed IT Services, Communication Services, Managed Analytics Services.
Contact Us