The State & Future of Outsourcing and Staff Augmentation
Ever thought about what distinguishes industry leaders? It's their dedication to hiring the best talent. They know that the right team fuels innovation and growth. That's why many are now embracing  IT outsourcing and IT staff augmentation.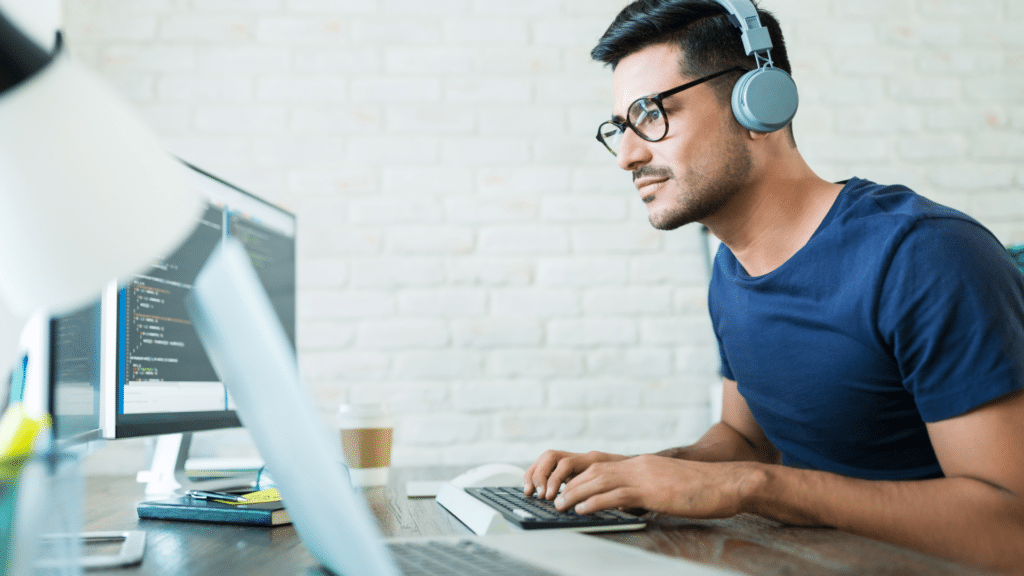 The numbers back it up. Companies around the world are projected to spend over US$1.1 trillion on outsourcing, and around US$81.87 billion on staff augmentation by 2025. Without a doubt, these strategies have solidified their position as the core pillars of global business operations. But, what does this mean for the future of global business? How will outsourcing and staff augmentation evolve to shape the business landscape in the coming distant years?
In this article, we'll take a close look at the future of outsourcing and augmentation, offering insights that can guide your strategic decisions and position your enterprise for sustained success.
Let's begin.
The State of The Market
Outsourcing
IT outsourcing is the process of collaborating with a third-party service provider, either located offshore or nearshore. This provider can entrust their team to manage anything from small projects to entire IT departments of an organisation.
By the close of 2023, the global revenue from this work model is projected to soar to US$460.10 billion, based on the latest data from IT outsourcing stats. Here's how the revenue is distributed among various IT outsourcing sectors:
These numbers not only showcase the dynamic growth of IT outsourcing but also emphasize its pivotal role in the contemporary business landscape.
IT staff augmentation
IT staff augmentation involves hiring temporary IT professionals or teams with specific skills to supplement an organization's existing workforce. These individuals seamlessly integrate into an organization's existing workforce, operating under the organization's management and guidance. It's worth noting that the staff augmentation market currently stands at US$92.5 billion.
The urgency of staff augmentation has been underlined by a 2022 survey conducted by ManPower Group, which revealed that 76% of employers worldwide reported difficulty in securing the skilled talent required to meet their IT and technology needs. In the USA, a remarkable 78% of this talent gap is concentrated within the IT industry.
This global scarcity of IT talent is by no means short-term. According to the International Monetary Fund (IMF), this shortage could potentially escalate to a staggering 85 million tech workers by 2030. This dismal data underscores the growing importance and urgency of innovative solutions like IT staff augmentation to bridge the ever-widening talent gap in the tech industry.
Looking to hire a dedicated team to work on your project or do you want to augment your in-house team with one or more people? Newxel can help. With access to hundreds of IT experts from key information technology hubs in Eastern Europe or any global location, you can be sure of the perfect match for your project.
The Future of IT Outsourcing
Several trends and predictions will shape the future of outsourcing IT in the coming years. Let's explore each of these IT outsourcing trends in detail.
Global outsourcing spend will increase
As companies strive to remain competitive and agile in today's business environment, they are increasingly turning to outsourcing as a cost-effective solution. This trend is expected to continue as organizations seek to leverage global talent pools and access specialized skills. According to Statista, global spending in this sector will hit US$777.80 billion by 2028, while business process outsourcing will reach US$525 billion by 2023, according to Grandview Research.
Increased focus on cybersecurity
Rising cyber threats will drive a heightened emphasis on cybersecurity. IT outsourcing providers will invest in robust security measures, addressing vulnerability assessments and advanced technologies for data protection. The demand for cybersecurity expertise in outsourcing partners will surge.
AI-assisted staffing is one of the most important IT outsourcing trends for the future.
Artificial intelligence and machine learning will play a significant role in streamlining the recruitment process for both clients and service providers. AI-powered tools can analyze vast amounts of data to match candidates with the right skills and cultural fit for clients' needs. These tools will be used to identify the most suitable candidates and predict their success in specific roles, resulting in more efficient and accurate talent selection, and reducing recruitment time and costs. According to SHRM, 25% of organizations already use AI for HR-related activities.
The rise of multi-sourcing
Traditionally, organizations rely on a single outsourcing provider to meet their IT needs. However, one of the trends of outsourcing — multi-sourcing is gaining traction. Multi-sourcing involves partnering with multiple providers to leverage their specialized skills and capabilities. This approach allows organizations to diversify their portfolio, reduce dependence on a single vendor, and ensure access to a broader range of expertise.
Cloud-based technology will be in demand
A recent study revealed that 67% of enterprise infrastructure is cloud-based. As more organizations adopt the cloud approach, the demand for outsourcing partners with expertise in cloud technologies will soar. Outsourcing providers that can offer scalable and secure cloud solutions will be in high demand, enabling businesses to leverage the benefits of the cloud while focusing on their core competencies.
The demand for soft skills such as communication, problem-solving, and critical thinking will increase according to the WEF. IT outsourcing professionals will need to develop these skills to collaborate effectively with clients and provide value beyond technical expertise.
More locations will emerge
One of the most important trends in outsourcing IT is the emergence of more outsourcing hubs. Countries like India and the Philippines have long been popular choices for IT outsourcing. However, as technology continues to bridge geographical boundaries, organizations will explore new regions with more talent pools and competitive cost structures. Ukraine, boasting over 300,000 IT experts, stands out. This shift will diversify the global outsourcing scene, expanding choices for organizations.
The Future of IT Staff Augmentation
IT staff augmentation will also look different from what it is today. Here are some staffing industry trends and predictions that will drive this sector.
Remote staff augmentation
The rise of remote work, accelerated by the COVID-19 pandemic, will continue to influence IT staffing market trends. Organizations will increasingly seek remote IT professionals to address their needs, offering flexibility and access to a broader talent pool. This trend is expected to continue growing as companies realize the benefits of remote work, such as reduced costs, increased flexibility, and access to a wider talent pool.
According to the Bureau of Labor Statistics, there will be as much as 25% increased demand for software developers, QA, and testers up until 2031, thanks to the continued expansion of software development for artificial intelligence (AI), the Internet of Things (IoT), robotics, and automation. This is where niche staffing will excel.
Niche staffing involves finding professionals with expertise in the technologies mentioned above as well as emerging techs like blockchain, AI, and cybersecurity. As technology continues to advance, the demand for niche staffing is predicted to rise, as businesses strive to stay ahead of the competition and deliver innovative solutions.
AI-augmented staffing will be a key component of IT staffing industry trends in 2023. This involves leveraging AI technologies, such as machine learning and natural language processing, to streamline the recruitment and selection process. By automating repetitive tasks, AI can help identify the most suitable candidates for specific IT roles. This will enhance the efficiency and accuracy of talent selection, reducing recruitment time and improving candidate-client matching. About 45% of companies currently use AI in their recruitment process.
Demand for data-centric roles will increase
One important IT staff augmentation trend will be the rising demand for professionals who can manage, analyze, and derive insights from business data. According to the Bureau of Labor Statistics, the demand for this role is expected to grow 35% by 2030. Organizations will want to augment their in-house team with data analysts, data scientists, data engineers, and data architects, either on a project-by-project basis or for specified timeframes.
Increased focus on diversity and inclusion
IT staff augmentation will see an increased focus on diversity and inclusion initiatives. Companies will strive to build diverse teams by actively recruiting individuals from different backgrounds, cultures, and perspectives. Of course, this will also promote the adoption of better tools to help with communication/ collaboration. This approach not only promotes creativity and collaboration but also helps address the industry-wide issue of underrepresentation.
IT staff augmentation providers will expand into managed services, offering end-to-end solutions to clients. Managed services range from IT infrastructure management, cybersecurity, and software development to managing entire IT projects or departments. Organizations will outsource specific IT functions like these to external service providers, allowing them to focus on their core business operations. This trend is expected to continue as businesses seek specialized support to optimize their IT operations.
IT staff augmentation will increasingly adopt the gig economy, providing organizations with access to a flexible workforce. The gig economy is characterized by IT professionals seeking project-based or on-demand opportunities. This sector is expected to reach USD $455.2 billion by the end of 2023. Leveraging gig economy will allow businesses to scale engineering teams up or down based on project requirements, reducing overhead costs, increasing agility, and creating a more adaptable and dynamic workforce.
Comparison
As can be seen from the staffing trends and predictions above, the future of IT outsourcing is indicative of a robust and thriving market. The integration of AI-driven recruitment promises to streamline outsourcing processes, rendering them more efficient and cost-effective — a plus for both clients and providers. At the same time, taking advantage of emerging outsourcing destinations offers a diverse array of options to organizations, potentially trimming expenses and broadening access to talent pools.
IT staff augmentation is also looking to enjoy a favorable trajectory, thanks to IT staffing industry trends such as the ongoing surge in remote work, which offers flexibility and access to a broader talent spectrum. The demand for niche skills harmonizes seamlessly with the evolving specialized expertise needed for evolving techs like blockchain, AI, IoT, and lots more.
Overall, both sectors have promising futures, albeit with unique strengths. When considering the future of staffing companies, the IT outsourcing sector seems to have a more extensive and established presence, with consistent growth projections, while IT staff augmentation is poised to capitalize on the demand for specialized skills and the evolving landscape of remote work.
Conclusion
So, what is the future of the staffing industry in terms of IT outsourcing and staff augmentation?
IT outsourcing and IT staff augmentation have proven their adaptability and value across industries, which is why it is safe to say that they are the future of the staffing industry. As technology and business needs evolve, these strategies are likely to remain essential tools for companies aiming to navigate a dynamic and competitive landscape.
However, in the ever-evolving landscape of IT staffing trends, one thing is certain: the need to choose a reliable partner. Whether you seek a dedicated development team through IT outsourcing or a niche expert via IT staff augmentation, the success of your projects and the growth of your business hinge on this crucial decision.
At Newxel, we understand the significance of trust, quality, and expertise. With a proven track record, a network of successfully hired 500+ skilled professionals in different parts of the world, hundreds of satisfied clients in 11+ countries, and a commitment to excellence, we stand as the ideal partner to empower your technology initiatives. Take the next step toward success; partner with Newxel today and unlock the full potential of your IT projects.

FAQ
What is the key difference between IT outsourcing and IT staff augmentation?

The key difference between IT outsourcing and IT staff augmentation lies in the scope of engagement. IT outsourcing in business involves contracting an external company or a dedicated team to manage and deliver specific IT functions or projects entirely. In contrast, IT staff augmentation supplements an existing in-house team with external talent temporarily, allowing for greater control over tasks and processes.
What types of IT roles can be augmented through staff augmentation?

IT staff augmentation can enhance a wide range of IT roles, including software developers, quality assurance engineers, system administrators, network specialists, database administrators, and cybersecurity experts. Essentially, any role that can be defined and scoped for a specific project or period can be augmented with external talent.
What are the benefits of IT outsourcing and IT staff augmentation?

IT outsourcing and IT staff augmentation offer distinct benefits. IT outsourcing provides cost savings, access to specialized skills, and scalability. Staff augmentation provides flexibility, control, and quick access to experts. Both approaches can improve efficiency and reduce operational burdens, depending on the specific needs of the organization.
What criteria should be considered when choosing an IT outsourcing or staff augmentation partner?

When choosing an IT outsourcing or staff augmentation partner, consider factors such as their expertise, track record, scalability, cultural fit, cost structure, customer service system, and communication capabilities. Evaluate their previous projects, client testimonials, and compliance with data security and legal regulations. Be sure to tailor your choice based on the specific objectives and requirements of your IT project or staffing needs.
Contact Us