Costing the Coffee: Uncovering the Hidden Costs of In-office Development Teams vs. Offshore Development
For a long time, in-office work has been a staple for tech companies, facilitating direct interaction among employees. However, this approach comes with a hefty price tag for management to ensure everything operates smoothly. From providing coffee to essential back-office services, the cumulative expenses necessary to support an in-house team are significant.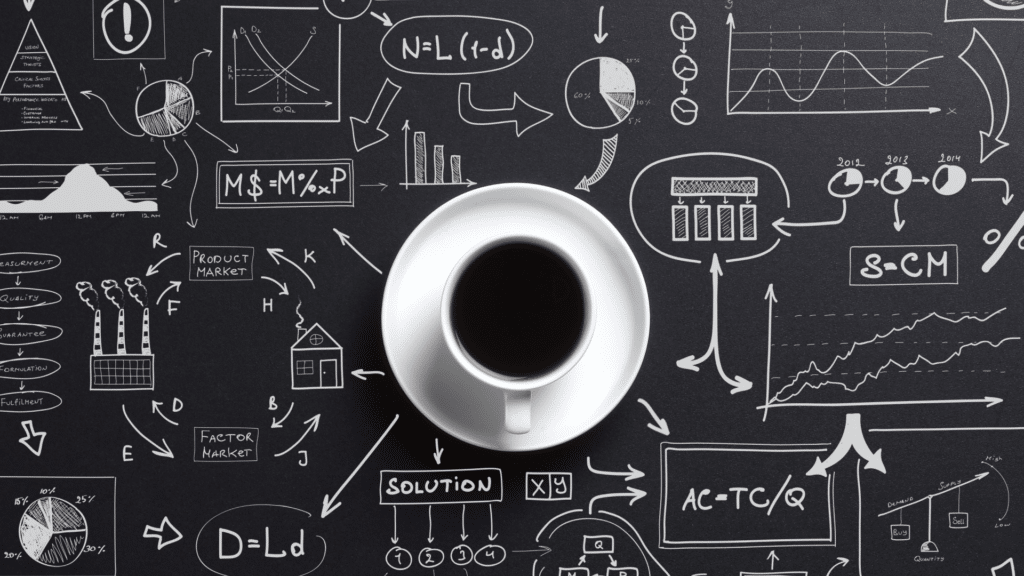 Sarah, a 43-year-old CEO of an IT firm in Seattle, has come to this realization. She has always suspected that a significant portion of her monthly expenditures are associated with maintaining an office-based work environment. For nearly ten years, she has depended on in-house staff, managing a team of 38, including 24 developers, which has invariably consumed a large part of her budget. Despite this, she has successfully established a well-regarded business that provides web development services and is determined to further expand her operations in this domain.
One thing that has held Sarah back from scaling her business is the constrained budget. While she can afford the talent needed to scale up, the hidden costs associated with employing in-house developers make it challenging to retain these vital individuals for an extended period. This is particularly true given the intense competition for qualified developers in the USA. So when Otto, a long-time collaborator, suggested hiring offshore developers, Sarah thought, "Why not explore this option?" She decided to dig a little deeper.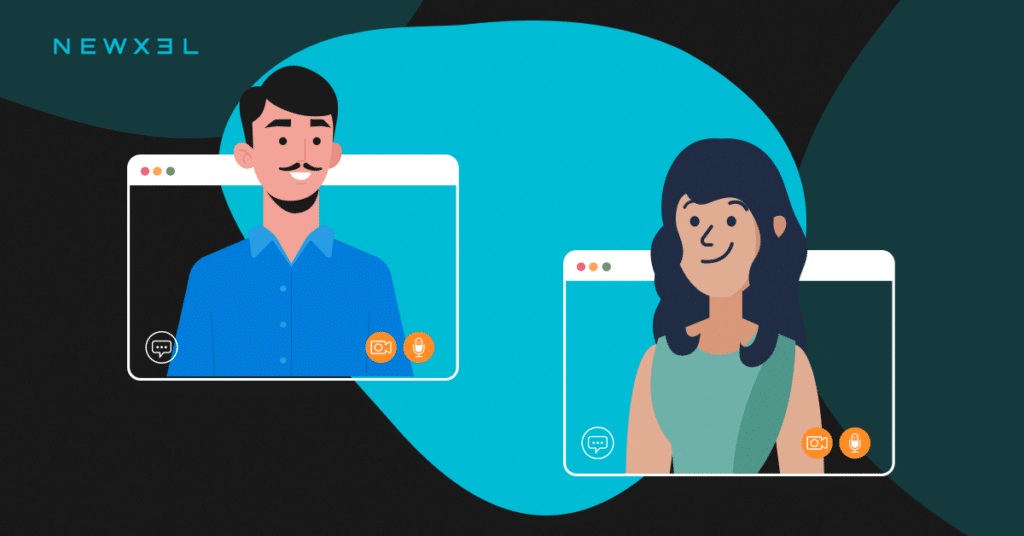 Over the call, Otto shared his findings about the talent pool in Eastern Europe. It was then that Sarah realized that if the numbers added up, partnering with an offshore development company could help solve her scaling problem. Sarah went to work, calculating all additional expenses arising from her in-house team.
Here is what she uncovered: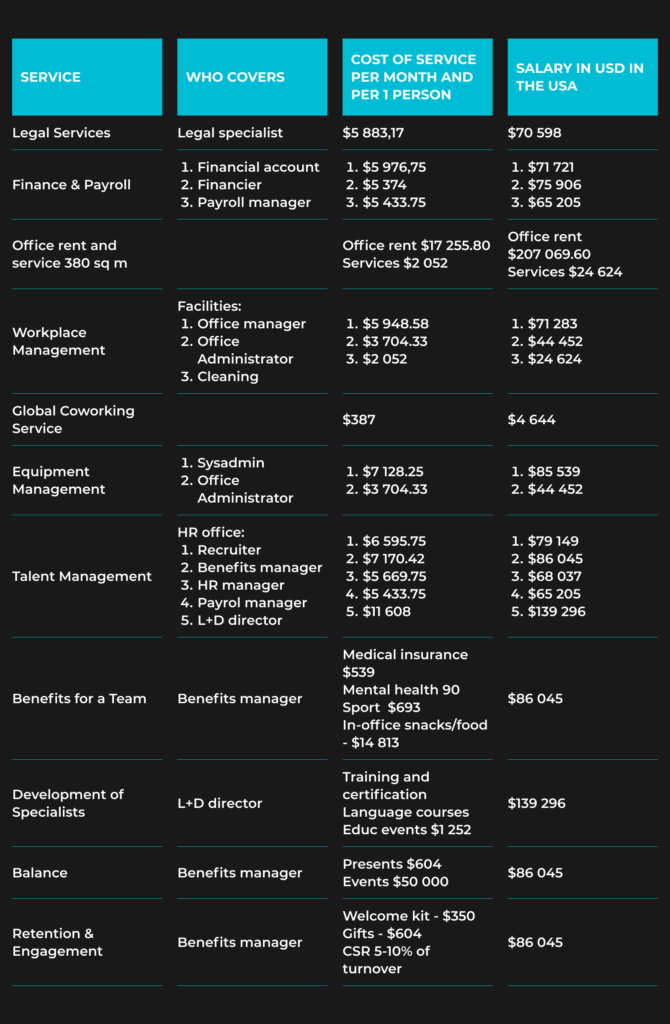 Compensation and Benefits
In the USA, the basic salary for developers is relatively high. If you add to this figure, the benefits of keeping staff motivated and loyal; the total compensation becomes astronomical. It's crucial to understand that allowances for housing, transportation, and meals are pretty standard practice in tech and, therefore, expected. If Sarah is to retain her top talent, she has to offer more perks than her competition, including bonuses.
What's more? Part of Sarah's responsibilities as an employer in the USA is to provide benefits that include premium medical insurance, access to mental health programs, and in-office snacks. And if she wants to go an extra mile for her clients, she has to pay overtime to employees staying in the office on critical projects. This is a rather unpredictable expense that must be budgeted for regardless.
Legal Services
Let's remember that all 50 states in the USA have their requirements for doing business. Even things like employee contracts and regulatory compliance require legal counsel. It is therefore crucial to have experts at hand to handle any matters that arise.
Finance & Payroll
Wherever you are in the United States, an accountant is always needed. From sales tax to personal accountant for talent, the bill for companies will always include a finance professional. Sarah employs accounting services for tax and labor law compliance for every software developer on her payroll. She also needs help in managing payments, all of which come with transaction fees she must absorb.
Workplace management
Sarah's web development company utilizes about 380 square meters of office space. The cost per annum is north of $200,000. Office management and cleaning services are also required. Even for co-working space, the business still has obligations towards maintaining a viable work environment. They will pay membership fees instead of rentals but will have to maintain their communication systems and sensitive hardware.
Equipment
The equipment used by the in-house team is another cost to consider. In addition to procurement, delivery, and maintenance services are charged to the business's account. The business must acquire its own IT infrastructure and do hardware and software installations and upgrades as a company handling client information, server and network security is also a priority. In addition, other expenses like Internet and phone bills cannot be overlooked.
Talent Management
Managing the business's human resources is another aspect of back-office concerns that must be handled. Onboarding new developers typically includes training sessions, welcome kits, and sometimes signing bonuses. Afterward, the attention goes towards tracking performance, providing support and communication channels, and time-off management.
Learning and development
Talent development cannot be neglected, especially in a web development company where new technologies are always in demand. Sarah has to fund some of her workers' further education, such as certifications for Azure, Oracle, or Google. The reward for Sarah will be a more competent team without hiring new people.
In addition to certifications, there are also tech conferences and workshops that might benefit the company's operations in the long run. Such costs, although necessary, can quickly become a huge expense.
Operating SaaS
Licensing costs for operating SaaS are also included in monthly expenses. The list encompasses ERP, CRM, HCM, LMS, DMS, DS, and BIS. Without these, managing the internal workflows of the office would be rather difficult and tedious.
As a company building websites for others, the business also needs constant access to certain SaaS services, e.g. Amazon Web Services. There are also software licenses that must be budgeted for.
Operating staff
As aforementioned, the services of experts in law, finance, human resources, and L and D are necessary. These professionals are often salaried and hired in-house. This can also balloon the expenses especially when the workload increases. Smaller companies like startups cannot absorb such costs, which can mean the difference between success and failure. Even if the firm engages these professionals on a consulting basis, the cost per person per month is generally high.
Retention and Engagement
Rewarding employees is good for morale. Therefore, Sarah employs a strategy that includes recognizing employee birthdays, retirements, and other career achievements to keep staff committed. Corporate activities and sports are also a good way for teams to bond. A few events here and there throughout the year help in team building.
Sarah calculated the so-called cost of a cup of coffee and thought to consider the alternative Otto had told about – offshore development. She could leverage this approach to find developers in a country with a low level of taxation and also transfer all back-office concerns to "other shoulders." A reliable service provider would make all this possible on a budget less than she would otherwise spend with an in-house arrangement.
Cutting Costs, Not Corners: A Roadmap to Offshore Team Collaboration
As a veteran CEO, Sarah knows adjustments would be necessary to create a synergy between her in-house employees and the augmented staff. Maintaining a team that works remotely from another country must be addressed appropriately. This is where partnering with the right offshore software development company matters most.
Firms new to outsourcing development are curious about how to manage offshore teams effectively. CEOs and CTOs want to know how project management will work. Another common question is how they can build strong teams with offshore developers. Fortunately, all this is taken care of by offshore development companies. As service providers, your partners run an offshore development center that houses all your remote talent. That makes them responsible for all administrative tasks, including tax management and operating licenses. They also provide equipment and cover operating SaaS subscriptions used to manage the office.
By enlisting the help of a reliable offshore staff augmentation company, one can then leverage the assigned project manager to help track performance, progress, and the day-to-day work of managing the team. Building a solid company culture is possible even when some developers working on projects are halfway globally. The main requirement is effective communication. It is the backbone of any team-building activities you assign to your service provider to motivate and connect with your team miles away. Offshore software development companies' frameworks that make it easier for you.
An offshore web development company in Western Europe will provide alternatives cheaper than America. However, Eastern European countries can be even more budget-friendly. Best of all, you do not have to worry about different time zones, as project management is handled on your behalf by a third-party.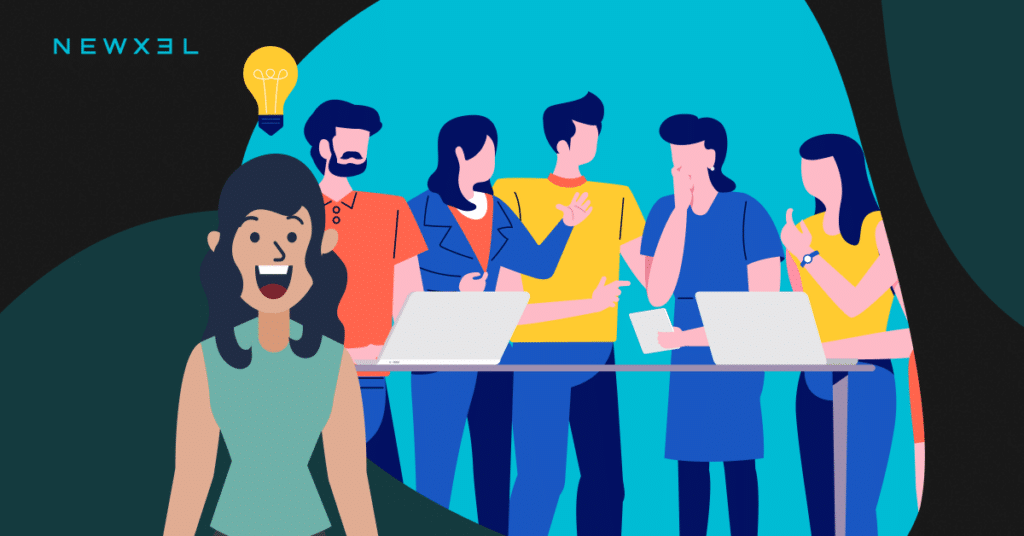 Be like Sarah – focus on development
Considering all the back-office work you can offload to an experienced offshore team manager, the offshore team model can be vital to creating a more efficient workflow. Now that you no longer have to compete for the few highly skilled developers based on inflated market salaries in the USA, you can hire more experts. In addition, augmented staffing reduces the strain on your management team when handling back-end office tasks. Under this efficient arrangement, you get full administrative, accounting, and legal support, ensuring you remain compliant with all labor regulations without being billed hundreds of extra dollars annually. You can quickly see how it deflates your operating expenses overall.
With minimal office expenses and an optimized workload, your software development company can quickly achieve new goals and improve efficiency. Contact a reputable offshore outsourcing software development company and get started today!
FAQs
How do I manage an offshore development team effectively?

Effective offshore software development team management requires setting milestones and deliverables beforehand. You can leverage transparency, synchronized work hours, and sync the work between your offshore and in-house teams working on the same projects.
What are the pros and cons of offshore development services?

The most prominent advantages of offshore software development are the ability to reduce workload and save money on labor. However, on the downside, overseeing progress when working with offshore developers can be challenging. That's where having direct management matters, such as a project manager on location. They can smooth over the cultural differences and ensure things get done correctly.
What are the risks of using offshore software development services?

One of the most significant risks of offshore software development is communication barriers. Issues like language differences, time zone disparities, and cultural differences can result in miscommunications that delay the work. Hence, having an effective communication strategy is the formula for success. With one in place, your projects will run smoothly as all training, language proficiency, and project management are handled by the offshore software development company.
What is offshore development?

The offshore software development model is a form of outsourcing where a business hires developers in a remote location through a staff augmentation service provider. It is a method companies use to engage developers in other countries in developing their software as an augmented team. The business does not have to house or manage the day-to-day office management for its offshore team. However, they do have complete control over the project.
Contact Us