How Much Front End Developers Make and What It Depends On
Will front-end developer jobs salary stop increasing in 2023? The ongoing recession means an unstable economic environment for startups to thrive. Corporates are also leading in staff layoffs, which started as early as December 2022, with experts forecasting one or two more waves in the Q1 and Q2 of 2023. From these trends, the probability of frontend developer rates going down is high in the coming months.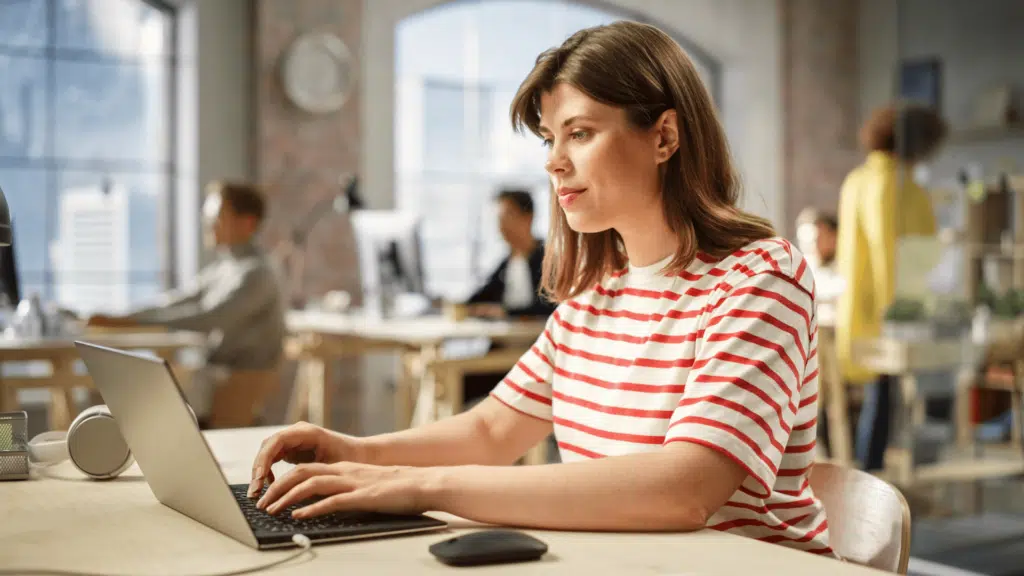 Businesses hire front-end developers to optimize their online presence and create a smooth and enjoyable user experience. Frontend developers build responsive web designs, enhance page speed, and help implement new technologies, giving you a competitive advantage with up-to-date features and functionalities.
But how much do front-end developers make now that businesses are straining to make sustainable profits? And how can you hire front-end developer with skills at a fair price? Remember, the salary of a senior frontend developer was as high as $371,000 per year at the beginning of Q3 2022, before falling to $189,000 towards the end of Q4 2022. Will the rates keep going down, making it easier to hire experienced developers going forward?  Keep reading to find out more in this article.
An Overview of Front-end Developer Salary for the Last Year
Front-end development has been a lucrative career in the last year, with 22% of the talents in this space having secured jobs in first-tech companies. According to Zippia, over 218,350 developers were employed in the USA last year. While New York has the most in-demand vacancies for front-end developers, San Francisco has the highest annual average salary, paying up to $118,583.
In the same report, Zippia reveals that Washington is the best place for front-end developers to work and live. Regarding gender comparison, the average male income for a front-end developer was $91,294 per year, while women developers earned $87,831. From these figures, women developers earned 96 cents for every $1 earned by a male developer.
At the same time, the front-end software developer salary rate in Eastern Europe increased by 30%. Despite this, the region is still considered a favorable location for hiring front-end developers at relatively affordable rates. For instance, Ukrainian entry-level front-end developers were paid $2,000 a month or $24,000 per annum, while mid-level talents earned up to $4,000 a month or $48,000 a year. On the other hand, a senior front-end developer in the country earned up to $84,000 a year or +$7,000 monthly.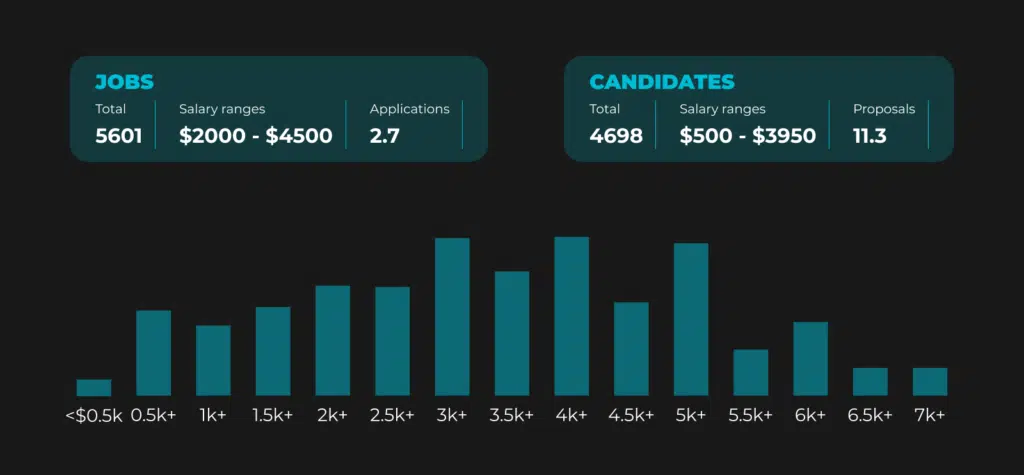 What Skills and Factors Influence the Salary of a Front-end Developer?
Like any other IT field, front-end developer salaries vary a lot, based on certain skills and factors. Although front-end development doesn't require advanced math like in sophisticated programming careers, employers are keen on innovation and cost savings. That's why they often partner with full-service providers who know how to hire dedicated front end developers who offer a competitive advantage in terms of skills and recruitment cost.
That said, here are the skills and factors that determine how much front-end developer earn:
Commercial Experience in Web App Development
Experience accrued when working with clients across multiple industries, whether in a startup or as a freelancer, brings an added advantage when negotiating a front-end development salary. This is because there is a huge difference between a beginner, mid-level, and experienced developer when it comes to leveraging tools and building quality web apps. Moreover, the most experienced people in the industry will always earn the highest salary.
Familiarity with JS Frameworks and Libraries
Front-end developers with an exemplary mastery of JS frameworks and libraries are poised to earn more money than those without. This includes hands-on experience with React, jQuery, AngularJS, Redux, and Reactive Native. Proficiency in other objective-oriented JS technologies, such as Bootstrap, Gatsby, Webix, Mocha, and Polymer, can also be an added advantage that drives higher front-end developer salaries.
Hands-on Skills in Backend Technologies
In the career path of an offshore frontend developer, a few hands-on skills with back-end technologies can greatly influence higher salaries, especially in collaborative projects. Most employers are willing to pay for this added layer of experience as it ensures seamless collaboration between the front-end and the back-end teams. Look at it as an entry-level full-stack developer experience that brings more value to the project than a stand-alone front-end development experience.
Location
The location of hiring has a great influence on front-end web developer salary, whether it's hourly, monthly, or annually. For instance, talents in developing countries like Ukraine, Bulgaria, and Poland are likely to ask for lower rates due to the relatively affordable cost of living in their countries. Contrastingly, candidates in developed countries and metro cities will ask for higher salaries to accommodate the high cost of living.
Education
Front-end developers with a higher level of education tend to earn more than their less-educated counterparts. In fact, talent with no formal education can earn up to 30% less than candidates who have a degree and 50% less than developers with a Master's degree. This shouldn't be surprising, given that developers with no formal education are often self-taught and have less exposure to market-ready coding fundamentals. Moreover, they focus more on problem-solving instead of primary theories.
Soft Skills
IT-driven companies will readily hire candidates with a strong proficiency in soft skills. These candidates are also often favored when it comes to higher remunerations because they can work efficiently under the latest engagement models like remote working. Some of the soft skills that make developers valuable in terms of making positive contributions to their team or company include teamwork, time management, leadership, problem-solving, adaptability, and critical thinking.

Front-end Engineer Salaries Depending on Experience and Skills
The average front-end software engineer salary can also vary depending on the following:
Experience
Front-end talents are segmented into entry-level and senior developers based on their level of experience on the job. An entry-level front-end developer is a job candidate who starts to work immediately after graduating from university or a coding boot camp. These candidates can also be self-taught through online courses and tutorials. With hands-on skills in JavaScript, HTML, and CSS, Glassdoor estimates that these candidates earn up to $68,602 in annual salary in the United States area.
Senior-level job candidates are the highest-paid front-end developers in the salary bracket based on years of experience on the job. Typically, attaining a senior-level proficiency takes between 7 and 25 years of active work experience and often extends to specializing in a specific front-end technology. These talents have an in-depth understanding of the tech landscape and know how to plan, manage, and fulfill complex projects. In the USA, you can higher senior-level front-end developers at about $132,488 per year.
Skills
Here is the front-end developer average salary based on skills:
React Developer Salary
React framework developers are one of the most sought-after talents for web development. Glassdoor puts the average salary of these talents to be $102,121, but the real rate eventually depends on location and level of experience.
Angular Developer Salary
Angular is also another widely used framework for web development, and you might need to pay up to $97,661 to hire developers in this field.
HTML/CSS Developer Salary
Generally, HTML/CSS is a basic skill for web development, and front-end developers who specialize in this field charge lower than their engineer counterparts. According to Glassdoor, the average salary of an HTML/CSS developer is $79,776 per year.
JavaScript Developer Salary
Indeed estimates the median rate for a JavaScript developer at $108,727 in the United States, minus regular employer benefits. This is nearly the same salary range for a job candidate who identifies as a front-end developer in the same region.
…
Hire dedicated front-end developers for your project.
…
Front-end Web Developer Salaries Depending on the Geolocation
As noted earlier, the hiring location is a critical factor to consider when determining the budget of a front-end engineer salary. Here is how much developers earn in Eastern Europe, the UK, and the US regions.
Eastern Europe
Eastern Europe is an attractive hiring location for tech talents, thanks to its burgeoning developer market and moderate living standards, which lowers recruitment costs. Some countries to hire from in this region include Poland and Ukraine. In Poland, the minimum salary of front-end developers is PLN 6,000 per month but experienced developers can make as high as PLN 44,000 per month.
In Ukraine, it is estimated that you can part with up to $4,000 per month to hire a front-end developer around Kyiv. However, the median salary is about $2,800 per month, and whether it will go up or down depends on the complexity of the project at hand and the talent's level of experience.
United States
Glassdoor conducted a survey on 1,261 respondents and found the average salary for a front-end developer role in the US to be around $87,000. Senior front-end engineers earn up to $147,000 per year, while the starting salary for junior positions ranges from $52,000.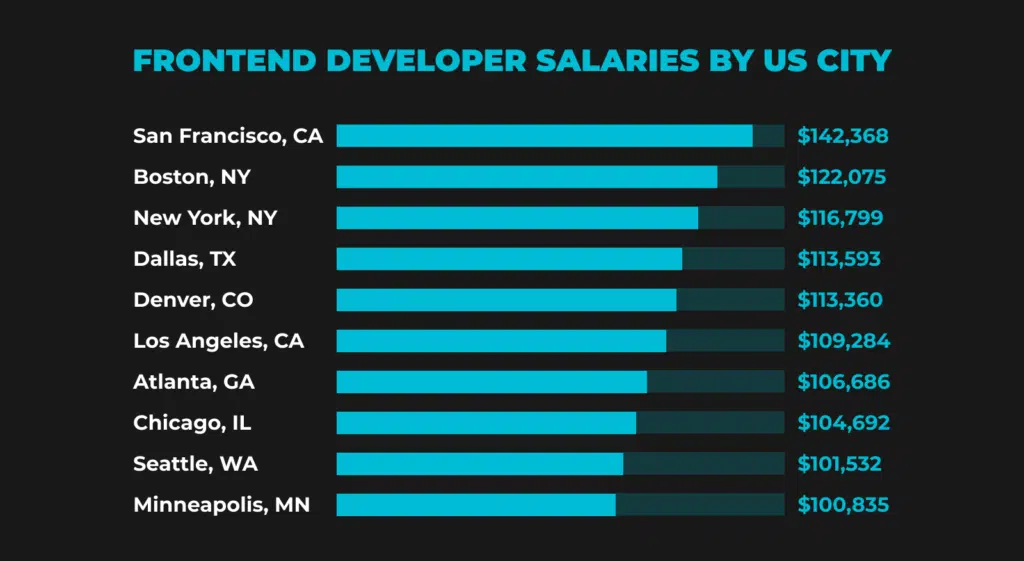 United Kingdom
The United Kingdom (UK) is another popular destination for in-demand and high-paying front-end developer jobs. An entry-level web developer in this region earns about £30,000, while the frontend programmer's average salary is £46,634, especially for experienced individuals. When it comes to specialized skills, a JavaScript developer pockets a median salary of £55,597 a year, while HTML/CSS developers earn an average of £40,912 a year.
Hourly Rate of a Front-end Software Engineer
Front-end engineers who work on hourly rates are often freelancers and charge up to $35 per hour on popular freelancing platforms like Upwork. The lowest rate that these talents will charge per hour is about $15, and that is if you recruit an entry-level developer with 0 to 1 year of experience on the job.
Average Front-end Developer Salary Per Month and Annually
Self-reported data insights reveal that front-end developers working remotely from global locations make an average salary of $71,213 per year. However, the average annual salary for junior developers is $59,428, while that of their senior colleagues is $85,429. At the beginning of last year, frontend developers earned about $82,000 annually, and the rates increased gradually before dropping to $171,000 at the beginning of January 2022l3.
In monthly pay, top earners in front-end software development male about $11,541, with the average salary being $8,109.
How to Hire a Talented Team of Frontend Developers for a Reasonable Price with Newxel
Newxel is a full-service company that helps you hire the best value-matched candidates for front-end development at a reasonable price. Our global hiring capacity enables us to scout different hiring locations and find job candidates that precisely match your budget, business needs, and expectations. Some locations we often hire relatively affordable front-end developers from include Ukraine, Poland, Bulgaria, and Romania.

Conclusion
Now that you know how much front-end developers earn, the true compensation rate will depend on where you hire from, the candidate's skills, and the project's complexity. The compensation scale can also slide upwards or downwards depending on the candidate's grasp of the general best IT industry practices around security and information distribution. In other words, every added bonus a developer brings to the project might translate to a higher pay rate.
Get in touch with our team to hire front-end developers from any global location.
Frequently Asked Questions (FAQs)
How much does an experienced front-end developer cost?

Hiring an experienced front-end developer with value-matched skills costs about $132,488 per year. However, the cost can go up or down depending on where you hire from and whether you're willing to match the job offer with complimentary employer benefits.
How much should entry-level front-end software engineers make?

Entry-level front-end software engineers should make an average of $63,448 per year, according to Glassdoor. However, this pay rate can improve when developers learn new skills, offer more value to their employers, or look for a job in a well-compensating tech startup. For top entry-level earners, the salary can reach as high as $102,000 per year or $8,500 per month.
What might a full-stack front-end developer know?

A full-stack front-end developer is a resourceful talent that can work on both the front-end and back-end of your web application. The technical skills of this candidate include proficiency in JavaScript, HTML, CSS, Django, and jQuery technologies. Soft skills include communication, problem-solving, critical thinking, and attention to detail.
Does industrial expertise matter for a front-end developer?

Industrial expertise matters when the front-end developer is hired to work on a big, complex project, say a commercial web application. However, smaller projects can be handled with candidates with 0 to 1 year of industry experience, provided they understand HTML, JavaScript, jQuery, and CSS coding languages.
What is the salary for a front-end web developer in the USA?

Front-end developer jobs salary in the US average at around $104,230, depending on skills, project complexity, and the city of hiring.
Does recession slow down the salaries or make them less than before?

Recession creates an economic pitfall that forces a business to cut down income and employment. In return, this can translate to a failed company, lost job opportunities, and lower salaries for employees who are not cut off.
Contact Us