Caffeine Economics Part 2: Staff Augmentation vs. In-house Teams in DACH Region
Business owners choose in-office work for its engaging environment. However, regardless of the approach, unchecked operating expenses, from recruitment, and salaries to office management, can threaten a business's success.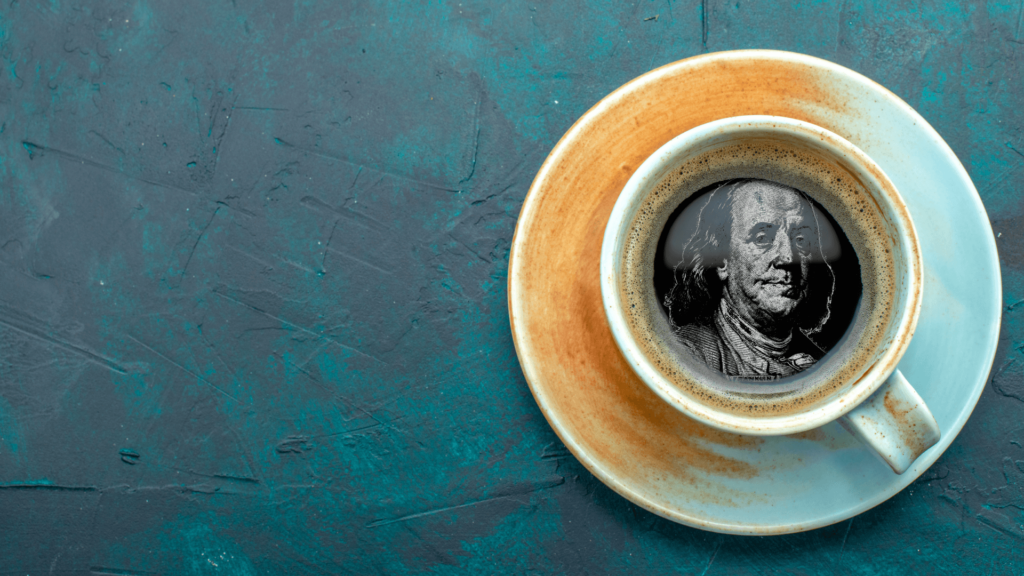 Otto, a 45-year-old IT company owner from Hamburg, knows this all too well. He's managed a team of 60 in-house employees for half a decade, spanning three countries: Germany, Australia, and Switzerland, which includes 37 developers. Like his friend George from London, Otto is now diving deeper into his business, which specializes in creating mobile apps for the B2B sector. However, though he's built a strong team over the years, Otto believes he can achieve more. He's thinking of handing over some office tasks to a trustworthy individual to streamline operations.
What is the True Cost of Having In-house Developers?
Now George and Otto have known each other for a long time. One weekend, they went fishing, and George shared his discoveries over a 'cup of coffee'. This got Otto wondering what the true cost of his in-house team was. And then it dawned on him that the economic cost of a cup of coffee was much higher than the accounting cost. In terms of time, money, and effort, he could review many of the ingredients and processes.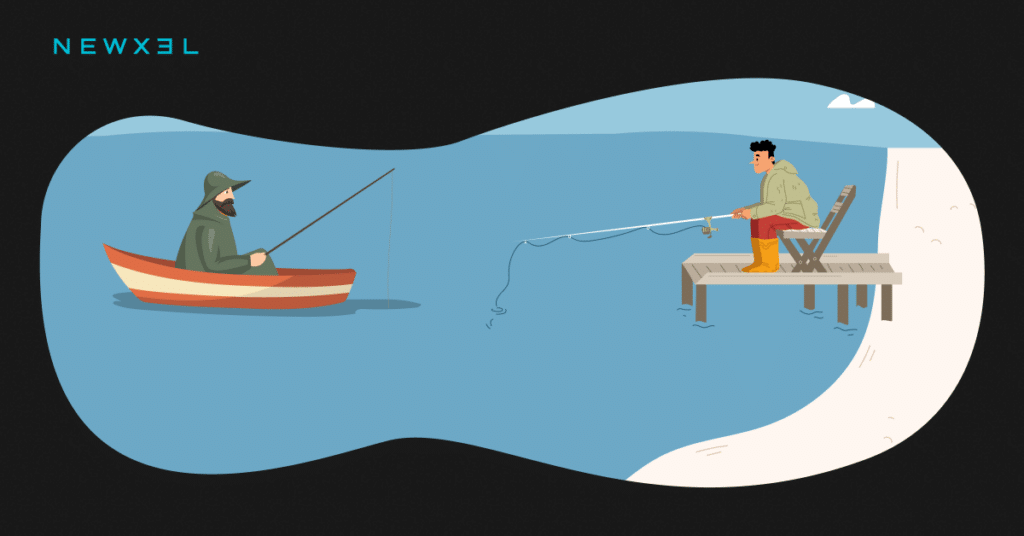 The conversation gives birth to an idea, and Otto isolates the exact places in his workflow and company structure where he can further optimize.
Let's find out what Otto discovers in his deep dive.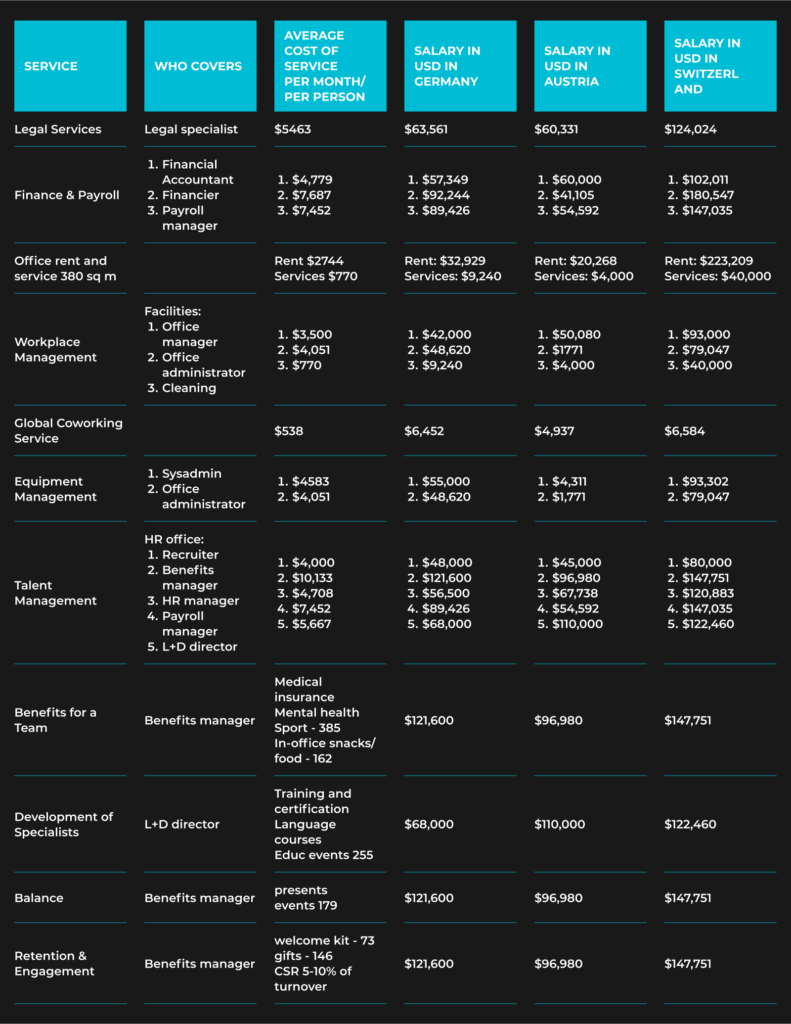 Compensation and Benefits
Otto discovered that compensation and benefits make up a significant portion of his financial obligations. Apart from the competitive base salary, which is relatively high in all three countries, there is also the issue of overtime payments. Late nights are a norm in the software industry, and the company will have to shell out a few more cents per hour to encourage employees to see ideas to completion no matter the time. Bonuses are also a norm, rewarding the team for reaching new milestones and incentivizing them to aim even higher.
Otto added housing, transport, and meal allowance to make his job offers competitive. As all his employees are in cities with a high cost of living, the bill is quite hefty.
Legal Services
All three countries have different legal requirements for employers. For example, setting up an entity under each nation differs. For compliance, getting an expert to ensure you have ticked every box will put you back a hefty one-time fee. But that's not all! You will need a legal specialist to greenlight other client and employee paperwork. A retainer gives you access to a lawyer every step of the way, including processing Visas and work permits.
Finance & Payroll
Full-time employees come with various tax and labor law obligations, even if your developers are remote. Otto has to adhere to national employment regulations for each territory, including the minimum wages. Therefore, an accountant must handle payroll calculations, tax remittance, and other payment management across different currency regimes. Add to that the bank account and transaction fees that make it happen. Without a local bank account, Otto faces steep transaction fees. However, if he sets up one in every jurisdiction, the cost will be lower, and instead, he has to face the cost of setting up and maintaining the accounts.
Workplace Management
Workplace management is another item taking up space in Otto's operating expenses. It's more than just paying for office space; someone has to manage the developers working in these locations while he is in Germany. Opening an office comes with lease requirements and branding costs. The alternative would be opting for a coworking space to house employees at each location. Either way, hiring local talent, paying them, and maintaining clear communication channels will incur other unforeseen costs.
Equipment Management
Beyond securing the working space, e.g., building a tech lab, there is the issue of equipment. App development is a sensitive task, and developers need the right tools to do a good job. A company must invest in specialized equipment and numerous upgrades to avoid frustrating developers with legacy tools. Quality work requires quality inputs.
Aside from delivering said equipment to team locations, setting up the IT infrastructure will typically be a recurring expense with monthly or annual charges. There are also software needs to consider in addition to hardware installations. Remember security, network, and server maintenance.
Talent Management
For every new team member you hire, there are onboarding expenses. And for every existing one, performance reviews, evaluations, and recommendations are necessary to run a tight ship. It would be best if you dedicated time to support and communicate daily. Setting up service policies, development, and sharing also takes a long way. In addition, employees requesting time off is inevitable, and a good captain ensures there is someone capable of covering their workload.
Benefits for a Team
Lest we forget, your team also expects other benefits besides what you are legally obligated to provide. This can be anything from health insurance, mental health programs to handle stress in the workplace, or even recreational sports. They also want to feel comfortable in the office, and snacks to lubricate brainstorming sessions are just the thing. All these things and other team-building events will cost you money and time planning.
Retention & Engagement
Another thing is you want to maximize employee motivation. Branded office supplies and a t-shirt here and there to mark corporate events and milestones work well for new and existing employees. In addition, personal recognition promotes loyalty. So you must budget for birthday gifts and tokens of appreciation for employment anniversaries and peak performance.
Corporate social responsibility (CSR) initiatives work inside the organization to build a collaborative spirit and outside to boost your brand image. That's another expense that has to be spread out to different branches as each location has unique CSR opportunities.
Operating SaaS
In addition to the operating staff like lawyers and accountants, there is also the issue of software-as-a-service solutions for employee engagement and productivity. We are looking at options like Enterprise Resource Planning (ERP), Customer Relationship Management (CRM), Human Capital Management (HCM), Learning Management System (LMS), and Document Management System (DMS). Depending on your company's needs, this could be anything from a small monthly cost to significant amounts for premium features.
Development
Tech is an ever-evolving industry, and budgeting for training and certifications pays off in the long run. Language courses may also be essential as you operate out of multiple countries. You may also have to contribute towards employee education and fund them to attend conferences and workshops to upgrade their knowledge and skills.
Otto calculated the so-called cost of a cup of coffee and thought: "Are there alternatives?" And he remember, that George told him about staff augmentation services. Staff augmentation IT services focus on in-house team expansion by connecting you with developers in a country with a low level of taxation. It also allows you to transfer all back-office concerns to "other shoulders." This approach solves the hassle of chasing after payments, tax obligations, and compliance for his widely spread team. It ties up everything in one neat one-time fee and budget-friendly bow.
As Otto realizes, he gets to save more on his coffee ingredients with staff augmentation, meaning he can lower costs without compromising on quality. He can focus entirely on what he does best: development. With the help of experienced team augmentation services, he can add highly qualified individuals to his team. Hiring procedures and vetting is done for him, and he can set the criteria for the candidates he is interested in.
In addition, the administrative duties of ensuring the augmented staff seamlessly integrate with the rest of the company are also covered. Otto can communicate effectively with his entire team and check and monitor their progress as he chooses. A project manager ensures everything is in order with the augmented staff, meaning even the difference in time zones can't disrupt a smooth workflow.
Be Like Otto – Focus on Development
A software development company doesn't have to have a bloated wage bill. Neither does expanding your team or hiring a new expert have to mean overturning your current setup and organizational structure. With an IT staff augmentation, you can enjoy the perks of leveraging top talent across Europe with less hassle in the back-end office at a fraction of the budget. While maintaining in-house teams across multiple borders has merits, augmented teams topple these thanks to the minimal administration necessary on your part.
When your workload and expenses look more or less like Otter's, the next step is clear. Trim the fat and build a lean, flexible team to transform your company. Newxel matches you with a business-ready staff augmentation Deutsch proficient team. That means adding highly skilled remote developers that won't bloat your budget with administrative expenses, high taxes, and wages. Moreover, we offer turnkey services that free you from the back-end office routine, including full finance & legal support, administrative support, and talent management.
Contact us today for staff augmentation IT services in any location.
FAQs
What are the benefits of hiring a dedicated development team?

A dedicated development team saves you time hiring and managing your remote team. Your service provider takes up all the admin work, sets up office space, and procures equipment for your team. And just like an in-house team, you still maintain complete control.
How do you manage a dedicated development team?

Communication is vital when working successfully with dedicated teams. You are assigned a dedicated project manager to supervise all the moving parts, and that covers managing the offshore team and streamlining them with your existing in-house developers. Our project manager keeps you updated on the project and solves any hiccups on your behalf.
Who needs a dedicated development team?

Any company, whether a startup or established, may need a dedicated team to improve outcomes. You can quickly leverage a ready-made team of professionals to bridge talent gaps. This approach is also practical for cost-saving and minimizing administrative responsibilities toward developers in different locations.
What are the considerations for hiring a dedicated development team?

A few steps to follow when hiring a dedicated team include: Outlining your project and technical requirements; Specify what you expect from developers; Go through the management expectations and budget with your service provider.
Contact Us