How Much Does a JavaScript Developer Make in 2021
With the rise of JavaScript, the demand for JavaScript developers is growing at a blistering pace. Since 1995, JS has become one of the top three programming languages used in the development of mobile, desktop, and web software solutions and websites.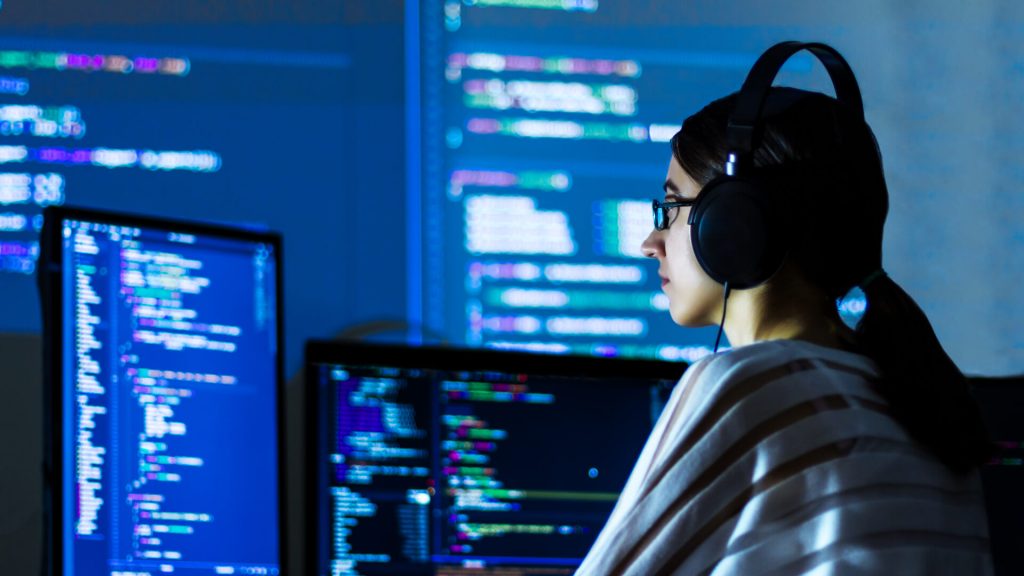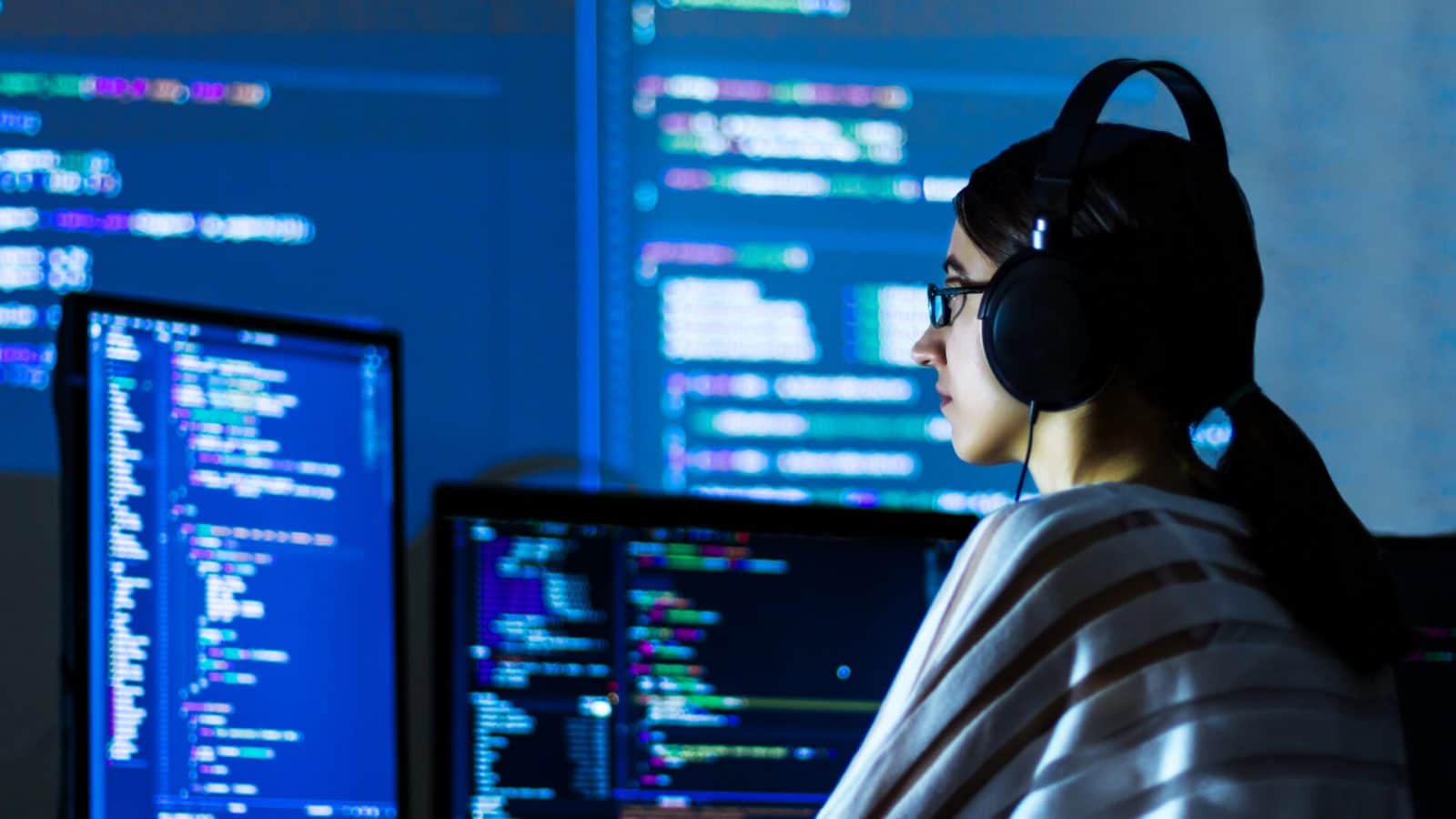 JavaScript is all around us. It's the most widely-known programming language, as stated in the latest report by HackerRank.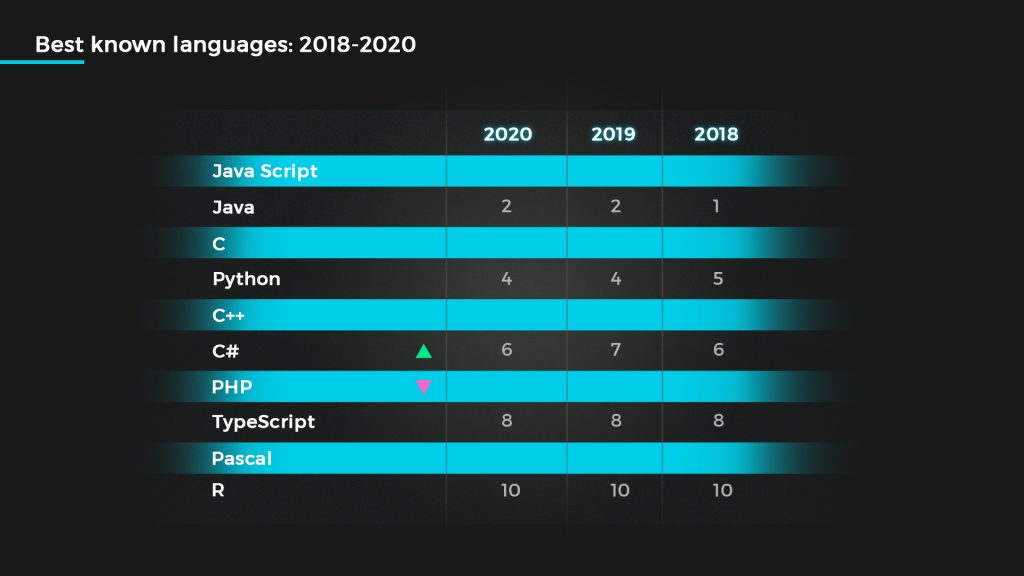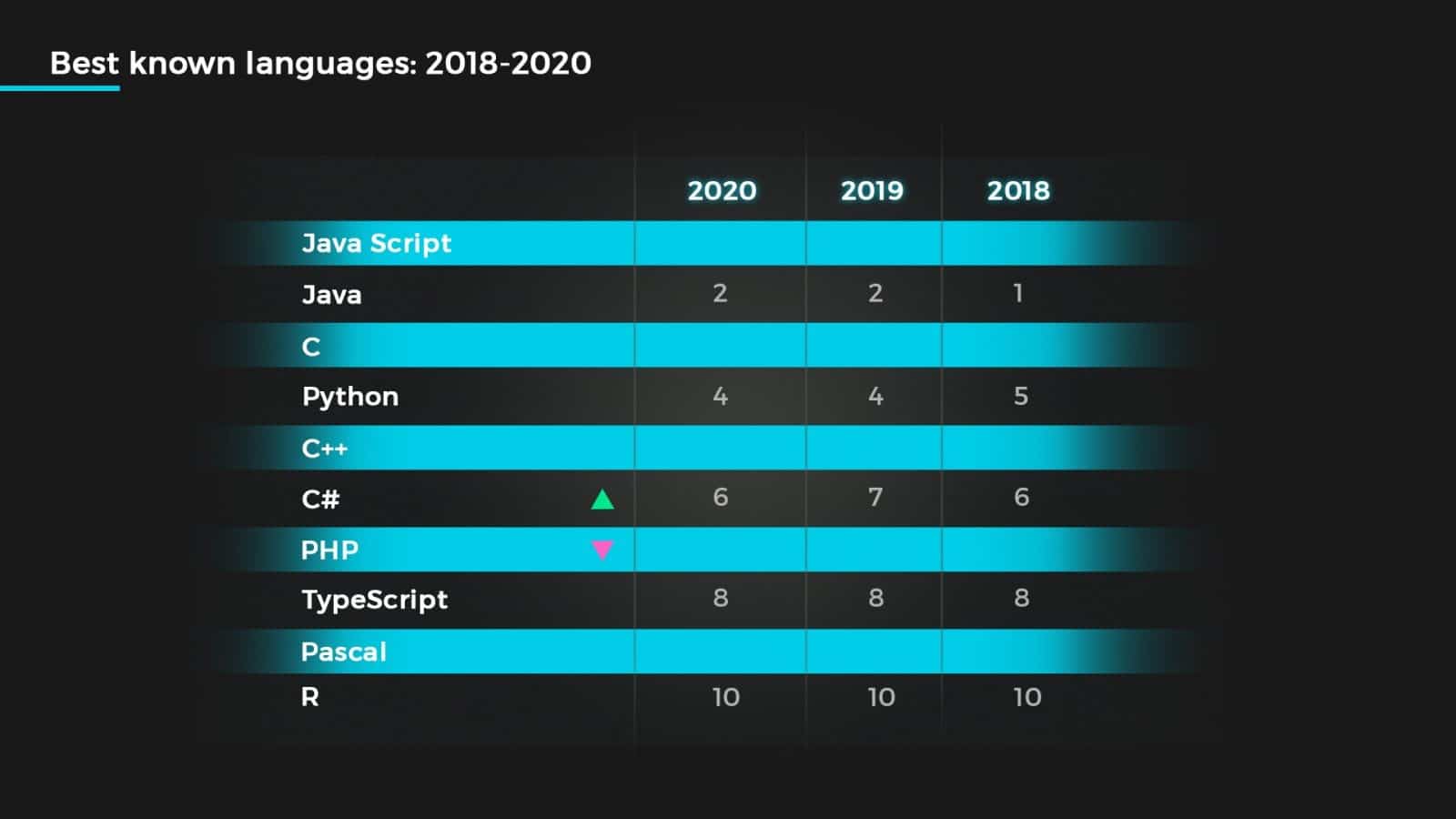 Yet, although you can hardly find a place in the world without JavаScript developers, every country has not only different JavaScript job salaries, but also different mixes of tools and frameworks.
As mentioned in the article by freeCodeCamp, Australia has a lot of developers specializing in React.js, whereas India has more developers specializing in Angular.js. China, on the other hand, is renowned for the developers focusing on Vue.js, and it's no wonder since it was used for developing apps for the Chinese tech giants Alibaba and Baidu.
Here at Newxel, we not only have a deep knowledge of how to find and hire developers, but we also know a wide variety of statistics about average javascript developer salaries worldwide. Let's dive a little deeper now into where the highest JavaScript developer salaries come from and let's shed some light on the differences between various JS developers.
JavaScript Developer Types 
In the report of Stack Overflow, 55% of developers work with JavaScript, which makes it one of the most widespread coding languages. Initially, JavaScript was designed for developing the front-end side of websites and applications, but nowadays, it has a much wider use case. There are three main types of
JavaScript developers to take note of, and depending on the roles they perform, these are classed as full-stack developers, back-end developers, and front-end developers.
Full-Stack JavaScript Developers 
A full-stack developer is like a Jack of all trades. They can do both sides i.e., front-end and back-end development tasks. Though they have enough skills and experience to work on both types, a vast majority of business owners still prefer hiring front-end and back-end engineers, but not hire dedicated full stack developers. However, when it comes to prototyping and building software solutions from scratch, full-stack JavaScript developers have no rivals.
Front-End Developers
Front-end engineers work with the visual part of the software. In other words, they help users see and touch the app or website. Such developers make software solutions easy to use and code them to be visually appealing. The following type of JavaScript developers needs to know a bunch of other tools and languages except for JavaScript. It's a must for them to understand design basics, the user experience and know how to work with other core technologies like HTML and CSS.
Front-end engineers are here to help you transform all design ideas, mockups, and design systems into interactive graphical interfaces.
Back-End JavaScript Developers
Without back-end developers, all those attractive visuals created by front-end developers and designers are useless. Back-end developers are responsible for the technological side of a project, and they make sure that an app or website is accessible and responsive.
Back-end development involves a server, database, and application. This means that a back-end JS developer needs to know more, including any particular JS frameworks, required such as Node and Express, and databases such as SQL or MongoDB.
Average JavaScript Developer Salary Worldwide in 2021
Before setting off and hiring any JS programmers, you have to understand how much a JavaScript developers' salary can be now since it depends on various factors, including skill sets, experience, and location. Today we're only going to give a short overview of some of the main locations for hiring a JavaScript developer and their average salaries based on location.
JavaScript Developer Salaries in the US 
The US is known for its highly skilled developers, and there is no exception either when it comes to JS engineers. According to research conducted by Talent, the average JavaScript developer's salary starts at $88,622 a year.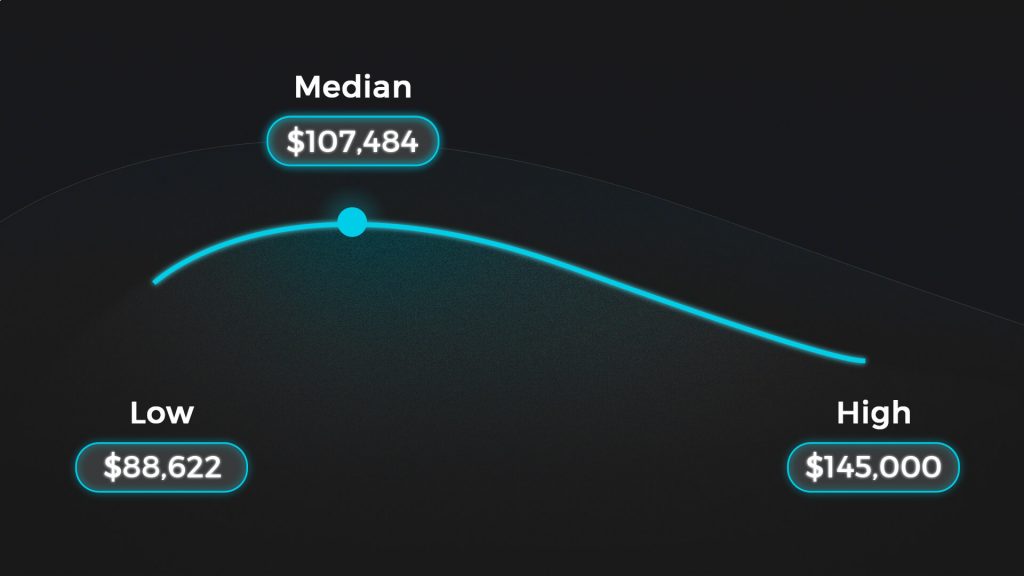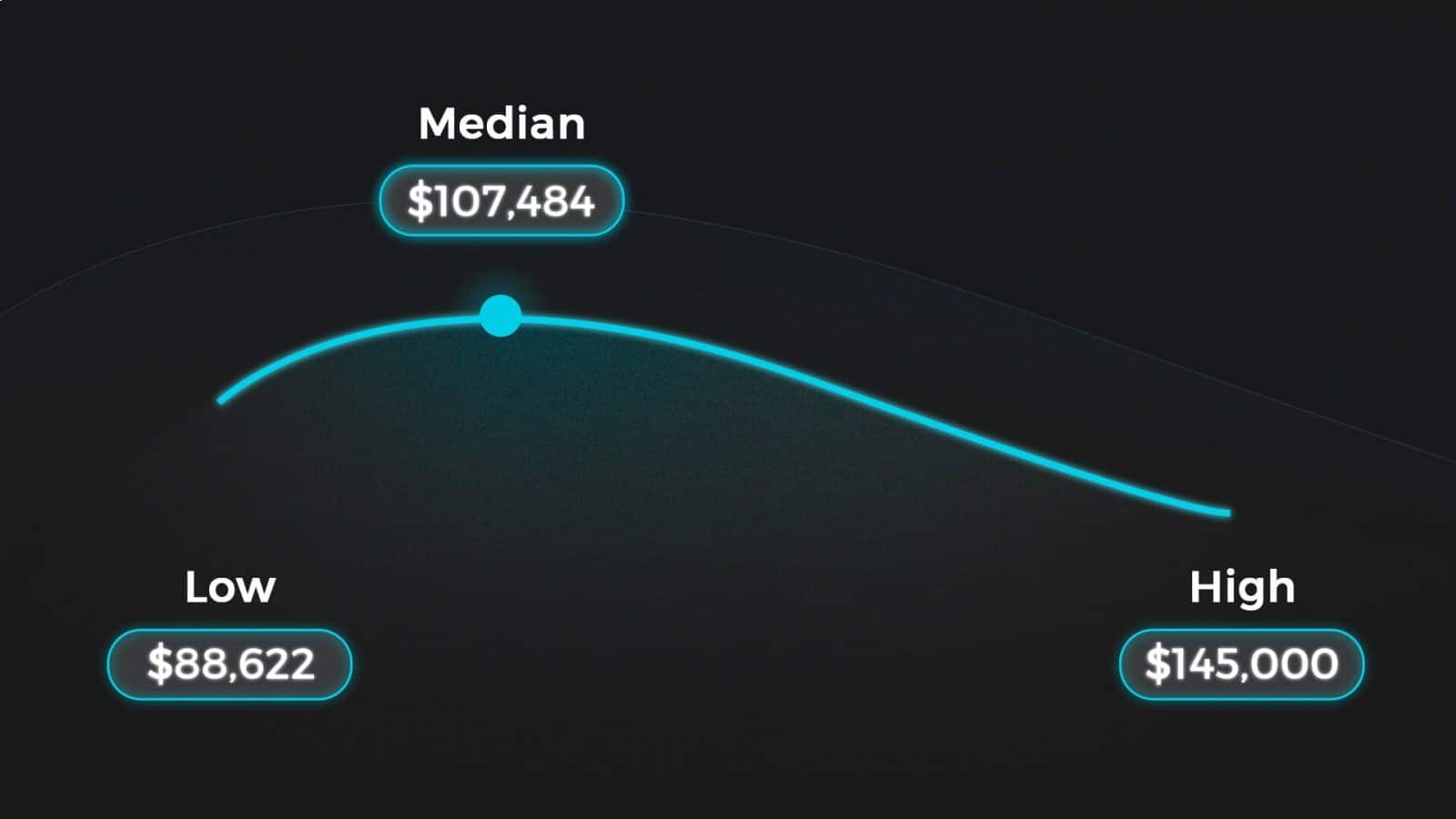 Taking into account the fact that the USA is the third-largest country in the world, salaries there vary depending on the state. For example, an average JavaScript developer's salary in NYC is around $126,750 a year, while a Kansan JS developer may earn about $90k a year.
The income level also depends on the skills and experience of a developer. Simply put, the more experience a JavaScript developer has, the more he makes. As stated by PayScale, the average JavaScript developer's salary starts at:
Entry-level specialists — $63k
Mid-level specialists — $70k — $103k
Senior specialists — $114k+
Need more information on developers' salary levels worldwide? At Newxel, we've searched the web and polled hundreds of software engineers to unearth their salaries. Continue reading to get more information on how much developers can earn.
German JavaScript Developer Salaries 
An average German JS developer's salary is about $100k (or €79k) per annum, according to SalaryExpert. But German developers can get an average bonus of $4+k ( €3+k) once a year.
Though not all JavaScript developers can make $100k in Berlin. An entry-level JavaScript developer can earn up to $73k (or €56k) a year, whereas a senior JavaScript salary starts at $128k (or €98k) per annum.
Before hiring JS specialists in Germany, it is important to remember that the income level in Berlin is higher than in other German cities and towns. An average JavaScript developer's salary in Berlin is around $105k (or €85k) per year.
Swedish JavaScript Developer Salaries
Have you ever wondered how much Javascript developers can earn in Sweden? If you lived in Sweden and worked as a JS developer, you'd have earned at least 43,500 SEK ($5k+) per month, which stands for 522,000 SEK (or $60k+) per year, according to data provided by SalaryExplorer.
How much do JavaScript developers make based on their experience in Sweden?
Here are the stats we found out:
>2 years — 303,600 SEK (or $35k)
2-5 years — 390,000 SEK (or $45k)
10-15 years — 666,000 SEK (or $77k)
20+ years — 760,800 SEK (or $88k)
Dutch JavaScript Developer Salaries 
Having analyzed the data available from Payscale and SalaryExpert, we've found out an average JavaScript web developer's salary in the Netherlands.
A JS developer can earn $90,788 (or €77,178) per annum on average in the Netherlands. They can also count on an average bonus of $4+k ( €3+k).
A Dutch entry-level JS engineer tends to earn around $64,614 (€54,928) that is $40k less than a senior specialist can make in the Netherlands. Being an experienced JS developer means a median salary of $112,241 (€95,415) per annum.
Israeli JavaScript Developer's Salaries 
Israel is among one of the best-paid countries for JavaScript developers. While estimating an average JavaScript developer's salary in Israel, we've looked through dozens of job openings on Glassdoor and discovered that a JS developer can earn about ₪28,000 a month (or ₪336,000 a year) which is around $104,291.
This is how salaries are gauged according to a developer's experience level in Israel:
Entry-level JavaScript engineers — ₪177,000 a year ($54,971)
Mid-level JavaScript engineers — ₪294,000 a year ($91,308)
Senior-level JavaScript engineers — ₪296,000 a year ($91,929)
Australian JavaScript Developer Salaries 
While estimating how much JavaScript developers can earn in Australia, we've used the data submitted to Indeed and some other salary research platforms. Let's find out how salaries are distributed:
Entry-level JavaScript engineers — $72k a year
Mid-level JavaScript engineers — $111k a year
Senior-level JavaScript engineers — $160k a year
As in the case in other countries, Australian developers can get a bonus of around +$5k a year. By 2025, the salary level for JS developers, as well as other IT specialists, is likely to increase by around 10% in Australia and other countries, as mentioned in research by SalaryExpert.
React.js vs. Angular vs. Vue.js Developer Salaries Worldwide in 2021 
Vue, React, and Angular top the list of the most well-known JavaScript frameworks used in the development of various software products. We've found that most have heard a lot about Angular and React, but not many about Vue.
According to GitHub data, since 2016, the popularity of Vue has been growing, but even with this rise in popularity, the framework doesn't stand for a lot of job openings for the developers specializing in Vue.js.
We've looked through dozens of job boards to detect all the trends and changes in the labor market.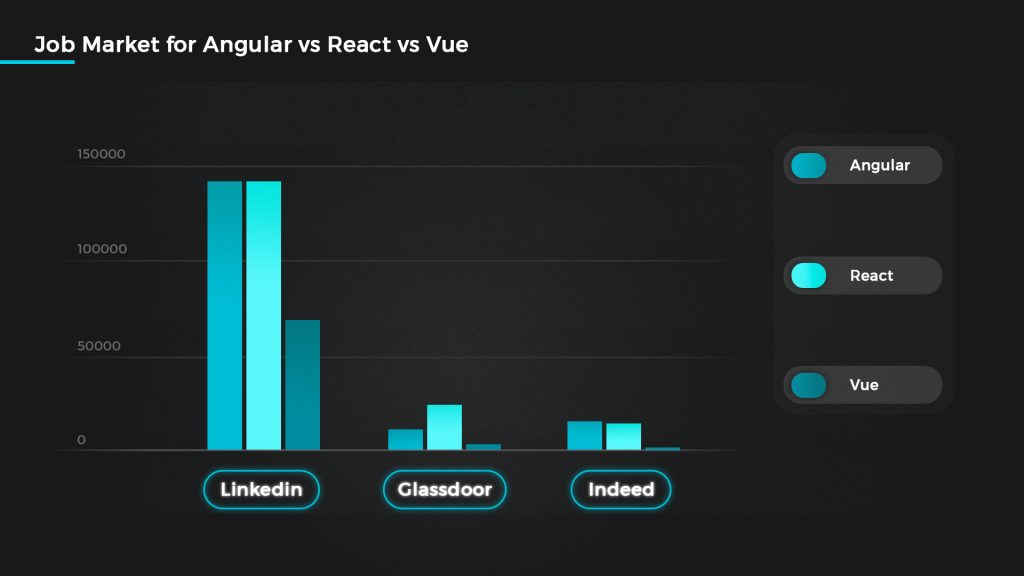 As you can see, the number of jobs requiring Angular or React is roughly the same, whereas Vue is "less wanted". From a point of view on the current job market, there is a high demand for React and Angular developers which may result in much higher Angular developer salaries, as well as React developer salaries. Let's find out what Angular.js, Vue.js, and React.js developer salaries are.
While analyzing the job market for Vue.js, Angular.js, and React.js developers, we've used a lot of various job boards including LinkedIn, Glassdoor, Talent.com, Indeed, and others. Here's what we found out: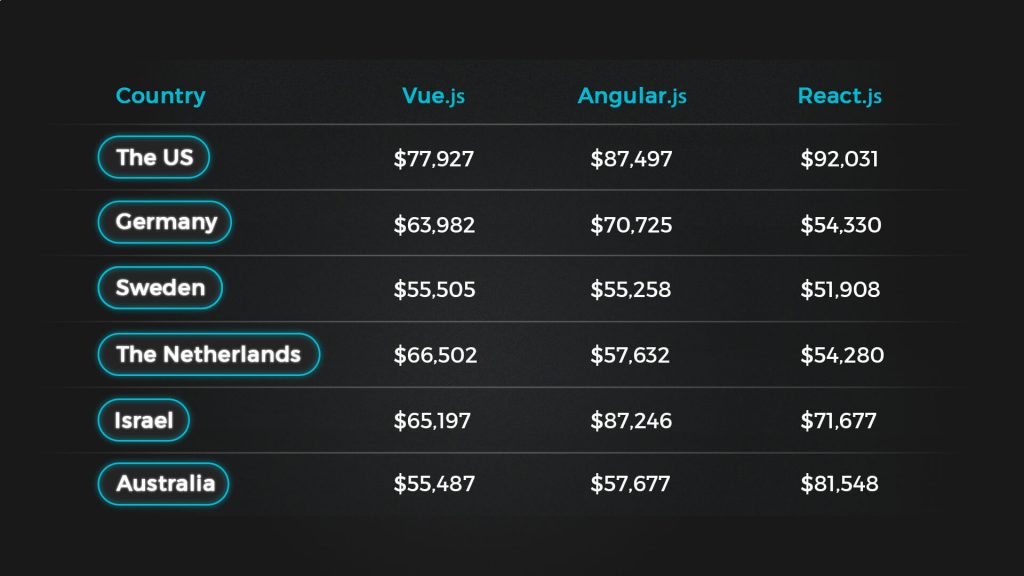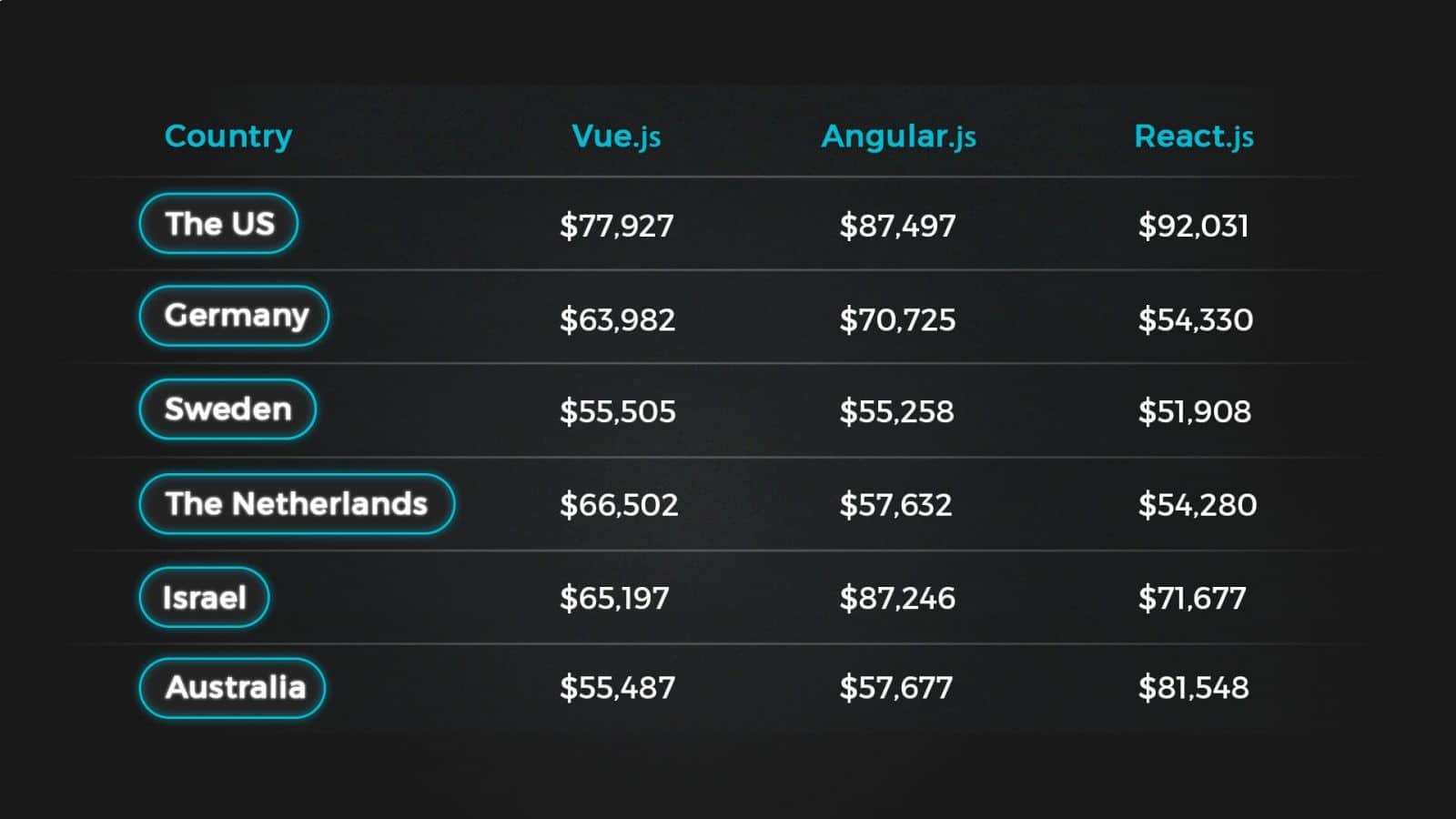 Now, these are only rough numbers for JavaScript web developer salaries specializing in Vue.js, Angular.js, and React.js. It's worth mentioning here that there are also other frameworks based on JavaScript, for example, Node.js. An average Node.js developer salary starts at $76k annually in the US.
We can't forget to mention full-stack developers also. An average full-stack JavaScript developer has a salary that ranges from $87,750 to $142,168 annually in any part of the US.
If your company is growing at a blistering pace and you can't find employees, get in contact with us at Newxel. We can set up a dedicated development team within the blink of an eye.
Reasons to Hire with Newxel 
Access to the vast pool of top JavaScript talents in Ukraine, Poland, Romania, and other countries.
The end-to-end process from hiring to supervising covered.
Flexible and transparent hiring procedures.
3-5 weeks to find and hire developers.
92.4% retention rates.
You're just a few clicks away from setting up your software development team or even your own R&D center with Newxel. Get in touch with us to discuss all the details.