Caffeine Economics: How Much Does Your Cup of Coffee Really Cost in Dedicated Development Teams vs. In-House Teams?
Every business owner has a reason for adopting an in-office work model, a universal one because it's a fun place to work and keeps employees engaged. However, operating expenses are a significant concern regardless of your in-office work strategy, whether permanent or as a service. Whether it's compensation & benefits or office management, the implications can kill or make your business if their cost gets out of hand.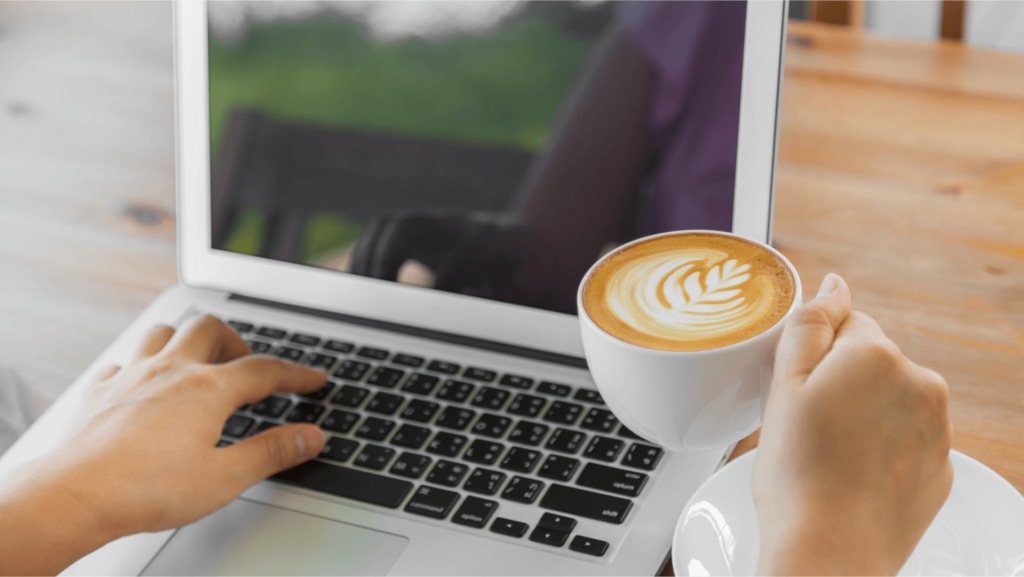 Take George, for example, a 40-year-old IT company owner living in Glasgow. As a trusted developer for a leading SaaS product for the B2B market segment, George has a team of about 50 people, including 30 developers. While he is technically the lead for the last five years, nowadays, George is involved with the operations side of the business much more than he should've.
Office Costs Can Be More Than You Think
One morning, George walks into the kitchen and bumps into Erica—a senior UX / UI designer with the company—drinking her favorite matcha latte. "Hi there, looks delicious," greeted George cheerfully. Little did he know that this encounter would reveal the often-overlooked hidden costs of brewing fine powder green tea.
Despite his kind, sometimes whimsical air, George keenly observes his business and employees. So, as Erica resumed sipping from her cup, he dared to ask, "How much goes into making this every day?" It began to dawn on George that the office matcha latte goes through a grand production process. It's not just coffee beans and milk.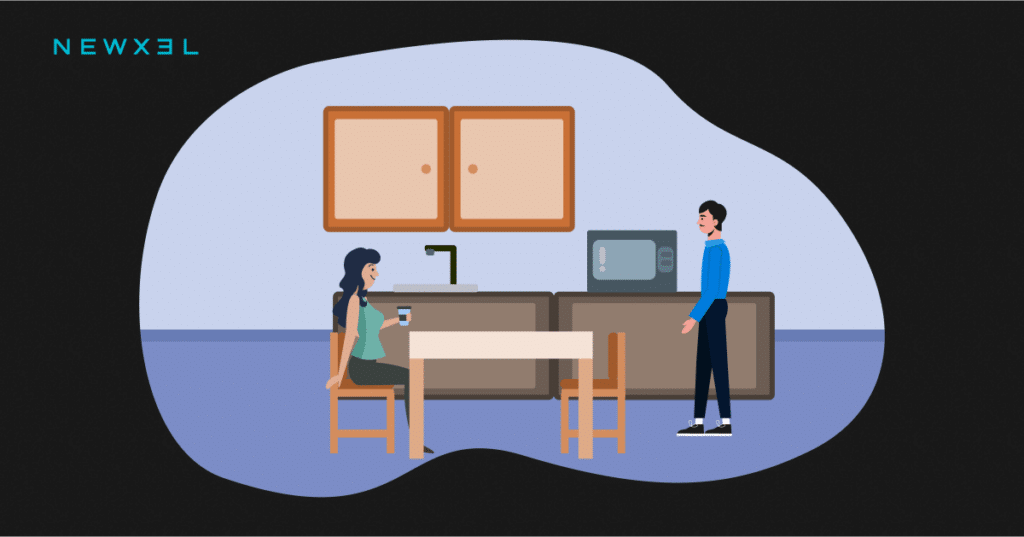 Intrigued by these findings, George decides to embark on a quest to uncover not only what other cost is beneath Erica's drink but also how it connects with operating costs. And what did he discover?
Let's find out together with George.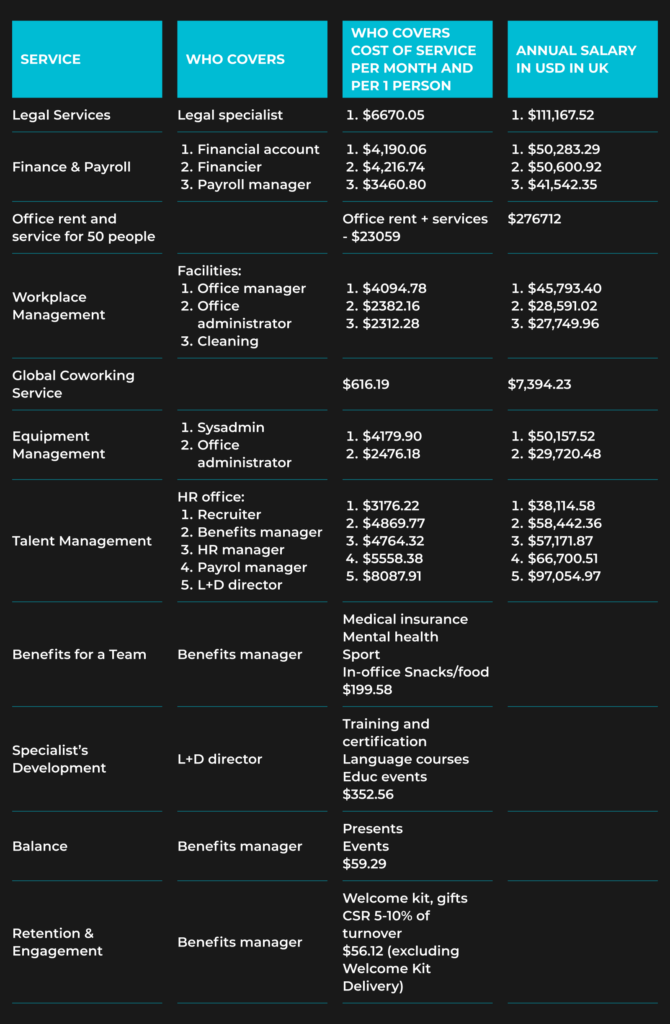 Compensation & Benefits
Employees are entitled to their fair share of perks in a full-time office setting, where the coffee flows like a river of inspiration. Picture this – George pays a competitive base salary that keeps his developers contented, with overtime payment for all those late-night, holiday, and weekend coding adventures. And this is not to mention the bonuses, where every quarter brings forth rewards for celebrating milestone achievements.
But wait! There are still other expenses that constitute legally entitled benefits hiding beneath, including housing, transport, and meal allowance for motivation and nourishment during intense brainstorming sessions.
Legal Services
A software development company with in-house employees might need to contract legal services to facilitate various agreements. This includes employee non-disclosure agreements (NDAs) and client contracts, each costing a specific amount. And when opening the business entity, the legal team will require a one-time fee to facilitate the paperwork that grants the company its official status.
Other expenses associated with legal services include fees for submitting licensing or permit applications to the local authorities. Additionally, be prepared to retain the legal service provider if you work with employees from overseas countries. The lawyer will be instrumental in processing Visa and work permits and bill you per person.
Finance & Payroll
Typically, full-time employers are required with various tax and labor laws, including adhering to national employment regulations, payroll calculations, and tax remittance. Since this is not within the realm of the C-level team, you'll need to hire a personal accountant at a monthly cost. In addition, there will be other hidden expenses associated with the accounting department – for example, the cost of opening and maintaining bank accounts, transaction costs, and tax compliance costs.
Equipment Management
For businesses that opt for in-house as a service engagement model, you should invest in specialized equipment that helps the development team deliver quality work. This means factoring in the cost of purchasing the said equipment and delivering it to where the team is located. The amount can vary, depending on distance and mode of delivery.
After that, factor in the cost of setting up the IT infrastructure, typically billed monthly or annually, depending on the service provider. And once the infrastructure is set up, you'll need to acquire relevant software and meet the associated ongoing expenses, such as upgrade costs.
Talent Management
As a company, when welcoming someone new to the team, you'll spend an expense that will help them set up and hit the ground running. And once they're onboard, you'll need to track their performance and evaluate results, which comes at a price tag per employee. This is not to mention the costs of managing time-off requests. For instance, when two employees are out, you might need to pay two other team members to step in and cover for them at overtime rates.
Benefits for a Team
On top of paying legal-grounded employee benefits, your in-house development team will expect you to provide a range of perks, which also sets you apart as a competitive employer. For instance, you may offer premium medical insurance per employee to ensure that they have access to the best-in-class medical attention whenever they need it – this also helps you reduce turnover and unnecessary expenses on paid sick leaves.
The problem of work-life balance is also synonymous with in-house employees, and you may need to factor in perks that cater to mental health, such as paying fees for counseling services or organizing workshops that sensitize employees on stress management. And lastly, remember the small office deeds that put a smile across your team's face, such as buying them lunchtime snacks occasionally.
Motivation
In-house developers expect you to demonstrate that you value them through recognition, both privately and in front of their colleagues. For this reason, the operating expenses may spread to corporate presents, with a specific cost per employee. In the same spirit, you'll also participate in several team-building activities to boost morale and foster loyalty. Depending on the event's location, this will cost you a specific amount of money per employee.
Retention and Engagement
The costs of retraining and keeping employees engaged will start putting a dent in your budget from the moment they arrive at your company. For instance, like George, you might need to wow the team with a welcome delivery kit consisting of a personalized welcome note, branded company merchandise, or even in-office essentials, such as diaries and sticky notepads.
In addition, you should remember the developers when they celebrate their personal achievements, such as birthdays or marriage anniversaries. Celebrating those means sending a thoughtful gift that will make them feel loved and appreciated in the company. Gifts can vary depending on your budget, but prevalent ones include watches, electronic devices, or plaques.
And before forgetting, you should also budget for corporate social responsibility (CSR) initiatives. This will build a positive brand image outlook and promote camaraderie among the developers.
Operating SaaS
Software-as-a-service solutions empower your team to leverage cutting-edge technologies for heightened engagement and productivity. This includes systems like Enterprise Resource Planning (ERP), Customer Relationship Management (CRM), Human Capital Management (HCM), Learning Management System (LMS), and Document Management System (DMS). They all come at a monthly cost, varying depending on usage, service provider, as well as access to premium features.
After calculating the so-called cost of a coffee, George realized that the operating cost ceiling was too high to be sustainable in the long haul. And so, he thought, "Are there alternatives?" This is when he researched on Google and discovered dedicated development team services – a hiring model that would not only allow him to hire developers from a country with friendly tax policies but also delegate back-office routine to someone else. This would mean more cost-saving benefits and enough time to focus on high-value tasks, such as fostering stronger customer relationships.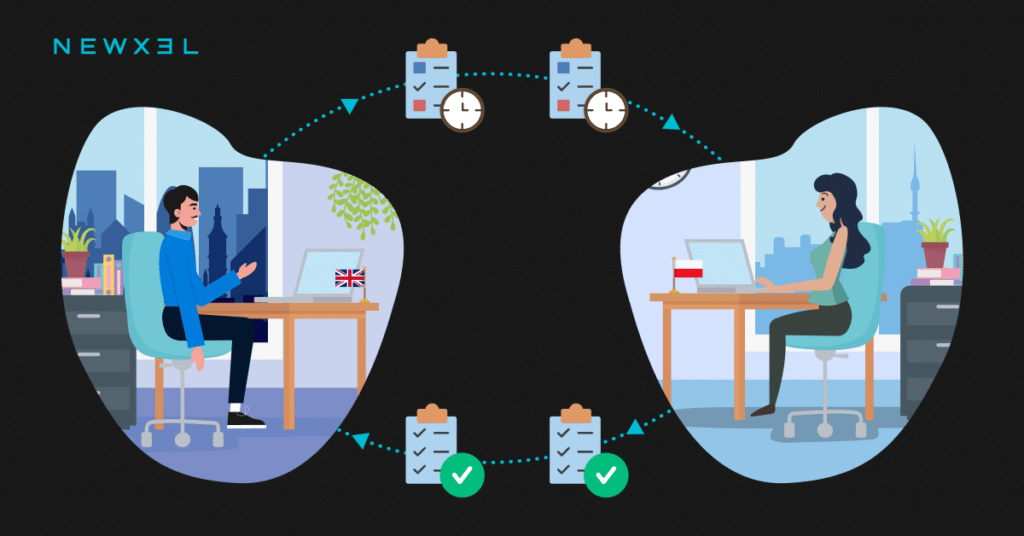 In case you're in George's position, how do you keep the business going while maintaining your dedicated development team for reliable outcomes? How do you manage or track performance and results to ensure the dedicated IT team delivers as envisioned before switching to the model?
In the whimsical story, George no longer needs to worry about the costs of making his developers' coffee, let alone that of keeping them in one location. In fact, he saves more, given that the average business in Great Britain saves as much as $96,745 per year if just 20% of the staff works remotely. So, if it's 100% like in George's case, this would mean cutting operating costs by nearly half – a strategy that maximizes your profitability and survival chances even when the revenues are low.
In addition to saving costs, George can now focus fully on the operations aspect of his business while his service provider takes care of the back-end office routine of managing the offshore dedicated development team. For instance, he doesn't have to worry about workplace management or finance & payroll. All the services needed to keep the team going come in the ballpark of a relatively affordable one-time fee.
Be Like George – Focus on Development
Running a software development company doesn't have to be a costly affair that eats up almost all business revenue. Working with a remote dedicated software development team allows you to put the burden of the back-end office routine on someone else's shoulders and save costs in the process. On the other hand, the in-house engagement model comes with numerous costs that span beyond that of making delicious everyday coffee, like in George's case. If you're not worrying about office rent or recurring salary expenses, it's finance or legal costs.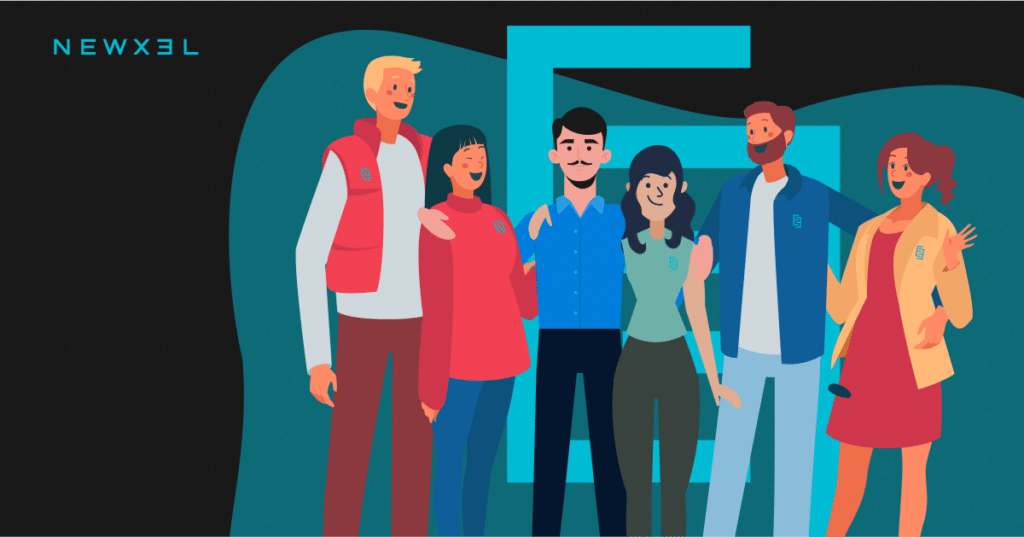 Be like George and pull the plug on this. Newxel can match you with a business-ready offshore development team that works remotely in a country where general developer rates are low, the cost of living is moderate, and the tax policy is friendly, allowing your business to thrive and ascend to unprecedented heights. Moreover, we offer a range of turnkey services that free you from the back-end office routine, among them full finance & legal support, administrative support, and talent management. Contact us to hire dedicated development team in any location.Contact Us